Shiny, brightly colored balloons have long been a staple of University of Virginia graduations, with cartoon characters and glittering inflated numbers bobbing above the heads of the smiling former students as they process down the Lawn.
This year, the balloons have a second life.
Patients at UVA Children's have received, and will be receiving, the gift of balloons, thanks to the University's Class of 2020 graduates, who celebrated their pandemic-delayed Final Exercises on Sunday.
Unfortunately, in the past, some graduates have released their balloons. Whether intentional or unintentional, this creates an environmental hazard and is now a violation of state law, thanks to recently passed legislation. Continuing an effort to prevent balloon releases that began in 2019, this year's balloons are being turned over to the "Balloon Brigade."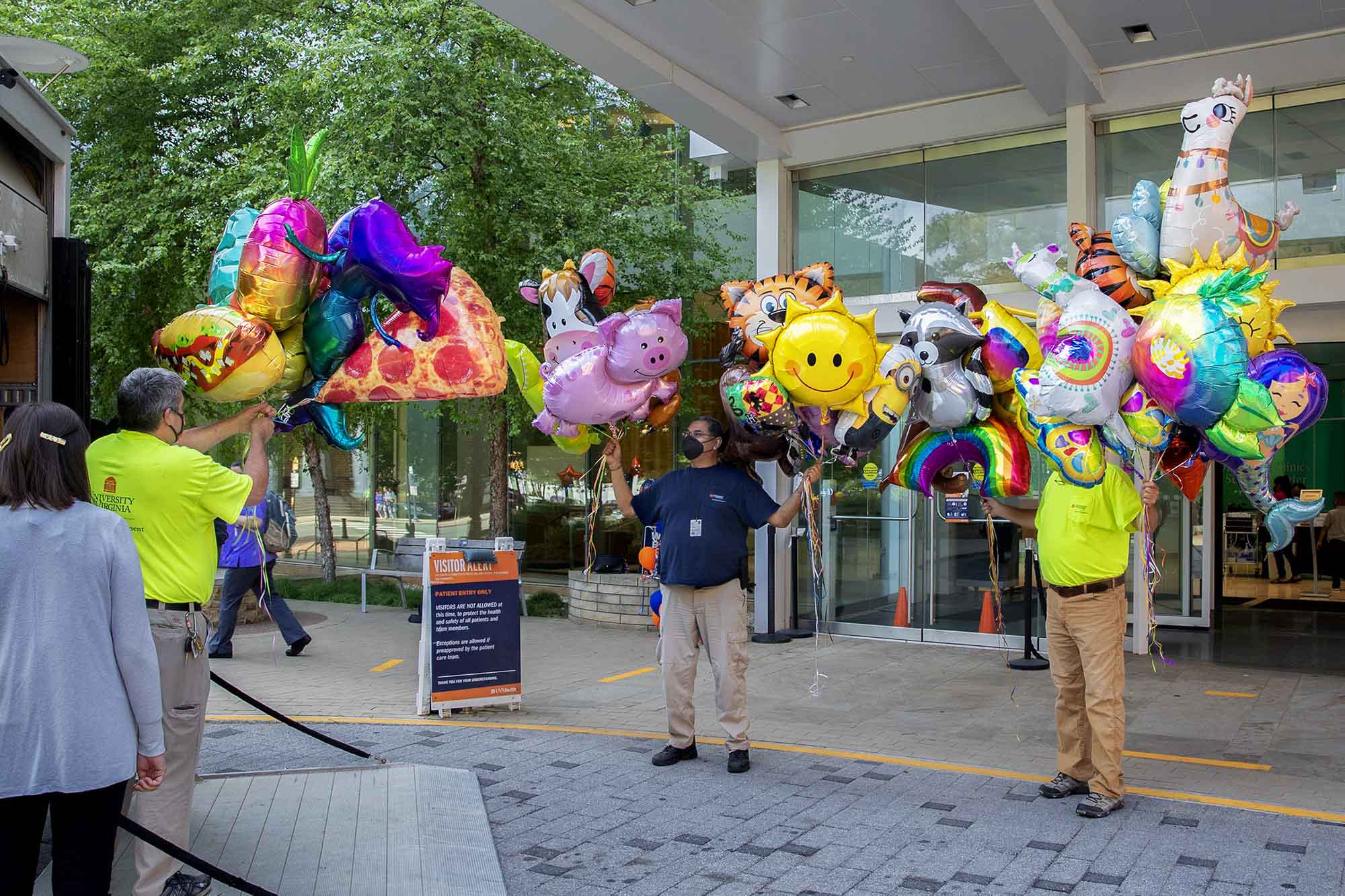 On Monday, volunteers delivered more than 150 balloons to the children's hospital, enough for three or four per patient. (Photo by Dan Addison, University Communications)
"Balloons are a great part of UVA's tradition, but can become an environmental hazard if carelessly released," said Dana Schroeder, an outreach and engagement specialist in UVA's Office for Sustainability. "UVA is deeply committed to finding creative solutions to waste and environmental issues. We are particularly excited about win-win sustainability solutions like this one – where we can prevent pollution, while also bringing smiles to young patients' faces."
Once again this weekend, when UVA's Class of 2021 celebrates its Final Exercises, volunteers will set up multiple collection points throughout Scott Stadium. Four to six volunteers, wearing colorful signs to be visible, will collect balloons both before and after each ceremony.
The operation went smoothly on Sunday, and volunteers distributed the balloons to young patients at UVA Children's on Monday.
"Each patient at the children's hospital will probably receive three or four balloons, as we dropped off somewhere between 150 to 200 balloons at the hospital this morning," Schroeder said afterward.
She said approximately 100 more balloons will be donated elsewhere.
"This weekend, volunteers will be collecting any type of balloon, but only the age-relevant Mylar balloons, such as those featuring animals and superheroes, will be donated to children," said Schroeder. "The volunteers will find other places to donate any extra Mylar balloons, such as schools and senior homes. And they will pop and safely dispose of any latex balloons, since some people are allergic."
"I am so grateful to our amazing graduates for their generosity in donating their balloons from Final Exercises to UVA Children's Hospital," Wendy Horton, the CEO of UVA Health, said. "Not only is it more eco-friendly than releasing them into the air, but it also will bring much-needed smiles to our youngest patients and their families at UVA Health. I hope this becomes an annual tradition."
Schroeder said the balloon donation idea originated from UVA President Jim Ryan's office in 2019, and now the program is being run by the Office for Sustainability.
"For years, there had been growing concern about the environmental impacts of any balloons released during UVA's graduation celebrations, whether intentional or unintentional," Schroeder said. "We love that this program appeals to the caring nature of many UVA students, and we expect great participation in this fun program that also happens to reduce waste and keep our community clean and beautiful."
Schroeder said the "Balloon Brigade" operates with the assistance of the Office of Major Events, Facilities Management and UVA Health, as well as the efforts of student volunteers.
"There are still many opportunities to reduce waste at major events like graduations," Schroeder said. "This initiative is just one example of how UVA faculty, staff and students are working toward reducing our total waste by 70% by the year 2030 – one of our 10 bold goals for sustainability."
Article Information
May 18, 2021
/content/graduation-balloons-buoy-young-patients-spirits