In the summer of 2016, Devin Underhill summited Mount Katahdin in Maine, culminating nearly five months on the Appalachian Trail.
That mountaintop moment marked a high point in his battle for mental health – both his own and others.
Underhill, who would soon enroll in the University of Virginia's Darden School of Business, raised $10,000 as he hiked the 2,200-mile trail that snakes up the East Coast. All of that money went to Next Steps, an organization he founded to connect UVA students with mental health providers in Charlottesville so that they can continue therapy begun with UVA's Counseling and Psychological Services.
"I wanted to do something with the hike, to make it more meaningful than just me walking in the woods for several months," Underhill said.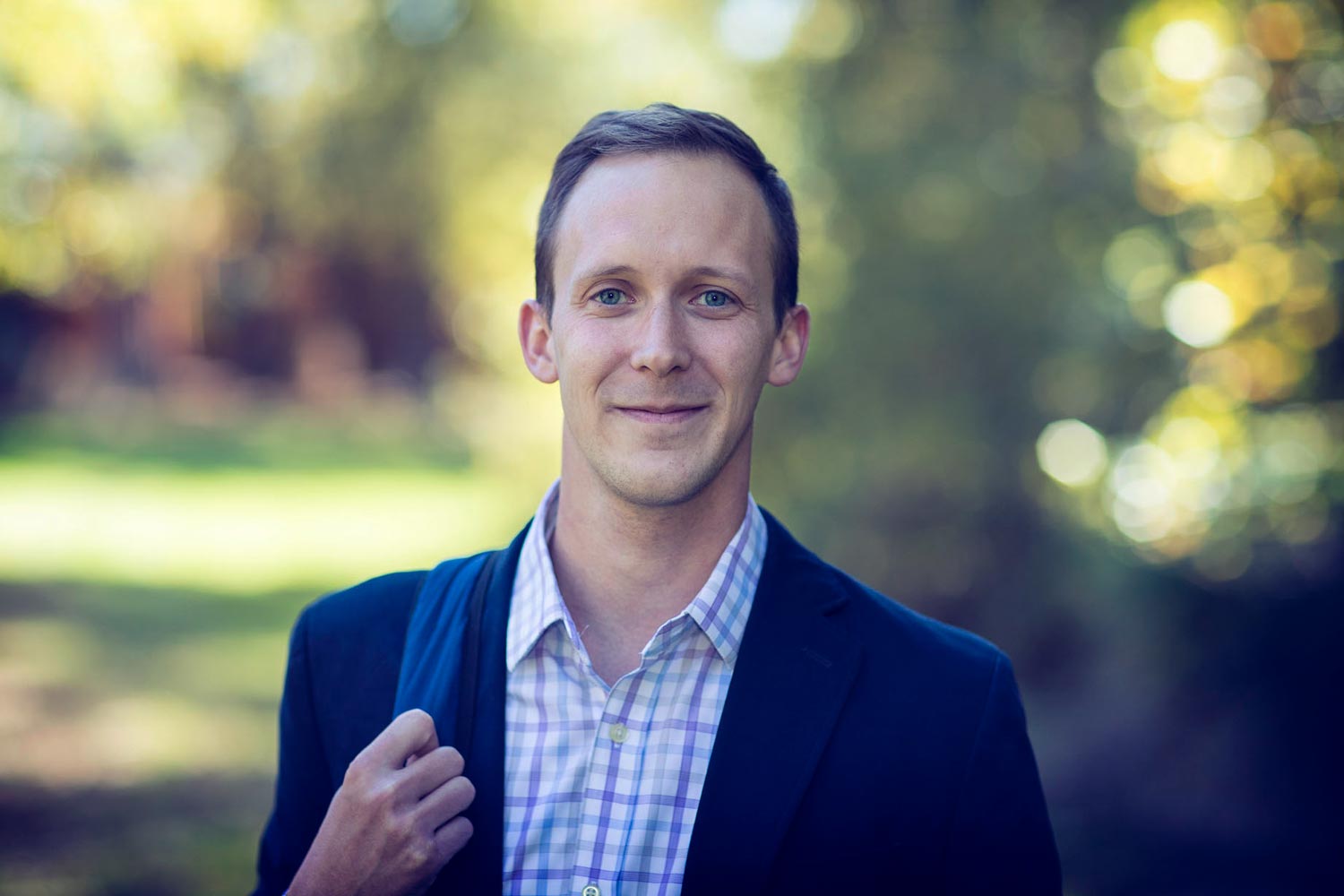 Devin Underhill earned his undergraduate degree from UVA in 2011 and returned to the Darden School of Business last year. (Photo by Dan Addison, University Communications)
Underhill graduated from UVA in 2011 and worked in the education field – first as a college counselor through the Virginia College Advising Corps, and then in UVA's Office of Undergraduate Admission – before attending Darden.
His mission – encouraging students to seek the mental health care they need – stems from his own traumatic experience. Underhill was assaulted after attending a Pride parade in San Francisco in 2012 and spent years trying to heal on his own.
"I was really resistant to seeing a therapist," he recalled. "I am a type-A personality, and I like to do things on my own."
His attempts at "fixing myself" included long-distance hiking; he completed the 215-mile John Muir Trail in California with his cousin in 2013.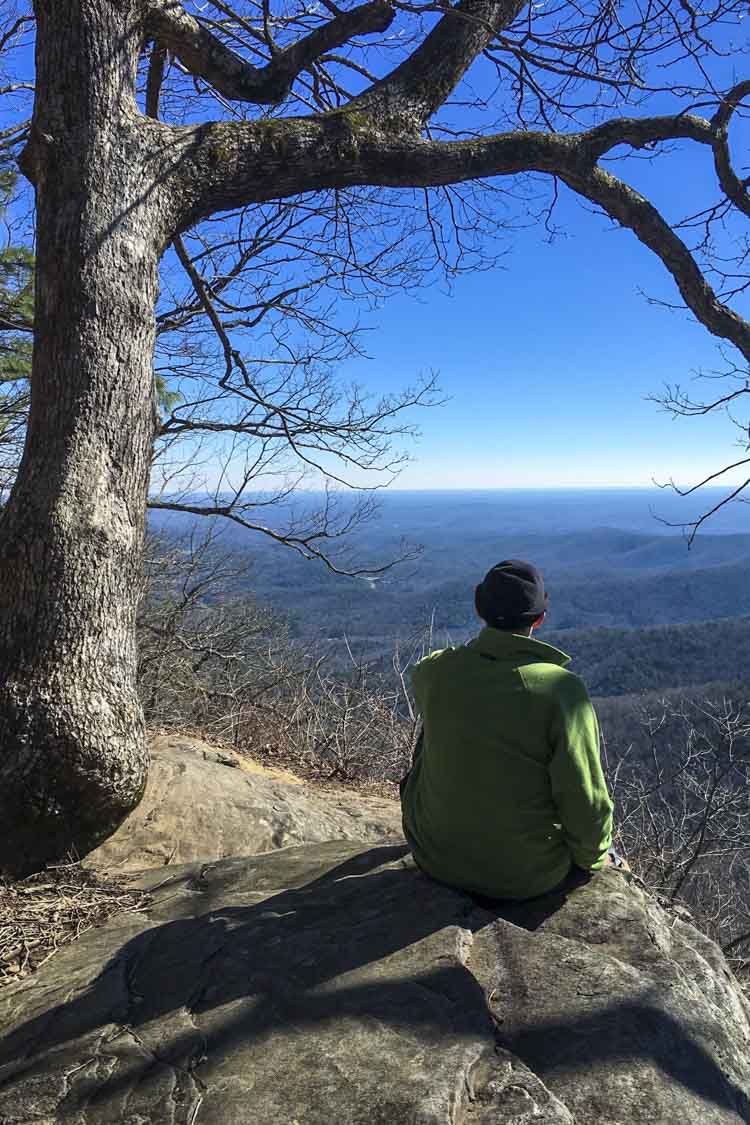 Underhill, shown here at a scenic overlook on the Appalachian Trail, said hiking helped him realize he needed professional counseling. (Photo courtesy of Devin Underhill)
"I turned to hiking as a way to process away from the rest of the world," he said. "It was really helpful, but by the end I realized that I needed to seek out more therapy on my own. I had brought myself as far as I could go; I needed a trained professional."
Having overcome his own reluctance to seek help, Underhill, who was living in Charlottesville at the time, still came up against some unexpected barriers.
"I realized it was really difficult to find a therapist who was a match for my finances, my schedule or my personality," he said. "It took a few tries, and it was frustrating because I was spending about $100 per session."
Though he eventually found a great therapist, he worried that UVA students, who he had spent years working for and with, might run into similar problems. That's why he founded Next Steps, which he has continued to build in his two years at Darden.
Next Steps partners with Counseling and Psychological Services to refer UVA students to community providers to continue treatment after they have been assessed and initially treated at CAPS.
When a student contacts CAPS, he or she is quickly assessed and presented with treatment options. On average, director Nicole Ruzek said, students return to CAPS for five or six sessions with an individual therapist. After that, many students feel their concerns have been resolved and elect to stop treatment; some continue in group therapy at CAPS, and some are referred to therapists in Charlottesville. On occasion, CAPS provides extended individual therapy to students with limited resources or a condition that requires close follow-up. CAPS also offers emergency on-call services to all students, and carefully vets its list of licensed external providers.
"There are students who would benefit from more than five or six sessions, and that is usually when we work with them to access care in the community," Ruzek said. "There are also some students who we refer out immediately, usually because they prefer to establish a long-term relationship with a therapist right away."
Relationships with therapists in the community, Ruzek said, often continue after graduation.
"Because we operate on an academic schedule and only get students for four years, we know that we might not be able to see them for the entire time that they might need therapy," Ruzek said. "Transferring care is really important for our students to continue the process of growth and healing, and Next Steps helps us do that."
Next Steps subsidizes two sessions with community providers to help students who are referred from CAPS overcome financial barriers and find a long-term counselor who is a good fit for them. Ruzek said it is especially helpful for students who have not met their insurance deductible or cannot afford a co-pay.
"This helps make sure they can connect with someone who feels like a good fit," she said.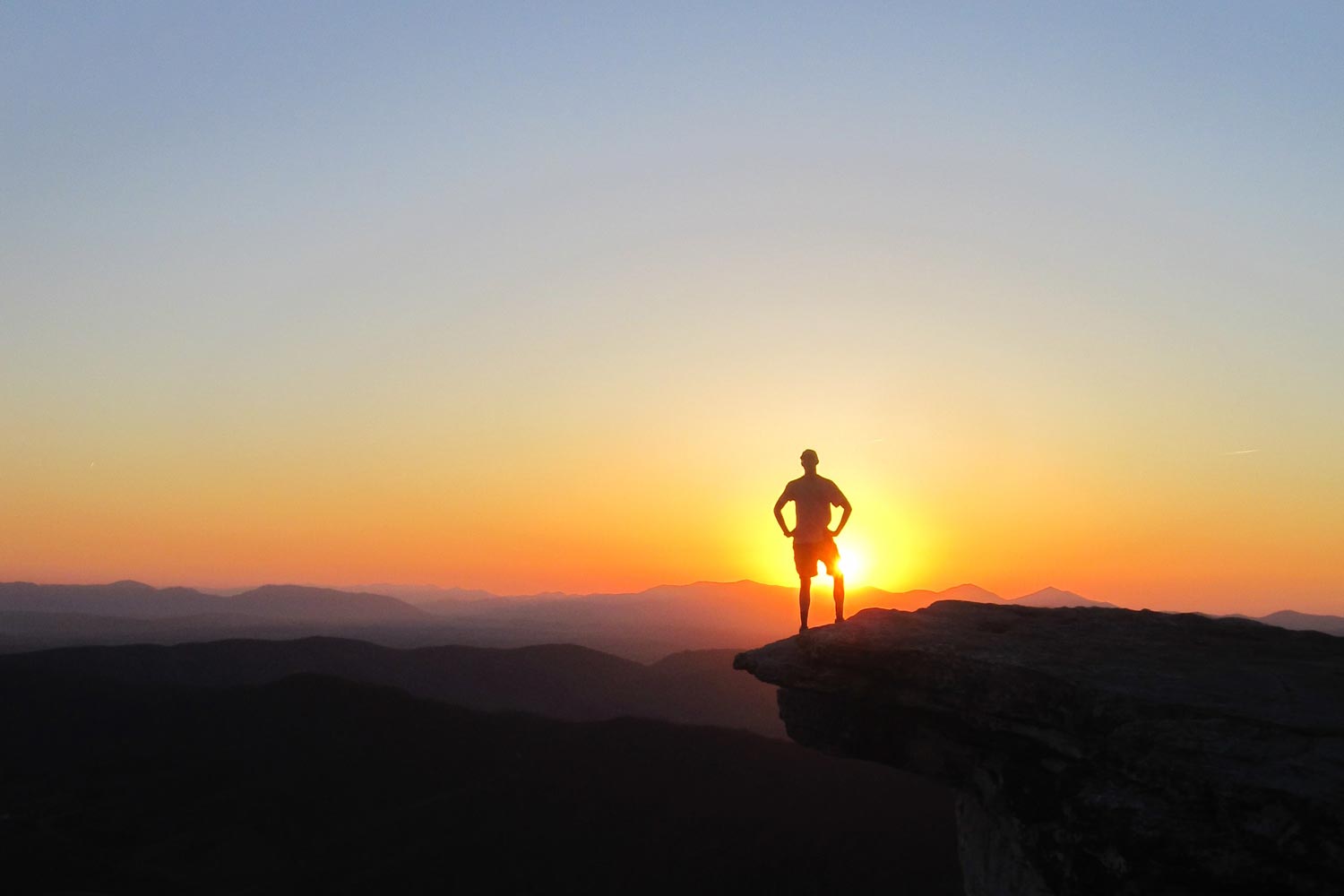 Hiking the Appalachian Trail was physically and mentally challenging, but came with plenty of stunning views. (Photo courtesy of Devin Underhill)
The program officially launched in September and has already referred seven students. Underhill, who will graduate from Darden in May and move to Chicago to work for Boston Consulting Group, is hard at work making sure Next Steps can continue to help students long after he leaves.
"Ten thousand dollars will disappear pretty quickly," he said. "My goal for this year is pursue additional funding and make this a more sustainable, permanent program."
He said he has been encouraged by increased willingness to discuss mental illness among his classmates and the wider UVA community.
"Often, especially at top schools, students want to figure things out for themselves and they don't want to talk about these issues," he said. "It's easy to put off the problem and not really deal with it head-on."
Taking the next step and talking to a therapist is hard, he acknowledges.
But then again, so was hiking the Appalachian Trail. And as Underhill can attest, it was very, very worth it.
Media Contact
Article Information
November 16, 2017
/content/he-hiked-2200-miles-help-students-take-their-next-steps-mental-health