First-year students at the University of Virginia have spent their first month on Grounds getting the lay of the land, digging into coursework and making new friends.
But have they visited the University's Career Center yet?
It's not too soon for even the newest Wahoos to drop in. Here's why: Not only can career advisers provide in-depth knowledge about employers, they can get students up and running with basics like packaging résumés, doing mock interviews, connecting them with internships and jobs and helping students envision their futures.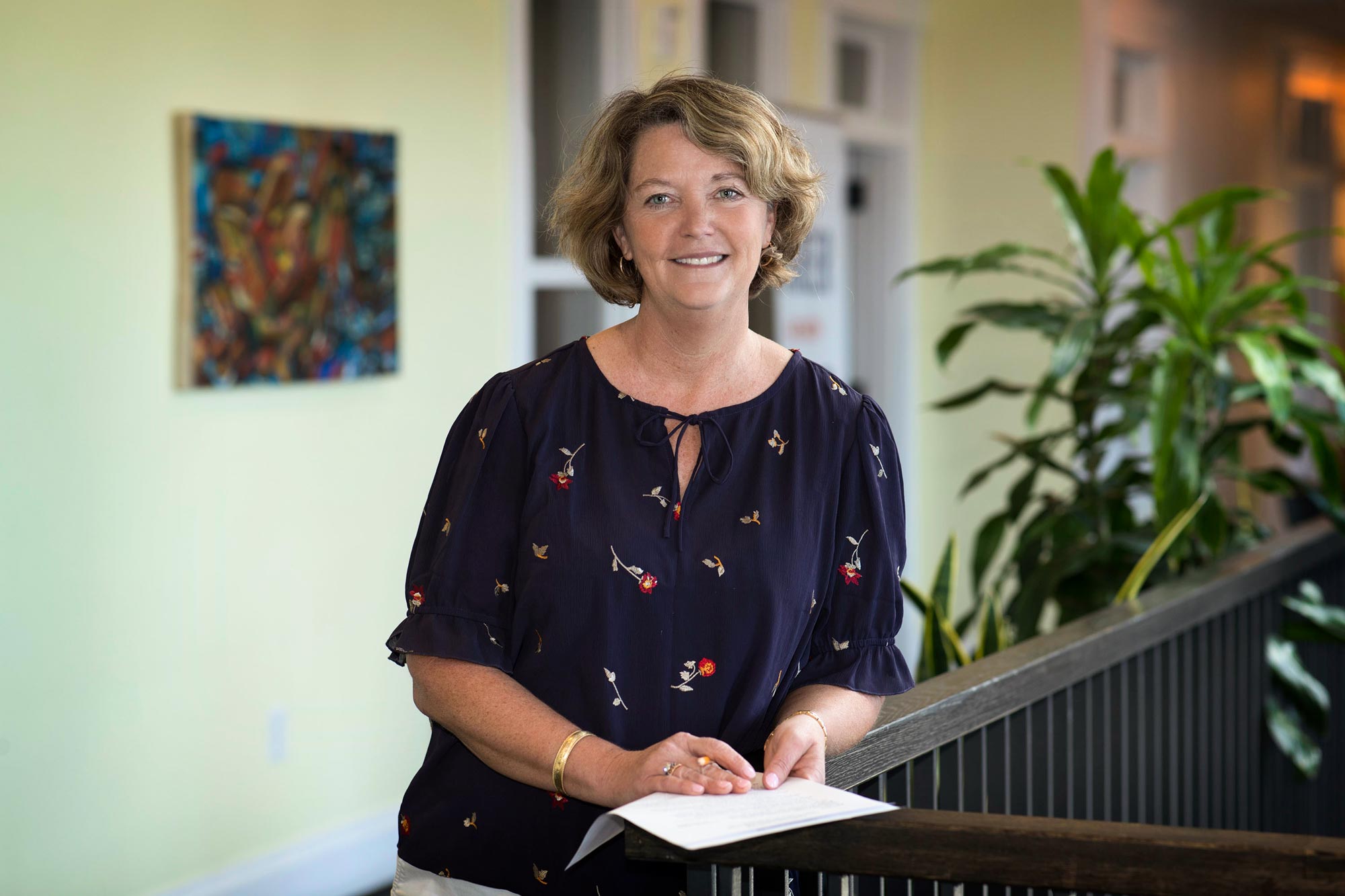 Carrie Rudder, director of career counseling, advising and communities, encouraged students to visit the Career Center early in their time at UVA. (Photo by Dan Addison, University Communications)
UVA Today spoke with Carrie Rudder, the director of career counseling, advising and communities, to get her take on why it's important for first-year students to take advantage of all the UVA Career Center has to offer. Her message: It's never too early to visit!
Location, Location, Location – and Free Coffee and Snacks
The Career Center holds prime real estate on the Corner in the 1515 student activity center. Located on the third floor in a space called "The Study," it holds coffee chats with career counselors weekdays from 1 p.m. to 5 p.m. on a drop-in basis.
"We have coffee. We have both healthy and sugary snacks. We have a very warm, welcoming environment," Rudder said. "We see students of all years, but we do a lot of work with first and second-year students."
Advisers help students declare majors and prepare their applications to UVA's various schools.
"We just help people get grounded, in terms of, 'Who am I? What might I be involved in? How am I spending my time?" Rudder said.
A Good Working Space
"They can stay and work on things. If they are working on a personal statement or a résumé, we might sit down with them, then give them some things to do, and then they come back and talk with us again, so they leave with something that's finished," she said.
"We have a lot of people who just come and spend time with us when they want to really get something done."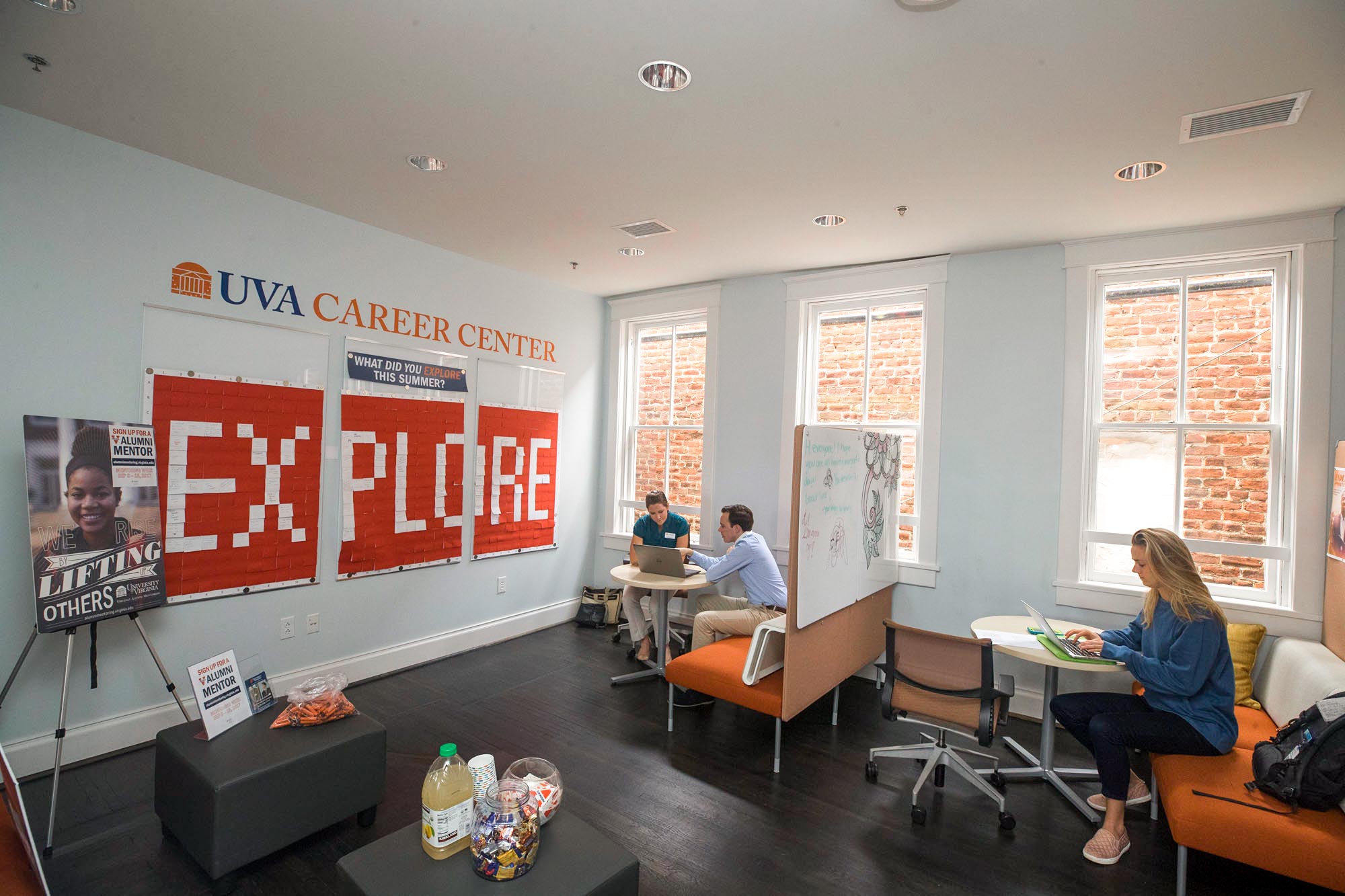 Career counselors are available to help students with résumés and interview prep, connect them with internships and job opportunities or just to talk about the future. (Photo by Dan Addison, University Communications)
Just Drop In
Rudder said the Career Center's walk-in service (it also has hours in Newcomb Hall) is like "same-day career-counseling appointments. They are not like a 15-minute transaction.
"People stay with us for a long time. It's much more exploratory," she said. "I believe in personal attention. Swing by 1515."
Internships
The Career Center offers an Internship Week in late April, especially for students who have put off finding a placement and realize the semester is almost over. The center offers specialized resources in such areas as business and technology, creative arts, media and design, and science and sustainability, and calls these categories "Career Communities."
"We'll bring our community builders in. We'll bring in employers," Rudder said. "We might focus one day on business and technology, so we bring those experts in."
She said the mission of the 1515 location is to cultivate a community that empowers UVA students to flourish at UVA and beyond.
"A big part of it is just getting grounded and connected at UVA and getting involved and adjusting and feeling like it's your place, your school," she said.
Of course, the center offers year-round internship guidance and it advises students to identify opportunities in the fall semester so they are aware of deadlines.
For nongovernmental organizations and several government organizations, many deadlines vary from late in the fall semester to early in the spring semester; other organizations may not post their summer internship deadlines until the end of the fall semester.
Many business-related internships with large companies will have deadlines late in the fall semester or into January and February. A number of employers choose to post such opportunities in Handshake, a LinkedIn-like networking application for students.
Honing Your Career Goals
A easy way for students to start thinking about their career path is as simple as the touch of a screen; Rudder suggests signing up for the career community newsletters on Handshake.
"They can sign up for as many as they want and then they can start taking themselves off these specialized newsletters as they narrow their search," she said. "These help funnel information to students in a manageable way."
Handshake
Speaking of Handshake, Rudder said the application is invaluable.
"Students can request appointments with counselors," she said. "So, I could go in and request an interviewing appointment, or I could go in and I could request a résumé appointment."
And there is something new this semester: students can make an appointment called "How do I get started?" She said that option was added so students don't feel like they have to figure out their career goals before taking advantage of all the center has to offer.
Students will also find job listings in Handshake, filtered by major, location and industry, and the Career Center offers tips and resources to help move that process along in a thoughtful way.
Second-Year Support
Believe it or not, it won't be long before the Class of 2023 moves into its second year. For many students, that is when they move off Grounds and can feel less supported.
Rudder said the Career Center, which is headquartered in Bryant Hall in Scott Stadium, tries to empower second-year students to use resilience to overcome challenges. She said that is often when they can start to get rejected from peer programs – from, for example, the University Guides program, or schools to which they apply.
"We try and foster a welcoming environment that gives students a sense of belonging," Rudder said.
A Welcoming Environment and a Listening Ear
"I think if you actually have a conversation with one of the career counselors in 1515, you will find that someone cares, and if we don't know the right resource, we will help you find it and we will help you get started," she said. "It's such a large school, and if you can find one person who cares and is somewhat knowledgeable, you can get where you need to be. And I think that's what we try to do here."
Rudder said UVA students sometimes feel overwhelmed because they were a big fish in a small pond in high school. "I think that there can be almost an imposter syndrome, in which students feel like they have to pretend that they have their act together, even if they are not doing well in a particular class," she said. "It is OK to come in and ask for help, probably sooner rather than later, to ask a question. You don't have to have it all figured out in order to be in the Career Center."
Article Information
September 20, 2019
/content/heres-why-first-year-students-should-not-wait-visit-career-center