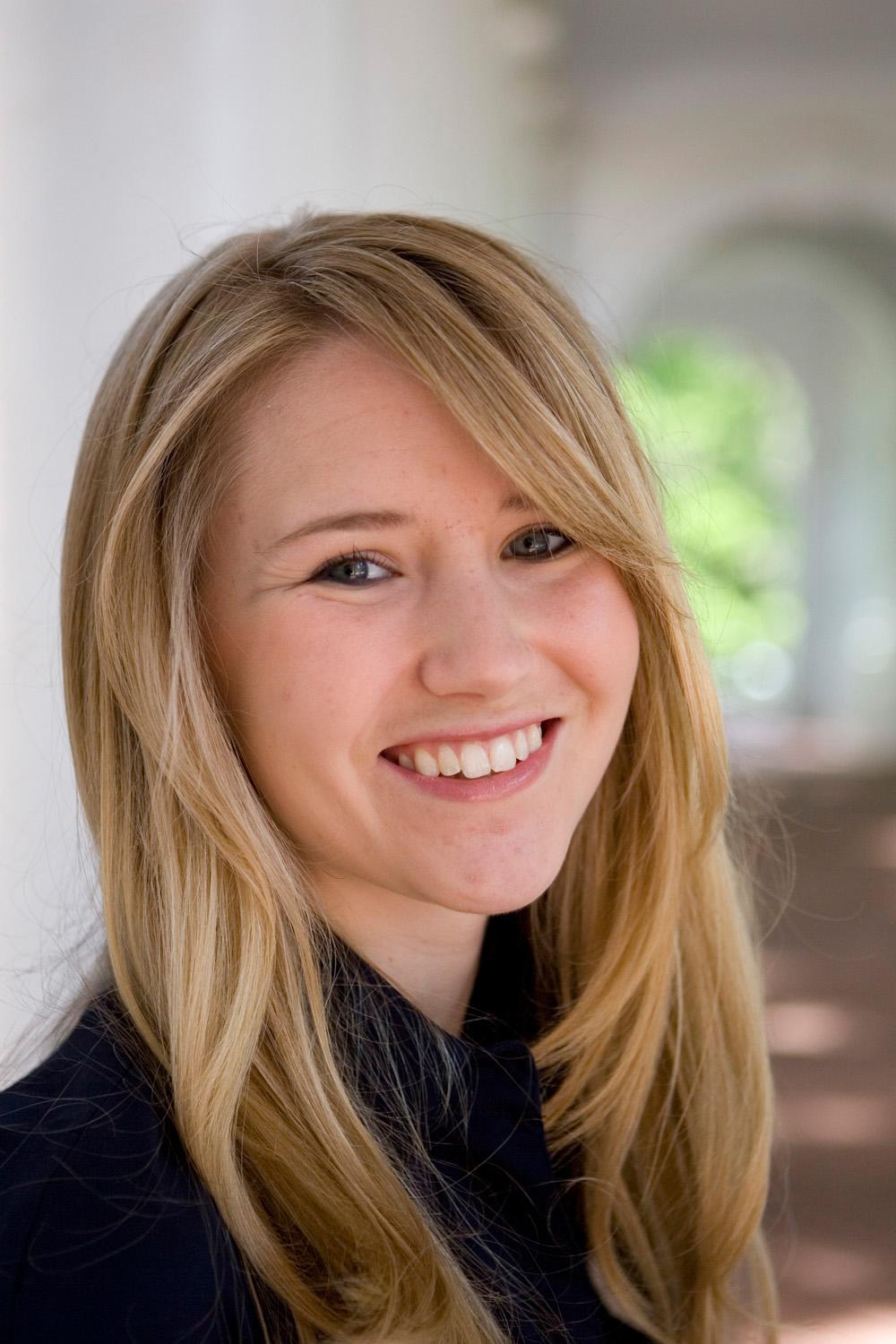 May 18, 2007 -- Sarah Strunk hated to run in high school gym class. Even a year ago, she still didn't jog. But today, as she prepares to graduate from the University of Virginia, she's contemplating running a half-marathon.
It's no surprise to those who know her that a service experience sparked her transformation. Strunk volunteered in the Office of Health Promotion last year and was made race director of the annual Fourth-Year 5K. Seeking a runner's perspective, she forced herself through the Women's Four-Miler training program. She ran that race with tears in her eyes the whole way — she's still not sure whether they flowed from exertion or emotion — but has kept right on running ever since.
That dedication to service typifies the winners of this year's Algernon Sydney Sullivan Awards: graduating students Strunk and Jesimiel Jenkins, and faculty member William M. Wilson.
SARAH STRUNK: A GIFT FOR GIVING
Project Serve is an event held during fall orientation, designed to introduce incoming students to community service opportunities. The new students provide most of the labor; upper-class students serve as site leaders and chairs.
Alexis Andres, who oversees the program for the Offi ce of Orientation and New Student Programs, first met Strunk when Strunk was the leader at the largest volunteer site. "She handled her responsibilities seamlessly," Andres recalled. "Perhaps most impressive was her ability to communicate her understanding of service, one with no hierarchy or condescension, while encouraging her participants to think about the intentionality of their own service acts."
When it was time to select new chairs for the program, the three outgoing chairs urged Andres to choose Strunk. And when Strunk's term was up, seven of the eight candidates seeking to be chairs mentioned Strunk as a major influence. "A lot of them talked about the personal connection they felt with her," Andres said. "They mentioned several different interactions with her where they felt like they were the only one she had that interaction with. She made them feel special."
Project Serve and Student Health are only two of many organizations to benefi t from Strunk's talents. She has been heavily involved in Madison House, culminating in a term on its Board of Directors, and has also been a director, site leader and volunteer in the Days on the Lawn program for admitted students.
This fall, she heads to Emory University in Atlanta, where she will attend medical school.
BILL WILSON: THERE FOR STUDENTS

As an associate dean in the College of Arts & Sciences, Wilson could limit his teaching in religious studies to one class every other semester. But that's not his style. "[Teaching] is what I went into this business to do, not to be a dean," he said. "To be a good dean, I feel like I need to be involved with what we do here, which is research and teaching students."
Selflessness is a common theme when others talk about Wilson. "Everything he does is defined by his deep concern for the people involved and the utter humility with which he does things," said fourth-year student E. Ross Baird, for whom Wilson has been a valuable mentor. "He really understands self-sacrifi ce. He is a tremendous scholar, but would without question sacrifice his scholarship for his students."
He came to U.Va. in 1988 as a pinchhitter of sorts, stabilizing the international studies program in a time of turmoil, recalled Alexander Gilliam, secretary of the Board of Visitors. Since then, he has fi lled in as interim head of the Echols Scholars program and, most recently, the Center for Undergraduate Excellence.
"He does it very quietly," Gilliam said. "There's no ego, no ballyhoo involved." The Algernon Sydney Sullivan Foundation presents the Sullivan Awards annually at 54 mostly Southern institutions. Named for a noted 19th-century New York attorney, they seek to "highlight the importance of service to others and service to the community."
JESIMIEL JENKINS: JOYFUL AMBASSADOR

Jenkins admits he knew little about U.Va. before mailing his deposit, his decision based mostly upon the University's stellar reputation, low cost and proximity to his Chesapeake, Va. home. When he arrived for summer orientation, "I remember seeing students showing off their school," he said. "They were so proud of it."
He too fell in love with the University, and for the last four years, he's been the one showing the place off. University Guide, summer orientation leader, admissions tour guide, peer advisor in the Offi ce of African-American Affairs — Jenkins has been an enthusiastic, joyful face of the University.
Active in many areas of student life, including singing, drama, student advisory panels and class government, Jenkins said it is important for other African-Americans to see that they, too, can be full participants at U.Va. "I just felt that I really had to communicate my passion, I had to communicate my love," said Jenkins, who plans to pursue an acting career. "I always thought it was important to communicate my ownership of the University."