On the wall above court No. 11 at the Boar's Head Sports Club are several banners that commemorate the University of Virginia men's tennis team's success over the last two decades.
On Monday morning, a former Cavalier who was instrumental in many of those achievements practiced serves and volleys on that court.
Treat Huey, a four-time All-Atlantic Coast Conference selection and the 2008 ACC Tournament MVP, is back in town for this week's Charlottesville Men's Pro Challenger tournament.
Huey, who began his pro career playing doubles with former UVA teammate Dom Inglot, has played with numerous partners during his 12-year career. This week, he'll be playing with American Jackson Withrow for the first time.
"I love being back," said Huey, strictly a doubles player. "I've been injured almost the last two years and now I'm trying to make my way back up the rankings. It's been fun to see familiar faces. I'm really excited to be back."
Huey's list of professional accomplishments includes runs to the semifinals of Wimbledon (2016), the quarterfinals of the Australian Open (in 2014 and 2016) and the quarterfinals of the U.S. Open (2013).
Before missing time with a back injury, the former Hoo had climbed to No. 18 in the world.
Huey, who has dual citizenship in the United States and the Philippines, became the first Filipino player to reach the Wimbledon semifinals and has represented the Philippines in the Davis Cup since 2009.
Outside of the grand slam tournaments, the Alexandria native has won eight career doubles titles, including the Citi Open (in Washington, D.C.), the Swiss Indoors, the St. Petersburg Open and the Malaysian Open.
UVA Today caught up with the 34-year-old player – who has been based in New York City, but is planning to move to Charlottesville with his wife, Charlotte, in December.
Q. Do you take a lot of pride in the fact that you and Somdev Devvarman were the two players – the bedrocks, if you will – who really helped build the program into what it has become today?
A. Definitely. I know Somdev and I like to think that our senior year, when we won the national indoors in Seattle, is what kind of started everything. After that, we won indoors for a lot of years in a row and then they won the outdoor national championship [in 2013]. But we feel special about that time. And we still feel like we're part of the program. We text the guys and the coaches when there's a good win. It's still "we." We love being part of the team and coming back to Charlottesville.
Q. Looking back on your UVA career, what's your fondest memory?
A. Winning the clinching match against Ohio State in the national indoor championship win in Seattle. I still watch those highlights every now and again to relive it.
Q. You were a standout singles and doubles player at UVA but elected, almost from the get-go, to concentrate on doubles as a pro. What went into that decision, and do you ever wonder how far you could have gone as a singles player?
A. Oh yeah, I always think I could have done it in singles [smiling], but looking back I don't think I would have given myself enough time. I would have probably run out of money and quit too soon; whereas in doubles, I was a little bit better and could make a quicker leap to the bigger events and start making some money.
Q. Looking back on your pro career, have you had a lot of "wow" kind of moments when you played against or met somebody you had grown up idolizing?
A. Yeah, I've played Roger Federer, I've played Rafael Nadal, Andy Murray. I still do think I'm such a fan of tennis that when I see them at tournaments, I'm like, "Oh wow! There's Roger! I love that guy!" But at the same time, I feel like they're my coworkers and I don't want to be starstruck – especially if I'm about to play them! You have to believe that you have a chance to win [chuckle].
But it's still pretty cool for me and still a dream come true when I play the tour events – like the D.C. one this summer – and I get to play some of the best players in the world. It's a lot of fun. I've really enjoyed my career the last 12 years. Hopefully I can get back into the swing of things and start playing again in some of the bigger tournaments in the world.
Q. Have you ever had any success against Federer or Nadal?
A. I beat Federer in Dubai in an Asian league when he was playing with Marin Čilić in a team-tennis kind of thing. I count that as a win over Roger [smiling]. But those guys are such nice guys. It's good to have played all of them.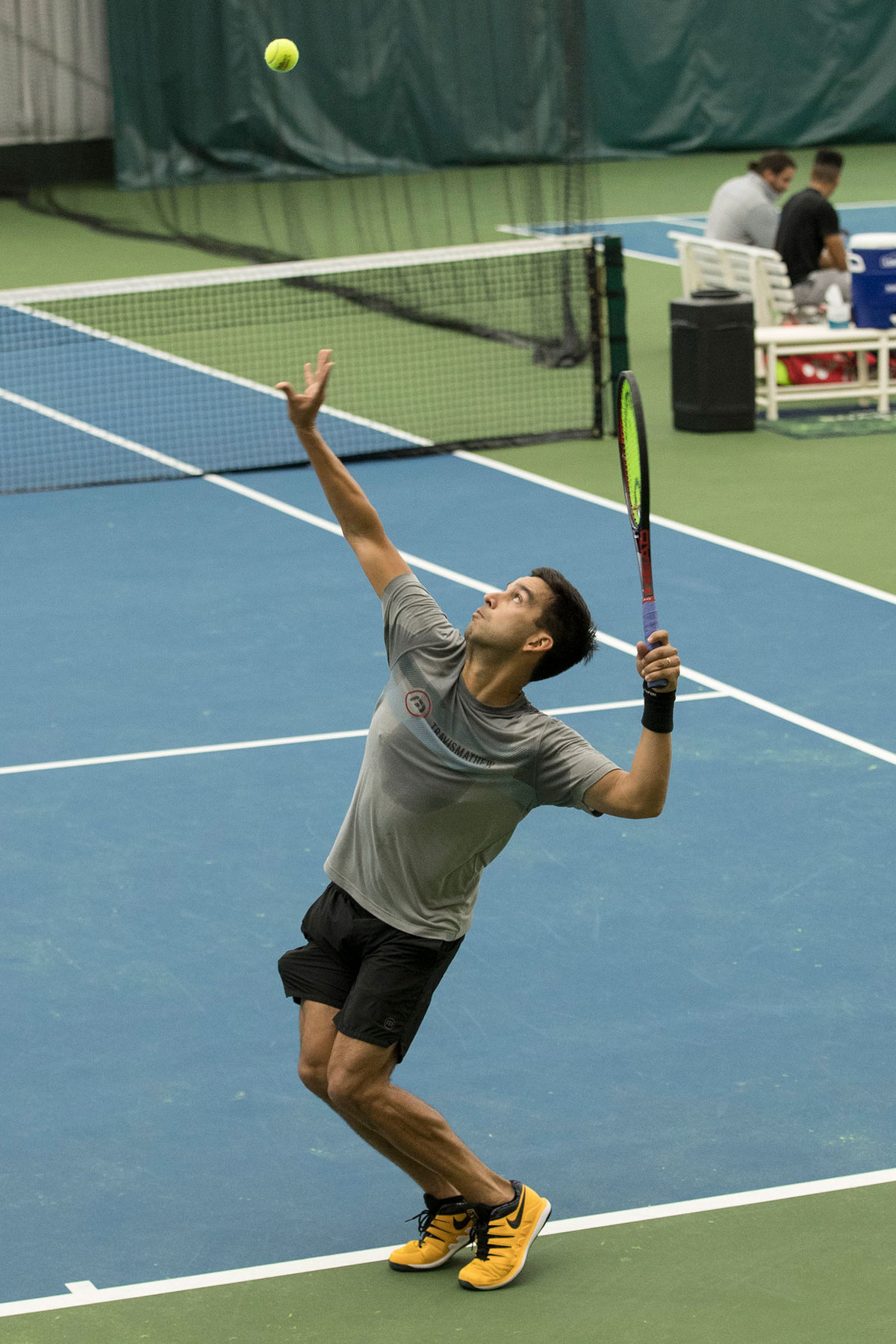 A strong serve has helped Huey have success as a professional.
Q. You've won eight titles, made it very far in each of the grand slams and represented the Philippines in Davis Cup play. Any highlight?
A. In 2016, I made the quarters of the Australian Open, semis of Wimbledon and had a great year with Max Mirnyi. That year, we really did well. It was amazing to be at the year-end Masters in London. That was for sure my biggest accomplishment. I'll remember that forever.
Q. Have the finances of playing on the tour become any better over the years?
A. It's improved a little, but is still definitely tough. Unless you make the jump pretty quick – like a [John] Isner or a Somdev – it's really tough. People don't realize all the hard work you need to put in and how much you need to sacrifice in flying and paying your own way to these tournaments. It's tough.
Q. What are some of the bigger changes that have taken place since you first joined the tour, and are there any things you'd like to see happen in the future?
A. I like where the sport has been going with the no-ad scoring and 10-point tiebreaker. I think it's made doubles a little bit more of a shorter format and gotten some of the younger top singles guys to play, which I feel is good for the game. All of the fans want to see the younger guys playing singles and doubles. There's nothing more fun for me than watching doubles. I love it a lot more [than singles].
Q. Your calling card on the tour has been that big kick serve, that – since you're lefthanded – is very hard to return. How are you able to generate so much spin and power considering you're not the biggest guy in the world?
A. Yeah, I'm only 5-10 or so, but I feel like the biggest part of my game that made me one of the better players in the world for a couple years was my serve. I have pretty good spin and power for a smaller guy.
I joke with the doctor I've been seeing for my back that yeah, it made me really good, but it also kind of messed up my body [laughing]. I have a lot of torque in there. It still bothers me every now and then, but at the same time, I don't think I'd be near as good if I didn't have that torque.
Q. Do you know what you'd like to do after your tennis days are over?
A. I used to think I could play forever, but I've started thinking about it more and more. I'd love to stay in tennis. I just love the game so much. I could see myself coaching in college or coaching some of the guys on the tour. But who knows? Right now, I'm keeping my full focus on making my comeback, but it looks like the end is coming sooner than I think.
Q. Having been on the tour for more than 10 years now, what advice would you give to current UVA players who are hoping to make it as a pro? [Several current and former players are entered in this week's tournament.]
A. When I talk to the young guys, I tell them they have to be able to deal with losing, week-in and week-out. There's only going to be one guy who wins the tournament. Coming out of college, Somdev and I talked about how we hardly lost. I think I lost two or maybe three matches a year – whereas, on tour, if you play 30 weeks, you're probably losing 29 of the 30 weeks you play.
So it's about how you deal with those losses. You have to be kind of crazy. You have to wake up the next day and think, "Next week's my week. I'm going to win the tournament next week." It's completely unrealistic, but part of you has to believe that. You have to work hard and get ready for that next week.
That's the toughest part – to convince yourself mentally to keep working hard and improving, even when you're struggling mentally, thinking, "Oh man, I can't beat anybody."
Article Information
October 28, 2019
/content/hoo-rizons-time-former-uva-tennis-star-treat-huey-beat-roger-federer