While working as a research assistant at the Metropolitan Museum of Art – a treasure trove of some of the world's finest art – University of Virginia graduate student Eric Hupe helped conduct a study proving that most visitors spent about 15-30 seconds in front of any given masterpiece.
"Other museums were conducting similar studies, which sparked a lot of questions and debate in the art world," he said. "How do we get people to slow down?"
Now, as an instructor at UVA, he is using virtual reality technology to help his undergraduate art history students to do just that. Hupe's summer class, "20 x 20: Italian Renaissance Art and Culture," focuses on only one building or work of art in each of the 20 class periods, which are two hours long.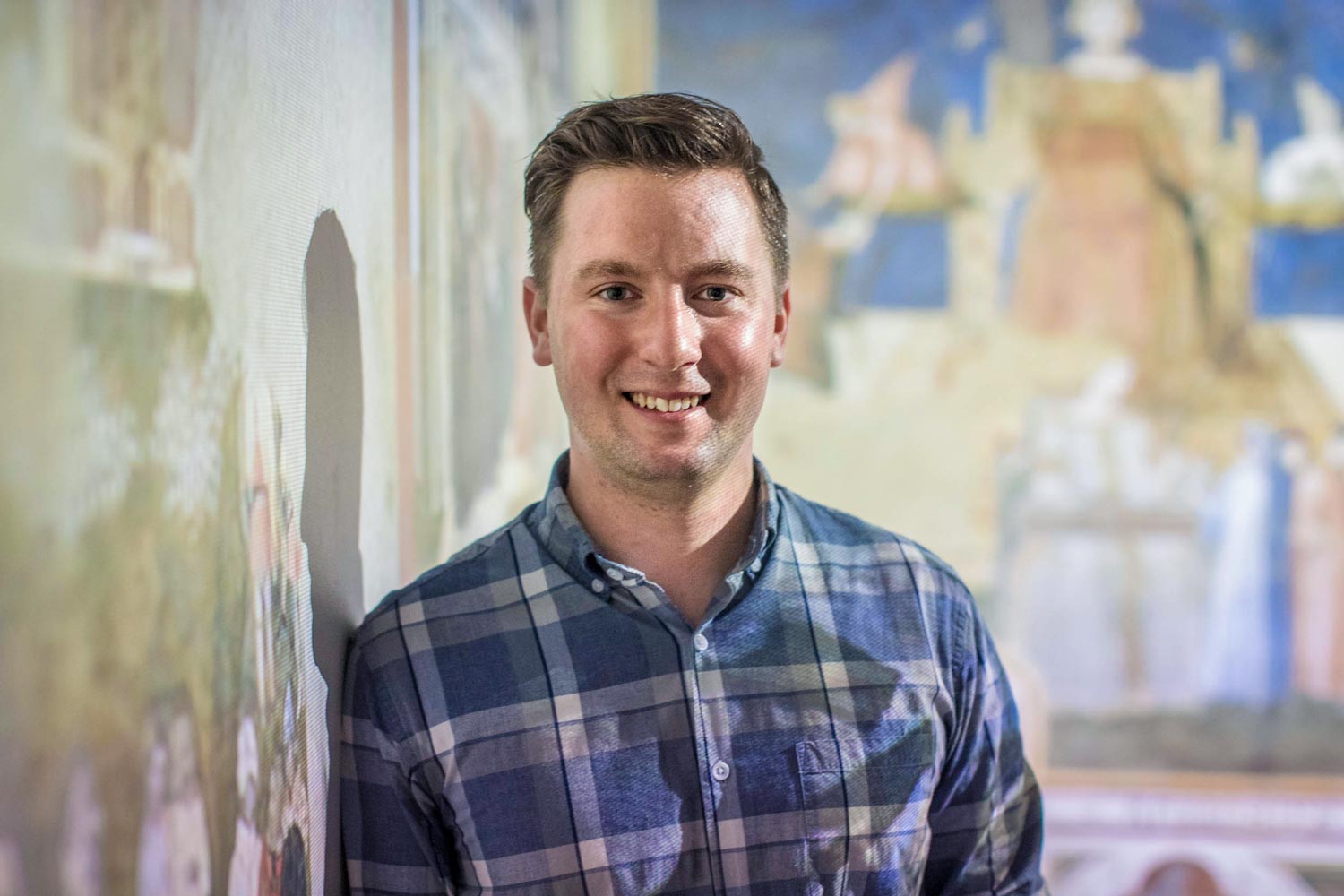 Graduate student Eric Hupe spent the summer weaving virtual reality and 3D imaging technology into his Italian Renaissance Art and Culture class.
"The study at the Met got me thinking about ways to engage students and have them experience a work of art fully," he said. "I decided to flip the survey format on its head, and have students spend two hours examining a single work of art."
Hupe also decided to incorporate virtual reality technology, an increasingly popular tool in art history classrooms. He provided students with headsets from UVA's Scholar's Lab and 3D images that allowed them to explore the frescoed walls of Renaissance Italy while standing in Charlottesville.
"If we are studying a chapel that is completely covered with frescos, where each wall connects to the other, that's difficult to convey on a PowerPoint slide," Hupe said. "The virtual reality platform gave students a more holistic experience and allowed them to think about the relationship between different elements in the same piece."
The simulation above shows a 360-degree view of the "Gubbio Studiolo," an elaborately crafted private study originally built in the late 15th century for a wealthy duke in Urbino, Italy. The duke had two nearly identical versions made and one can be seen at the Metropolitan Museum of Art, showing how the inlaid wood panels were cleverly crafted to give the illusion of 3D cabinetry and collections. Hupe had a friend at the Met create the above simulation for his students.
"It's just an amazing space, and I wanted students to get a real sense of what it feels like to look around and be in the space," Hupe said.
Continuing his quest, Hupe also stitched together high-resolution images and projected them on classroom walls, effectively placing students right in the middle of whatever location they were studying.
"I recreated a frescoed room from the 14th century, using three projectors on each wall and stitching together images from the room in Siena, Italy," Hupe said.
He taught that class standing right in front of the fresco: "Allegory and Effect of Good and Bad Government," by Ambrogio Lorenzetti, painted around 1338-1339 and located in the Palazzo Pubblico (Town Hall) in Siena.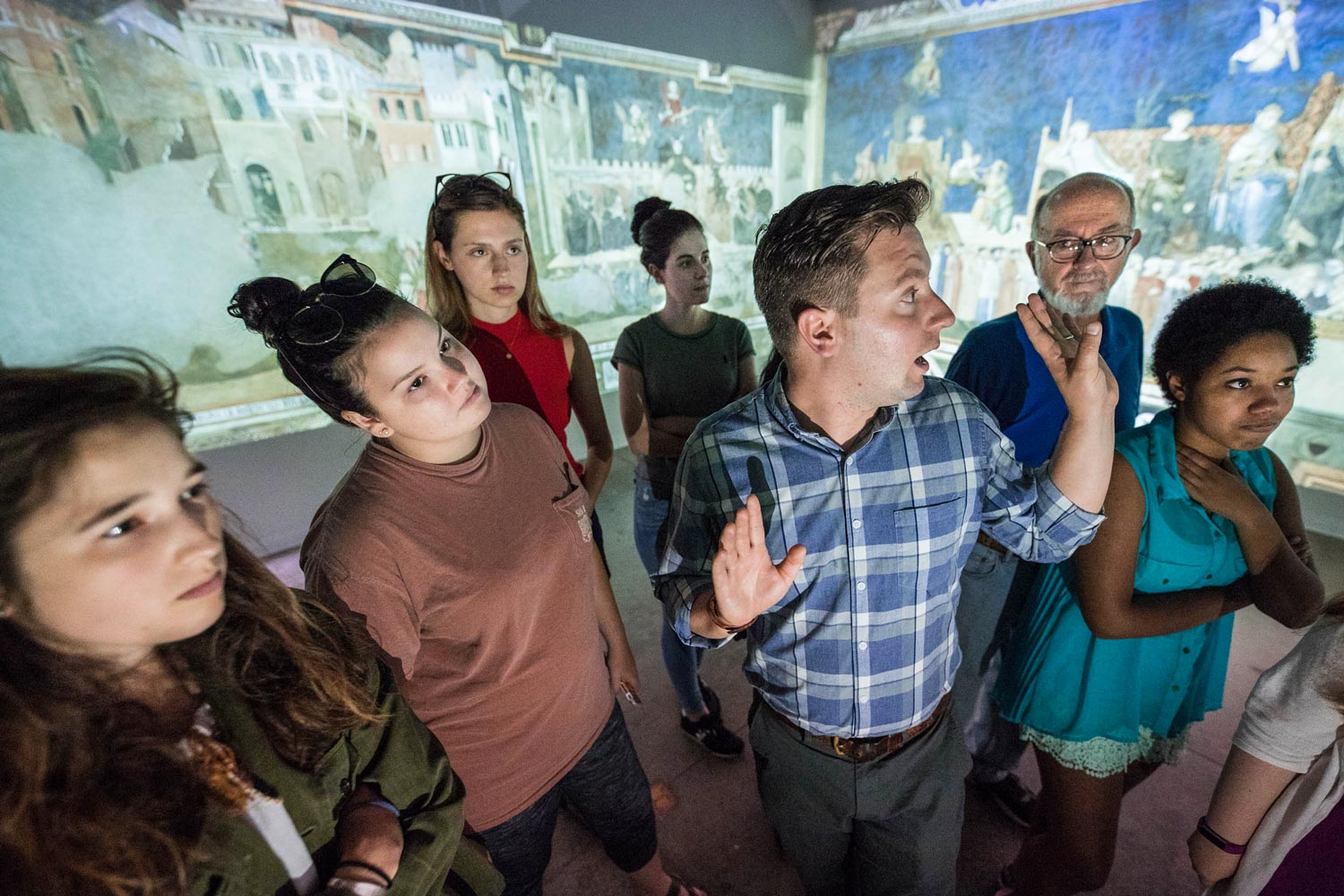 During one class period, Hupe transformed a classroom into a recreated fresco, stitching together images and projecting them on the walls.
Fourth-year student Mary Sullivan Beckley said she really enjoyed using technology to study art.
"It was a really cool way to engage with the art," she said. "It really helped me to understand the art and the details we were talking about."
Beckley and her classmates said they appreciated not only the technology, but Hupe's energy and enthusiasm for the subject, and his dedication to helping them experience it fully.
For his part, Hupe said he has also learned a lot from exploring different ways to teach the Renaissance period.
"Integrating this technology with the standard way we teach art history has been a learning experience," he said.
He hopes to develop more of the 360-degree images like the one shown above and store them in a database at UVA, so that professors on Grounds and at other universities can use them in their classes.
"If a university spearheads this issue, as opposed to a company like Google, we can anticipate pedagogical issues," he said. "As a discipline, we can think about how we can continue to implement this."
Media Contact
Article Information
August 1, 2017
/content/how-virtual-reality-changing-art-history-class-uva