A professor who played a formative role in the University of Virginia's landscape architecture program also left his mark on some of the United States' greatest national treasures, including the White House, the Washington Monument and Yellowstone National Park.
Before joining the UVA faculty in 1975, Benjamin Howland Jr. spent 30 years as a landscape architect in the National Park Service, which celebrated its 100th anniversary on Thursday. Howland's papers, archived in UVA's Albert and Shirley Small Special Collections Library, offer behind-the-scenes insight into today's parks, from Washington, D.C.'s historic landmarks to stunning, carefully preserved landscapes.
Howland arrived at UVA in the first year of the School of Architecture's landscape architecture program and taught until his death in 1983. Today, an endowed lecture series and travel fellowship commemorate his influence on the program, along with a memorial tree outside the Lawn room that his daughter, Jane, occupied as a student.
"Ben's unbelievable expertise in connecting theory and practice is a major reason why, 45 years later, our program is in the top five nationally, competing with much older programs," said Elizabeth Meyer, a professor of landscape architecture at UVA and a former student of Howland's.
Howland's legacy also includes droves of students committed to public service, an ideal that he embraced as an architect and as a Marine during World War II, when he met his wife and fellow Marine, Susan.
"He inspired many students to think about public service as well as private practice," said Meyer, who cites Howland as the inspiration for her decision to teach at a public university. "That commitment to the public realm really came through Ben."
As the National Park Service turns 100, UVA Today delved into Howland's papers to learn more about his legacy.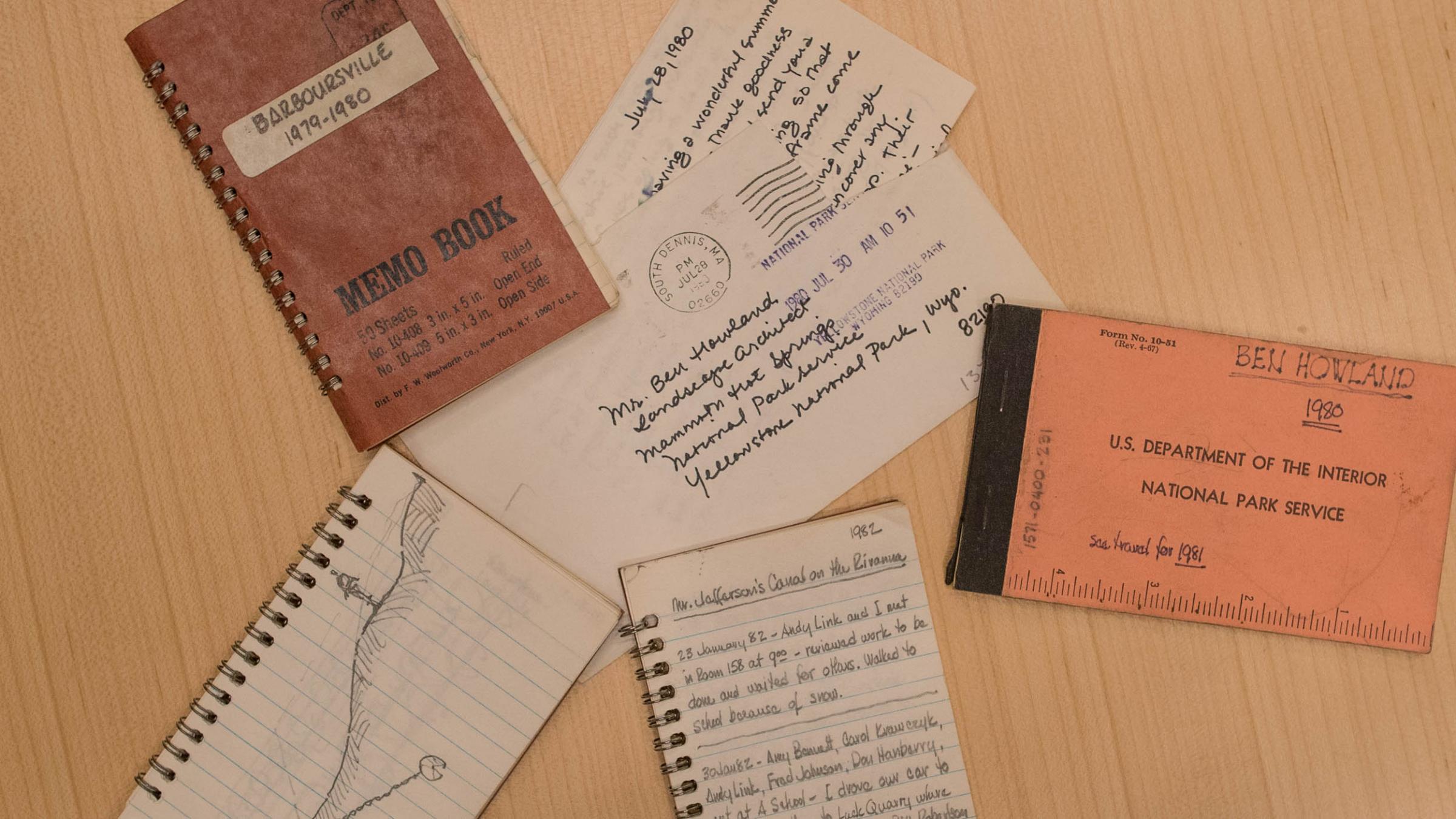 Howland joined the National Park Service in 1950 after earning a degree in landscape architecture from the New York State College of Forestry. His work took him to both coasts and eventually to several leadership positions within the service's National Capital Region, where he managed parks in the Washington area. Throughout, he kept meticulous notes and records of his plans, correspondence and day-to-day schedule.
(Photos by Sanjay Suchak/University Communications)
By his retirement in 1970, Howland was the chief of master planning for the National Capital Parks' Office of Design and Construction and a well-known figure among park employees. According to his son Creg – who like his father served in the Marines and then the National Park Service – his father's influence continued long after retirement.  
"Everywhere I went people asked if I was his son, which was pretty cool," Creg said. "People that knew him said what a talented and wonderful person he was, and a hard act to follow."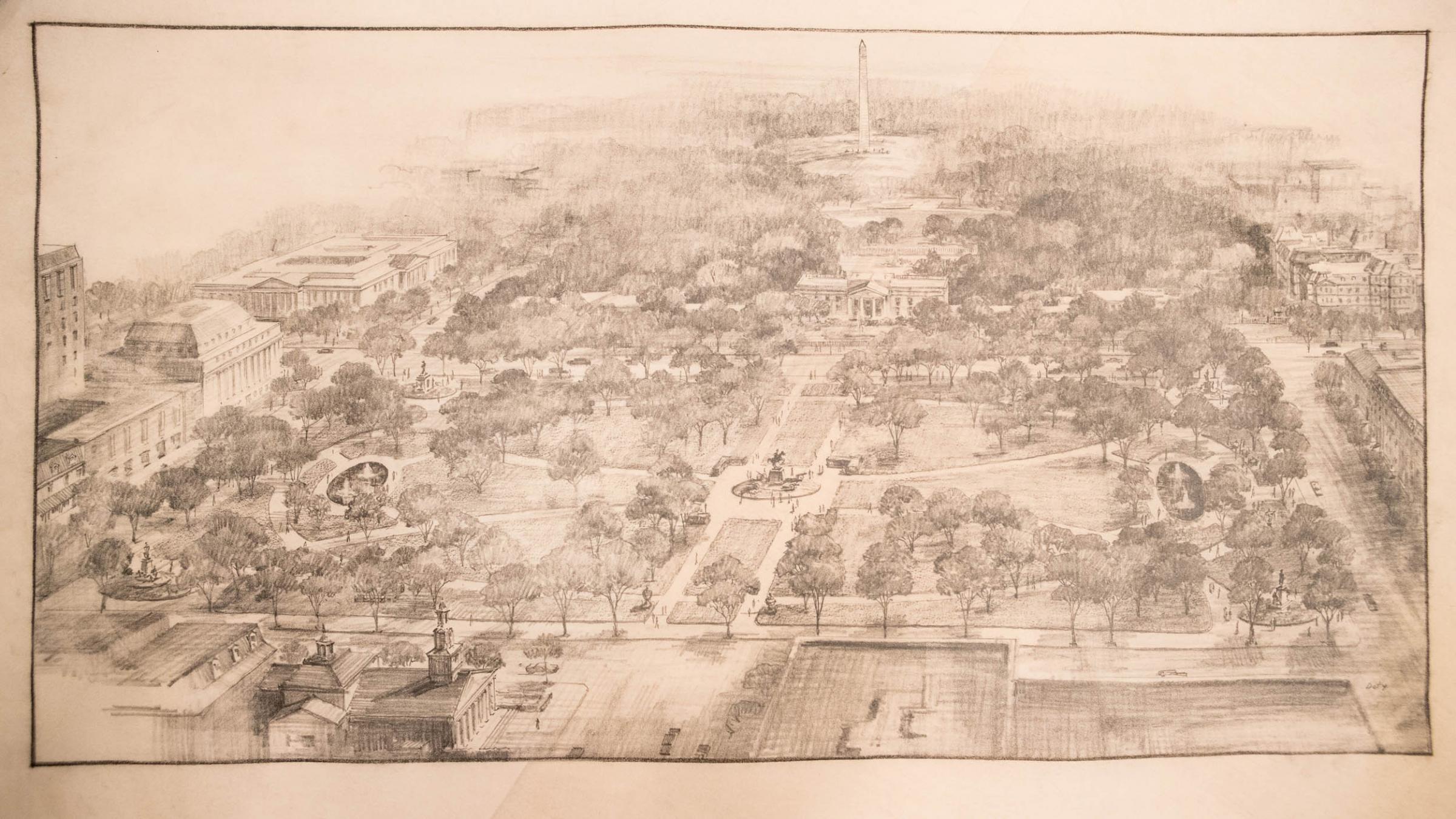 A drawing of the National Mall among Howland's papers.
Howland's projects in D.C. included high-profile sites like the Washington Monument, where he contributed to landscaping plans around the 555-foot obelisk, including the iconic ring of 50 American flags. He also worked on designs for the George Washington Memorial Parkway, the grounds of the Iwo Jima Memorial and a task force for the Potomac River Basin.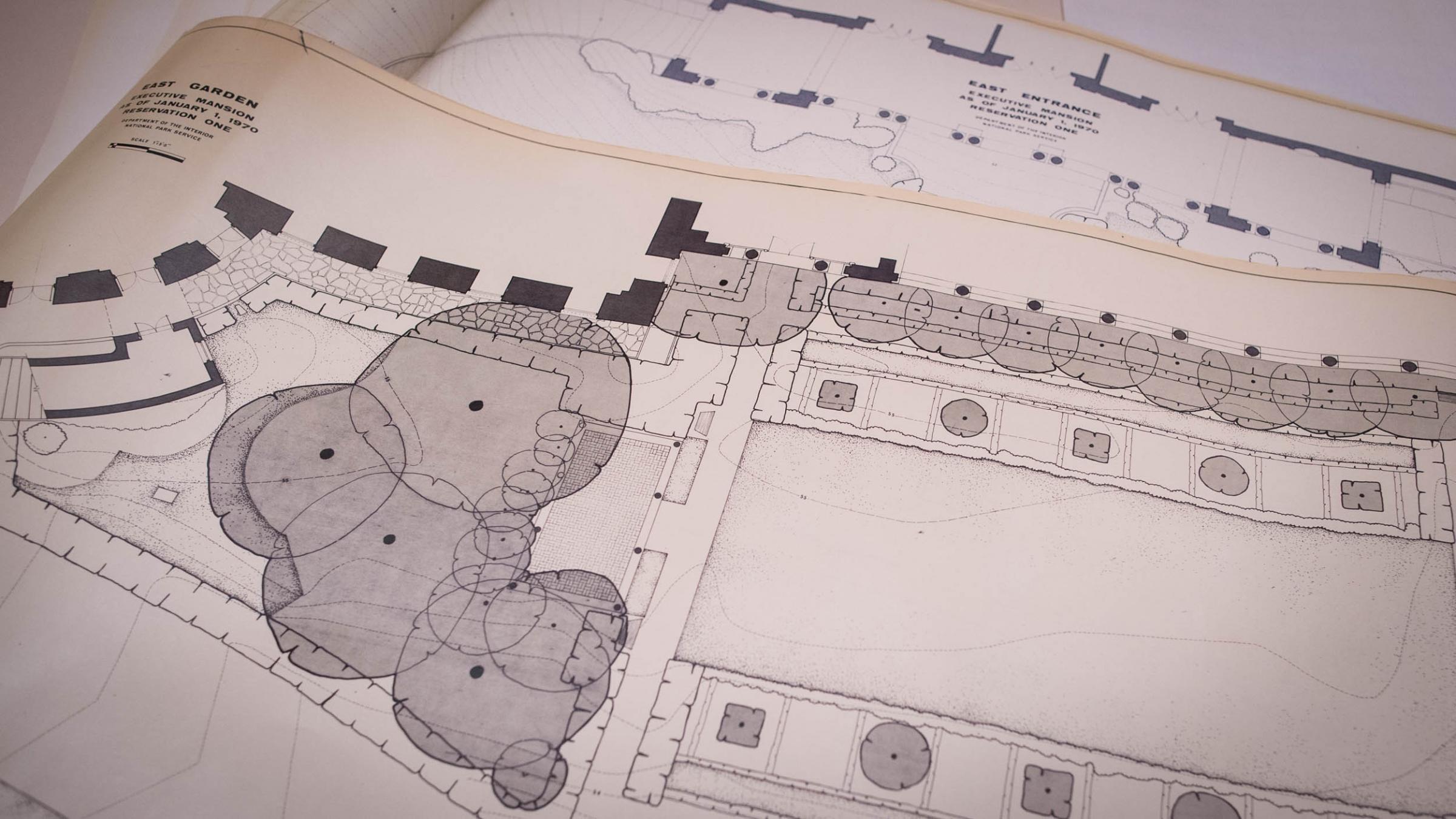 His reach even extended to 1600 Pennsylvania Avenue. Howland served as the restoration landscape construction supervisor for projects in the White House gardens, helping shape the gardens and porticos that serve as the backdrop for many of today's political dramas. The above plans are for renovations to the East Garden and entrance.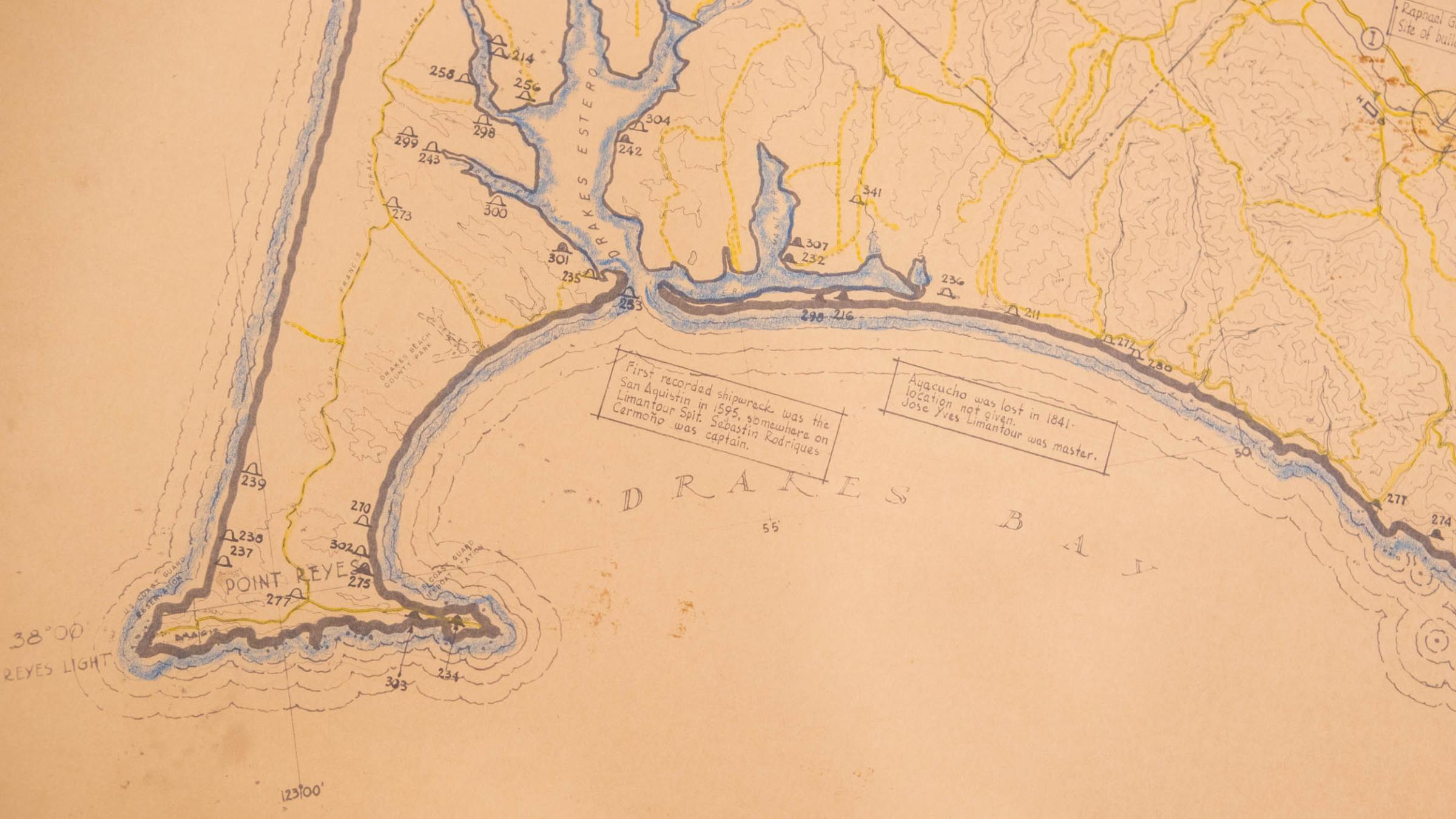 Beyond the Beltway, Howland played a major role in preserving some of the country's most beautiful seascapes. He was the master planner for the first national seashore parks, located in Point Reyes, California; Cape Cod, Massachusetts; and Assateague, Virginia. President John F. Kennedy commissioned these parks to protect coastal landscapes, ecosystems and wildlife. Today, there are 10 national seashores around the U.S.
"The idea that a forested sand dune could be a national park was brand-new at the time," Meyer said. "Ben did the master planning for these really innovative public spaces."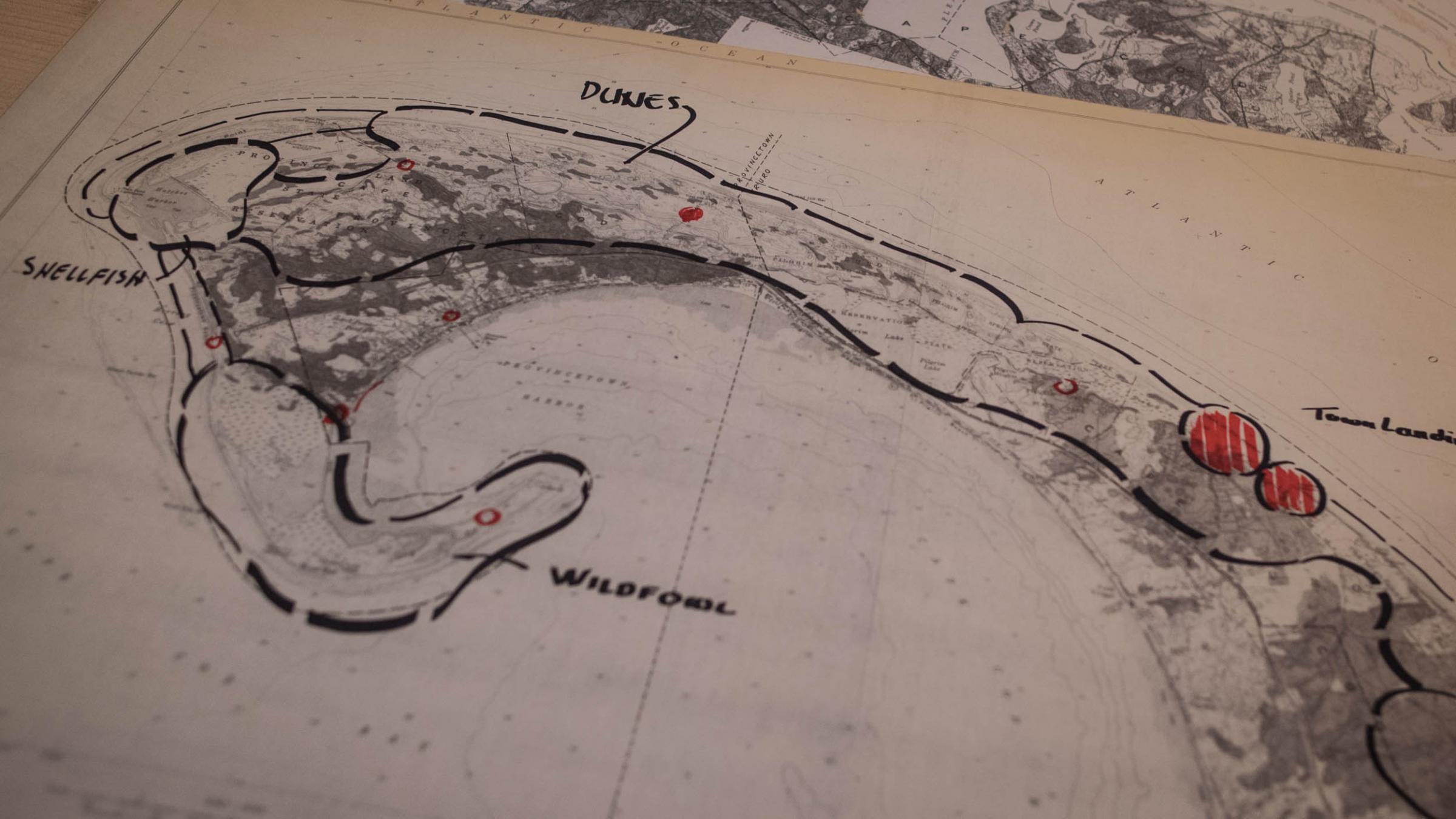 Meyer, who recently visited Cape Cod, said that the fruits of Howland's efforts remain evident today.
"The entire width of the peninsula is made up of beautiful forested sand dunes. In between the dunes, there are freshwater lakes, wild turkey and deer. You are walking to the beach and a wild turkey walks by," she said. "The beaches themselves are huge and just beautiful."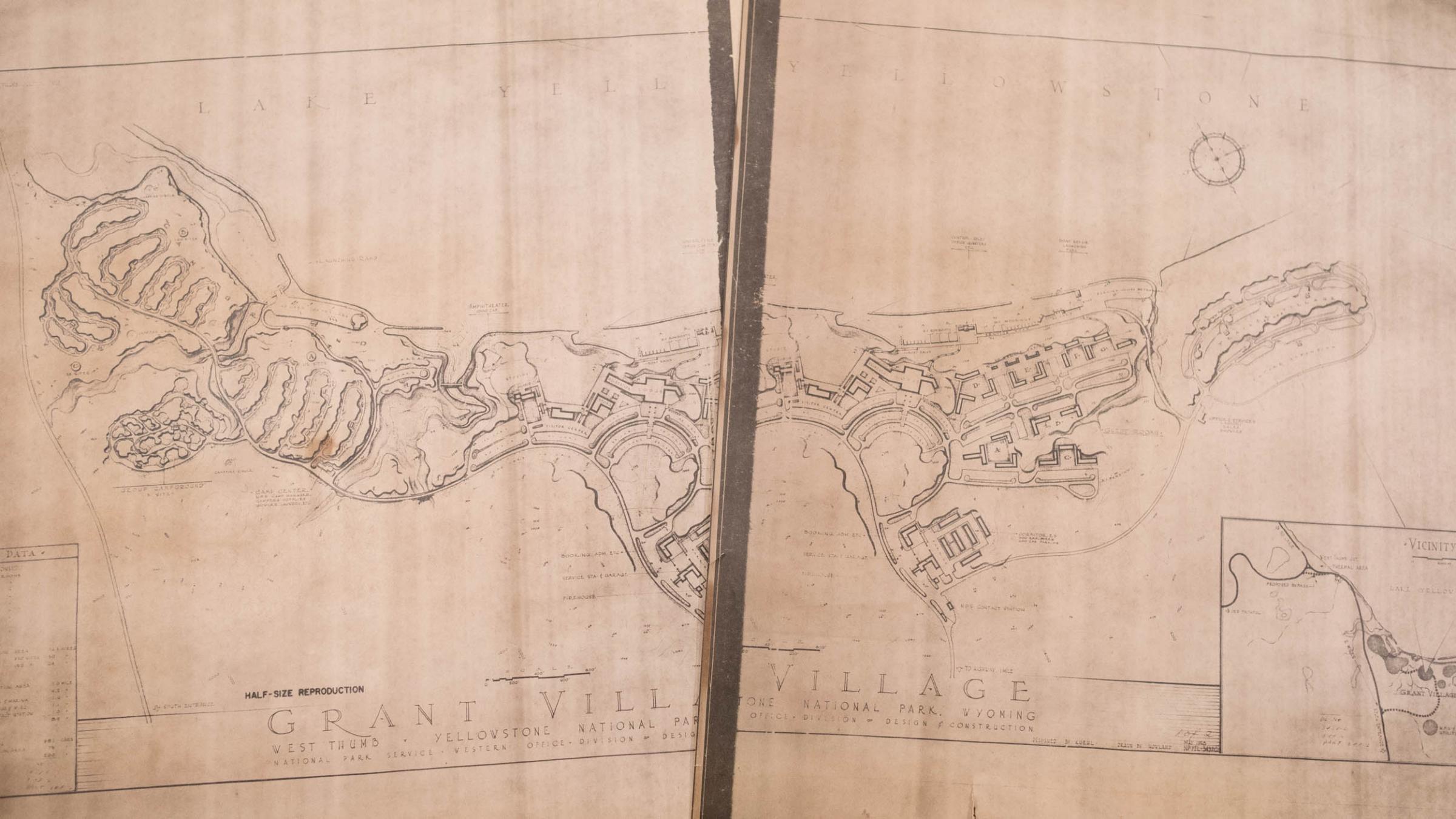 Howland's papers also include plans for lodges, entrances and information stations around Yellowstone National Park.
As a professor, Howland regularly took students on trips to Yellowstone, Assateague and many other national parks to show them how the techniques they were learning in the classroom could be applied in the field. Warren Byrd, a former student of Howland's who also taught alongside him for four years, recalled how much these expeditions impacted his students.
"There really wasn't anyone that could parallel the experience and quality of Ben's field teaching," Byrd said. "That was where he was at his best."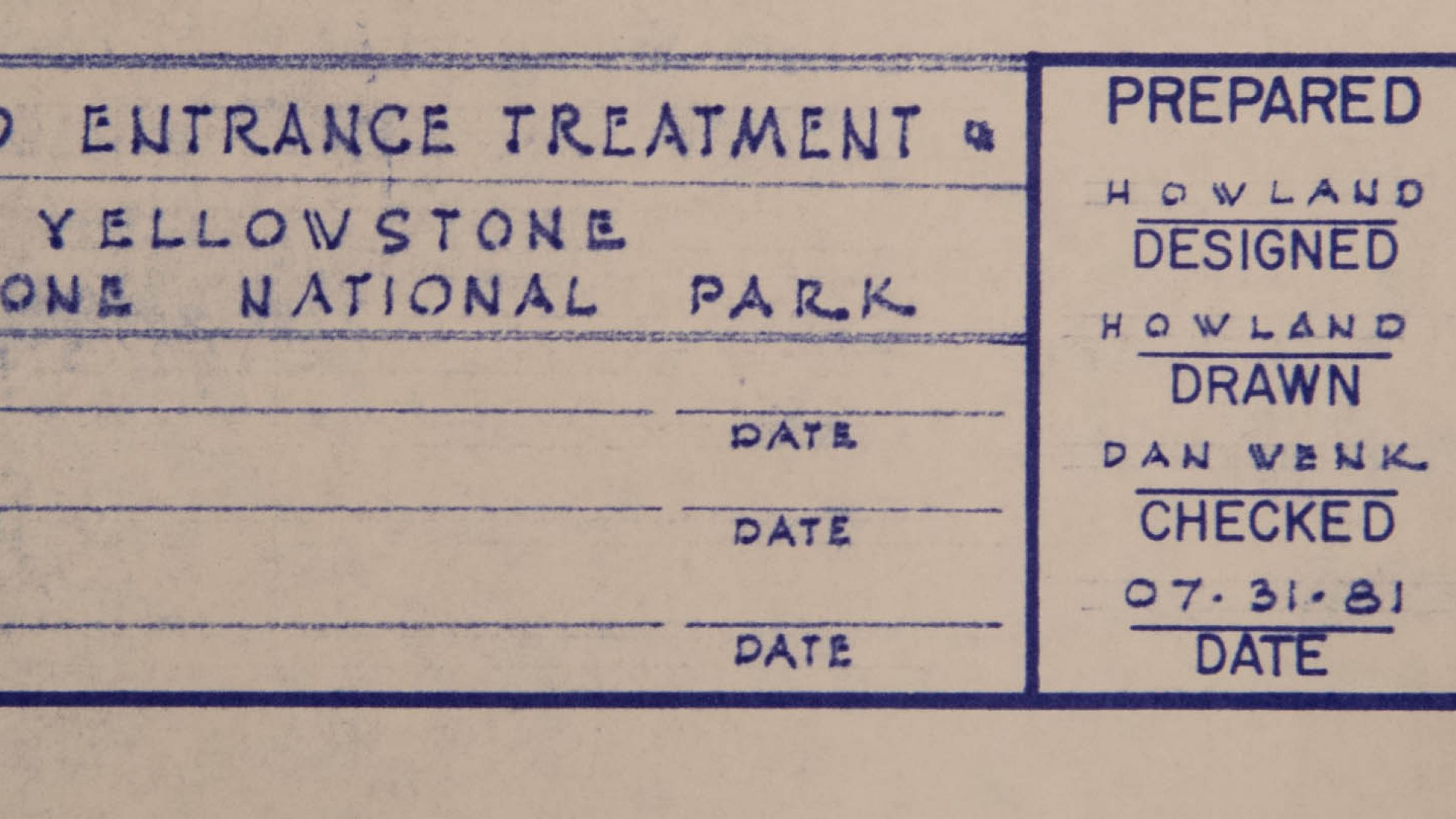 According to Byrd, many students who joined Howland in the field credit him with shaping their career aspirations.
"All good professors leave a legacy that lives on in their students," Byrd said. "You will not find someone who has more dedicated students than Ben Howland. It is remarkable the memories they retain from their time with him, and how much he personally influenced the direction of their professional careers."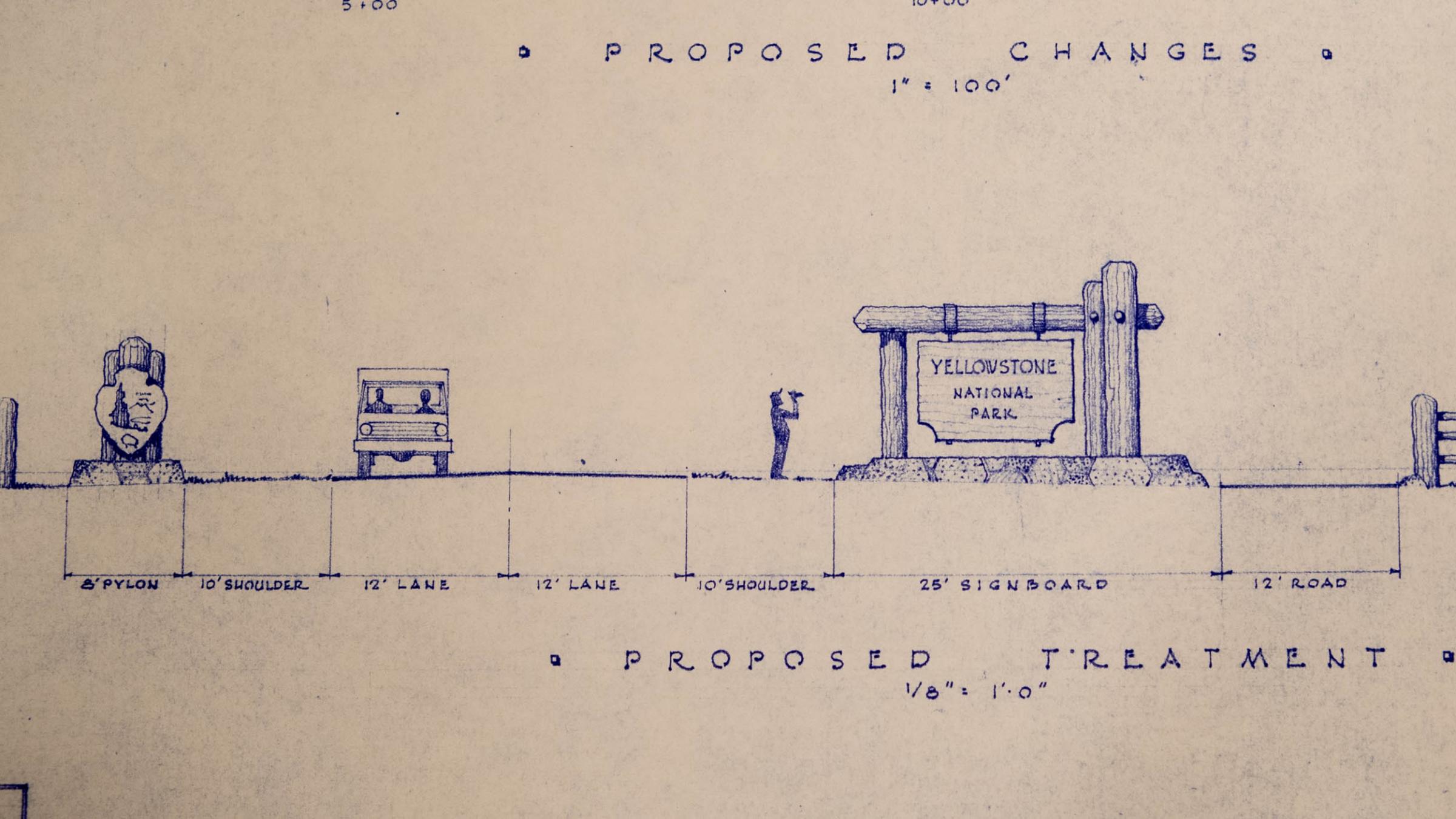 At Yellowstone and in his other projects, Howland designed with visitors in mind, recognizing that national parks were not only conservation areas, but also destinations to be experienced and enjoyed.
"A lot of landscape architects have a strong connection to the biophysical landscape, but Ben also understood that the landscape was a record of cultural values," Meyer said. "He understood that humans would visit and shape national parks and he was very committed to understanding landscape as a cultural product, not just as an ecosystem."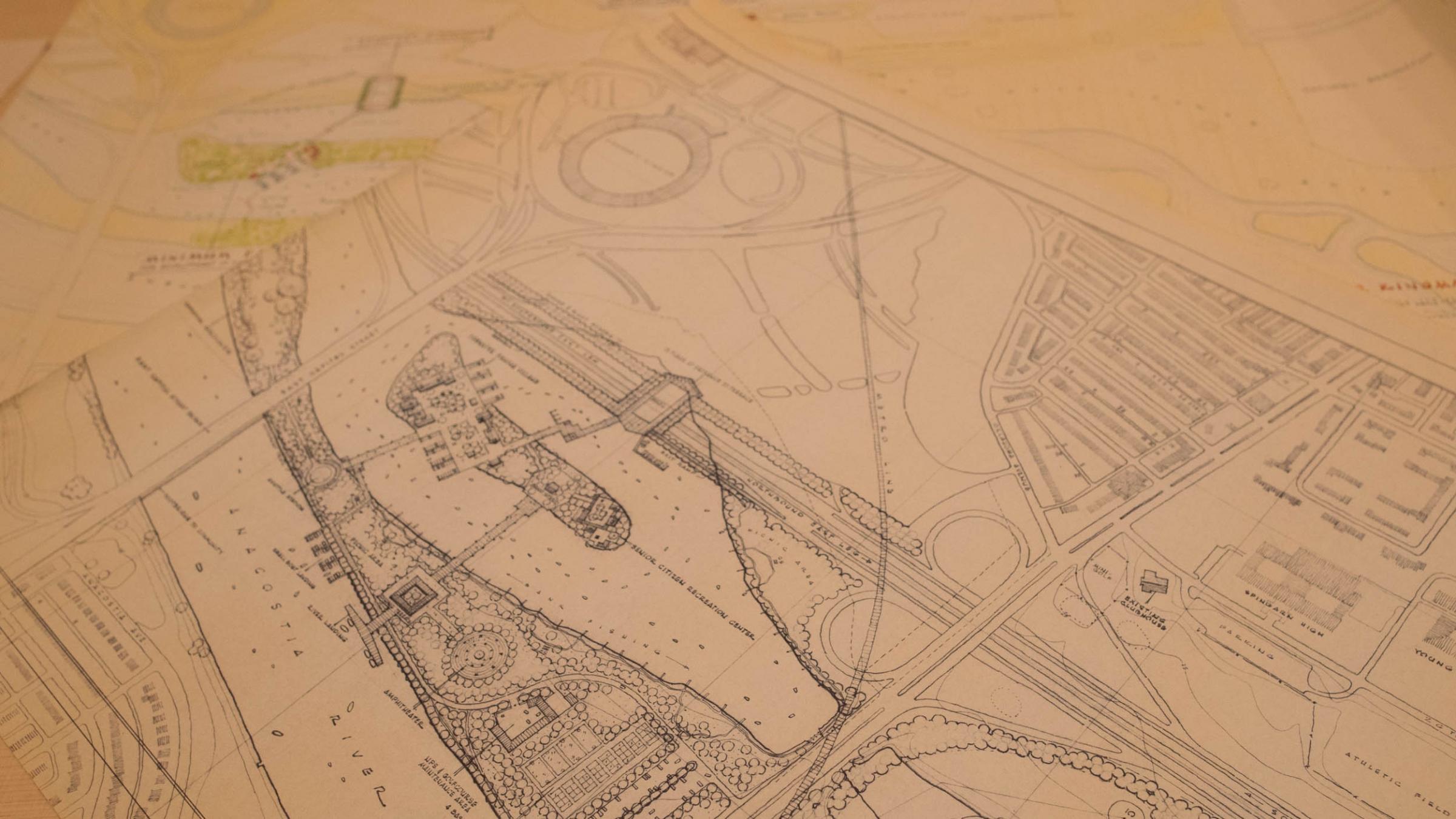 Howland's last major project was the Anacostia River Park, where his team transformed a long-neglected stretch of waterfront land into a more vibrant park and recreation center. To do so, he moved his design offices from the park service's headquarters in downtown D.C. to a maintenance building in Anacostia, encouraging his designers to get to know the people who would use the park most.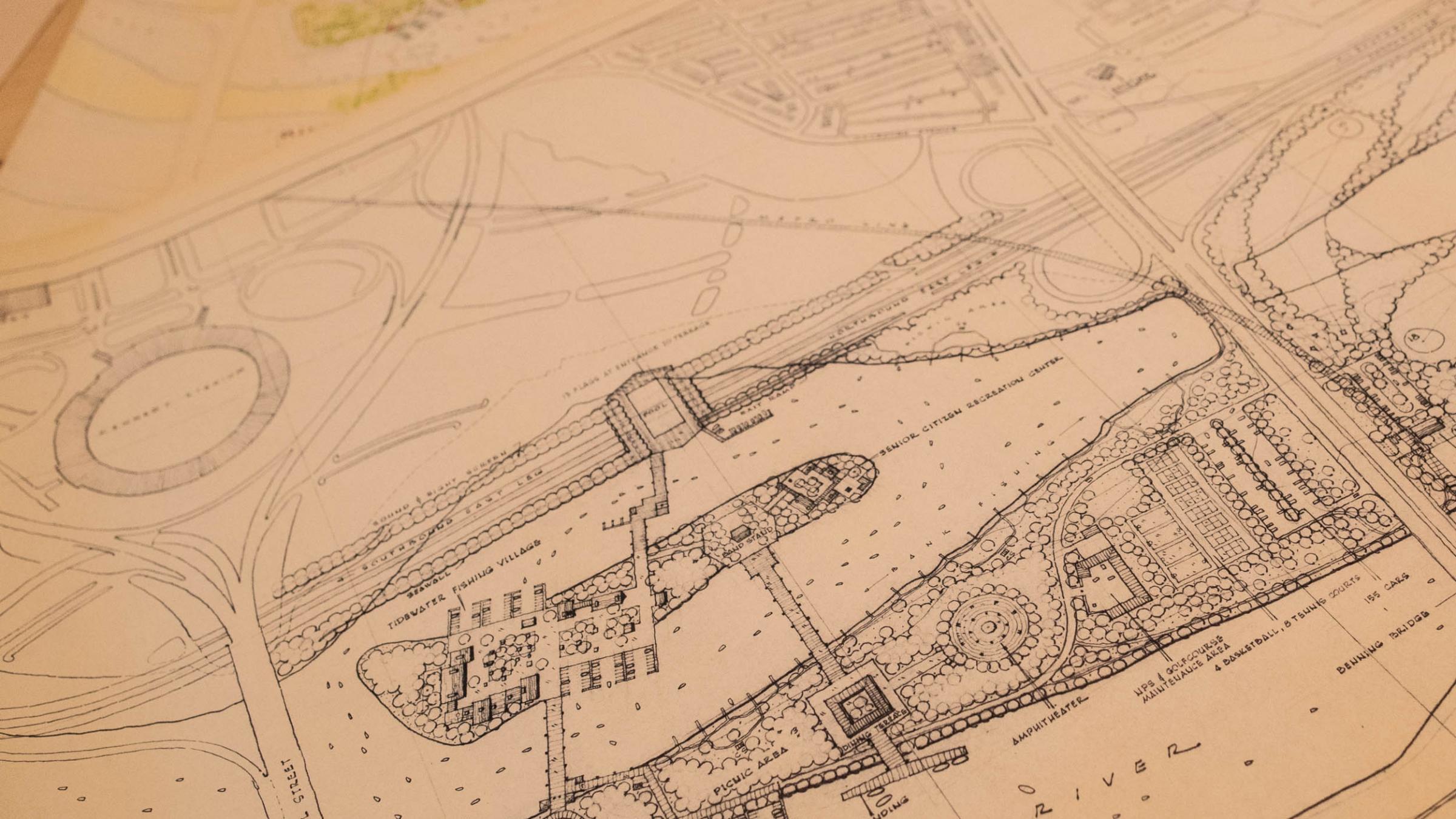 "That sensitivity to the community [to?] understand the needs of different economic and racial groups in the city was pioneering," Meyer said. "Ben was committed to the public landscape and what it meant to have land that is not only owned by the public, but accessible and meaningful."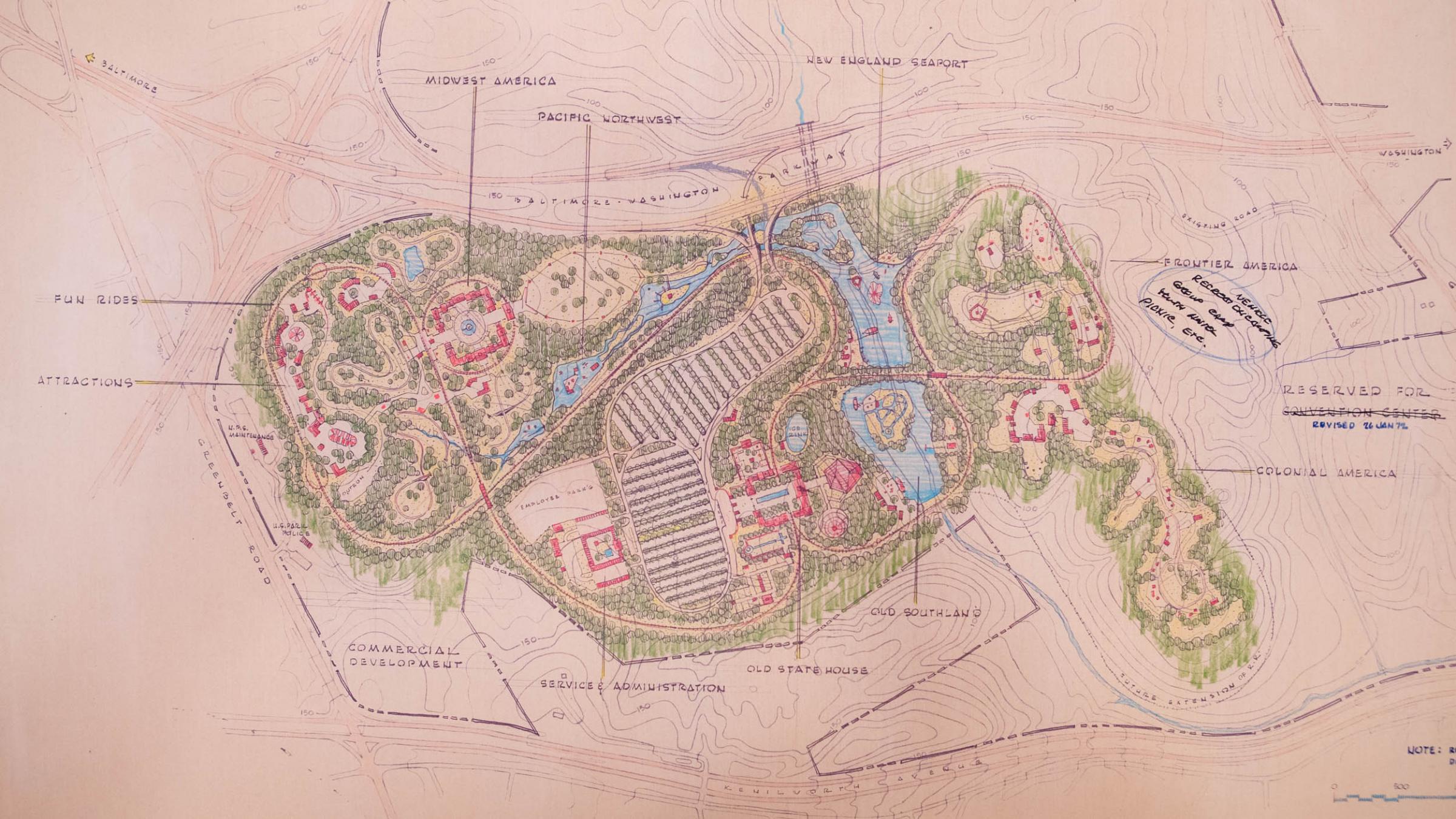 In addition to plans for well-known landmarks, Howland's papers included some surprise gems. Above, a sketch shows later-abandoned plans for a "Spirit of America" theme park within Maryland's Greenbelt Park.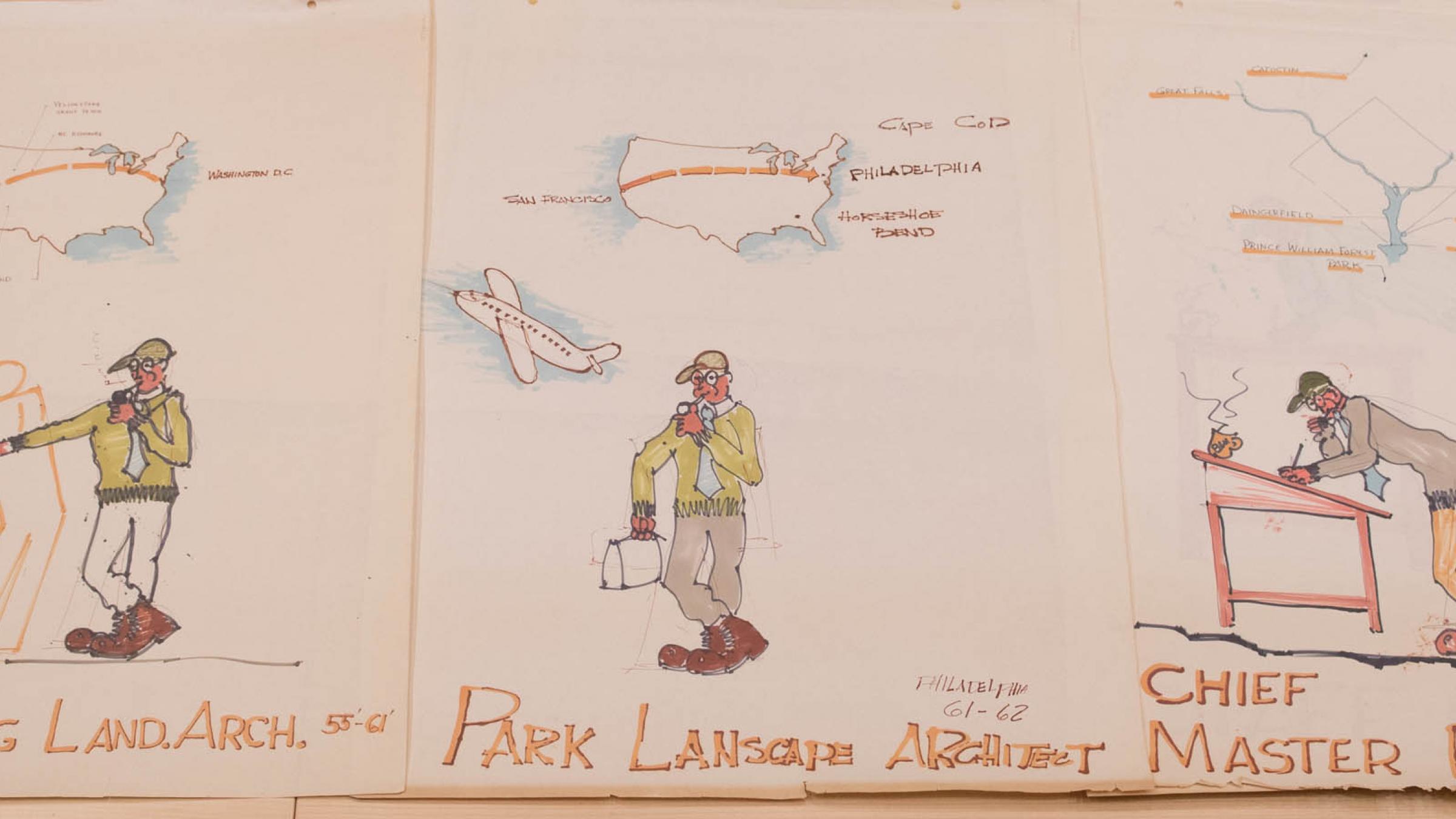 These quirky cartoons, likely created upon Howland's retirement from the park service, depict the various roles he filled. He was recognized with two professional service awards, the Department of Interior Meritorious Service Award in 1966 and a Citation for Distinguished Service in 1971, when he was noted as "one of the foremost landscape architects in the National Park Service."
Howland's favorite reward, however, might be the knowledge that many of his landscapes and parks continue to thrive today.
"My father loved preserving what could otherwise have been lost to the ages," Creg Howland said. "He was recording history, and I like to think that he even brought back a lot of older landscapes through his research."
Media Contact
Senior Writer and Assistant Editor of Illimitable Office of University Communications
cfn8m@virginia.edu 434-924-6856