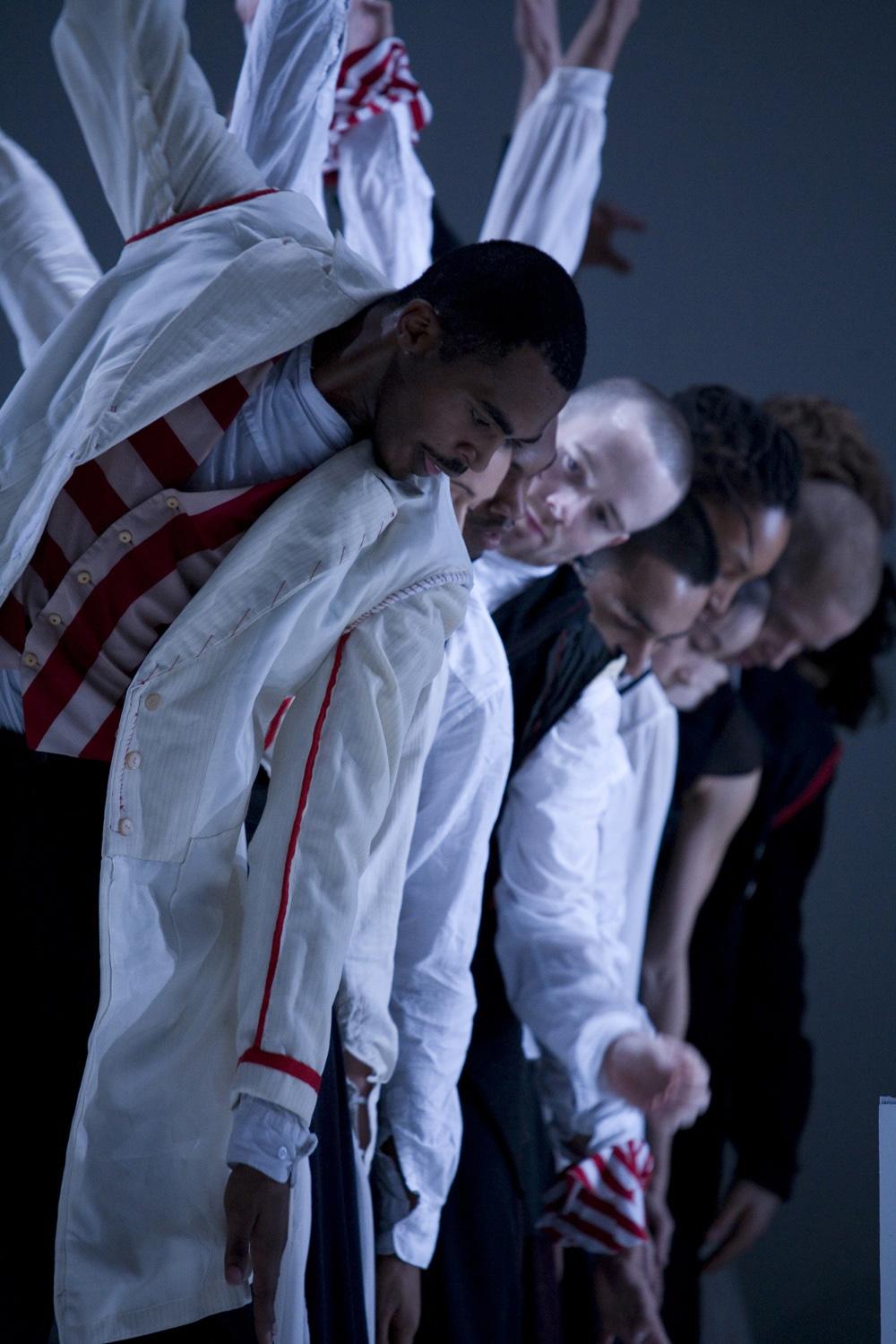 October 27, 2008 — Tony Award-winning dancer and choreographer Bill T. Jones will be Artist in Residence along with his Bill T. Jones/Arnie Zane Dance Company at the University of Virginia from Nov. 9 through 15.
A 1994 MacArthur Fellow, Jones has garnered an international reputation as one of the most innovative leaders in the performing arts world. Jones is known for breaking ground as a theorist of physical expression and views dance as a form of inquiry analogous to the scientist's laboratory — a creative space of collaboration between teacher and students that results in intense dialogue and intellectual exchange.
During his weeklong visit, Jones will explore a new major work, "Fondly Do We Hope — Fervently Do We Pray ...,"  a dance/theater piece that he is creating to premiere at the Ravinia Festival in Chicago in September 2009 to commemorate the bicentennial of Abraham Lincoln's birth.
"Exploration, creativity and knowledge creation are linked. We are inspired by the unique interplay of design and composition embodied by the works of Bill T. Jones," said Thomas C. Skalak, U.Va. vice president for research. "It is our hope that this event on the historic grounds of U.Va. will stimulate reflection on the significance of Lincoln's legacy in this nation and worldwide, and also serve as a metaphor for our own way forward at the intersection of art, science, and innovation." 
"100 Migrations," the workshop and exploration component of the project, will take place at U.Va., in Charlottesville and at three other locations Jones and his company will visit during a yearlong exploration to create the work.
"To witness the creative method and practice of inquiry of this important MacArthur Award-winning artist is a great moment for the arts at the University and for the community of Charlottesville. Bill T. Jones' research concerning Abraham Lincoln no doubt will open up new patterns of empathy and understanding," said Elizabeth Turner, U.Va. vice provost for the arts.
"100 Migrations" is an opportunity for Jones to explore the creative process with members of the University and Charlottesville communities. The theme of migrations creates links across time and space through patterns of movement inspired by an image of the tall figure of Lincoln lying diagonally across his deathbed. The rectangle of the stage and the diagonal action provide the spine for the piece.
Jones will base the abstract work on the words and teachings of Lincoln and explore with participants how they resonate today.
"I want art that teaches me something. I want art that asks the big questions about living, justice, beauty and strength," Jones said in a preview documentary about the project by Kartemquin Films, which will chronicle Jones' visit to U.Va.
 
An artist whose work often explores issues of personal identity, form and social commentary, Jones takes as the premise for this project the question, "Had Lincoln lived, what would we be like today?" He seeks to reconcile the view of Lincoln he had as a boy during the civil rights struggle with his life as a midlife artist with very few heroes, and is investigating how other Americans respond to Lincoln today.
"Any good work of art must talk to us. What does it have to say to us today?" Jones said.
In Charlottesville, Jones will collaborate with dancers, students, faculty and community members to explore his vision for "100 Migrations" through various events to gauge and examine the continuing resonance of Lincoln in American culture. Collaborating with University and local community members, Jones and his company will generate movements and gestures that will become the vocabulary of his work. 
Jones' residency will culminate with an early realization of the work in a Nov. 15 performance at U.Va. in which more than 90 participants, both dancers and non-dancers recruited from the University and Charlottesville, will experience firsthand how he works to realize his artistic vision.
Jones will begin his residency with a dialogue with the University community at its inaugural Assembly for the Arts — "Opening the Door to Creativity." He will talk with those gathered about creativity, scholarship and discovery. (Details are below and posted at www.100migrations.org.)
His research for "100 Migrations" will continue Nov. 10 with a visit to Lincoln's family homestead cemetery north of Harrisonburg, Va.
On Nov. 11, Jones and members of his creative team will conduct master classes in modern dance with U.Va. students.
"So much of a student's education comes from exposure and participation in special creative events such as this," said Rose Pasquarello Beauchamp, director of the U.Va. dance program. "Not only will this be a great performance opportunity, it will allow the students to really get a sense that creativity is a different process for each choreographer and that it can really be a form of academic research."
On Nov. 12, members of the Bill T. Jones/Arnie Zane Dance Company will conduct master classes at two area schools, Tandem Friends School and Piedmont Virginia Community College. In a session that morning at the U.Va. Department of Drama, company members will lead students in a class devoted to the technical aspects of dance production.
On the evening of Nov. 13, during the day on Nov. 14 and on the morning of Nov. 15, participants will rehearse with Jones and company members for the Nov. 15 performance of "100 Migrations."
During Jones' residency, five events will be open to the public.
•    Assembly for the Arts: Opening the Door to Creativity
Nov. 9, 8 p.m., Cabell Hall Auditorium
Tickets are free and available in person at the Cabell Hall (434-924-3984), Culbreth Theatre (434-924-3376), Newcomb Hall and Paramount Theatre (434-979-1333) box offices. Phone numbers are for informational purposes only. A limited number of tickets will be available the evening of the performance.
•    Interview with Bill T. Jones by Deborah McDowell, writer, scholar and editor of African-American literature and director of U.Va.'s Carter G. Woodson Institute for African-American and African Studies
Nov. 11, 4:30-6 p.m., Newcomb Hall Ballroom
The event is free and open to the public.
•    Master class with Bill T. Jones/Arnie Zane Dance Company
Associate artistic director Janet Wong and Bill T. Jones will lead intermediate and advanced students in this event.
Nov. 12, 6:30-8:30 p.m., Charlottesville High School's Martin Luther King Jr. Performing Arts Center.
Participation will be on a first-come, first-served basis. The public is welcome to observe. No tickets are required.
•    Bill T. Jones/Arnie Zane Dance Company Lecture/Demonstration
Nov. 13, 12:30-1:30 p.m., Paramount Theatre
Open free to students and the public; no tickets required.
•    Performance of "100 Migrations"
Nov. 15, 4 p.m., University Hall
Free and open to the public. No tickets required.
The Bill T. Jones Artist-in-Residence program is presented by The Peter & Eaddo Kiernan Foundation, with co-sponsorship by the University of Virginia's Office of Vice Provost for the Arts; Office of Vice President for Research; College and Graduate School of Arts & Sciences; the departments of Drama, Music and Art; Carter G. Woodson Institute for African-American and African Studies; Office of African American and African Affairs; University Programs Council, and Mount Zion First African Baptist Church. Community collaborators include the Piedmont Virginia Community College Dance Club, Piedmont Council of the Arts and The Bridge Progressive Arts Initiative.
About Bill T. Jones
Bill T. Jones is the son of migrant laborers who raised their large family in Bunnell, Fla., and Wayland, N.Y. He attended the State University of New York at Binghamton, where he studied classical ballet and modern dance.
He choreographed and performed worldwide with his late partner, Arnie Zane, before forming the Bill T. Jones/Arnie Zane Dance Company in 1982.
He is the recipient of numerous awards, including a MacArthur "Genius" Award in 1994. Jones was honored with the Dorothy B. Chandler Performing Arts Award for his innovative contributions to performing arts in 1991. In 1993, he was presented with the Dance Magazine Award. In 2000, The Dance Heritage Coalition named him "An Irreplaceable Dance Treasure."
Jones has created more than 100 works for his own company and has also choreographed for Alvin Ailey American Dance Theater, Axis Dance Company, Boston Ballet, Lyon Opera Ballet, Berlin Opera Ballet, Dayton Contemporary Dance Company and Diversions Dance Company, among others.
His television credits include PBS's "Great Performances" Series ("Fever Swamp" and "Last Supper at Uncle Tom's Cabin/The Promised Land"). "Still/Here" was co-directed for television by Jones and Gretchen Bender. A PBS documentary on the making of "Still/Here," by Bill Moyers and David Grubin, "Bill T. Jones: Still/Here with Bill Moyers," premiered in 1997. The 1999 Blackside documentary "I'll Make Me a World: A Century of African-American Arts," profiled Jones' work. His dance composition "D-Man in the Waters" is included in "Free to Dance," a 2001 Emmy-winning documentary that chronicles modern dance's African American roots.
— By Jane Ford