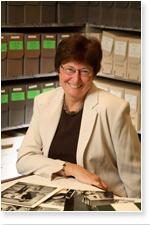 The American Journal of Nursing has named University of Virginia professor of nursing Arlene Keeling's book, "Rooted in the Mountains, Reaching to the World: Stories of Nursing and Midwifery at Kentucky's Frontier School, 1939-1989," the Book of the Year in the category of public interest and creative works.
The book is co-authored by Anne Cockerham, a graduate of U.Va.'s nursing Ph.D. program and an associate at the The Eleanor Crowder Bjoring Center for Nursing Historical Inquiry.
The book highlights the work and offers a host of iconic images from the Frontier Nursing Service, founded in 1925. It chronicles the endeavors of rural nurse-midwives, who traveled by horse and on foot to the furthest reaches of the wilderness to deliver babies, offer vaccinations and provide health care to families – and often their animals, too.
Kentucky-based Frontier Nursing Academy, which graduated its first nurse midwives in 1939, today boasts more than 1,000 alumni who serve all over the U.S. and around the world. Their aim, originally asserted by founder Mary Breckinridge, was to "yield shade and fruit to wide neighborhoods of men" – a mission that continues today.
Keeling, an alumna of the School of Nursing, Centennial Distinguished Professor of Nursing and director of the Bjoring Center, has taught at U.Va. since 1992.