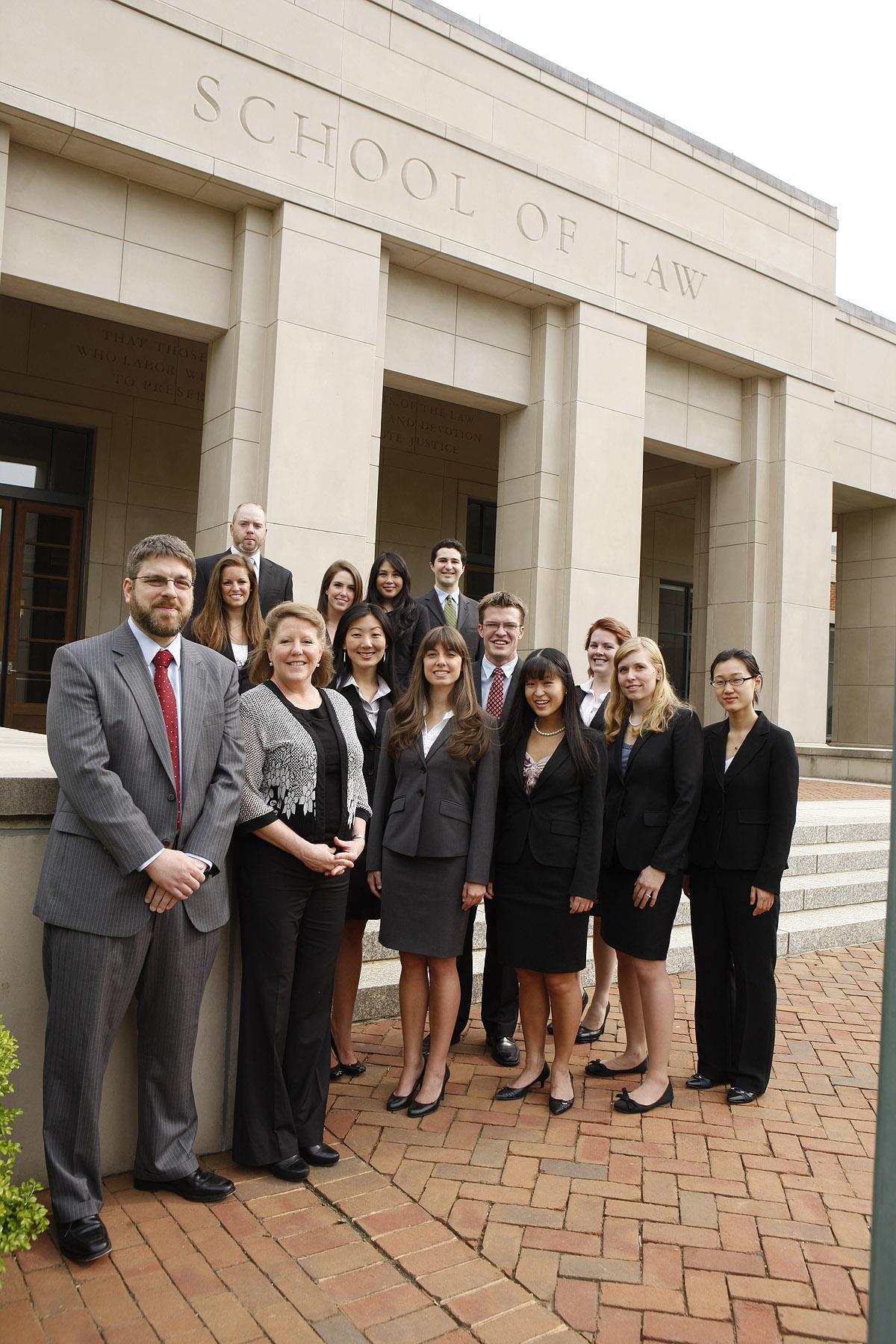 Listen to the UVA Today Radio Show report on this story by Rebecca Arrington:

July 13, 2011 — A federal judge on Monday threw out the conviction and death sentence of Justin Wolfe of Chantilly, through the efforts of the University of Virginia School of Law's Innocence Project Clinic and partnering organizations. 
The clinic worked closely with Wolfe's pro bono attorneys at the Washington, D.C., law firm King & Spalding and the Virginia Capital Representation Resource Center to demonstrate that the prosecutors in Wolfe's trial had suppressed evidence that would have exonerated Wolfe. In his ruling, U.S. Judge Raymond A. Jackson agreed that the prosecutors' conduct resulted in an unfair trial.
"We're elated and gratified," said Deirdre Enright, director of investigation for the Innocence Project Clinic. "It's rare to get relief in death penalty cases and rarer still to lay it at the feet of prosecutors."
Wolfe, who has been on death row since 2002, was convicted of murder for hire and sentenced to die in a case that received national attention and involved an extensive drug ring run by suburban middle-class youths in Northern Virginia.
Jackson's ruling followed an evidentiary hearing in November in Norfolk, during which Wolfe's legal team presented information gleaned from a review of prosecutors' files pertaining to improperly withheld evidence.
"What the ruling says is that, in this case, there were multiple instances of the Prince William County Commonwealth's Attorney's office failing to fulfill its constitutional duty to disclose favorable evidence to Justin Wolfe, and that had that evidence been disclosed, it likely would have affected the jury's verdict," said Matthew Engle, legal director of the U.Va. clinic.
Enright and Engle said U.Va. law students who participated in the clinic are thrilled about the ruling.
"One of them who is working in a firm this summer, emailed back and said she had to close the door so she could do a little dance in her office," Engle said.
"I think we all became incredibly invested in the outcome of this case, due to the enormity of the stakes involved and the injustice an adverse decision would have represented," said Allison Harnack, a rising third-year U.Va. law student who worked on the case in the clinic. "The ruling filled me with an indescribable sense of relief."
The clinic first became involved in the case after the 4th U.S. Circuit Court of Appeals ruled in February 2010 that the district court hadn't properly considered Wolfe's claim of innocence. Jackson then scheduled a hearing to weigh claims that prosecutors withheld evidence that potentially would have helped Wolfe at trial and to consider his claim of innocence.
Students in the yearlong clinic scrutinized police reports and interview records, located and interviewed many of the witnesses identified in the reports, met with the attorneys representing Wolfe, helped craft the strategy for the evidentiary hearing and drafted substantial portions of the post-hearing brief that was submitted to Jackson.
All 12 students in the class attended the four-day hearing in November after working on the case throughout the fall.
On Nov. 2, admitted shooter Owen Barber – who had testified in 2002 that Wolfe hired him to commit the murder – took the witness stand and recanted his story.
Yesterday's ruling confirmed what students had suspected after examining the prosecutors' documents.
"Reading the opinion is really gratifying for the clinic students, because all these documents that we spent months reading and synthesizing, and the alternate theories of this crime that we developed from these documents – the judge talks very specifically about all of it in his opinion, and finds that the prosecutors had an ethical duty to disclose these documents," Enright said. "It's just a great experience for the law students. They got to do it all, and get a result that's going to save somebody's life."
"We tend to focus a lot on the pedagogical value of our clinical programs, but this is an incredible example of the actual human impact a clinic can have beyond the Law School's walls," said Bernadette Donovan, a May Law School graduate who participated in the case. "Our professors' tireless devotion to Justin's case inspired countless hours of work from every student in the Innocence Project Clinic.
"We are all ecstatic for Justin and his family today, and grateful for the court's careful examination of the flaws underlying Justin's conviction. While no one can truly remedy the 10 years that Justin has lived under a sentence of death, the court's ruling today is an important step toward correcting the injustices that placed an innocent man on Virginia's death row."
Another rising third-year law student, Brett Blobaum, said that working on wrongful conviction cases makes it easy to become cynical about the justice system.
"But the decision proves that even if it comes far too late, the idea of justice might still be something more than just a purely academic exercise in America," he said.   
In his ruling, Jackson described the case against Wolfe as tenuous and said that by suppressing exculpatory evidence, the prosecutors involved in the case, Prince William County Commonwealth's Attorney Paul Ebert and Assistant Commonwealth's Attorney Richard Conway, shielded their case from any potential challenges by the defense, "thus depriving the jury of critical information."
The judge further criticized Ebert for testifying that he withheld information so that the  defendants couldn't "fabricate a defense" around what the defense found.
The judge wrote, "Essentially, in an effort to ensure that no defense would be 'fabricated,' Ebert and Conway's actions served to deprive Wolfe of any substantive defense in a case where his life would rest on the jury's verdict. The Court finds these actions not only unconstitutional in regards to due process, but abhorrent to judicial process."
Jackson said the prosecutors' actions were contrary to the 1999 Virginia Code of Professional Responsibility, a finding that could have broader implications because Ebert testified that he has put as many as 16 people on death row.
"This pretty explicit finding by the judge that he violated the rules of professional conduct is really quite striking." Engle said. "Given Mr. Ebert's testimony about his reasons for withholding evidence from defense lawyers, there is every reason to suspect that these problems go beyond Justin Wolfe's case. This ruling suggests the need to scrutinize all of the cases prosecuted in Prince William County."
Ebert, whose work has been honored by the Virginia Bar Association, recently announced he is running for re-election. He told the Washington Post that he saw no reason not to try Wolfe again.
"The evidence was clear and convincing to 12 people, and I see no reason it would not be clear and convincing to 12 people again," he said.
The Virginia attorney general almost certainly will appeal the ruling to the 4th U.S. Circuit Court of Appeals, Enright said, which means Wolfe may remain in prison until at least 2012.
"Justin will breathe a little easier, but he'll likely stay on death row during the attorney general's appeal," Enright said. "But it's a good opinion in that it makes a lot of factual findings and credibility determinations that are hard to reverse in an appellate court."
If the 4th Circuit agrees with the ruling, the case will be sent back to Prince William County, and prosecutors there may have to retry him on all charges he was convicted on, including some drug charges.
"Other witnesses in this case with far more drug involvement have already served their time and gotten out," Enright said. "It would be deeply unfair if only Justin Wolfe were to remain in prison, when his role in this drug conspiracy was comparatively minor."
Media Contact
Chief Communications Officer University of Virginia School of Law
mmw3v@virginia.edu (434) 924-3786