University of Virginia Fourth-Year Class President Malcolm Stewart had a surprise visitor to his room on the Lawn Thursday evening: none other than Katie Couric, one of UVA's most famous alumni and a world-famous journalist.
Stewart, also the senior resident on the Lawn, was busily preparing for move-in when he noticed a camera crew outside his door. The Midlothian native is an intern in University Communications and assumed it was a UVA crew.
When he looked closer, he was surprised to see Couric.
"I looked down the walkway on the Lawn from my room and I just see Katie Couric walking and I was like 'Weird! I wonder what she's doing back in town,'" he said.
"I just stood there, staying out of her way and she walked up and approached the door and she was like, "Oh, I was worried we would have to shoot stuff from the keyhole, but I guess the room is open. Do you mind if I come in?"
It turns out that Stewart and Couric have a lot in common. Couric was also a senior resident on the Lawn and, like all senior residents, lived in room 26. The room was her home during the 1978-79 school year.
Stewart said he wasn't star-struck. "It was cool because it didn't feel like you were meeting a big-time celebrity because the biggest connection wasn't that, 'Oh, I've seen you on TV.' It was, 'Oh, you're a 'Hoo and you held the same job I did years before I did.' It was just like old friends."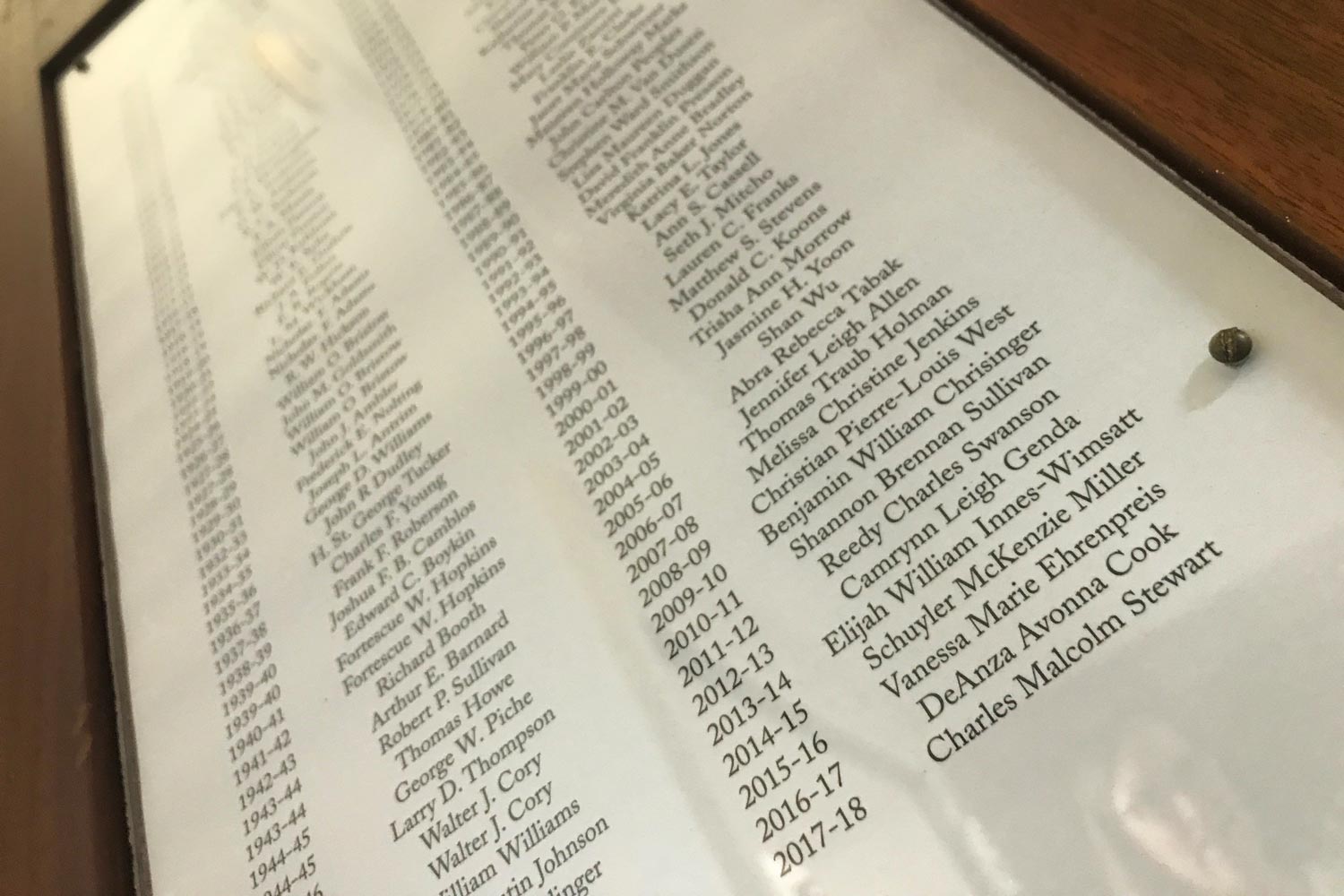 Each Lawn room has a list of former residents and Stewart said everyone always hopes a famous former tenant will appear at their door. (Photo by Sanjay Suchak, University Communications)
The two chatted briefly about what it's like to wake up each day in such a historic place and what it means to live in the center of Thomas Jefferson's Academical Village. Stewart said he was surprised at how laid-back Couric was.
"She was asking me questions about what it's like living on the Lawn, although she knows from her experience, and asking me about my UVA experience," he said.
Afterward, they posed for pictures outside room 26. Couric later posted one to her Instagram and Facebook accounts. Couric was in Charlottesville shooting for her upcoming National Geographic series, a six-part documentary that will examine the major social issues of our time. 
Article Information
August 11, 2017
/content/katie-couric-visited-her-old-lawn-room-and-it-was-just-old-times