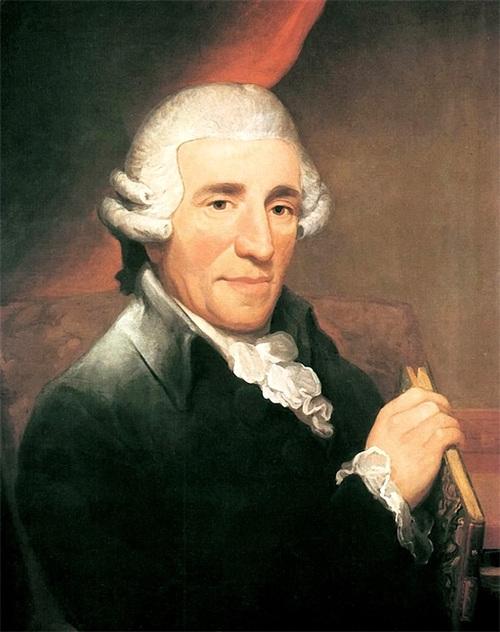 Though he never set foot in Scotland, Austrian composer Joseph Haydn believed toward the end of his life that he'd made his mark on that country's culture.
"I flatter myself that with this work I shall go on living in Scotland many years after my death," Haydn wrote in a letter to Scottish publisher George Thompson in 1801.
A new book edited by University of Virginia associate professor of music Richard Will explores the many contributions of a composer long overshadowed by his countryman and contemporary, Wolfgang Amadeus Mozart, and by his one-time student, Ludwig van Beethoven.
"Engaging Haydn: Culture, Context and Criticism" will be released in September from Cambridge University Press. The book, coedited by music professor Mary Hunter of Bowdoin College, includes 12 articles tackling subjects such as Haydn's contributions to vocal music, the literary and rhetorical underpinnings of his compositions, and the ways in which he wanted performers to physically express his music.
Will, who chairs the McIntire Department of Music in the College of Arts & Sciences, authored the article "Haydn Invents Scotland," which chronicles the composer's contribution to a broader effort to forge an independent Scottish artistic and cultural identity. Will answered some questions about the book and about what an Austrian classical composer was doing arranging Scottish folk tunes.
Q: Haydn's reputation seems to have improved in recent years. What's contributing to the wealth of new scholarship on his career and music?
A: The bicentennial of Haydn's death was in 2009, and there were a lot of conferences, symposia, concerts and other festivities celebrating him. A lot of fresh research came out of that. I think the bicentennial celebration was part of a resurgent interest in Haydn, who is still less well-known than Mozart, though they were contemporaries, and less well-known than Beethoven, though he was briefly one of Beethoven's teachers.
Q: What sets this book apart?
One area in which the book is original is its emphasis on performance – not only how Haydn's pieces were performed in his day, and how they might be performed today, but also how he thought as a performer. He wrote his pieces to appeal to performers, and would go so far as to script their actions. There's a wonderful essay by Mary Hunter about the string quartets, and how his directions to the performers influence their physical demeanor on stage.
Other essays take new approaches to his instrumental pieces by looking at their broader cultural surroundings. There's an essay in which the author argues that Haydn's music can be compared in useful ways to literary techniques used by Ovid in his "Metamorphoses."
Another distinguishing feature of the book is its emphasis on Haydn's vocal music. When people do know about Haydn, they tend to know about instrumental pieces like the "Surprise Symphony" or his string quartets. However, he also wrote scads of vocal music – literally hundreds of pieces of sacred music, operas, songs and song arrangements. Five essays are concerned principally with vocal music. There are two on his operas, one on his masses, one on his original songs and an essay on his arrangement of Scottish songs.
Q: You wrote the essay, "Haydn Invents Scotland." What does that title mean?
A: In the 18th century, there was a conscious effort on the part of Scottish cultural nationalists, such as the poet Robert Burns, to collect and publish Scottish songs. They were revised and arranged – and sometimes newly composed – to deliberately form the first literature of what we would now call Scottish folk songs.
Some of these were collected from the country, some were songs taken from old manuscripts. One of Burns' favorite things to do was to take fiddle tunes and put words to them, sometimes slowing the fiddle tunes down so you could fit in lyrics.
Then the publishers would ask composers, sometimes in Scotland or England, but sometimes in continental Europe, to write arrangements of the songs so they could be performed in middle- and upper-class parlors, with a piano and someone singing for a small group of friends.
Haydn arranged about 400 of these songs. The publisher would send him the tune, without the words, and he would write a piano part, and sometimes violin and cello parts to go with it.
Q: Did it strike anyone as ironic or unacceptable that he wasn't Scottish?
A: Not really, at least not in Haydn's lifetime. What's interesting about this music is that Haydn never even went to Scotland. He took the melodies and essentially wrote Haydnesque arrangements of them. When you hear them, it sounds like a Scottish vocal melody with a Haydn piece in the background. Yet at the time, this was not considered to be a contradiction.
By the middle of the 19th century, people would have asked, "Why do you have this Austrian guy writing Scottish folk songs?" But around 1800, this was not yet an issue. The arrangements were considered a cosmopolitan version what national songs should sound like. The whole "street-cred" idea was not part of the prevailing world view.
Learn more about the book on the Cambridge University Press site.
Media Contact
Director of Media Management and Managing Editor, UVA Today Office of University Communications
rseal@virginia.edu 434-243-3492