Erica Wood, who served for two years as a Virginia College Advising Corps adviser at Eastern View High School in Culpeper County, is one of five 2021 National Service Winners. Wood is the 2021 State AmeriCorps Member of the Year in Virginia.
A three-member panel, consisting of Kathy Spangler, director of the Virginia Office on Volunteerism and Community Services; Julie Strandlie, chair of the Virginia Governor's Advisory Board on Service and Volunteerism; and Elizabeth Childress-Burneson, chair of the Virginia Service Foundation, selected the recipients. The panel announced the honorees, who received a trophy before a virtual ceremony, at the Virginia Volunteerism and Service Conference in May.
"This award goes beyond the work I do specifically at Eastern View High School," Wood said. "I believe it is a clear testament to the importance of the Virginia College Advising Corps as it strides toward creating equal and equitable opportunities for underrepresented and first-generation students.
"I have watched each college adviser work long hours, jump over many hurdles, do endless research and pour their hearts and souls into students around the commonwealth. I am incredibly honored to represent such an outstanding group of passionate individuals."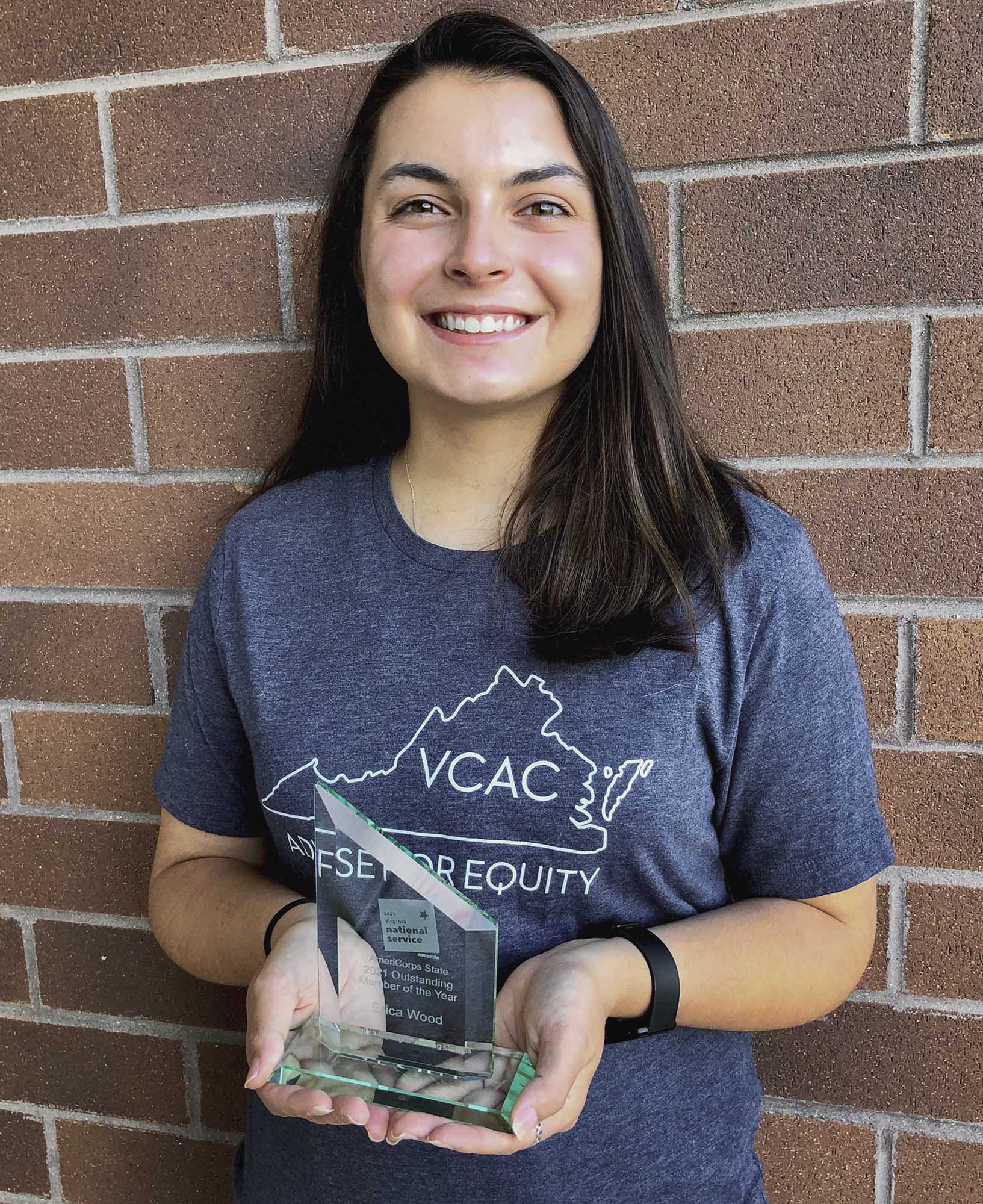 Erica Wood was named a 2021 State AmeriCorps Member of the Year in Virginia. (Contributed photo)
Inspired by her time as a college adviser, Wood, of Louisa and a 2019 alumna of James Madison University, is currently pursuing a master's degree in school counseling at the University of Virginia's School of Education and Human Development. UVA serves as the home base of the Virginia College Advising Corps, a statewide program that deploys recent college graduates into high schools to assist low-income, underrepresented and first-generation students in entering and completing higher education.
"My goal as a future school counselor and professional in the education system will always be to put students first and constantly serve them with an open mind and open heart," Wood said. "I hope to work toward redefining what equitable access looks like for our marginalized and underrepresented students by providing equitable opportunity for academic success and emotional growth within our schools and communities."
Wood helped initiate the Virginia College Advising Corps' program in Culpeper County. With more than 300 seniors to advise, she rose to the challenge, eventually offering more than 800 advising sessions that year. Using her knowledge and creativity, she prepared students for important fall milestones such as taking the SAT and submitting college applications. At Halloween, she dressed up as the Free Application for Federal Student Aid – the dreaded "FAFSA" – to spur more completions. 
"My fondest memories as an adviser were of my students, but also of my colleagues who turned into friends," Wood said. "I loved my time coaching the Eastern View girls' junior varsity and varsity volleyball teams. Watching them grow throughout an incredibly tough season was so rewarding. I am excited and proud to see how these girls develop as young women."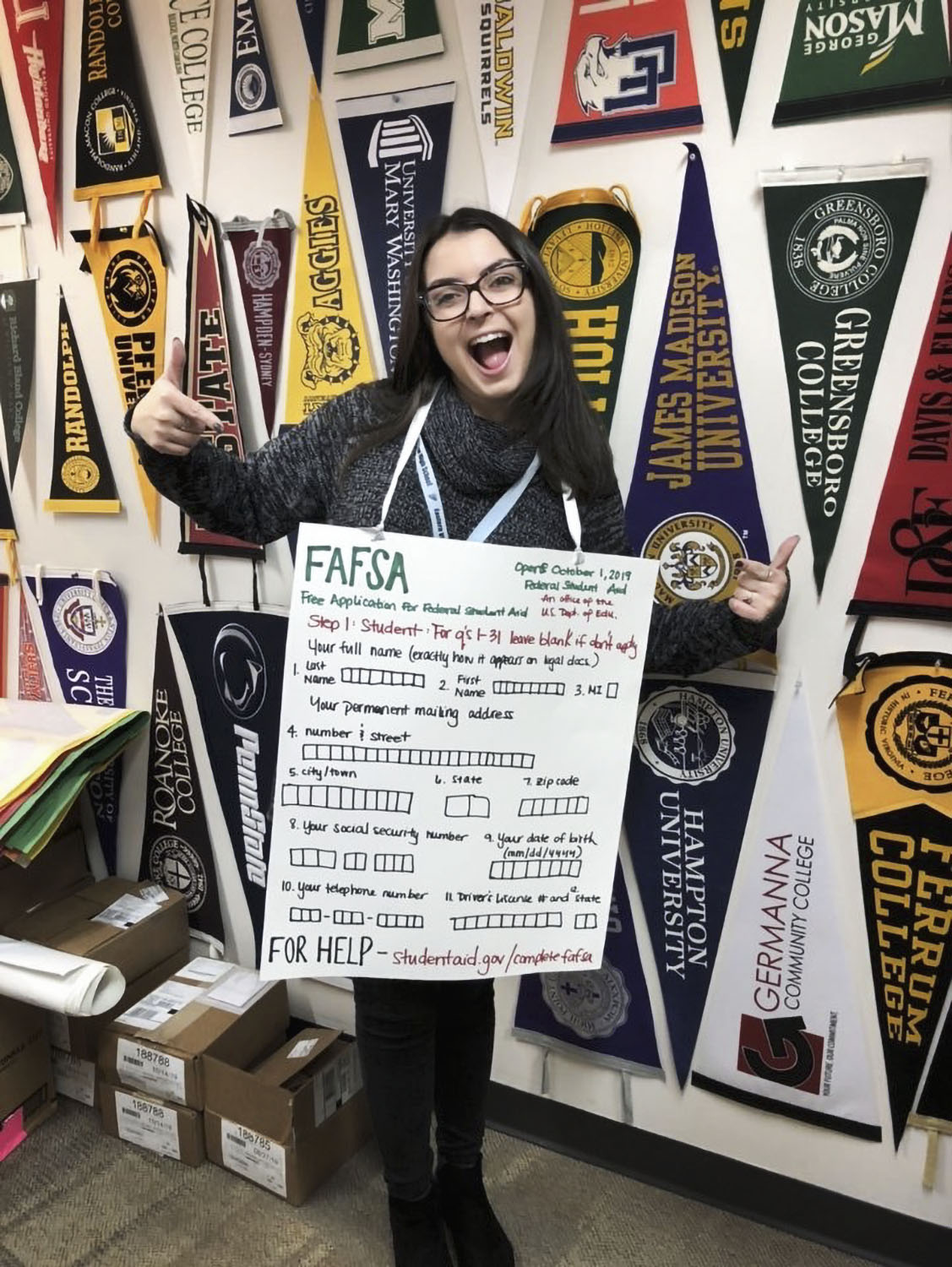 As a College Adviser, Erica Wood dressed as a FAFSA application for Halloween to encourage her students. (Contributed photo)
Like all Virginia advisers, Wood's skillset was tested by the pandemic restrictions put in place in March 2020, preventing in-person engagement with students. She quickly adjusted, reaching out to students virtually, increasing her social media presence and sending more individualized emails to students about scholarship opportunities. Continuing this into the 2020-21 academic year, Wood saw a 15% increase in completed FAFSA applications, while most schools across the state experienced a decline.
"Erica immediately started making an impact on our students, parents and EVHS with her inviting personality and willingness to help in any capacity," said Felix Addo, principal of Eastern View High School. "She built positive and strong relationships with all whom she came into contact. She was eager to contribute to our school community and engage students."
Students were also positive in their feedback.
Wood "helped me narrow my college list and sort through all that goes into the college application process," one student offered, adding "she is always putting out information and resources, and available with quick responses that were a life-saver." 
Joy Pugh, executive director of the Virginia College Advising Corps, said Wood's AmeriCorps Member of the Year recognition is well-deserved.
"Erica has a tremendous ethos for service that started before VCAC and will continue after VCAC," Pugh said. "It is present and apparent in everything she says and does. We are extremely fortunate that Erica dedicated two years to our program, her colleagues and, most importantly, her students."  
Wood's time as a college adviser gave her confidence and focus, she said.
"When I graduated from JMU with a degree in health science, I was a little confused how my time at VCAC would contribute to my professional career." Wood said. "But here I am about to start a career within education. Outside of my newfound passion for this career, I have learned that I am an incredibly capable woman who is eager to start creating equity in education and I am more than ready to start implementing that."
The advising corps' partnership at Eastern View High School is supported in part by the PATH Foundation, which established six adviser placements in Culpeper, Fauquier and Rappahannock counties.
"We've been so pleased to be able to support the VCAC program at schools in our community," said Christy Connolly, the foundation's president and chief executive officer. "The value it provides to the high school students, as well as to the advisers participating in the program, is truly impactful. And we're so excited that Erica has been recognized for her great work!"
Wood said her experience with the College Advising Corps prepared her well for the future.
"The Virginia College Advising Corps provided me with a multifaceted toolkit to continue to provide equitable college and career resources for students through in-person and virtual interactions," she said. "I am incredibly thankful I have had the opportunity to learn and grow from a diverse group of professionals who work tirelessly to support students throughout the commonwealth."
Article Information
June 10, 2021
/content/leading-students-higher-ed-changed-college-advisers-life