When Walter N. Ridley earned his doctorate from the Curry School of Education in 1953, he was the first African-American student to graduate from the University of Virginia.
Ridley, who was already a distinguished educator, went on to become a champion for black education. He inspired generations of Curry graduates to become active advocates for their students, and every year, the school honors his legacy with the Walter N. Ridley Distinguished Speaker Series.
In the latest edition of the series on Wednesday afternoon, the school hosted U.S. Secretary of Education John B. King Jr. as its Ridley speaker. King began his career as a high school social studies teacher and then a middle school principal – experiences that taught him the importance of preparing children for success as early as possible.
King argued that the evidence is overwhelming that giving children a strong start in early education has profound effects on their lifetime success. While there are many factors that lead to quality early education, King told the room full of future educators that it is the teachers themselves who have the power to make the biggest difference.
"The essence of quality is in the interactions between teachers and children," he said.
He went on to explain that despite national efforts to increase preschool enrollments and open access to more low-income children, fewer than 50 percent of American 4-year-olds are enrolled in preschool today.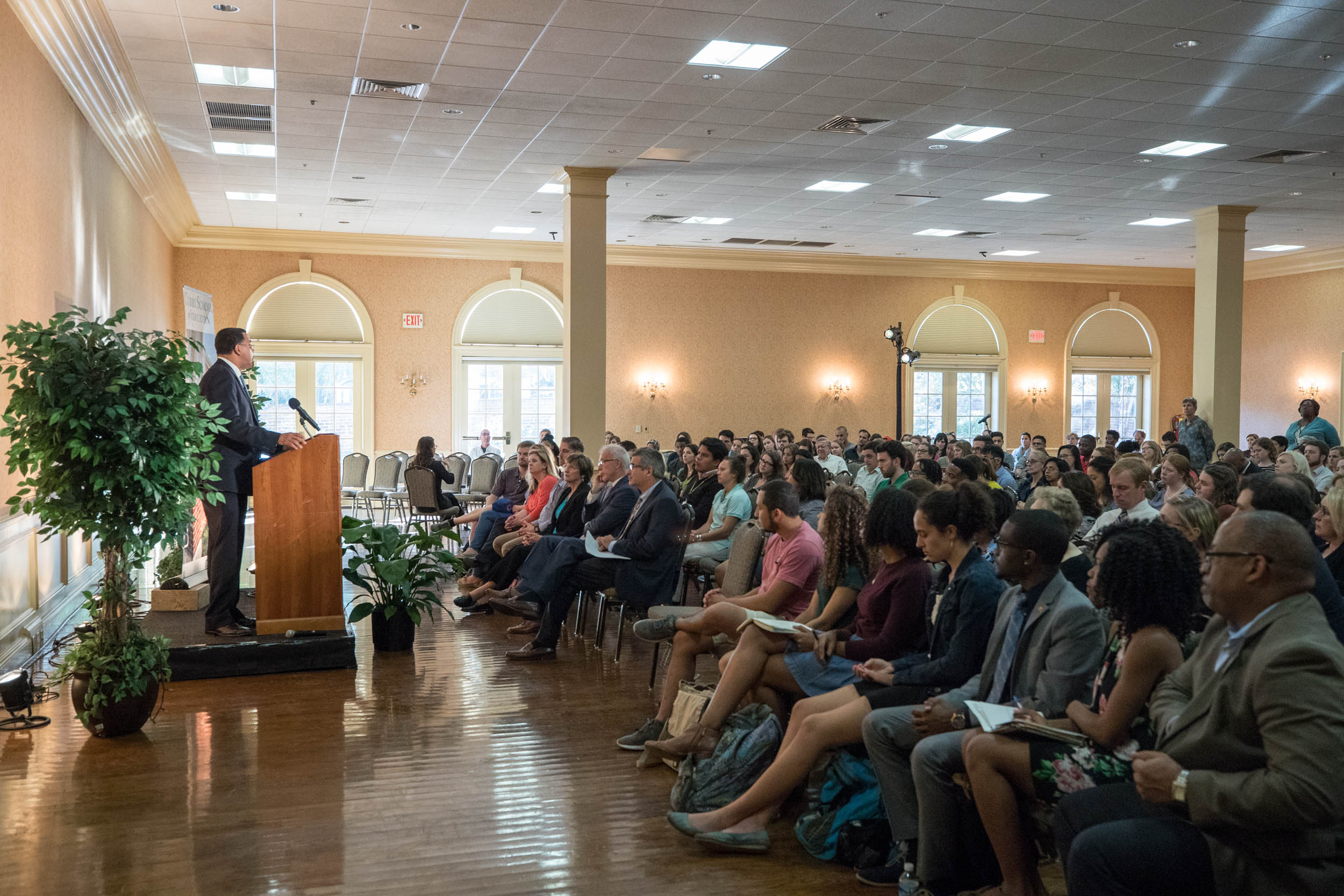 U.S. Secretary of Education John B. King Jr. spoke on Grounds Wednesday.
"We know we can do better and we must do better," King said.
In light of King's words, UVA Today takes a look at four major Curry School efforts to improve early childhood education.
In School: Creating a First-of-Its-Kind Preschool
In early 2015, an innovative laboratory school aiming to prepare children between ages 1 and 5 for kindergarten opened its doors.
The New E3 School in Norfolk is the result of a partnership between Elevate Early Education, or E3, and the Curry School's Center for Advanced Study of Teaching and Learning. Amanda Williford and Bridget Hamre, both research associate professors, lead the effort in developing the school's curriculum and professional development approach.
A recent study led by Williford shows that 34 percent of Virginia children entering kindergarten lack key skills needed for success.
The New E3 School, the first of its kind, aims to change that. The curriculum builds from the latest science about how young children learn, with a focus on supporting teachers to interact with children in ways that help them become critical thinkers, problem-solvers and effective communicators early on in life. 
"The New E3 School is designed to be a statewide model of best practices of early childhood education spanning from infancy to preschool," Williford said.
Across the Commonwealth: Assessing Kindergarten Readiness Statewide
As a result of the Virginia Kindergarten Readiness Project report, released in January 2015, which found about one-third of Virginia students lacked at least one important element of readiness for kindergarten, the Virginia General Assembly awarded $1 million to researchers at the Curry School's Center for Advanced Study of Teaching and Learning to expand the assessment of entering kindergartners across the commonwealth.
The Virginia Kindergarten Readiness Project is a statewide collaborative venture supported through public and private investments that involved creating, testing and implementing an assessment tool for incoming kindergarteners across the state. The additional funding allowed the team to begin the process of statewide implementation of the expanded assessments, with the ultimate goal of making these assessments available to all Virginia schools over the next five years.
Twenty-one diverse school divisions implemented an expanded battery of readiness assessments, including measures of students' math, self-regulation and social skills. Teachers and division leaders engaged with the Curry researchers to provide insights and ideas for improving the teachers' online experience and the overall implementation of the project.
During the current school year, the project will roughly double the number of participating school divisions to 40. This continued voluntary rollout will allow for further input from stakeholders to enhance feasibility and usefulness of the assessment system.
"The project is really Curry at its best," Robert C. Pianta, dean of the Curry School, said. "It draws together world-class faculty with expertise in young children's development and education, and pairs that expertise with a strategic need of the commonwealth. The new and expanded tools developed in this project will enable teachers, school divisions and the state to make much better-informed decisions to support the success of young children across all areas of their development."
Across the Nation: Building Strategies for Early Childhood Reform Statewide in Louisiana
Louisiana is developing a unique early childhood accountability system aimed at improving the quality of all public preschool programs serving children from birth to age 5. More than 1,000 4-year-olds and their parents will participate in a $1.6 million exploration study that seeks to validate the state's approach to measuring preschool quality and better understand how parents factor quality into their preschool decisions.
Daphna Bassok, assistant professor of education policy and associate director of UVA's EdPolicyWorks research center, will lead the study, along with Williford. The researchers are collecting data in approximately 90 classrooms serving 4-year-olds in child care centers, Head Start classrooms and state-funded pre-kindergarten, where they will conduct multiple classroom observations and direct child assessments, parent surveys and teacher interviews. 
Around the World: Assessing Interactions in Kyrgyzstan's Early Education Classrooms
In collaboration with the Kyrgyz Ministry of Education and the World Bank, CASTL researchers are conducting a systematic study of classroom interactions in early education settings across the Kyrgyz Republic.
In recent years, Kyrgyzstan has implemented a new school experience aimed at 5- and 6-year olds, with the goal of better preparing children for later learning and closing the existing education gap that exists in this Central Asian nation.
CASTL researchers are working to train and guide educators in Kyrgyzstan to conduct classroom observations in more than 2,000 schools. The goal is to better understand what young children are experiencing in early childhood classrooms across the country, with the hope of providing suggestions for policies and supports that will improve overall classroom instruction and children's development.
"This past year, in addition to training observers and observing ourselves, we created a system to process the data collected," Jennifer LoCasale-Crouch, research assistant professor and project leader, said. "This year, we will work to build the country's capacity to continue this work, as well as consider how to take what they are learning and create supportive professional development – something that is currently rarely available for a Kyrgyz teacher."
Article Information
November 2, 2016
/content/legacy-advocacy-education-four-key-efforts-curry-school