There is a palpable joy in Bruce Arena's voice as he discusses his time at the University of Virginia.
Now considered one of the most successful coaches in North American soccer history, it was at UVA where he got his coaching start – in soccer and in lacrosse (as an assistant).
Arena has been back on Grounds this week visiting with current men's soccer head coach George Gelnovatch, whose team will play Wake Forest University in the College Cup – the Final Four for NCAA soccer – Friday in Cary, North Carolina.
Having taken over last summer as coach of Major League Soccer's New England Revolution, Arena will be living full-time in Boston, but he still keeps a home in Charlottesville.
While at UVA, Arena won five NCAA championships. This weekend, his protégé, Gelnovatch – who played and coached under Arena – will be going for his third.
"This weekend is not only the quest for another NCAA championship, but I think an amazing testament to the great tradition in the program for the last 30-, 40-some-odd years," Arena said.
"It's a great weekend and great to see Virginia athletics continue to be among the best in collegiate athletics – and they do it in a real special way. It's been a privilege to have been a part of that in some point in my life."
UVA Today caught up with Arena before Friday's game.
Q. Are you pretty proud to see Coach Gelnovatch, a former player, carry on the legacy and great soccer tradition that you started here?
A. Yes, it's been great to see. George has done a wonderful job since I left the University. I'm proud to see that they're back in the College Cup.
Q. Looking back now, what do you think stood out the most about George as a player?
A. He was a great athlete. He played, as we would say, on both sides of the ball. He scored goals, but he was a team player.
What surprised me more was when George became one of my assistants and I saw how good he was at coaching and evaluating talent. That doesn't happen that often that a player of quality can become a coach, yet George was able to do that.
Q. What do you think stands out the most about him as a coach now?
A. He has a way of doing his business, like all good coaches. They have a structure; they have a philosophy. George sticks to it and recruits accordingly, not dissimilar to what Tony Bennett does with the basketball team or what Bronco [Mendenhall] does with football. Coaches have their own way of doing things and they stick to that plan and they accomplish great things.
Q. Do you see any similarities in coaching styles between you and George? Or differences? How do you think you guys compare?
A. I think George and I are different, and no two coaches are the same. I think George has his own way of doing his business – and you can't question his success at all.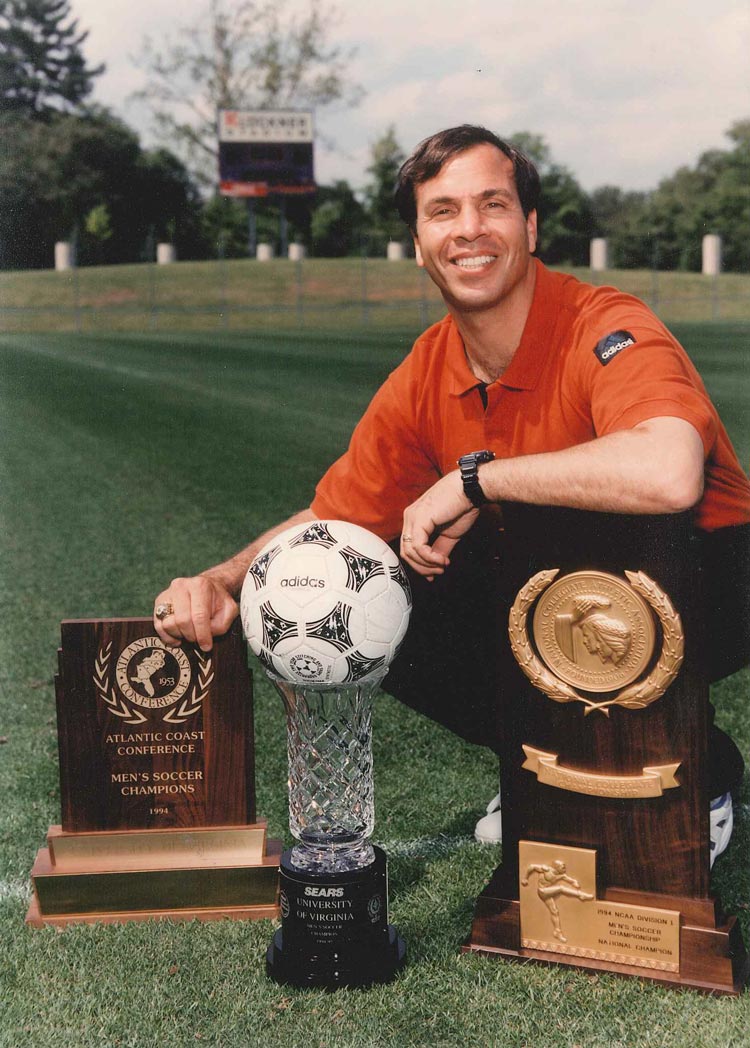 Arena led UVA to five NCAA championships during an illustrious coaching career. (Photo courtesy of University Athletics)
Q. Who were the most talented players you coached at UVA and outside of UVA?
A. I would say Robbie Keane, Landon Donovan, David Beckham, Marco Etcheverry, Jaime Moreno, Eddie Pope.
I think at UVA, you would obviously have to say Claudio Reyna, Tony Meola, John Harkes, to name a few. There were some exceptional ones.
Q. How has college soccer changed since you were a college coach?
A. It is different because of the fact we have a professional league in our country now – so all the headaches you get at the collegiate level because of that, like kids leaving school early. You often see some of the top young prospects in the country sign professionally before they even go to college, or they go overseas. So it makes recruiting more challenging. That's a big difference.
Having said that, I think the player pool today is much broader than when I coached. Perhaps the exceptional players aren't the same. Today you don't see a Claudio Reyna going to college or a John Harkes or a Tony Meola. The base of players is much broader, much more experienced. I believe there's good quality in college soccer.
Q. Do you have any theories as to why there were a lot more goals scored when you were coaching college soccer than there are today?
A. I think the top players often go professional early. I think those kinds of players are not in college soccer today. But I'd also say that they are more experienced players. All the players on the field for UVA and in the College Cup this weekend have played since they were youngsters and have great experience and have been coached well. So defensively, teams are a little bit more structured defensively than they were years ago. And, you know, coaches want to win, so they emphasize defense a lot.
Look at the basketball program – you can't argue that. Their whole philosophy is based on defending. I think a lot of coaches in college soccer do that as well.
Q. What's your take on this year's UVA team? Have you gotten to see them at all?
A. I saw them at two ends of the spectrum. I saw them play Boston College in Boston on a day that was rainy on an artificial field. They didn't play too well. Then I saw the [Southern Methodist University] game the other night and thought it was an exceptional college soccer game.
I think defensively, they're very good. The back line is excellent. The striker [Daryl Dike] the other night created all three of the goals. The midfield is solid. I think the difference in that game was defensively; UVA was better. So I think when you talk about Virginia, you talk about how strong they are offensively and also they have a player up top who creates goal-scoring opportunities for them.
Q. You've obviously coached at all levels of soccer, right up to the highest level. There are probably things you really like and don't like about each level. That said, is there anything you really miss about college coaching?
A. What I miss about college coaching, and especially at Virginia, is the environment. The environment at the University is exceptional – not just in the athletic department, but in the entire University. It's an awesome environment to work in. You work with young people and make an impression on them.
To this day, the players that I've coached still stay in touch. Actually, in New England, I have four UVA graduates working for me: Richie Williams, Chris Tierney, Clint Peay and Curt Onalfo. I've been able to maintain relationships with UVA players my whole life. It's an experience that's second to none.
I would say this: At the professional level, I don't have long-lasting relationships with players. It's just a different animal. So you miss that part.
Q. How did your first season as coach of the [New England] Revolution go?
A. I took over in June; it was great. The team played very well. We made the playoffs, which was not expected. So we go into the next season with a lot of optimism.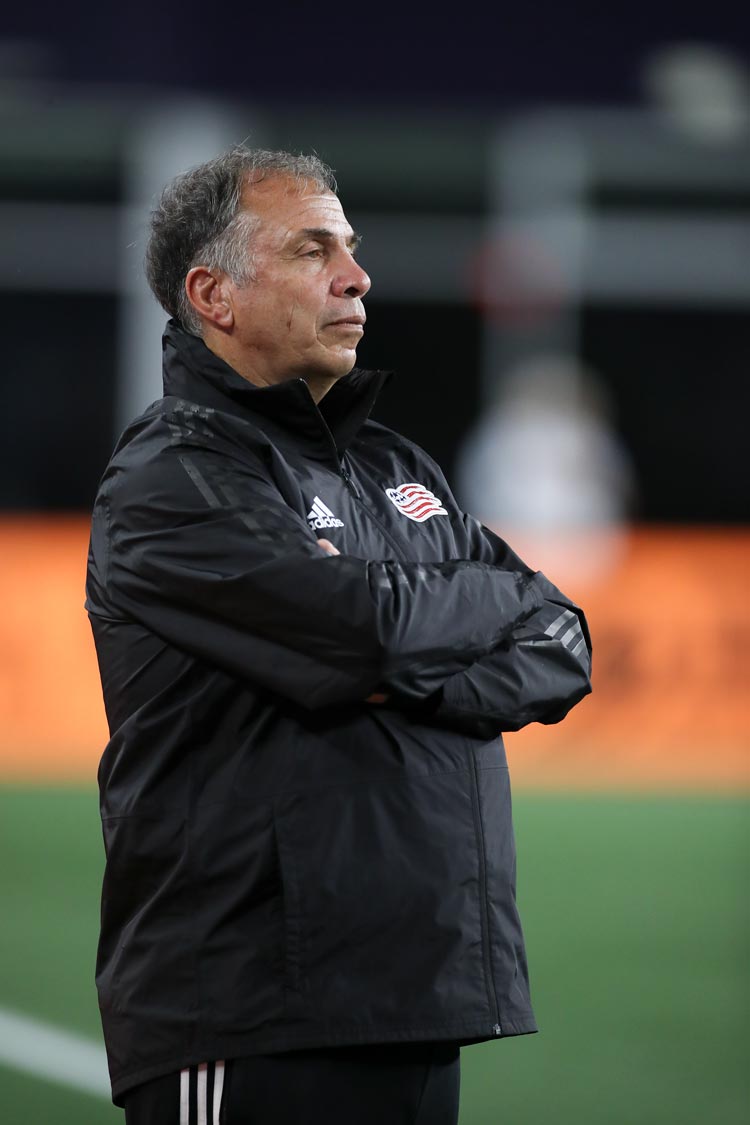 Arena has won five MLS Cups in his pro coaching career. (Photo courtesy of New England Revolution)
Q. You've said in the past that you learned a great deal about coaching from former UVA coaches George Welsh (football), Terry Holland (basketball) and Jim Adams (lacrosse). What are some of the things you picked up from them?
A. George and I would drive to some of the [fundraising] events together and have three or four hours in the car talking about sports and coaching and that kind of thing. And I'd go over to the football office every now and then and have a chat with him or his assistants.
Terry Holland probably thought I was a real pain. I'd stop in as much as I could and just talk sports.
In those days, we played together on a softball team in the summers and got together a lot socially. [University of Connecticut women's basketball coach] Geno Auriemma was a good friend of mine and his office was right next to mine at the bottom of University Hall.
We were all young and had aspirations to try to be as good as we could be. We would bounce ideas off of each other, give each other a hard time and challenge each other. It was just a great environment. But clearly, my experiences with Terry, George and Jim Adams were very special.
Q. All you guys really played on the same softball team?
A. Yeah, it was a summer softball league. [Former football assistant coach] Tom Sherman would pitch a lot. Ralph Sampson, when he played, would play first base. [Former baseball coach] Dennis Womack was the catcher. I used to play third most of the time. Geno was the second baseman. We had all the coaches out there. It was great. We had a lot of fun in those days.
Article Information
December 11, 2019
/content/legendary-uva-soccer-coach-ready-cheer-hoos-weekends-college-cup