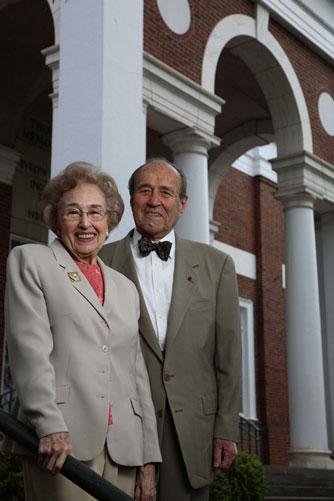 May 12, 2006 — Plans for a major addition to the University of Virginia's Drama Building have taken a major step forward, thanks to a $4 million contribution from U.Va. alumnus Mortimer Caplin and his wife, Ruth. Their gift will fund construction of a 300-seat thrust-stage theater, part of an expansion effort that will greatly enhance the production and support facilities for the University's Department of Drama.
The new theater will complement the department's current performance spaces, including the 595-seat Culbreth Theatre with its proscenium stage and the 200-seat Helms Theatre, a flexible facility. Pending approval by U.Va.'s Board of Visitors, the new thrust-stage theater will be named in honor of Ruth Sacks Caplin.
"We are elated that Ruth and Mort Caplin are moving our dream of a building expansion closer to a reality," said Thomas Bloom, chairman of the University's drama department. "It's exciting to envision the possibilities. On a given evening, we can imagine a dance performance in the Culbreth, creative events in our 'black box' studio spaces, and dramatic activities in the Ruth Caplin Theatre. The Caplins are getting a standing ovation from our students and faculty for helping us make the Drama Building a vital center for the arts."
Surrounded by spectators on three sides, the thrust stage provides the audience a greater sense of intimacy and immediacy during a performance, Bloom explained. The configuration is ideal for traditional productions of Shakespeare, as well as imaginative presentations of theater from all eras. It differs from a proscenium theater, in which the audience faces the stage directly and views the action through the arched proscenium frame that can be closed off by a curtain.
The thrust-stage theater is part of a $26 million plan for expansion and renovation of the Drama Building that will provide the department with more performance, studio and instructional space, as well as additional offices for faculty and graduate students. Along with improved scenery and costume shops and a lighting lab, the new facilities will include a 100-seat black-box space for classes, rehearsals and experimental productions.
With this new gift, donors have committed $7.6 million to the Drama Building addition. The project is part of the Arts Grounds master plan, a comprehensive vision for providing improved facilities for all of the University's fine and performing arts programs.
A past member of the University's Board of Visitors and a former professor of law at U.Va., Mortimer Caplin is a graduate of the University's College of Arts & Sciences (Class of 1937) and School of Law (Class of 1940). He is a founding partner of the law firm of Caplin & Drysdale in Washington, D.C., and he served as IRS commissioner during the Kennedy administration. A generous contributor to the Law School and chairman of its last fund-raising campaign, he is now on the governing council of U.Va.'s Miller Center of Public Affairs.
Ruth and Mortimer Caplin have been ardent champions of the arts at U.Va., and both were instrumental in forming the University's Council for the Arts, which Mr. Caplin chaired for more than a decade after its founding in 1990. He remains the honorary chairman. His interest in drama goes back to his student days in the 1930s, when he was president of the Virginia Players. He appeared in a number of productions, including Clifford Odets' "Waiting for Lefty," a rallying cry for labor activism during the Great Depression, and Shakespeare's "Julius Caesar," in which he played the title role.
"I was in law school at that time, and I knew I would be back in the library soon because they got rid of me pretty early in that show," Mr. Caplin said with a laugh. "Drama has been such an important part of my life, and it has served me well. When I was IRS commissioner, I was on stage for four years."
Ruth Caplin also has been involved in theater and film. She wrote the screenplay for the motion picture "Mrs. Palfrey at the Claremont," which was produced by the Caplins' son, Lee, a member of U.Va.'s law class of 1972 whose credits include the 2001 film "Ali" with Will Smith.  "Mrs. Palfrey,"starring Joan Plowright and Rupert Friend, premiered at the 2005 Virginia Film Festival and is playing to wide acclaim across the country. It has won a number of honors, including the Audience Award at the Palm Springs International Film Festival.
Among the Caplins' many gifts to the University is a fund for visiting artists in the Department of Drama. The fund has brought to U.Va. such distinguished talents as Andrew Wade, former head of voice for the Royal Shakespeare Company; Ping Chong, an internationally renowned director and playwright; Tina Fey, a member of U.Va.'s class of 1992 and head writer for NBC's "Saturday Night Live";and Ntare Guma Mbaho Mwine, also a U.Va. graduate and creator of the critically acclaimed one-man show "Biro," the true story of a young man's confrontation with the AIDS epidemic and the struggle to achieve democracy in Uganda.