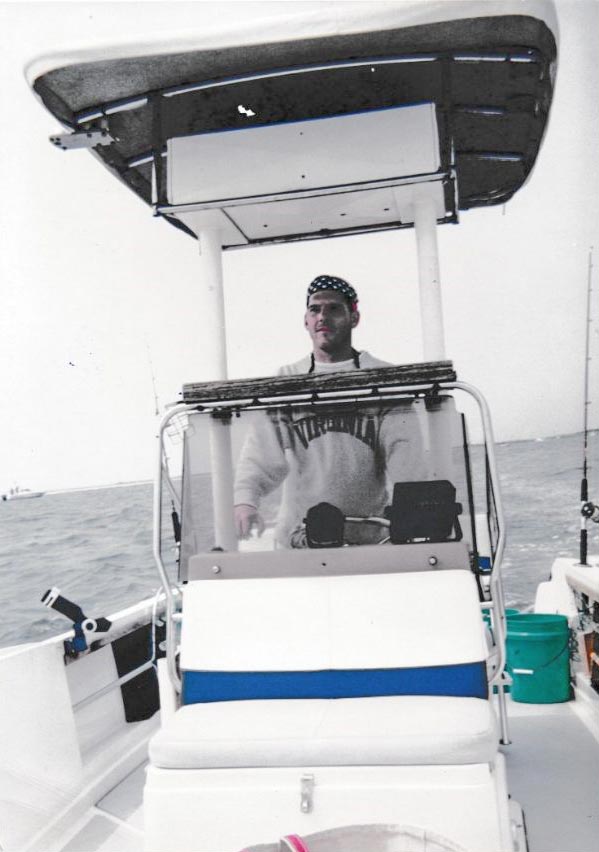 Murphy loved to spend time on the water with his wife and children. (Contributed photo)
Vera met Patrick, a 1987 alumnus, through one of Patrick's UVA fraternity brothers, Stuart Chasanoff.
A native of Holmdel, New Jersey, who attended Boston College, Vera was working at a law firm's recruiting office when Chasanoff, a summer associate at the firm, told Vera about an amazing friend he wanted her to meet.
Vera was intrigued but didn't want to go on a blind date all by herself.
Eventually, the three agreed to all go out together, meeting up at a place called the Caliente Cab Company near Vera's home in the West Village.
Sitting on the patio and drinking cocktails out of mason jars, Patrick, a huge sports fan, and Vera, a former cheerleader at Boston College – she was on the sidelines for Doug Flutie's famous "Hail Mary" pass that defeated the University of Miami in a nationally televised football game – hit it off.
"It was totally love at first sight," Vera said. "He was so handsome, so charming. It was electric immediately."
Vera quickly learned about Patrick's passion for fishing – and basketball. Patrick, who lived on the west side of Manhattan, was a regular pickup player at the 92nd Street YMCA, where he had coordinated a league. Standing only 5-foot-8 and wearing a bandana when he played, Patrick was a guard whose specialty was shooting 3-pointers.
Vera came to see that basketball was as much a social endeavor for Patrick as an athletic one. Everyone seemed to know Patrick. When they went out, they constantly ran into people Patrick played with.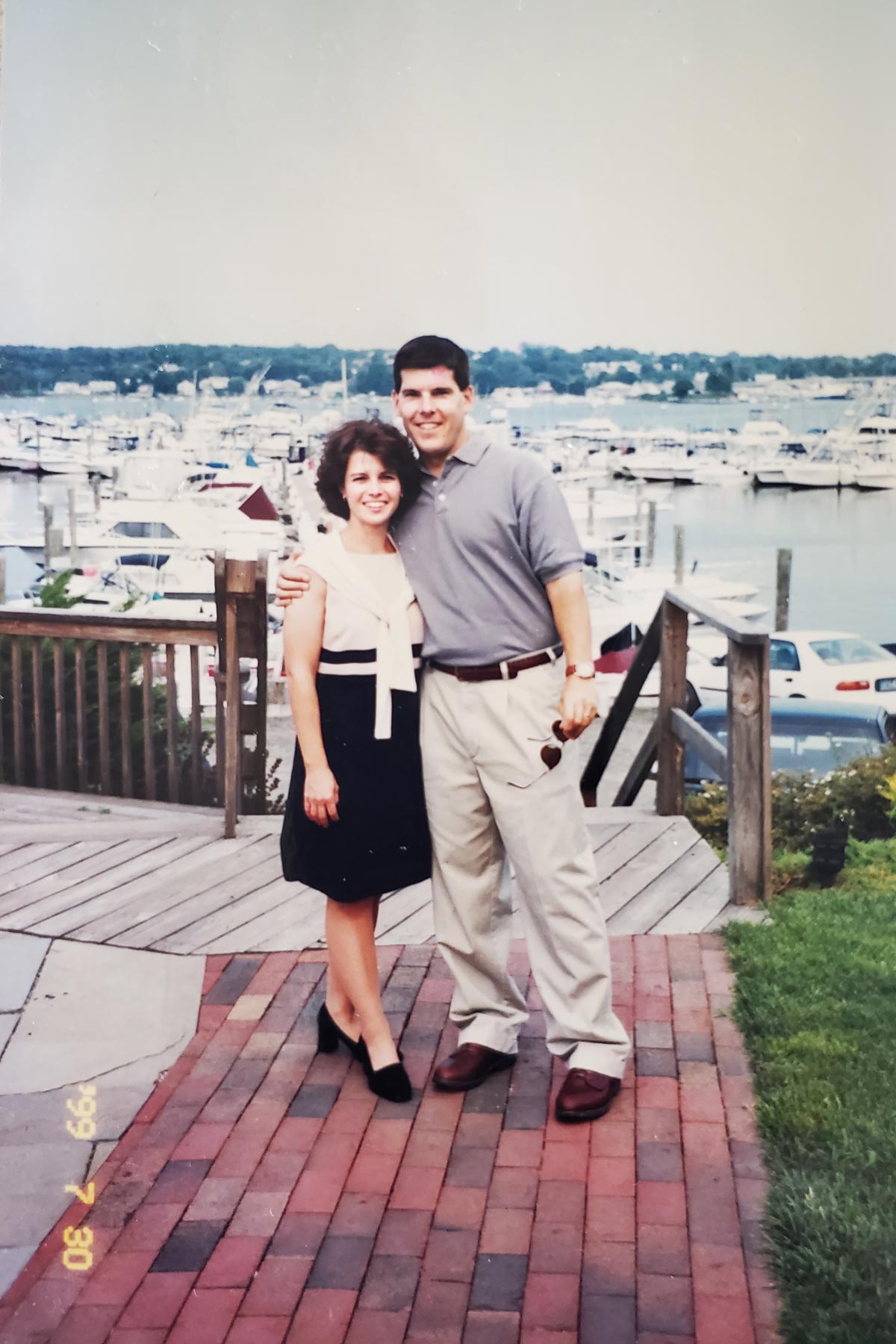 Murphy met his wife, Vera, on a blind date. (Contributed photo)
Patrick's older sister, Lori-Jean Murphy, broke into a wide smile when recalling how Patrick would organize pickup games near their home in Beach Haven, New Jersey, simply by walking outside, dribbling his ball down the street in the direction of the public court and yelling for people to come play.
"And people used to follow him all the way to the court!" she said, laughing. "He had a way about him. He was really engaging and had a really big smile. He just was very likable."
"He was just the guy who everybody wanted to know and everybody wanted to be his friend," said Ed Cappabianca, another former fraternity brother.
One thing Vera couldn't quite wrap her ahead around with Patrick was what seemed like an over-the-top adoration for his alma mater.
"I said, 'This is an obsession with you,'" she said, smiling as she recalled the memory. "I said, 'What is it about this college?'
"I loved Boston College; I had a great time … but he was … it was his whole being, his heart. It was always, 'Oh my God, we've got to go.' It was a big deal for him to bring me to UVA. He had to introduce me and show me around, prepare me and explain things.
"We walked the Lawn and walked into the Rotunda and we walked the serpentine wall and went to Monticello. He just needed to share with me all the amazing things about the University."
***
An Albany, New York, native who had grown up in Princeton Junction, New Jersey, Patrick was a "preppy" through and through, according to Lori-Jean Murphy. Lori-Jean, who had attended Virginia Tech, said pink plaid shorts and bowties were staples of her brother's wardrobe.
"Patrick never would have fit in at Virginia Tech – ever," she said, smiling. "He was definitely a UVA-er."
Cappabianca said UVA's Alpha Delta Phi fraternity chapter (which is no longer in existence) wouldn't have gotten off the ground had it not been for Patrick, who recruited the majority of the members. Patrick served as a resident adviser throughout his time at UVA, which made meeting potential pledges easy.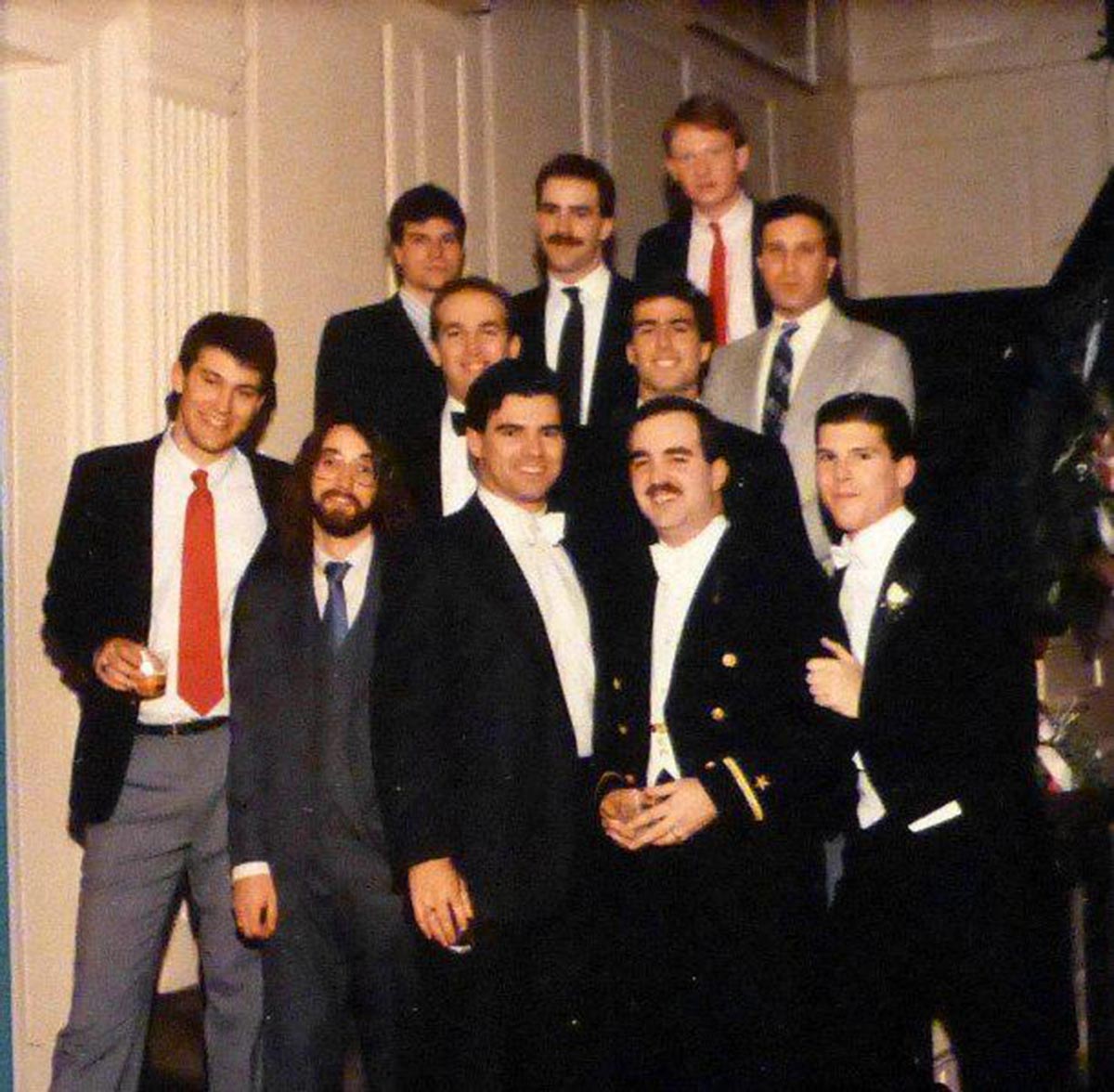 Murphy, front row right, helped start UVA's Alpha Delta Phi fraternity. (Contributed photo)
"That was a key part of who he was, because he loved mentoring folks, and he also wanted to help his parents out financially," said Cappabianca, referring to the lower housing costs associated with being an RA.
Patrick, a computer science major in the School of Engineering and Applied Science, also had a part-time job in the IT department.
When he wasn't studying, working or helping his fledgling fraternity get off the ground, Patrick loved to sing – he was a member of the Madrigal Singers – and, of course, played lots of pickup hoops. Patrick could always be found on the courts at Slaughter Rec Center and University Hall.
Cappabianca said he admired Patrick from the moment they met.
"He was such a strong, ethical character," he recalled. "His moral compass was inviolate. If you wanted the best right answer, he was the guy you would go to. You might not like the answer, but you would know it would be the right thing to do.
"He was never deterred from doings that he thought were right and that he enjoyed, and yet at the same time he was incredibly open and accepting and welcoming of everybody."
Patrick could also make a mean strawberry daiquiri (family members still use his recipe), and he had a dry sense of humor that always kept everybody on their toes.
"He'd say something and you'd have to think twice to catch that he was being funny," Lori-Jean Murphy said. "He was really funny."
***
After just six months of dating, Vera and Patrick began making engagement plans. They got married in November 1991, honeymooned in Mexico and started building a life together.
Wanting to start a family and looking for a less expensive place to live, they moved to Millburn, New Jersey, in 1995 before saving up to purchase a summer cottage in Beach Haven, a borough in Ocean County, New Jersey, that is located on Long Beach Island and borders the Atlantic Ocean.
In 1997, Patrick and Vera welcomed a son, Sean. Two years later, their daughter, Maggie, was born.