Chad Prather just happened to be back in Charlottesville on the night of Aug. 11, 2017.
An annual presenter for the Jefferson Scholars Foundation Institute for Leadership and Citizenship, the former Jefferson Scholar was on the University of Virginia's historic Lawn, eating fried chicken from one of his favorite local restaurants, when white supremacists marched on Grounds, carrying tiki torches and chanting racist messages.
Back at his home in Nashville the next day, Prather, like many people, couldn't get what he had witnessed out of his head.
And after he learned about the tragic, violent events that had transpired in downtown Charlottesville as he was traveling home that day – leading to the deaths of an anti-racism protestor and two state troopers – the 2003 UVA alumnus sprang into action.
Prather huddled with friend and fellow Pearl-Cohn High School faculty member Cedric Caldwell.
"It was just sort of, 'How do we love our neighbor well?'" said Prather, recalling the conversation. "How do we use our gifts to do that?"
It just so happened that Caldwell's in-laws, Grammy Award-winning gospel singers Bebe and Cece Winans, had written a song, "We Need One Another (Right Now)," that, after never hitting the mainstream, they had been saving for the right occasion.
Caldwell, a Grammy winner himself for his work with the late Whitney Houston on the "The Bodyguard" soundtrack, had already enlisted a group of five students from metro Nashville schools to record the piece.
This led to the students performing the song a month later with students from Charlottesville High School, where Prather had taught prior to moving to Nashville.
Gina Kelley, the theater teacher at Overton High School in Nashville, accompanied the group to Charlottesville.
"She was integral to our kids' readiness, vocally, for performing," Prather said.
The resulting video wound up being played at the "Concert for Charlottesville" that was hosted by the Dave Matthews Band, and subsequently won three gold medals for advocacy from a national organization, Music for All.
But that wasn't the end of the story.
"Who is your neighbor? It's anybody that's standing in front of you."

- Chad Prather
A year later, a group of CHS students – led by CHS choir director Will Cooke – traveled to Nashville and recorded a song with their new friends in support of the victims of the Parkland, Florida school shooting.
Prather said it felt great to help bring the two cities together – twice.
"Some of the issues Charlottesville is confronting – relative to race and narrative – those aren't unique," Prather said. "Nashville struggles with some of the same issues and different historical narratives that haven't necessarily been given the balance that they've needed.
"Just like Charlottesville, Nashville is working to confront some of those issues."
As a teacher in both cities for the better part of the last two decades, Prather – a "double Hoo" who earned his bachelor's degree in history from the College of Arts & Sciences and a master's degree from the Curry School of Education and Human Development – has been on the front lines of many of the discussions surrounding those subjects.
"Chad helped move logistical mountains with the Nashville public schools to bring the five students to Charlottesville," recalled Laura Thomas, director of the CHS Orchestra.
"Chad was my student, but he has also long been my teacher," Curry professor Carol Tomlinson said. "Each time I am with him, I learn about courage, passion, empathy and the light a truly extraordinary teacher can shine in places that persist in a state of neglect because too few of us elect to engage with them."
Prather said he simply approaches teaching with a "Love your neighbor" mindset. He said the framework for the philosophy comes from a book by leadership expert Tim Witmer.
"He says, 'What does it mean to lead and love well?'" Prather said. "He says to lead and love well is to embrace, nourish, guide and guard those who are before you. I have long thought of teaching in terms of those verbs. When you do those things, you end up, in my view, doing really significant work that confronts and fights against poverties.
"Kids come to teachers with all sorts of poverties, and teachers come to kids with all sorts of poverties. It might be a poverty of voice, a poverty of hope, a poverty of identity – lots of different types of poverties. I think really effective teaching helps kids confront some of those poverties … and in doing all of that, the kids help you fight your own poverties. You become more empathetic, you become more culturally aware, more humanitarian. In a nutshell, I think of teaching as sort of the front lines of poverty fighting – just not necessarily the poverty we're all used to thinking about."
Prather has won multiple district-level awards in the Metropolitan Nashville Public School System, most recently in 2016 as the Academies of Nashville General Education Teacher of the Year, and in 2013 the Metropolitan Nashville Public Schools' High School Teacher of the Year.
That recognition comes as no surprise to Thomas. "He was legendary at CHS for his ability to reach all students, from students for whom school had not been a positive experience to those determined to attend Ivy League schools," she said.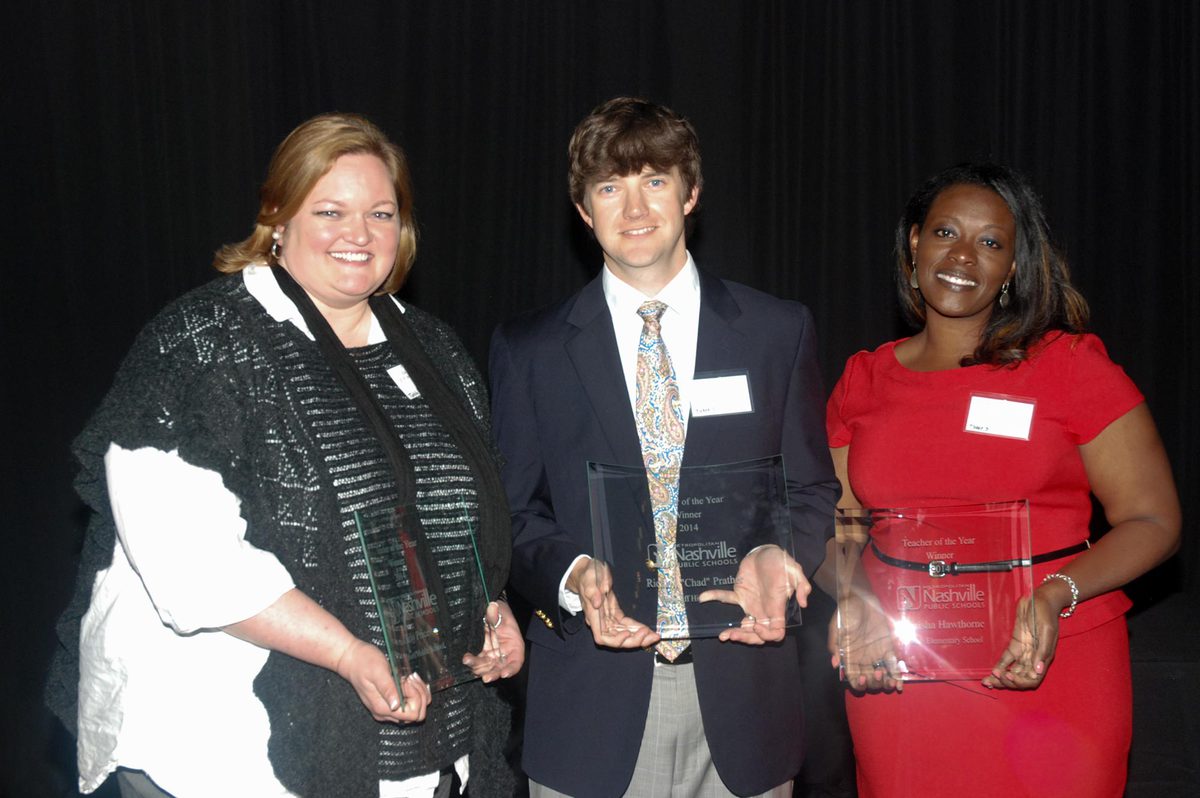 Prather has taught in Nashville public schools since 2008. (Contributed photo)
Prather said he knew he wanted to become a teacher as an eighth-grader at a Catholic school in Baltimore. There, his social studies and homeroom teacher, Corinne Seguin, reached him in a way that nobody had before.
The Rwandan genocide was taking place in 1994, and well before the news would hit the mainstream media, an emotional Seguin was telling students, in frank terms, what was happening in her native country.
"She gave herself permission to be herself in front of us and to show vulnerability," Prather said. "That was just a really compelling model for eighth-graders to witness."
When it came time to choose a college, Prather said the decision to apply to UVA was a no-brainer.
He knew the Curry School could help him achieve his dreams of becoming a teacher, with the Jefferson Scholarship – a competitive merit scholarship that covers the entire cost of education at UVA – providing the support he needed.
As the only person from his high school to come to UVA, Prather said the Jefferson Scholars Foundation was a huge help in his acclimation.
"There's a sense of family that provides supports that even the best-intended colleges and universities might not be able to provide sort of at macro-level," he said. "There were always individuals – both at the directorship level, but also at the administrative support level and right down to classmates – who were interested in what I was doing and studying and encouraging me into those passions."
As an undergrad, the diehard Baltimore Orioles fan served as a team manager and bullpen catcher for the UVA baseball team.
During his time at Curry, Prather formed close relationships with many of his professors, including Tomlinson, with whom he has remained close over the years.
From the first day she had Prather in her class, Tomlinson said she had the sense that he would be an "extraordinary" teacher. "Not just a good one, or even a really good one," she said, "but a teacher who stands apart even from the best.
"Teaching for him was even then, as it still is, not a job, but a life mission." 
With a gift for using humor, music, poetry, current events and stories from history (among other things) to connect with and think about issues and societal problems, Tomlinson calls Prather's classroom creativity a "bottomless well."
"Chad is the teacher students want to talk with when they are hurt or angry or mourning," Tomlinson said. "He's the one they want to share big life moments with. He is honest with them about his struggles, including the struggles inherent in teaching students whose experiences have often constructed barriers between the student and the possibility of investing in school. He turns to them for insight in those moments of mutual discouragement, and both he and his students are lifted up by that mutual trust."
Prather said he just feels fortunate to have had mentors like Tomlinson and the opportunities that he did while at UVA.
"I dream about my own kids going there," Prather said. "Everything about the place – from just the physical environment of the University, to opportunities to serve the city of Charlottesville … UVA afforded me the opportunity to get into schools pretty quickly and to get to know some of the communities surrounding the city. That opened my eyes a bit more to some of the needs locally."
The experience has certainly helped him during his time in Nashville, where teaching in one of the nation's largest metro public school systems has come with many challenges.
"Kids come to teachers with all sorts of poverties. It might be a poverty of voice, a poverty of hope, a poverty of identity. … I think really effective teaching helps kids confront some of those poverties."

- Chad Prather
In his six years at Pearl-Cohn High, Prather said 17 current and former students have died as the result of gun violence.
Having just turned 40, and with a third-grader and first-grader of his own, Prather decided to take a break from the classroom this year. In an administrative role, he has been focused on professional-learning and mentorship-development programs for teachers.
While Prather has enjoyed seeing things through a different lens and taking a step back from the daily teaching grind – a choice his wife, Katherine, also a teacher and double Hoo, appreciated – he knows he will eventually return to his passion.
Over the years, Prather hasn't kept up with Seguin, his eighth-grade teacher, but, in a way, she's always been right by his side.
"I've probably thought about her every day for the last 20 years," Prather said. "I've taught world history and different courses within social studies, but the Rwandan genocide is the only subject that I make certain that I teach every single year.
"I've had great teachers all along the way, but something in particular about her just really struck me."
No doubt, it was in Seguin's classroom in Baltimore where Prather's identity – not just as a teacher, but as a human – took root.
"Who is your neighbor?" Prather said. "It's anybody that's standing in front of you."
Article Information
October 25, 2019
/content/love-thy-neighbor-alumnus-making-mark-high-school-teacher-nashville