Back in Charlottesville, above the desk in his McCue Center office, sit five NCAA championship trophies. They've been daily reminders to Lars Tiffany of the storied history of the University of Virginia men's lacrosse program he oversees.
"You feel that," Tiffany said.
A sixth trophy will soon join the rest. UVA capped its third season under Tiffany with an emphatic 13-9 victory over Yale University in the NCAA final Monday afternoon before a crowd 31,528 at Lincoln Financial Field in Phiadelphia.
The Cavaliers previously were crowned NCAA champions in 1972, 1999, 2003, 2006 and 2011.
"It's amazing," said sophomore attackman Matt Moore, who grew up in nearby Garnet Valley. "I dreamed of this. It doesn't feel real right now."
Yale (15-4) was trying to become the first team to win back-to-back NCAA titles since Duke in 2013 and '14. With 68 goals in four games, the fifth-seeded Bulldogs set an NCAA tournament record this month, but third-seeded UVA's defense stymied them for most of the game Monday.
Leading that effort was sophomore goalie Alex Rode, who was named the tournament's Most Outstanding Player.
"He played an unbelievable game today," said junior midfielder Dox Aitken, a first-team All-American who, like Moore, is from the Philadelphia area. "Every time they went on a little bit of a run, he was right there to stop it."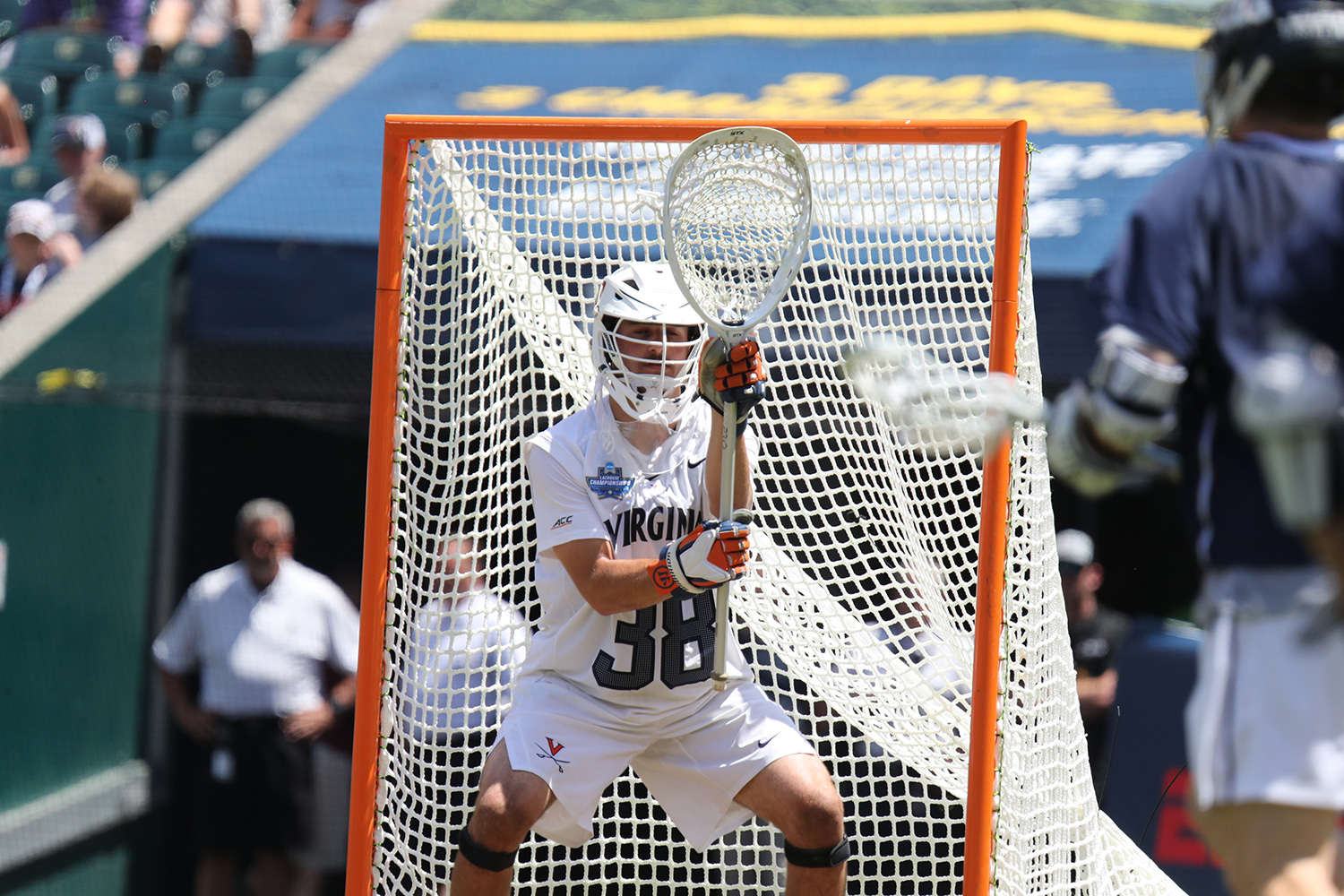 Second-year goalie Alex Rode was named the tournament's Most Outstanding Player.
Rode said: "I thought the whole defense just played amazing. They were flying around, [defensive] middies and the close defense, and I'm just very fortunate to be able to play with that group of guys."
In Virginia's double-overtime win over Duke in the semifinals, Rode made 19 saves. He finished with 13 against Yale, and his performance in Philly evoked memories of former UVA great Tillman Johnson's tour de force in Baltimore at the Final Four in 2003.
Kip Turner, now an assistant coach at his alma mater, was the starting goalie on the unbeaten UVA team that captured the program's fourth NCAA title in 2006 at Lincoln Financial Field, and he remembers watching Johnson in '03.
Rode "wasn't as dramatic as Tillman was, but what he did so well is he made all the ones consistently and shut the door early," Turner said. "He made everything he needed to make for us to be successful as a team. And that's just super-impressive from a guy that didn't necessarily play great until he needed to."
Dramatic fourth-quarter comebacks have been the trademark of these Cavaliers, who were 5-0 in overtime games this season. Against Yale, however, UVA (17-3) was locked in from the start.
"We knew we had to come out and play a complete game, and that's what we did," said All-America midfielder Ryan Conrad, a senior and one of Virginia's captains, along with classmate David Smith and junior Michael Kraus.
"We put together four quarters today," said Moore, who finished with a game-high four goals and added an assist. "That's what we wanted."
Yale junior TD Ierlan, the Ivy League Player of the Year, was every bit as good as billed at the faceoff, winning 18 of 24 draws. But the Wahoos had the advantage in ground balls (48 to 46) and dominated this game. They led 6-2 at the half and 11-5 after three quarters.
"I think this is the best lacrosse game we've played in the three years we've been here as coaches, hands down," Sean Kirwan, UVA's offensive coordinator, said. "The best lacrosse game we've played, top to bottom: goalie play, faceoffs, defense, offense, clearing, riding. It's really cool to hit that pinnacle on the last day of the season, Memorial Day."
The season started on a much different note for Virginia, which lost 17-9 to Loyola University in Baltimore on Feb. 9. The Cavaliers evened their record at 1-1 with a victory over Lehigh University six days later, only to lose at home to High Point University on Feb. 18.
On defense, Turner said, the Hoos were "finding an identity early in the season, and we just got better. We started understanding defensive concepts more and more, and then as a unit, I think, that group just gained trust in each other, and look what happened."
Virginia's defensive stalwarts include junior long-stick midfielder Jared Conners, a first-team All-American.
The Cavaliers' progress at that end of the field, Conners said, stems from "the themes that we had all year. Trust in each other and trust in our defense and trust what Coach Tiffany has told us every single day: that great teams are formed off brotherhood and formed off love and playing with heart. That's what we did, and that's what it took."
In addition to Rode, the all-Final Four team included five other Cavaliers: Aitken, Conrad, Moore, freshman defenseman Cade Saustad and sophomore attackman Ian Laviano, who scored the game-winner in the second overtime Saturday against Duke.
Moore finished the season with 89 points, a UVA record. Doug Knight, who totaled 86 points in 1996, held the previous mark.
The ACC Freshman of the Year in 2018, when he played in the midfield, Moore steadily improved in his first season on attack.
"He's an incredible talent," Kirwan said, "and he's a hard-working kid. We knew there were going to be growing pains making that switch. It was inevitable. To see him come in week-in and week-out and correct his mistakes and get a little bit better and then a little bit better, it's a testament to him and to this whole team. That's how our whole team was this year, just getting a little bit better each week, and Matt was no exception."
Against a Yale defense that rarely chose to slide, Virginia collected only three assists Monday. The Bulldogs "dared us to beat them off the dodge," Kirwan said, and UVA's attackmen and middies did so repeatedly.
"For Matt and Mike and Dox, for those guys to win those matchups and get those unassisted goals was huge," Kirwan said.
The Cavaliers' offensive stars are "just incredible dodgers and incredible shooters," Yale head coach Andy Shay said, "and I think they had a really good plan: put those guys in space against match-ups that they could handle. Pretty impressive."
When the final second ticked off the clock at the Philadelphia Eagles' stadium, the celebration that had been brewing on the UVA sideline began in earnest. Players and coaches embraced and later took turns posing for photos with the championship trophy and cutting the net off one of the goals.
Taking it all in on the field, with a huge smile on her face, was athletics director Carla Williams, who last month wore a similar expression in Minneapolis after UVA men's basketball team won the first NCAA title in program history.
The bond between Williams and the men's lacrosse team has grown ever stronger over the course of this school year, and she applauded the strides the Cavaliers have made on and off the field.
"Winning today is great, and they'll remember this [forever]," Williams said, "but they're going to do great things in life because of the way they carried themselves the entire season. Just so much fortitude, so much focus and determination. I'm just so proud of them."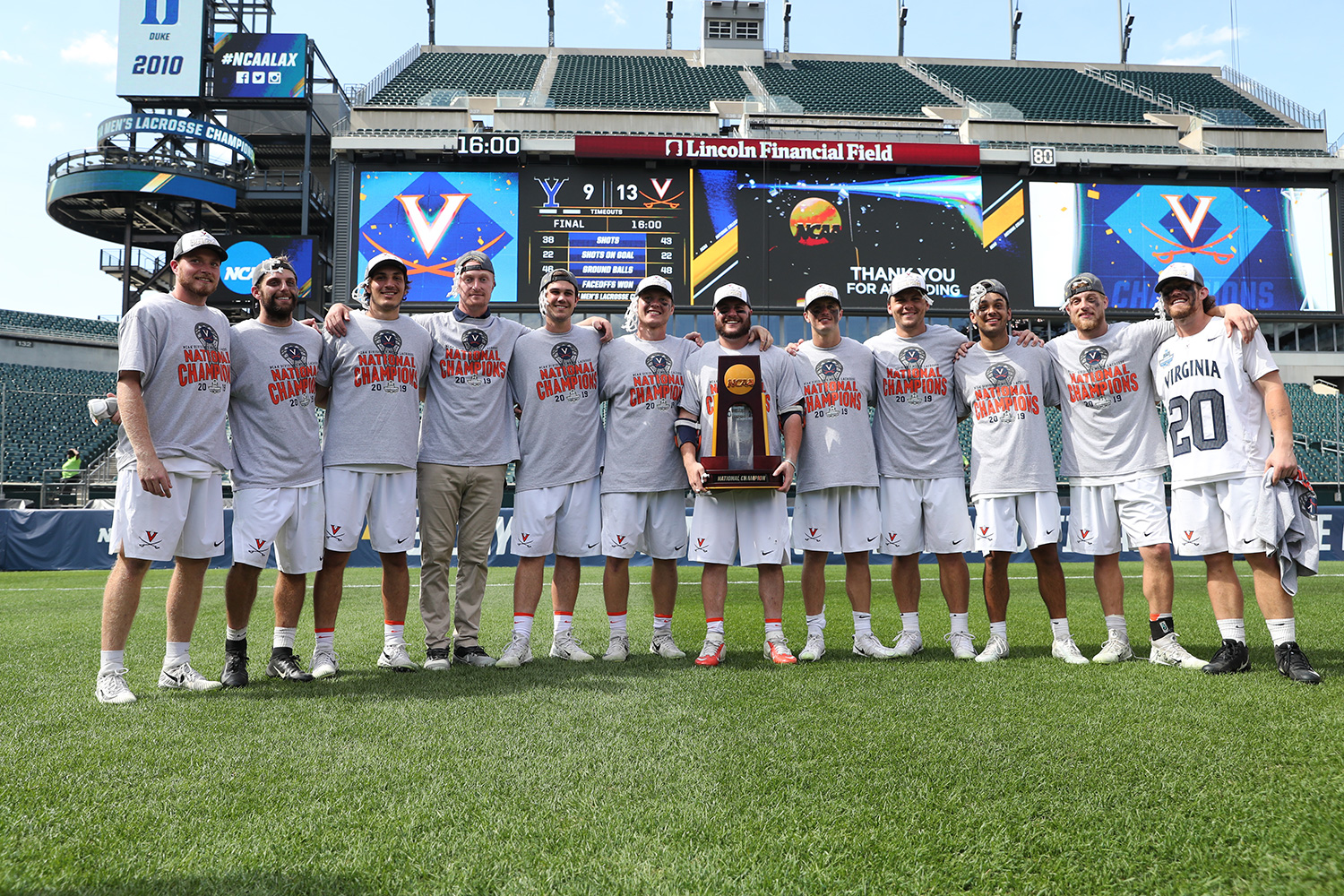 The team with their NCAA championship trophy at Lincoln Financial Field.
The party eventually moved to UVA's locker room, where the players' chanting and singing at times threatened to drown out the press conference at which Tiffany, Rode, Kraus and Moore were fielding questions next door.
Tiffany opened his remarks by praising his mentor, Dom Starsia, for whom he played at Brown University and whom he succeeded at UVA. Starsia guided the Hoos to four of their first five NCAA championships and recruited many of the players on the current team.
"Dom knows how to find talent," Tiffany said, "but he also knows how to find people with the right hearts and people who are going to do the right things, and we've made a lot of good decisions here in year three off the field and certainly on the field, as you saw today. I'm humbled and incredibly grateful for Dom Starsia in my life.
In 2017, the Cavaliers' first season under the new coaching staff, they finished 8-7 and missed the NCAA tournament for the second straight year. They improved to 12-6 in 2018 and made it back to the NCAAs, where they lost to Loyola in the first round.
The breakthrough came this year. The season started inauspiciously for UVA, but no one in the program lost faith. The Cavaliers saw their perseverance rewarded Monday on the sport's biggest stage.
"That's just a testament to all the hard work that we put in," Conrad said. "I'm just so happy for these guys, and I couldn't have scripted it any better."
Another UVA mainstay, defenseman Logan Greco, echoed those comments.
"It's magical," said Greco, a fifth-year senior. "I'm almost crying right now. It just means the world. All of us have worked our butts off for a long time. We've been slowly building a culture that can win, and we proved that we can win with this culture. Now the torch is passed on to the younger guys. Now they have the journey to make it even bigger and better."
Article Information
May 27, 2019
/content/make-it-two-mens-lacrosse-team-captures-uvas-second-ncaa-title-2019