With just the tap of a finger, you can bring the University of Virginia's "CavMan" mascot to life on your smartphone or tablet, just in time to watch the No. 1-ranked 'Hoos light up the Atlantic Coast Conference men's basketball tournament today at noon.
The process is deceptively simple.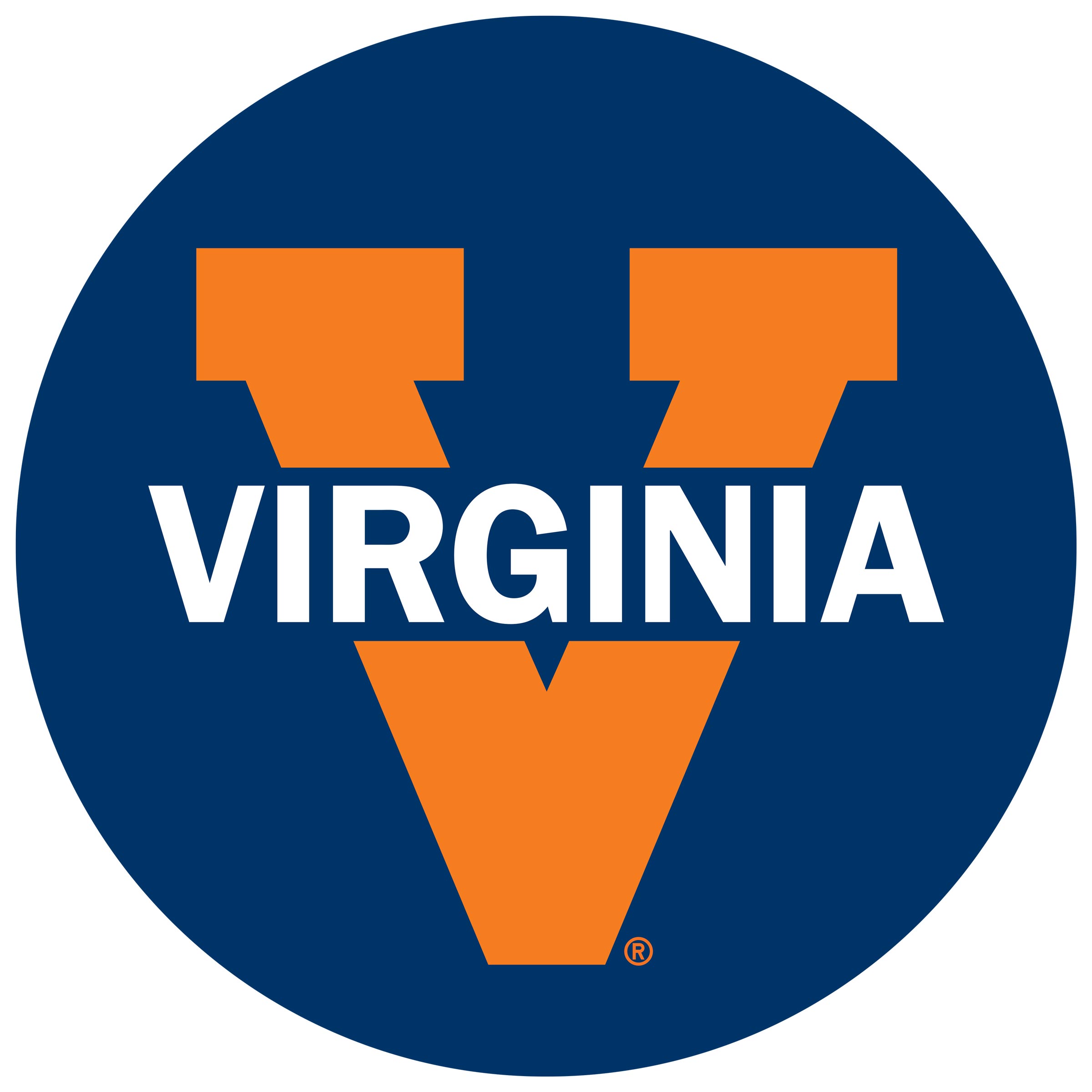 Virginia Cav Man Trigger
Grab your smartphone or tablet.
Download and open the free "appAR8" app.
Print and place the Virginia "V" trigger wherever you want CavMan to appear on the screen and scan it with your phone. (Or click here for further directions.)
Watch CavMan magically appear on your device's screen.
What comes next is up to you. Press the onscreen button to take photos or make videos of CavMan alone, with you, or a bunch of your crew.
The animation is synched to "The Good Ol' Song," so when you scan the "V" trigger, the mascot appears on your screen in 3-D. He drops down, tips his hat and does some different dance moves. At any point, users can take a photo or video.
The new, augmented reality mascot comes compliments of a breakout firm in Baltimore called Balti Virtual, which specializes in augmented and virtual reality. The company's business developer is Shawn Flaherty, a 2008 UVA graduate.
The political philosophy, policy and law major said the name of the company is "a nod to the fact that we are building Baltimore into the next tech hub for virtual and augmented reality."
With such varied clients as Under Armour, PayPal, Stanley Black & Decker, Legg Mason, Northrop Grumman, The Johns Hopkins Hospital and the American Heart Association, Balti Virtual's work in augmented reality is like none other in the industry.
"There are other augmented reality apps that work on mobile phones and tablets, but they are very different, in the sense that they are all self-service," said Flaherty. "If you think about it in the sense of building a webpage, what else is out there all falls into the 'Myspace' category where you log on and it's like, 'OK, here are three templates you can choose from.'"
He said those options are good to have. "But when it comes to fully interactive, real-time 3-D models that are very high-quality, and an app that can refresh content without pushing updates, that takes a really small amount of space up on your phone, we stand alone in that respect."
The idea for an augmented reality CavMan was born last fall when Flaherty, who runs the UVA Club of Baltimore, was talking about his company's work with Elizabeth Muse, senior director of UVA Clubs and Global Engagement. Balti Virtual had recently made a augmented reality – or AR – mascot for the University of Maryland. The natural question followed. Why not make something for UVA?
Early ideas focused on a virtual Thomas Jefferson. Then the idea of bringing CavMan to life gained traction. From start to finish, it took the team at Balti Virtual about six weeks to build the software.
The fact that the Cavaliers are now soaring in the national rankings makes today's big reveal all the more satisfying.
"I've been chomping at the bit waiting for this to go live because it's really nice to be able to surprise people," Flaherty said.
"I'm a little bit biased here, but I think our community and the passion that we have is unmatched," he said excitedly. "I think Virginia is going to take it to a different level."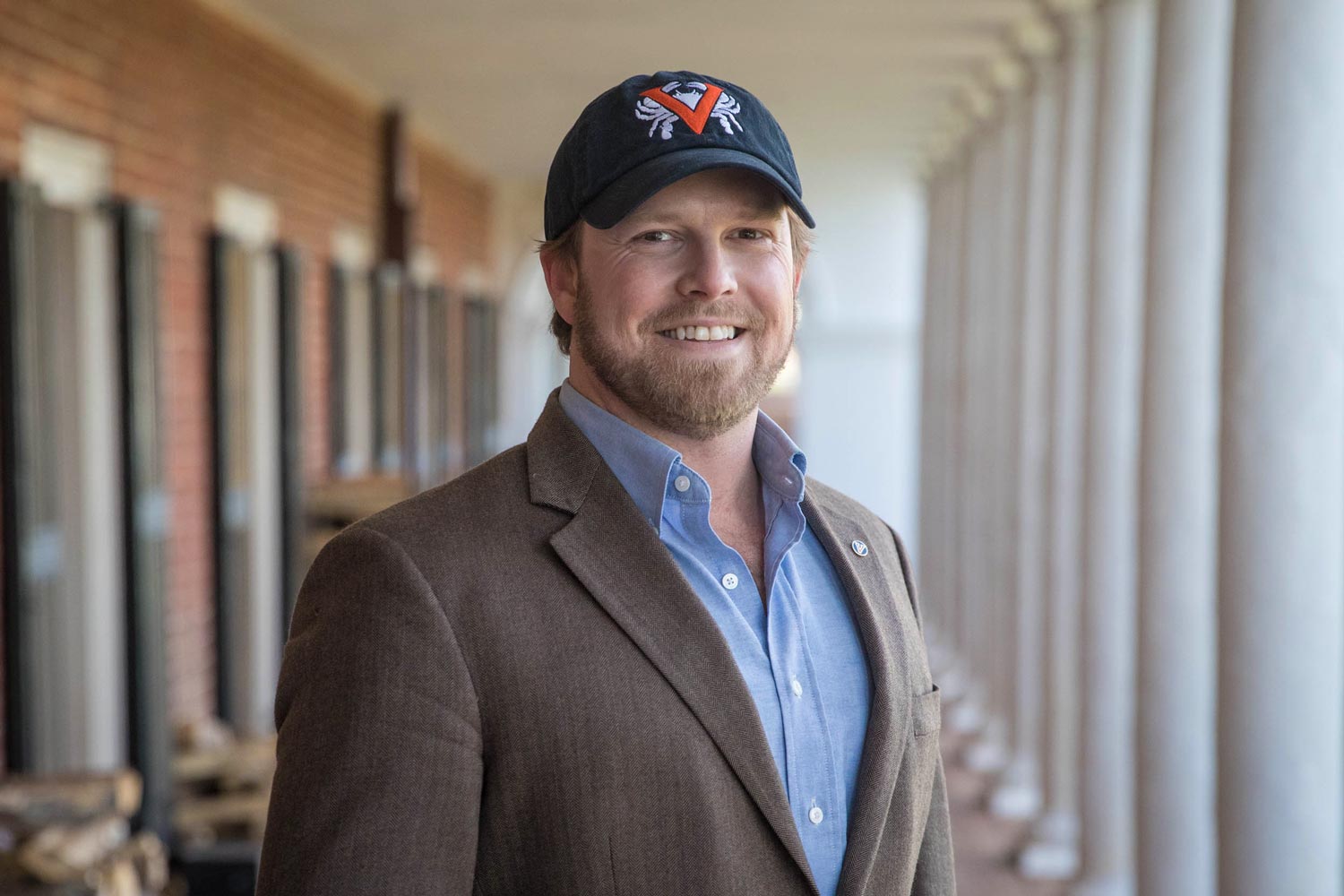 In addition to AR, Shawn Flaherty's company makes virtual reality. Recently, the team made an immersive, virtual reality experience for brokers at Legg Mason. (Photo by Sanjay Suchak, University Communications)
Users are invited, in fact urged, to get on the CavMan bandwagon by posting their photos and videos online using the #UVAClubs and #CavMan hashtags. The appAR8 app syncs seamlessly with Instagram, Facebook, Twitter and Snapchat.
And CavMan is scalable. There is a one-to-one ratio between the size of the Virginia "V," the AR's trigger, and the size of the target.
So you can download and print any size target for your photo or video with CavMan. You can shoot him at the Rotunda, Barclays Center in Brooklyn, Shanghai or Lima. The sky is the limit.
And if you have any UVA swag that features the split-V Virginia logo with the blue background, orange "V' and white Virginia lettering running through it, you can scan that with your phone and CavMan will appear on your hat, T-shirt or backpack. The only limit is your imagination.
Article Information
March 7, 2018
/content/make-new-cavman-hologram-your-wahoo-viewing-buddy