"Who are you without your job, your title and your salary?"
The question reverberated in Bronco Mendenhall's mind. Among the youngest head coaches at the highest level of college football, he was fresh off of leading the 2007 Brigham Young University football team to its second conference championship in his three years in charge. It was an accomplishment that felt oddly unfulfilling – so much so that he considered resigning even as he hoisted the championship trophy on the field after the game.
Instead of quitting, he signed up for a retreat for leaders in high-stress environments, leaders who were harboring similar doubts. That's where he encountered the question.
"Who are you without your job, your title and your salary?"
How he ended up answering that question ultimately changed the way he approached coaching – and, indirectly, led him to the front of a classroom at the University of Virginia's McIntire School of Commerce on Friday afternoon.
Mendenhall, named UVA's new head football coach in December, was the invited guest of McIntire professors Jason Williamson and Brendan Boler, who teach courses in project management and consulting, respectively. Mendenhall's talk, laying out his coaching principles and how they might apply to the business world, kicked off a weekend case competition.
"In my class – both in office hours and in the session – I stress the idea of knowing the 'why' (purpose) before the 'what,'" Williamson said. "I often encourage students to focus on the 'be,' and the 'what you will do' follows naturally from that."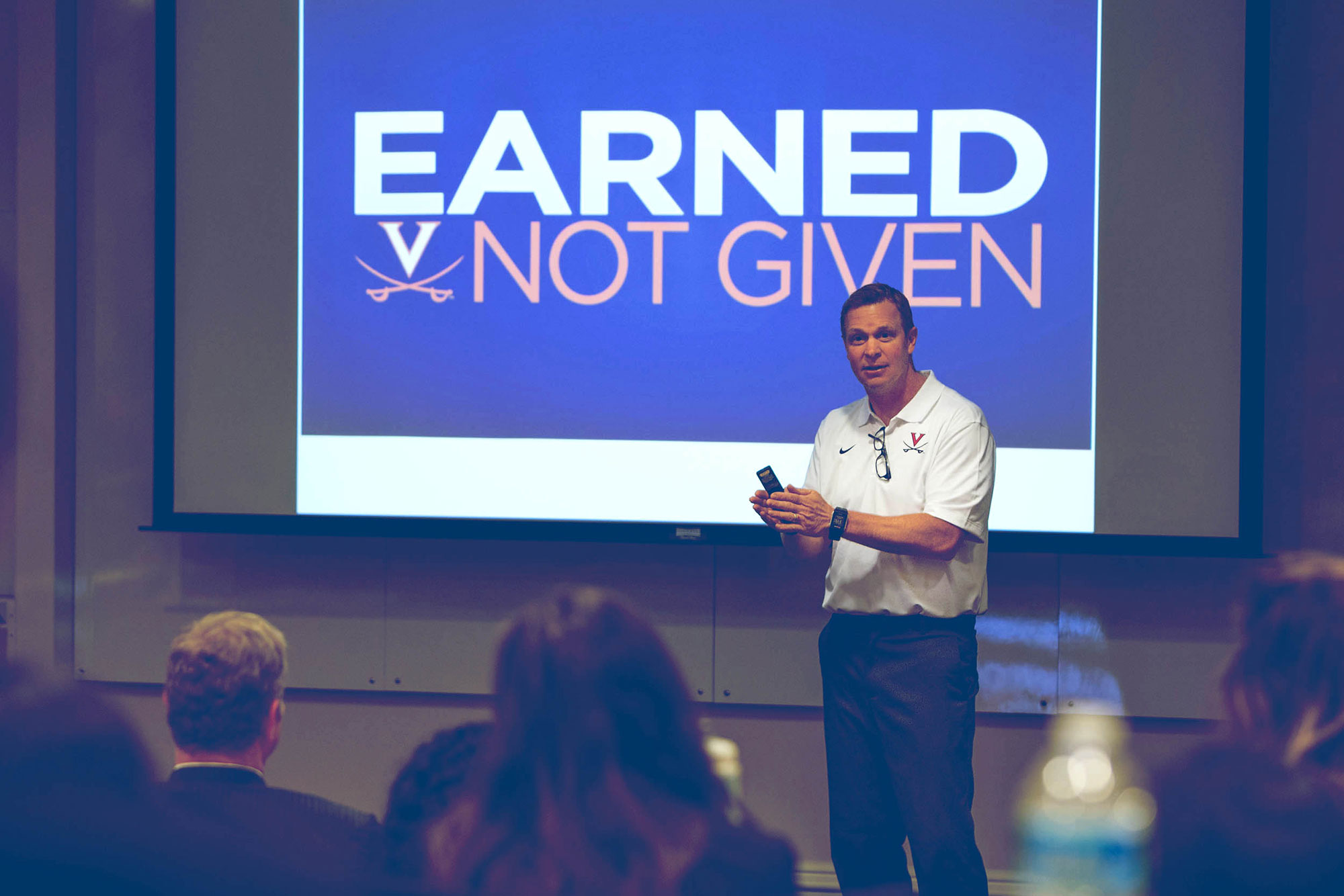 Mendenhall said that his UVA players are buying into his approach, despite its rigorous mental and physical demands.

At the fateful retreat, Mendenhall ended up writing a personal mission statement. Unapologetically informed by his Mormon faith, it gave him renewed purpose in finding peace and joy in his responsibilities, as well as in being successful and inspiring others.
Thus armed, Mendenhall returned to BYU with the intent of building "the most complete football program in the world."
Recognizing the similarities between competition in athletics and competition in business, early in his BYU career he sought out the advice of Paul Gustavson, a BYU professor who consulted with companies around the world. He read extensively in the field of business strategies; various business-themed works line his office's bookshelves.
"The world I'm in is quite different than this, but quite similar to this," Mendenhall told the McIntire students, adding that he remains committed to learning, both personally and for his players. He sprinkled his talk Friday with references to many of the authors that the students had been reading for their courses.
What emerged from Mendenhall's personal mission and his work with Gustavson is a purposeful, coherent approach to coaching football – and most importantly, to mentoring those under his charge. His approach, which he calls "The Five Smooth Stones" (drawing on the weapons David used to fell Goliath in the famed Bible story), became the basis for a book Gustavson wrote about Mendenhall's program, "Running into the Wind: Bronco Mendenhall – 5 Strategies for Building a Successful Team." (The book averages 4.9 out of five stars from Amazon reviewers.)
The first stone is gaining a competitive advantage by either doing something completely different than your competitors, or by doing the same thing in a different way ­– a concept that Williamson notes is drawn straight from the work of business strategist Michael Porter.
The second: an organization is perfectly designed to get the results that it gets. This highlights the necessity of committing to processes that are successful.
Third: Processes in organizations are not all created equal. Leaders must prioritize what tasks are important, delegate others that are necessary and get rid of those that are non-essential. Mendenhall says that his teams get more done in less practice time than most others, and adds it is a priority to allow himself and his assistants to be home with their families in the evenings, even during the season – a rarity in a profession in which many coaches regard 18-hour days as routine and sleeping in their offices as a badge of honor.
Fourth: Knowledge is the purest form of competitive advantage.
Fifth: Leaders must capture the hearts and minds of the team they lead.
After his retreat experience, Mendenhall's BYU teams continued their success on the field, winning 99 games in 11 seasons and qualifying for a bowl game each year. He built an extremely loyal community of former players and assistant coaches. When he surprised many by accepting the UVA job after last season, he brought 12 families with him from Provo, Utah to Charlottesville – assistant coaches and staff – and said four more would have joined him, had there been jobs.
"These are my friends," he said as he projected a picture of the UVA football coaching staff posed on the Lawn onto the screen at the front of the classroom. He advised students that he does not work with people he does not like, one of several leadership tips he doled out.
The reports from UVA's spring practices have been positive. The players are buying into the program, Mendenhall said, and there has been much less resistance than he expected to his meticulous and demanding "Earned, Not Given" requirements. Each player had to pass a grueling conditioning test to earn the right to participate in practice. The locker room must be kept neat and orderly, or players lose access to it and must launder their own gear. Warm-up drills must be performed correctly in order to progress to football drills.
Such attention to detail, he said, is vital, as small details are often the difference between winning and losing football games. Doing things correctly off the field becomes a habit that earns rewards on the field, he said.
He said he hates the word "impossible," and counters those who say something is impossible with the question, "How impossible?" – forcing them to consider less-absolute notions.
"Anything is possible, and there's a solution to each problem," Mendenhall told the business students. "I don't want to work with anyone who does not believe that."
Mendenhall acknowledges the difficulty of the task ahead – turning around a football program that has lost more games than it has won in seven of its last eight seasons. But he said he and his staff "like doing hard things together" and remains confident of ultimate success.
Article Information
April 25, 2016
/content/mcintire-school-mendenhall-connects-mission-coaching-business-strategy