Every fall, Carrie Heilman, a professor in the University of Virginia's McIntire School of Commerce, asks students in her yearlong "Promotions" course to come up with three goals. This year's class decided that they wanted to learn as much as they could about the advertising industry, have fun, and recapture the American Advertising Federation's National Student Advertising Competition.
"Promotions" went three-for-three in 2020.
"They set their sight on those goals and didn't look back," Heilman said.
According to the American Advertising Federation, the National Student Advertising Competition serves as "the premier college advertising competition that provides more than 2,000 college students the real-world experience of creating a strategic advertising/marketing/media campaign for a corporate client."
Heilman's students outpaced more than 100 other groups at the district and semifinal levels, then bested eight other schools at nationals with their "Get Noticed" awareness campaign for this year's client, Adobe.
[Watch the announcement of the winners.]
UVA's team was announced as the winner on June 8, after a competition held virtually due to the coronavirus pandemic. UVA has now won the competition a record four times. This year's hard-fought victory came with a cash prize and a trophy.
A Different Type of Campaign
This edition of the competition focused on a business-to-business challenge, which is rare in recent years; student competitors typically focus on advertising directly to consumers, not other businesses.
Instead, software company Adobe asked the student teams to pitch a campaign to raise awareness, generate site visits, garner earned media and create sales leads for its ad tech software bundle, Experience Cloud for Advertising – a product aimed at advertisers.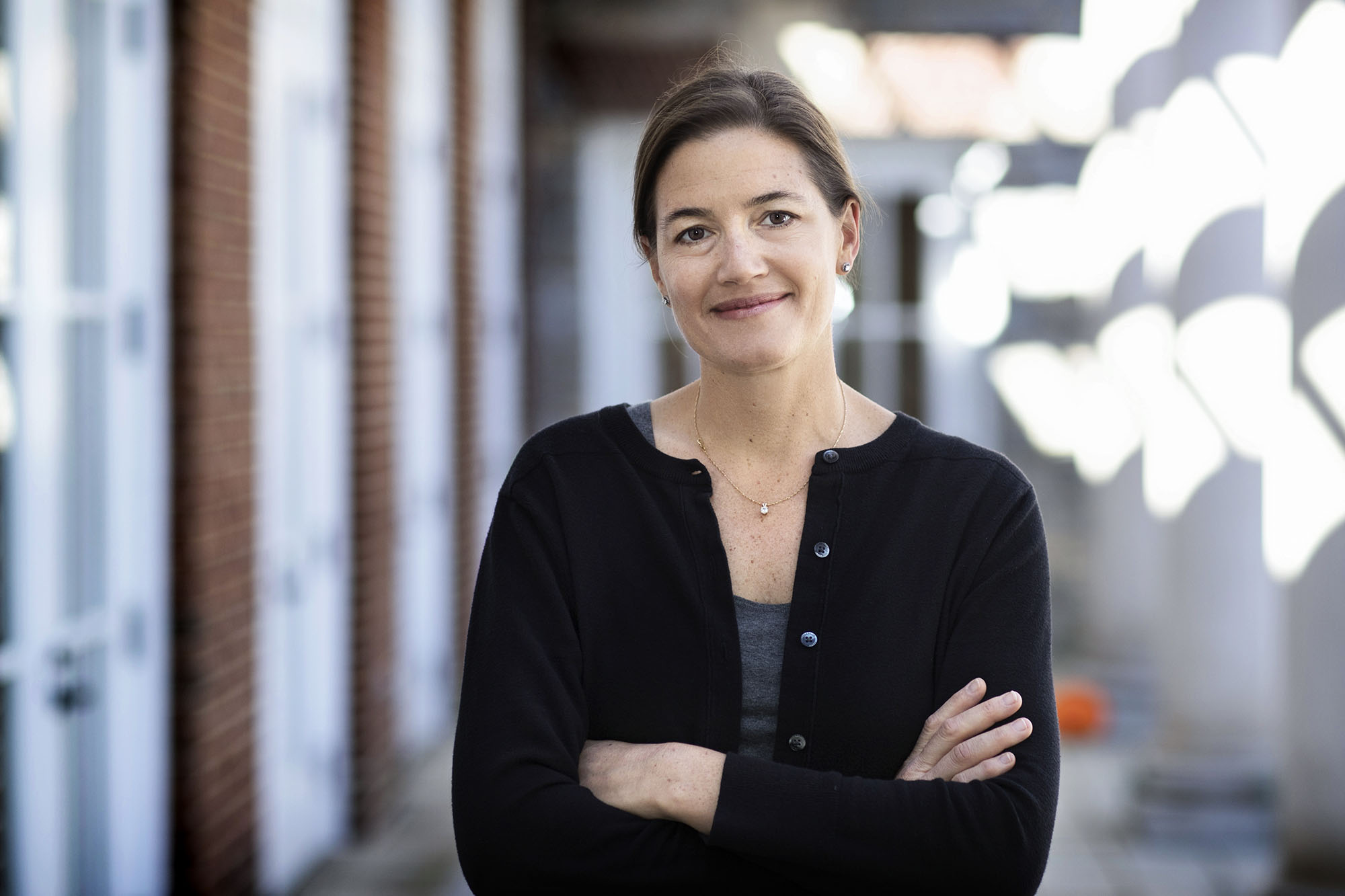 Carrie Heilman began teaching "Promotions" in 2013, led the class to a national title in 2016, and won an All-University Teaching Award. (Photo by Dan Addison, University Communications)
"Despite some of the challenges that we knew we were facing with the nature of a [business-to-business] case, I knew this group was really ready for this unusual year," Heilman said. "I said from the get-go that if there was any class that could handle a B2B campaign trying to sell ad tech to advertisers, this was the group."
May graduate Zachary Cummings said that dealing with the business-to-business aspect of the competition required a research strategy that focused on executives and decision-makers, a professional group that is often pressed for time and not easily accessible for interviews with college students.
The team found its solution in McIntire's strong alumni community.
"We were able to conduct those one-on-one interviews with professionals whom we accessed through the alumni network and by contacting parents' friends who worked in ad tech companies," Cummings said. "It was an exercise in networking and an exercise in learning about the industry."
To accomplish Adobe's aims, the UVA team went deep: eight months of social media monitoring, interviewing focus group participants and conducting one-on-one interviews with nearly 200 people, totaling more than 2,900 research impression examples.
In its award-winning presentation, the team unveiled a host of ideas for Adobe to position its data-driven creative product as a tool for helping its business clients rise above a flooded market, grabbing the attention of a public that has become accustomed to ignoring advertising. 
The UVA team also took home a second trophy and an additional cash prize for winning the "MRI-Simmons Inspired by Insight Award," given to the school with the best application of research demonstrated in its presentation and pitch book.
Off Grounds, on Target
Like nearly everything this spring that became more constrained with the pandemic, the coronavirus presented unexpected obstacles for the "Promotions" students as they attempted to win nationals.
Unprecedented in the 46-year history of the advertising competition, the 2020 edition was a completely virtual affair, as the outbreak of COVID-19 required all schools to submit their presentations online for the judges' review. Heilman said her students were remarkably resilient in the face of uncertainty, and fed off of the adversity of the situation to think creatively as they prepared for the semifinal and final rounds.
"I had so much confidence in this group of students, and they really rose to the challenge," she said. "There were many times when I felt like we were doing the best work we could and they actually took it to another level.
"But it really was challenging. We had to pivot in terms of our organization, in terms of the way we communicated, and we didn't have the luxury of being face-to-face to be able to work as quickly as you might otherwise be able to do."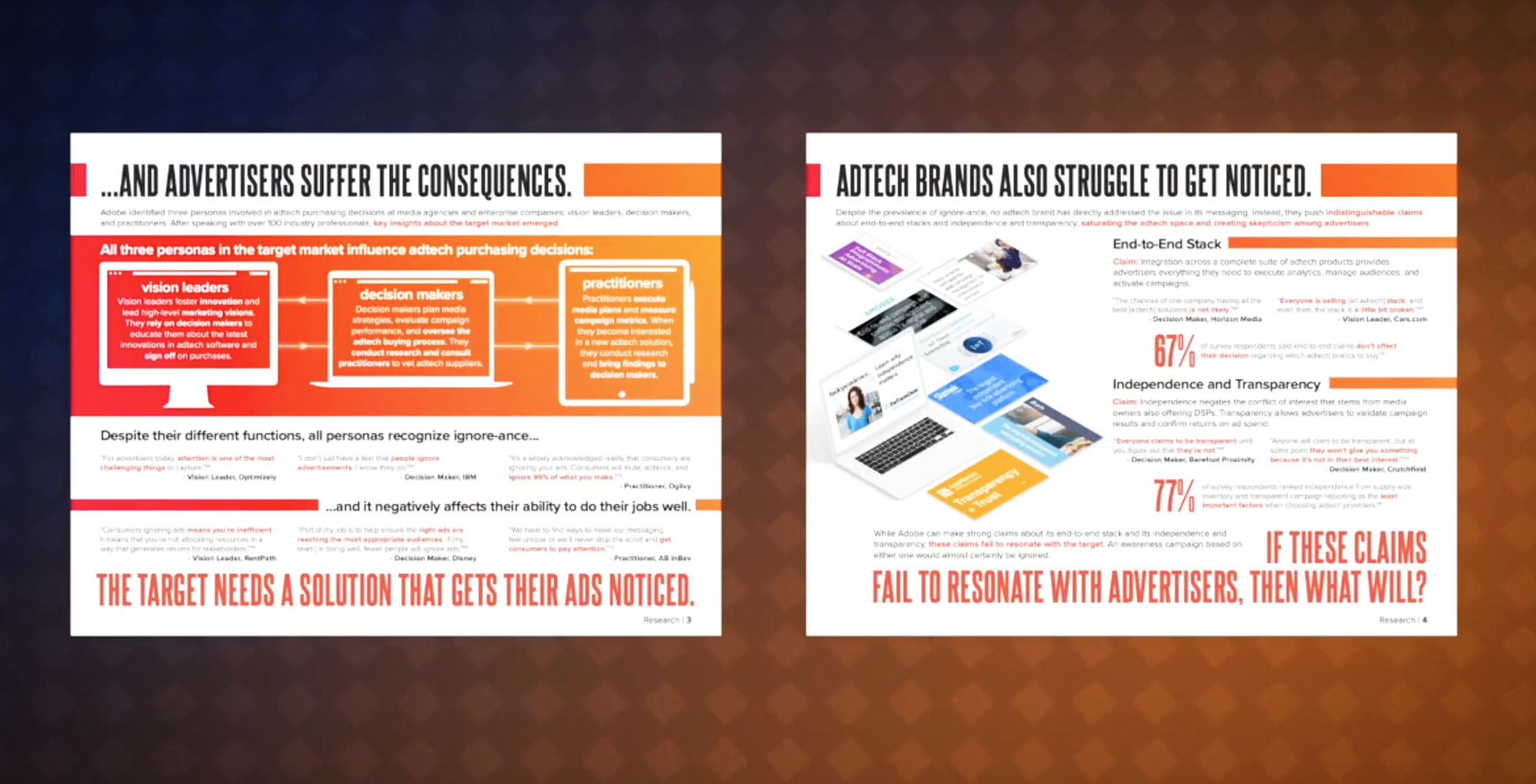 A slide from the students' presentation, part of a campaign they created to help Adobe sell its ad tech software to advertisers. (Contributed image)
"Because this year was virtual, we had to create a video instead of a presentation," May graduate Brandon Warren said. "There were a lot of Zoom calls, a lot of late nights – not necessarily in the lab, but in our homes, which was interesting. My parents kept asking, 'When are you going to bed?'"
Another classmate, Matt Sonnenblick, credited Heilman with "making sure that she still fostered the kind of cohesive environment that you really need in these kinds of group projects, putting together a lot of Zoom calls – both for our regularly scheduled class times, but also outside of those to bring a social aspect to the class that got a little bit lost as we moved virtually. She did a great job of keeping us all very engaged."
Foundations of a Dynasty
Heilman insists on giving all the credit to her students and support team in the Commerce School. Yet the recent recipient of UVA's All-University Teaching Award has had a history of success with the McIntire course. Having first co-taught "Promotions" in 2013 with professor Jack Lindgren, the program's founder, she has led the class to this year's championship, as well as a title in 2016 and a second-place finish in 2018.
Since the Commerce School began competing in the competition in the early 1980s, UVA has secured four national wins, more than any other school in the country.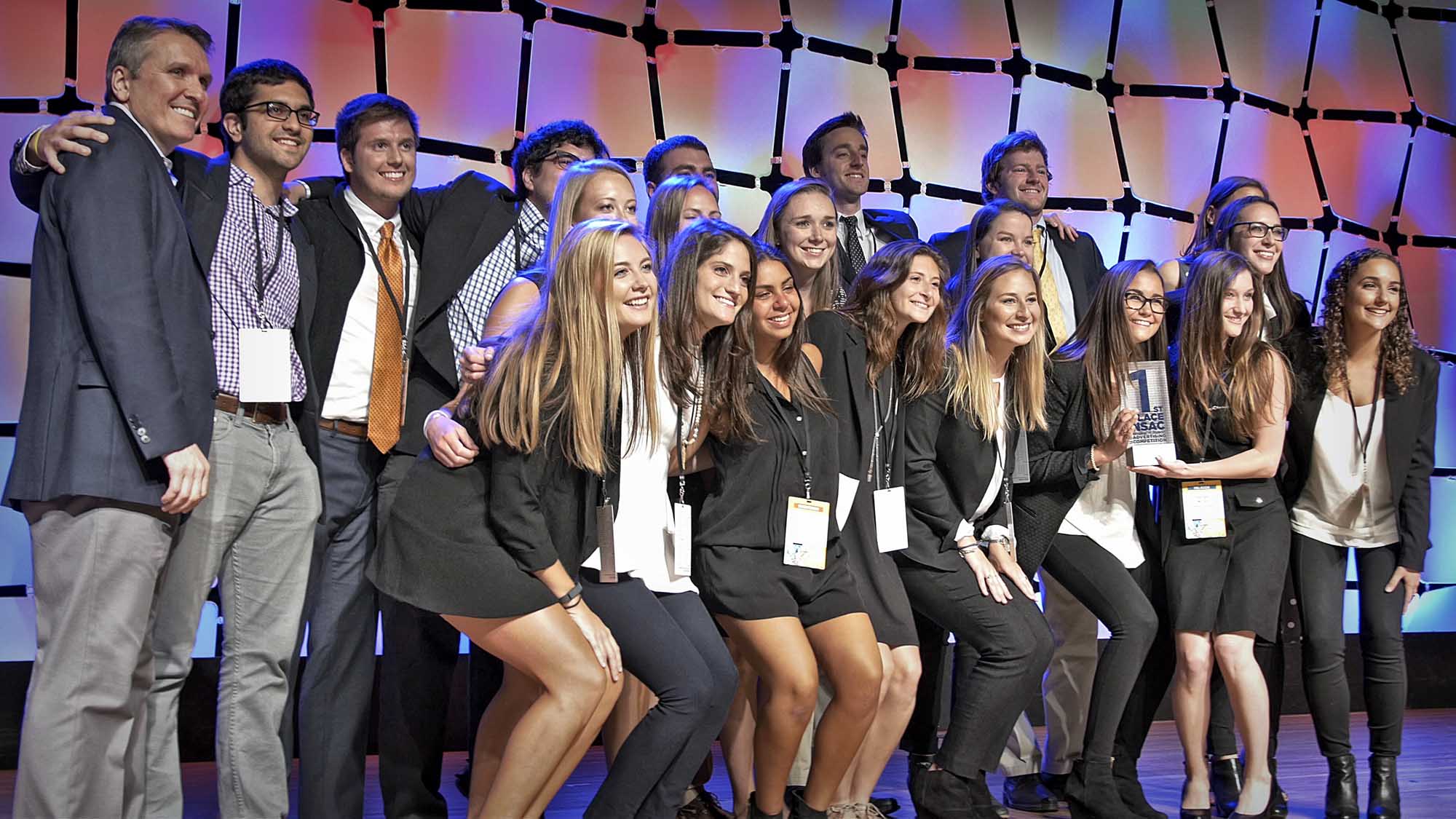 The 2016 team poses on stage after their win, after they developed a campaign for Snapple. (Contributed photo)
McIntire Dean Carl Zeithaml was enthusiastic about the efforts of this year's students and effusive about their accomplishments.
"For decades, the 'Promotions' experience at McIntire involved countless hours of very intense, face-to-face collaboration and interaction," said Zeithaml, who retires this summer after more than two decades of leadership. "This year, while the students, faculty and staff were dealing with the pandemic and the transition to online teaching and learning, Carrie, her support team and the students found creative ways to effectively translate those interactions into a rigorous and productive remote, distributed experience that resulted in a national championship. It was truly an extraordinary performance."
Beyond Heilman's indispensable leadership, what's the secret?
Students and faculty say that the UVA team thrives year after year because of the educational foundation provided by the McIntire School. Both Heilman and her students say that having had comprehensive experience in business fundamentals as commerce students provides team members with a unique understanding of finance, marketing, accounting, strategy, and the ability to use research to tell a good story. That innovative education – along with engaged alumni who support the students as they pursue careers – helps to differentiate the UVA group from other schools.
But ultimately, Heilman remains convinced that the favorable results in the 2020 National Student Advertising Competition are the product of resilience.
"I think it just came back to a group of students who weren't going to give up. They weren't going to make excuses, and that might have been the greatest lesson of all. They were thrown a curveball. We took a pause to ask what it all meant, but we came up with a plan, and they executed it far better than I ever would have expected. I hold them highly accountable, but they rose above my expectations this year. I couldn't be happier for them – and more proud of them."
Article Information
June 12, 2020
/content/mcintire-students-get-noticed-reclaim-national-student-advertising-competition-title-0