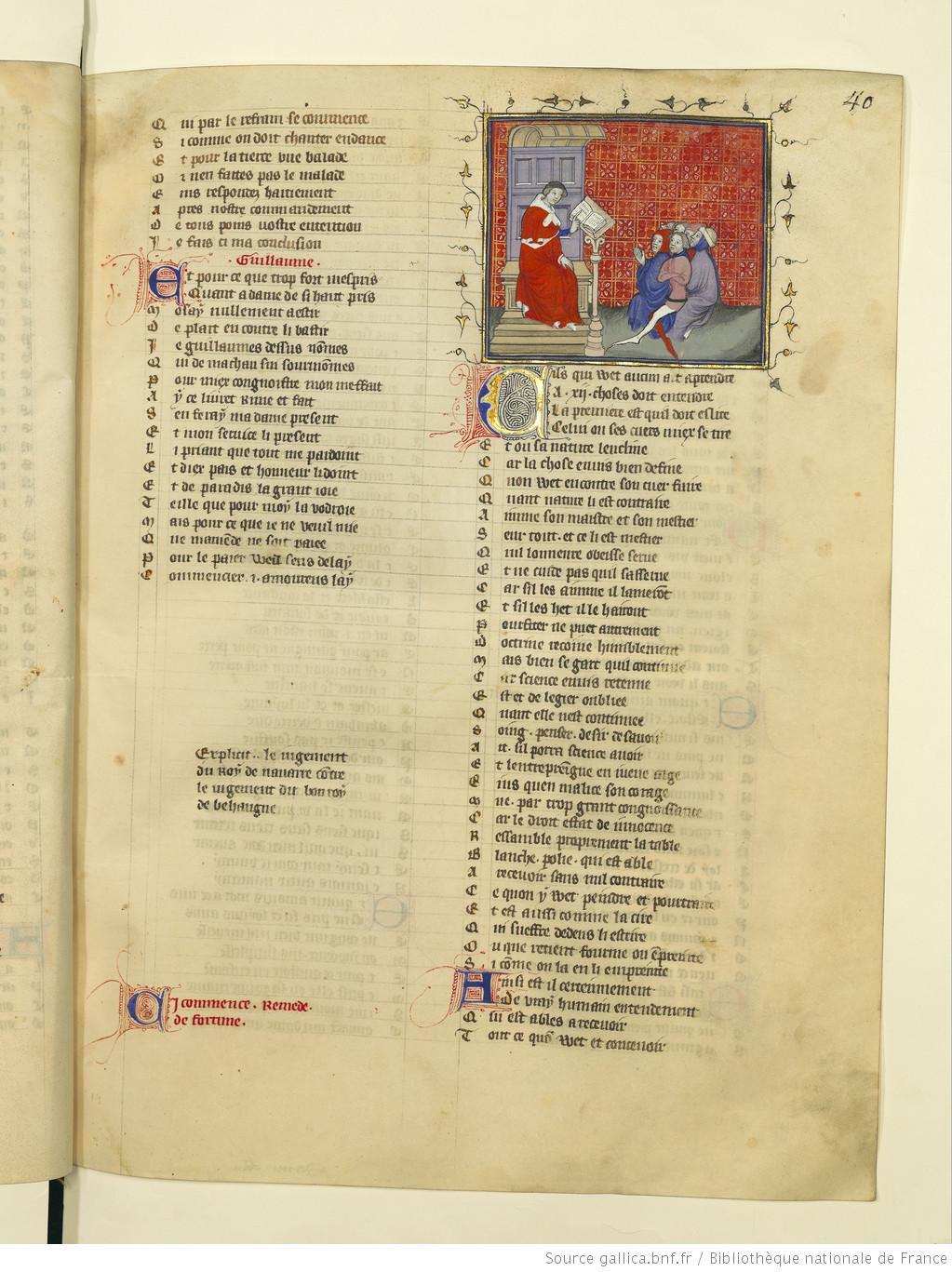 June 15, 2011 — Many, but not all, late medieval manuscripts had known authors, but those writers were not always directly involved in the production and distribution of their work. Reproduction was by hand and scribes often took liberties and interjected changes.
Over the years, this has led to humanities studies focused on various aspects of authorship and an author's involvement in the hand copying of the work as presented in each manuscript or publication. But comparing the various versions of the works, which are scattered in libraries throughout the world, can be difficult.
A $70,000 grant from the Andrew W. Mellon Foundation will allow University of Virginia faculty and graduate students and 10 scholars from other institutions to collaborate through the use of technology on the study of authorship of anthologies as expressed in the manuscript copies of the late 14th-century poet and composer Guillaume de Machaut.
Deborah McGrady, associate professor of French in U.Va.'s College of Arts & Sciences, and Benjamin Albritton, digital medieval projects manager at Stanford University Libraries and an expert in the music of Machaut, are co-primary investigators for the grant.
"This grant is a testament to Deborah McGrady's distinguished work and to the strength of our French department," said Meredith Jung-En Woo, Buckner W. Clay Dean of Arts & Sciences. "It will enable the College to continue to build its leadership position in digital humanities. It will also facilitate new intellectual and creative ways to use information technology as a tool for humanities research."
The two-year grant is part of a "cluster of products funded by the Mellon Foundation that deal with medieval projects," McGrady said. "They are interested in engaging scholarship through technology. The use of technology will allow us to create new types of questions and new types of research."
Albritton manages a collaborative digital library effort for sharing medieval materials to support a variety of tools being developed at Stanford and elsewhere that will be used to work with digitized manuscripts, which reside at numerous institutions including the Bibliothèque nationale de France, Westminster Abbey Library, the e-codices project based in Fribourg, Switzerland and the Roman de la Rose Digital Library, a collaboration of Johns Hopkins University and Bibliothèque nationale de France.
"Although the almost 30 manuscripts to be studied are scattered in various libraries, grant participants will be able to work on them simultaneously," McGrady said.
The goal of the new electronic research environment is to bring together the various manuscripts on the same, seamless platform that will allow the manuscripts to live on the site or to be imported from another digital site to take advantage of digital research capabilities customized to address the content that will be offered.
 
Not all digital sites are equal in terms of the research capabilities they allow, McGrady said. "On one you may be able to flip a page. Another site may allow you to scroll. And some allow you to blow up the image and others don't. No site allows you to annotate. With our platform, you can do the same thing to each manuscript."
That includes enlarging an image or text, separating lines of text, zooming in on images for close analysis of color and technique, and the ability to add annotation, transcriptions or glossary notes about the manuscript that can be shared with others. Researchers also will be able to readily compare multiple images and texts to see how they vary from manuscript to manuscript.
 
The site will be available to everyone on the research team, including the students who will share in the research and have the ability to enhance, challenge and add information.
"The site is very interactive. The whole community can work simultaneously and talk about and reference the same material," McGrady said.
In addition to providing a platform for scholarship, the project also will include classes and a concluding conference.
In spring 2012 and 2013, classes related to the project will be offered to U.Va. graduate and upper-level undergraduate students. The classes will be taught in English to allow for participation from a variety of humanities disciplines.
In spring 2012, class members will work in teams to research one of the manuscripts. The class, "Textual Bodies: The Making of Books, Authors and Readers in the Middle Ages," will focus on in-depth research related to codicology, the study of the attributes of a manuscript as a physical object; paleography, the deciphering, reading and cultural context of a manuscript; and linguistics, the study of the form meaning and context of language. All are important core skills for students of medieval studies to master, McGrady said.
"Their research results will be available to the research team, so they will be contributing in very real ways to the scholarship," she said.
McGrady and Albritton will co-teach the spring 2013 course, "Authorship in Contest: Literature and Music in Manuscript Form," to explore the function of anthologies or collections organized around a theme.
The course will go beyond the core material available online to focus on comparing book culture in the late medieval period and today. McGrady said there are numerous parallels in technology and publishing and the effect they have on what is read and how books are produced. The late medieval period was a time of great change: it was just before the printing press was invented, and there was a growing demand for books as more people became literate.
"The audience radically changes during the 14th and 15th centuries," McGrady said. "It was a very vibrant period. It was in this period that the works of Machaut, who was the epitome of the author in control – overseeing the making of numerous copies and collections of his works – also had his works published and discussed without his authorship."
Today, technology, especially the Internet, is playing a leading role in changing 21st-century book culture. "The changes in technology are affecting what we read and how books are produced and distributed," McGrady said.
The project will culminate in a conference at U.Va., "The Author in the Book," in April 2013. The conference will showcase the scholarship produced by both scholars and graduate students during the project and will include discussions and demonstrations of scholarly research in an interoperable digital environment. Machaut scholars, book historians interested in late-medieval manuscript production and circulation, literary scholars, musicologists and social historians interested in authorship and readership will be invited to participate.
McGrady said the online sharing of research hopefully will prove to be a more expansive and productive way to examine manuscript culture and is an opportunity to train graduate students.
"They are the next generation of scholars and it's an opportunity to open their minds to what technology can do to help them with their research and provide them an early experience working in a scholarly community," she said.
 
— By Jane Ford