Phillip A. Parrish, interim vice president for research at the University of Virginia, died unexpectedly Wednesday evening. Parrish played a key role in the development of three new University-wide research institutes – the UVA Brain Institute, the Environmental Resilience Institute and the Global Infectious Diseases Institute – all part of a major initiative to distinguish the University through trans-disciplinary research and scholarship addressing areas of critical global societal need.
Prior to serving for more than two years as interim vice president for research, Parrish served as the University's associate vice president for research.
"Phil's death is a great loss for the UVA community," said UVA President Teresa A. Sullivan. "Over the years he had a significant impact at UVA, providing steadfast leadership while contributing to the establishment of our pan-University research institutes and fostering cross-Grounds collaboration. Before this sad news, all of us were looking forward to Phil's continued and expanded influence in our academic and research community. He will be dearly missed by colleagues, friends, and students."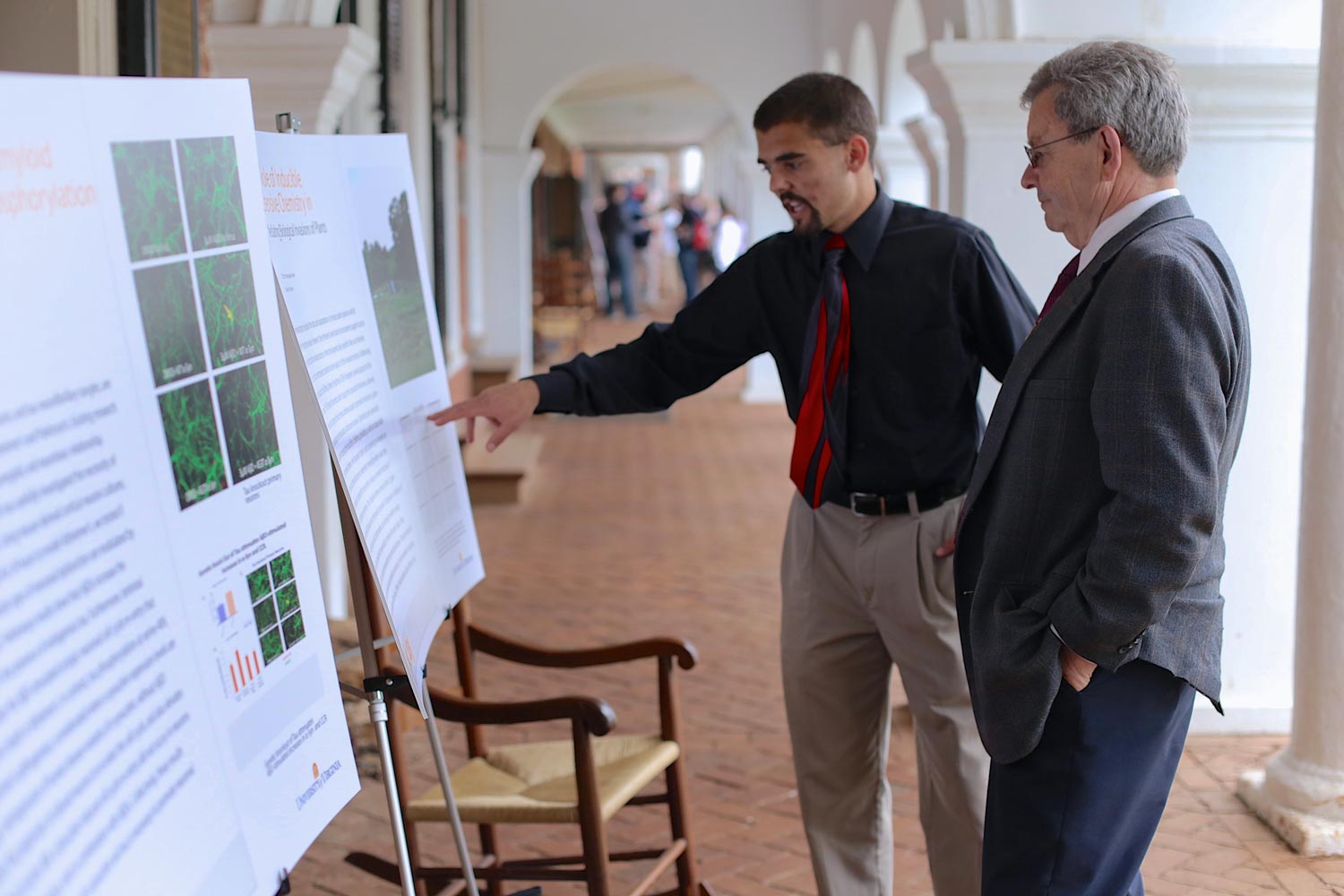 Phil Parrish, right, examining a research poster on display on the Lawn. (Contributed photo)
During his tenure at the University, Parrish played an integral role in advancing research activity and collaborations across schools, including the development of UVA's Center for Automata Processing, and a joint energy systems collaboration with the Max Planck Society's Institute for Chemical Energy Conversion. He also helped establish an initiative focused on science, technology, policy and innovation partnerships with Latin American universities and companies, and recruitment to UVA of top Brazilian graduate students and postdoctoral fellows.
Parrish also played a key role in the establishment of ResearchNet, a cross-University initiative with the objective of assisting faculty in the discovery of opportunities for external funding support and cross-University collaborations. Parrish additionally served as a principal scientist in materials science at the UVA School of Engineering and Applied Science.
"Phil was an outstanding contributor to UVA, especially as a scholar and researcher with a strong background in materials science," said David Hudson, senior associate vice president for research. "Phil was also an exceptional leader to the creative group of people in the Office of the Vice President for Research. His expertise catalyzed and stimulated our research efforts at the University and throughout the Commonwealth of Virginia. Phil was a kind, thoughtful and considerate colleague and friend and a consummate professional who looked after the best interests of his staff and those of the University."
As the interim vice president for research, Parrish was responsible for the integration and enhancement of research activities across the University's 11 schools and multiple research centers. The office leads University-wide strategic growth activities, including multidisciplinary groups in environmental sustainability, innovation, energy systems and biosciences. The office also coordinates the various University units that make up the research infrastructure, including the acquisition of research funding, research commercialization, proof-of-concept funding for translating new knowledge to new companies, federal compliance, health and safety, and public outreach.
Prior to joining the University in 1996, Parrish worked in private industry, and served as program manager for materials science at the Defense Advanced Research Projects Agency, and as the associate director for materials science at the U.S. Office of Naval Research Global in London, responsible for that agency's international program in nanotechnology and advanced materials.
He held a Ph.D. in materials science and engineering from the University of Florida.
Parrish also co-held four patents, was the author of numerous journal articles, and received several awards from the U.S. military, having served on government scientific and engineering panels.
A memorial service for Parrish will be held July 29 at 10 a.m. at Emmanuel Greenwood Church, 7599 Rockfish Gap in Greenwood, followed by an internment and reception. The family requests the in lieu of flowers, donations be sent to either Charlottesville's chapter of Habitat for Humanity or the Building Goodness Foundation.
Article Information
July 13, 2017
/content/memoriam-phillip-parrish-leader-cross-university-research-initiatives