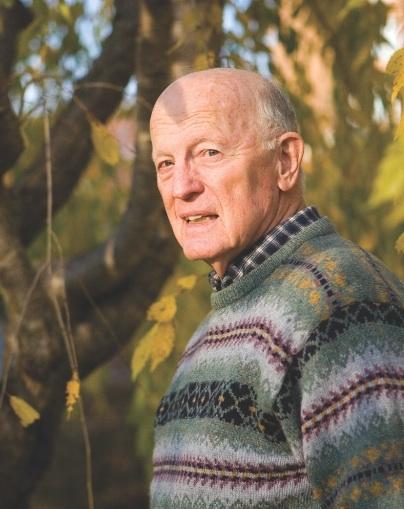 Richard Thomas Selden, Carter Glass Professor Emeritus of Economics at the University of Virginia, died on April 2 in Charlottesville, two days after celebrating his 93rd birthday.
Just last year, he taught a summer class in post-war banking regulation.
"When he was chair, Professor Selden helped to transform the department by hiring an exceptional group of young faculty at the frontier of economic theory and methods," said Sarah Turner, who currently chairs the Department of Economics. "He never lost his enthusiasm for helping his students understand financial institutions and monetary policy. His commitment to teaching and his students was extraordinary."
Selden joined the U.Va. faculty in 1969, having taught previously at Vanderbilt, Columbia and Cornell universities. He also served for many years as a director at First Virginia Bank.
After earning his M.A. in economics at Columbia University in 1949, Selden returned to the University of Chicago for his Ph.D., where he studied under his lifelong mentor and friend, Nobel Prize winner Milton Friedman.
"Dick Selden was a scholar and a friend, with a wide range of interests both within and outside economics," William Johnson, Georgia S. Bankard Professor of Economics, said. "I'll always value the way he and his wife … welcomed new assistant professors like me into the department and the Charlottesville community."
Selden swam 200 or more miles annually for 40 straight years. He was a frequent competitor in the Chris Greene Lake two-mile cable swim, winning his age group and becoming national champion several times. He holds course records for the 85-89 and 90-94 age groups. He was also an avid tennis player.
He is survived by his wife, Sue; his brother, Chuck; his children, Phoebe and Tom; his daughter-in-law, Sarah Grantham; his stepson, John Casteen IV and daughter-in-law, Laurie Casteen; stepdaughter, Laura Mosca; and six grandchildren.
An award for teaching excellence has been established in his name: The Richard T. Selden Award for Excellence in Teaching Economics. Memorial contributions may be directed to the U.Va. Fund, P.O. Box 400314, Charlottesville VA 22904. Please specify the name of the award with the contribution.
A memorial service will be announced in the near future.
Media Contact
University News Associate Office of University Communications
anneb@virginia.edu (434) 924-6861