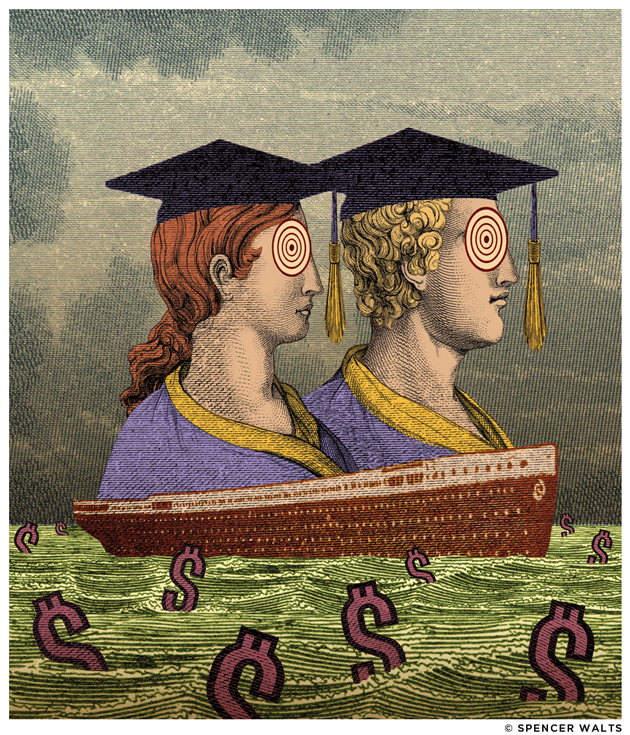 Writer Thomas Frank, a 1988 University of Virginia alumnus, titled his critique of the state of higher education "Academy Fight Song," in the current issue of the Baffler, a printed and digital magazine of art and criticism. He will discuss the article's topic with Baffler editor John Summers on Thursday at 5 p.m. in Nau Hall, room 101.
In his article, Frank takes on two opposing positions in the debate about the worth and purpose of a college education: College is the best thing in the world, and college is a complete rip-off. He assesses the campus battles of this era, arguing they are more focused on money than students learning about traditional subjects, such as Western civilization and great books. He also discusses the concern that a college education today is putting many in this generation of students into too much debt.
Frank is the author of the bestsellers, "What's the Matter with Kansas? How Conservatives Won the Heart of America" and "Pity the Billionaire." The founding editor of the Baffler, he is currently the Easy Chair columnist at Harper's and has been a columnist for the Wall Street Journal and a guest columnist for the New York Times.
In 2004, Frank was awarded a Lannan Literary Fellowship for Nonfiction. He received his Ph.D. in history from the University of Chicago and lives in Bethesda, Md.
Summers is founder and president of the Baffler Foundation. He is the author of an essay collection, "Every Fury on Earth," and editor of three collections of cultural criticism. He earned his Ph.D. in intellectual history from the University of Rochester in 2006.
The event, free and open to the public, is co-sponsored by the Institute of the Humanities and Global Cultures and the media studies department in U.Va.'s College of Arts & Sciences.
Media Contact
University News Associate Office of University Communications
anneb@virginia.edu (434) 924-6861