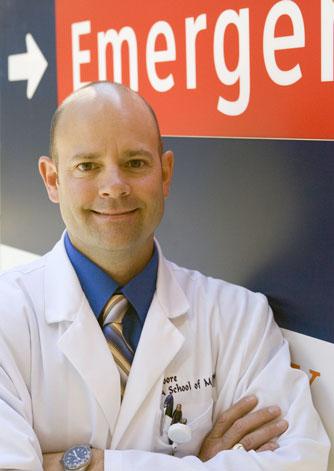 May 14, 2006 —Bill Moore did not dream of becoming a physician as a child. He grew up less than a mile from the hospital in South Hill, Va., and worked summers as an emergency room technician. He enjoyed the medical environment and seeing people being cared for in the hospital, but he still wasn't determined to become a doctor.
Moore chose the pre-med path for his studies at Hampden Sydney College, sacrificing his fledgling collegiate baseball career. But there was never an "ah-ha" moment during that time in his life when he absolutely knew he wanted to become a physician. 
For the now-35-year-old father of two, his epiphany came the night before he was scheduled to take the MCAT exam.
"I decided at the last minute that I did not want to go to medical school," Moore said. "I had struggled with the decision, but I knew I wasn't ready."
He took the test the next morning, however, just to have the score on the books.
He then turned his attention to chemistry, attending Virginia Tech, deciding it would be easier to earn a Ph.D. in chemistry than go to medical school, an assumption which he now says was definitely wrong. During this time, Moore married his wife, Angela, and they welcomed their first child into the family. However, there was one other addition that Moore faced during his graduate school years, the feeling that he really should have gone to medical school.
To help suppress these feelings, Moore volunteered with the rescue squad in Blacksburg, going on to found the Junior Rescue Squad for 16- to 21-year-olds.
Upon completion of his doctorate, Moore landed a job with an environmental consulting firm in Blacksburg. He loved his work and threw himself into his career and family. Life was good.
"Except for one thing," he says. Occasionally "I would get this feeling that something was missing, that I really wanted to be a doctor."
He would talk through these feelings with his college buddy, who had gone straight from Hampden Sydney to U.Va. Medical School. But each year those feelings became stronger.
"I would work all day long and make good money, but I got the biggest joy in getting up at 3 a.m. to run a rescue call," Moore recalls.
When he turned 30, Moore realized if he didn't attempt to achieve his dream, it would slip away and he would face a lifetime of thoughts on what might have been.
With support from his wife and parents, he headed to Books-a-Million and bought the cheapest MCAT prep book he could find. He would have to take the test again to apply for medical school and told Angela if he couldn't prepare for the exam, he could forget about medical school. So while the rest of the family was asleep, Moore would be up struggling with myosis and mitosis at 2 a.m.
When he took the MCAT, Moore was pleased that he didn't "bomb" and began applying to medical schools. Then came the interviews and a call from U.Va. offering admission.
"I got scared," Moore says. "But it was the best decision I have ever made in my life."
There were many factors facing Moore as he returned to school at age 30. Moving his family, making sure he had time for them during what promised to be long hours of studying, the financial sacrifices and the question as to whether he could adjust to going back to school.
"I had told (Angela) that if she got me through grad school, she could do whatever she wanted to," Moore says with a smile. "So, I had to ask her to support me again. If it wasn't for her, none of this would have worked. She understood, as most spouses of medical students do, that they will bear the brunt of a lot of the sacrifices."
His children, then ages 5 and 2, couldn't truly understand what their father was going to do at the time, but time management was one of his biggest concerns. He made time for his children, coaching them both in baseball and soccer. He made time for his studies and tried to make time for his wife. The coaching kept him sane, a refuge from the daily pressures of studying.
Moore says the transition to medical school was easy in the sense that he had no troubles returning to the classroom. He knew he was in the right place for his life. He was just so excited for the opportunity and privilege to be in medical school, that the workload never seemed to overwhelm him.
He earned several honors and was elected to AOA, the medical student honor society during his four years on Grounds. But the one thing he wishes there had been more time for was his class mates. As an older student with family obligations, there isn't as much time to just "hang out" with those students he stood shoulder to shoulder with in the anatomy lab or quizzed in small groups.
"I missed some of that," Moore says. "But I hope some of them saw from me the importance of balance in their lives as they go into the practice of medicine."
Moore and his family will soon begin the next phase of their lives as they relocate to Winston-Salem, North Carolina, where Moore will begin a residency in emergency medicine. While he was concerned how medical school would affect his children, he has no concerns about what moving and residency will do to them.
"I know the first year I will be short on time for them, and we've talked about that. But they know I am following my dream and they know that following their dreams is something that is very important in their lives too," Moore says. "My son already says he wants to be a neurosurgeon and my daughter wants to be a veterinarian. I don't know if they would be saying those things already if they wouldn't have had this experience."
Moore doesn't bear the weariness of four years in medical school as his family approaches the next step in their journey. He doesn't have second thoughts or those creeping feelings that something is missing in his life. He's realized his dream, and it's the best thing he's ever done.