A few years ago, a University of Virginia football player believed his injured hamstring had healed sufficiently and that he was ready to return to action.
All of the current medical evidence supported his thinking.
However, when UVA professors Silvia Blemker, Craig Meyer and Joe Hart put data from the magnetic resonance imaging into their proprietary software they found cause for concern. The team detected a giant knot of scar tissue that may have, sooner than later, proved problematic for the player. Further, they found several muscles surrounding the scar had been significantly affected by the injury, posing great potential risk for the player.
Such highly precise technology can help assure a safe return to action and, hopefully, keep injuries from recurring.
"The scan really revealed how the injury to a couple muscles influenced all of the muscles around it," Blemker said.
"It highlighted the fact that high-level athletes might be able to do things to overcome the deficits from an injury," Hart added.
But why should they have to? Do these compensations put athletes at higher risk for injury in the future?
This is the thinking behind Springbok Analytics – a Charlottesville-based company founded on technology invented by Blemker, Meyer and Hart – which, after seven years in development, went to market in March.
With so many bones and muscles in the body (there are 35 muscles alone in a human leg), figuring out precisely where a problem exists – or if one even exists at all – can be challenging even for the best doctors and physical therapists.
Springbok, named after the African antelope – which is considered one of the world's fastest mammals – aims to take away a lot of the guesswork. The company's patented software turns the black and white MRIs into color-coded 3-D renderings that measure and compare muscles to one another at a level of precision unavailable anywhere else in the world.
On the renderings, muscles that are smaller than average are colored red, average-sized muscles appear in yellow and muscles that are larger than normal are blue.
"The technology tells you exactly what every single individual muscle looks like and how that relates to your performance and injury recovery," said Hart, an associate professor in the kinesiology department at UVA's Curry School of Education and Human Development. "It can see things that a doctor can't see and evaluate muscle function in a way that no current clinical tool can evaluate.
"The sports cliché is that it's a game of inches, but we're proving that it's really a game of cubic millimeters."
In recent years, some UVA coaches – including renowned men's basketball strength and conditioning coach Mike Curtis – have used the technology to improve performance.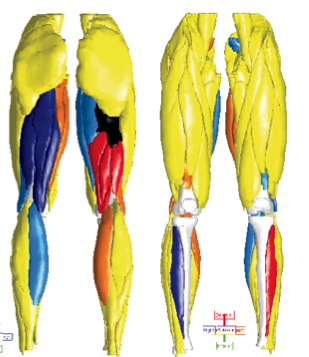 Springbok's patented software turns black and white MRIs into color-coded 3-D renderings. (Contributed photo)
The origin of Springbok's technology can be traced to research Blemker and Meyer did on children with cerebral palsy, supported by the UVA Coulter Translational Research Partnership.
In looking to improve the children's muscle balance, the engineering professors realized that doctors could get better surgical outcomes if they knew exactly which muscles to home in on, rather than, in many cases, simply observing a child's gait.
"It was exciting that we were able to get such detailed quantitative information from so many muscles," said Meyer, a professor of biomedical engineering in UVA's School of Engineering & Applied Science, whose official appointment is in the School of Medicine "We were able to see and to quantify the difference between children with and without cerebral palsy in a way that had never been done before. This project launched us on a path to explore this technology in several other settings." 
Another exciting opportunity for the technology, according to Blemker, also a professor of biomedical engineering, is that it can help identify the efficacy of a drug in relation to improving muscle mass and function. "We can detect changes in the muscle volume very quickly and very accurately," she said. "We can provide a way to measure rapid changes in muscle and accelerate clinical trials."
A real breakthrough for Springbok came when chief technology officer Xue Feng created an algorithm and, leveraging artificial intelligence and machine learning, was able to reduce the amount of time to process each MRI scan from about 50 hours to one hour.
Blemker, Meyer and Hart say the applications for their software are endless.
"Imagine going to the gym and the trainer telling you do this exercise and that exercise. Well, if the trainer knew exactly which muscle was smaller or bigger than normal, he or she could tell you the exercises that would most make use of that hour in the day you have to do your exercise," Hart said.
"What we've learned is that when you go and get exercise recommendations from a therapist or doctor – they're typically targeting the big muscles. But sometimes the large muscles are fine. It's the smaller muscles that are deficient and causing the symptoms, but without a measurement tool to identify those deficits, you cannot develop the best exercises to treat them."
Meyer and Blemker said Springbok will be able to help people maintain their mobility as they age.
"Long-term, I think application neuromuscular disorders such as cerebral palsy present important future opportunities for Springbok," Blemker added, "but in the meantime what we're doing is looking at markets and applications that have an easier entry point."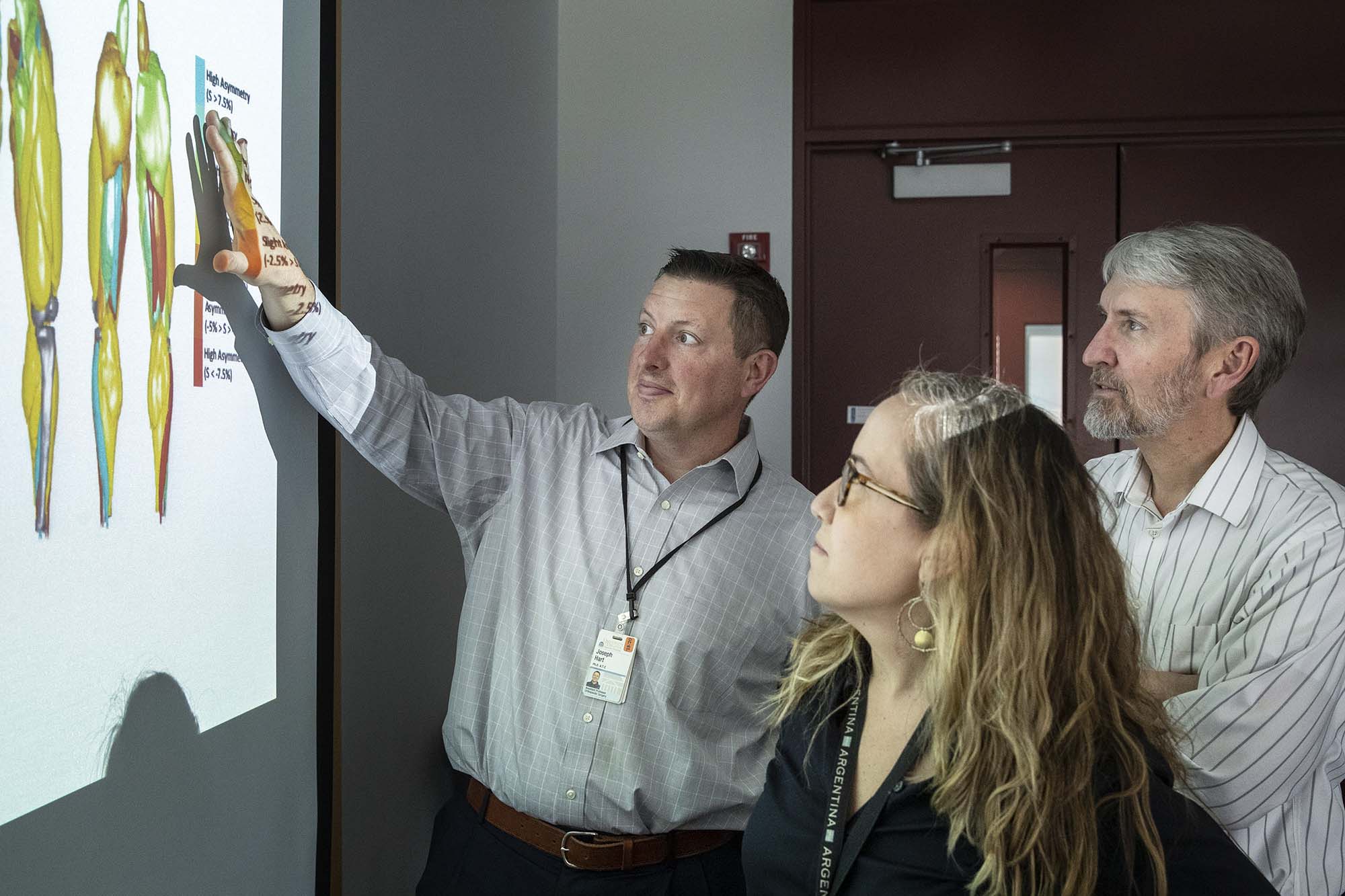 Springbok's founders say the applications for their technology are endless. (Photo by Dan Addison, University Communications)
Springbok exclusively licenses some of the technology through the UVA Licensing & Ventures Group. In addition, LVG provides marketing support and business development guidance to attract investors.
"What's really cool," said Springbok CEO Scott Magargee, "is how this was an idea birthed in the labs of these three UVA professors. "It's yet another example of the amazing brainpower that exists at every level of UVA that allows something like this to be born from a research project and turned into a commercially viable company."
Within five years, Meyer hopes that Springbok's precision muscle analysis will be widely used in pro and college sports, and also in many areas of medicine.
"Springbok has the potential to really change the practice of orthopedic surgery and musculoskeletal radiology," he said, "and it would be very exciting and rewarding to see that happen.
"I believe that our technology has the potential for making a difference in people's lives."
Article Information
June 11, 2020
/content/muscle-muscle-uva-startup-company-revolutionizing-sports-medicine-and-beyond