The legacy of a Muslim University of Virginia graduate killed in the line of duty in Iraq became part of the national conversation after his father spoke at the Democratic National Convention on Thursday night.
U.S. Army Capt. Humayun Khan, the first member of UVA's Army ROTC program to die in combat since the Vietnam War, was killed in June 2004 at the age of 27 when he attempted to stop two suicide bombers outside his base in Baquabah. He was laid to rest at Arlington National Cemetery and posthumously awarded a Bronze Star and Purple Heart.
"Every year, at our Joint ROTC Commissioning Ceremony, we read the story of Capt. Khan's life and sacrifice, and then I have the privilege of awarding the Captain Humayun S. M. Khan Award to the outstanding ROTC Army graduate," said University President Teresa A. Sullivan. "I had known his parents from that ceremony. I was surprised and pleased by their appearance last night, and I have been gratified by wider recognition of Captain Khan's life since then."
At the convention Thursday evening, Khan was held up as a powerful example of dedication to democracy by his parents, Khizr and Ghazala. 
Gripped with emotion and placing his hand to his heart several times, Khizr said his son sacrificed his dreams of becoming a military lawyer to protect the lives of his fellow soldiers. Humayun Khan's service portrait was displayed on a huge video screen as his father spoke.
The senior Khan's powerful remarks garnered massive news coverage.
From the New York Times: "It was a moment that for many of the thousands of people at the Wells Fargo Center in Philadelphia — and the millions more watching it elsewhere — was the night's most memorable, and dramatic."
Wonderful to see the Khans from my little town of Charlottesville as they honor their @UVA son who died in the service of our nation.

— Larry Sabato (@LarrySabato) July 29, 2016
Khan was from Bristow, Virginia, and had two brothers. He graduated from UVA in 2000 with a degree in psychology. He was a dedicated member of UVA's ROTC program and was remembered for his service in two military ceremonies at UVA in 2004.
Speaking then, his father said his son made three major decisions in his life: to come to UVA, to join the ROTC program and then to join the U.S. Army. He said his son told him that if he did not return, to remember what he wrote in an application essay to UVA's Hereford Residential College: that sacrifice is crucial to liberty and democracy.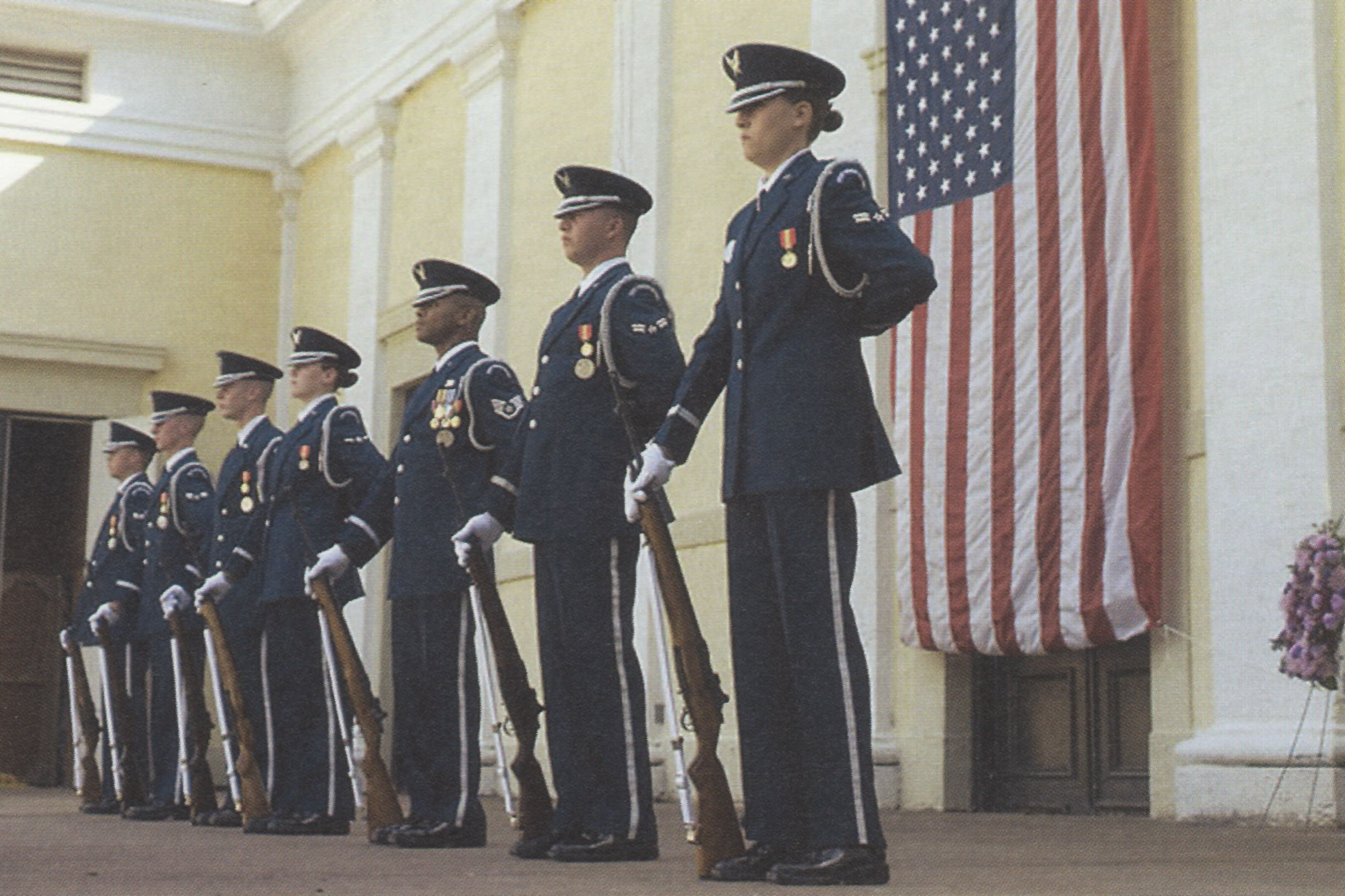 UVA ROTC students during a 2004 memorial service for Khan held on Grounds.
While he was a student, Khan played intramural sports and volunteered at Madison House, which coordinates service to the community. A conference room at the Army ROTC headquarters is named in Khan's memory. UVA also created the Capt. Humayun S. Khan Scholar-Soldier-Statesman Award to honor him.
Article Information
July 29, 2016
/content/muslim-uva-alum-eulogized-dnc-example-patriotism