Imagine a vibrant blue playground ball from Walmart. This may not seem like much stateside, but in an impoverished part of Africa, it can make a huge difference in the lives of children with severe burns.
While volunteering at a hospital in Malawi, Meghan Lewis learned this firsthand when she used a simple toy to engage a little girl.
"The ball gave her something to smile about and encouraged her to play. And while she was playing, she was moving her arms and legs, reducing the risk of contractures," Lewis said. While burns heal, affected skin can tighten, causing a "contracture" around joints and resulting in significant functional impairments, such as difficulty feeding or walking. The only way to keep this from happening is proper positioning, frequent movement and stretching of the affected joints.
Sharing Her Skills
As an occupational therapist, Lewis, 28, loves her work at the University of Virginia Health System, where she helps people regain basic life skills after a hospitalization or a neurologic or traumatic event. But outside of work, her life's calling is preventing the debilitating consequences of severe burns.
She has used her own money and more than a month's worth of her vacation time to work in Malawi, a small country in southeast Africa where the hospital's norm is a severe lack of basic necessities, including electricity and water.
Because Malawian families cook mostly with floor-level fires, children frequently fall into flames while playing.
"Trauma, burns and injuries kill or disable more people in Africa than malaria, TB and HIV/AIDS combined," said Dr. Anthony Charles, a trauma surgeon from the University of North Carolina at Chapel Hill.
UNC has a long-established partnership with Kamuzu Central Hospital in the capital city of Malawi. For more than a decade, Charles has helped train surgeons in Malawi, which has a severe shortage; in 2015, there were only 20 surgeons for a nation with 15 million people. In 2014, UNC and Johnson & Johnson established a dedicated burn unit at Kamuzu Central Hospital.
That same year, Lewis, a University of Florida graduate, joined the UVA Health System. While researching burn care, she discovered the work of Charles and the Malawi Surgical Initiative. She wondered what therapy services were available for children and adults suffering from burns and took the opportunity to assist with improving rehabilitation.
Making a Difference
Working with burn patients, Lewis admitted, takes an emotional toll. But it is also incredibly rewarding.
"The burn unit is one of the hardest units to work on because of the severe pain. ... These patients need therapy the most to promote full functional return, and you can see the most change when working with these patients," she said.
Lewis had her first encounter with burn patients during an occupational therapy internship at a Tampa hospital near her hometown. After graduation, she was excited to move to Charlottesville; both of her parents are alumni and her great-uncle is a professor at UVA, so she often visited the area while growing up.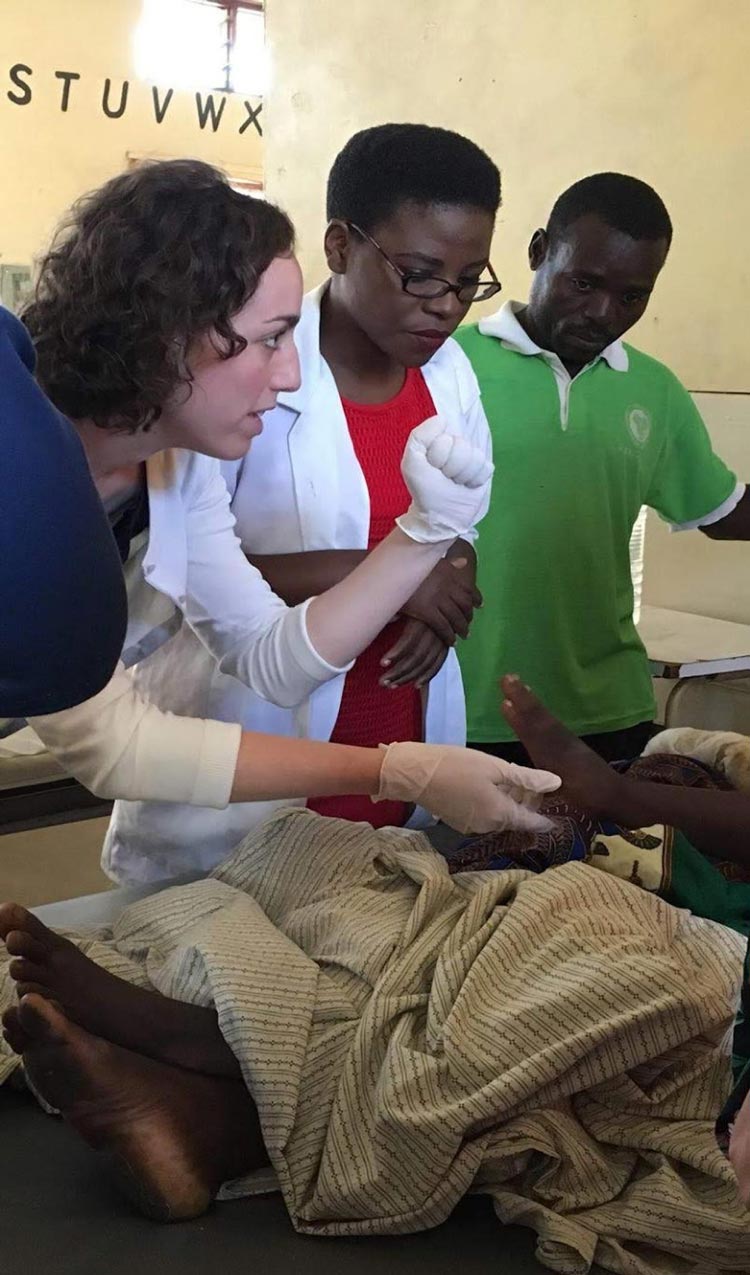 In March 2017, Lewis made her first trip to Malawi.
Although she had previously traveled to Africa and was somewhat familiar with the landscape, "I couldn't really prepare for working in a hospital there," she said. "It's incredible what they are up against – significantly limited materials, very limited availability of pain medications. Bugs are sometimes seen running through the hospital. At one point, water was unavailable in parts of the hospital. Our hospitals seem like five-star hotels comparatively. Family members provide a majority of the day-to-day care, because there can be one nurse responsible for 40 patients."
She knew her skill set would be put to good use, but initially she needed to be the student.
"My first week, I focused on building rapport and trying to understand the dynamics of the burn unit," she said. "If I taught them how we do things here, it would be unsuccessful, as that's not how their hospital operates. ... I just had to be very, very flexible and do anything to help. I assisted with removing burn dressings, cleaning wounds and then provided range-of-motion and exercises when I could."
As the only occupational therapist at Kamuzu Central Hospital, Lewis worked closely with Malawian physical therapists and nurses to teach patients and their families that movement was essential for recovery and was going help, not further injure, the children.
She also spent much of her time educating medical professionals in the fabrication of burn-specific splints. Through a partnership with 500 Miles, a charitable prosthetics and orthotics organization in Malawi, the splints needed for proper positioning after a burn injury are now more available.
Lewis quickly realized that toys could play a key role in providing therapy for the children with burns. For her second trip to Africa this past June, she filled an entire suitcase with toys, donated splint materials from the company Performance Health and some medical supplies from MERCI, a UVA program that seeks uses for health care supplies that might otherwise be unused.
They toys serve as something of a Trojan horse. Most children with burn injuries would begin crying if they saw anyone with gloves, as they associate gloves with painful wound-dressing changes. But walking into the room with toys generates smiles.
"Just one small ball from Walmart is huge over there," Lewis said. "Any time one little girl saw me during wound care in the hospital, she would say 'ball, ball,' in Chichewa. The Malawian therapists were much more successful in working with the children, as toys gave them incentive to move even through the pain."
Building a Connection
Since returning to Charlottesville, Lewis continues to field questions via email and WhatsApp from the connections she made with health care providers in Malawi.
"It is an ongoing process and at times difficult, as you easily forget how accessible things are to us here at UVA," she said. "The opportunities I have had in Malawi really have changed my view of work here at UVA."
She hopes to continue providing education and resources to the Malawian medical professionals to assist with improving functional outcomes. 
Many UVA team members have expressed support and interest, but using their own funds and leave for such an extended trip is not an option for everyone, Lewis acknowledged.
But as long as she has enough leave saved up, Lewis plans to go back. "No matter what happens," she said, "my heart is partially in Africa."
Article Information
September 14, 2018
/content/my-heart-partially-africa-uva-therapist-finds-fulfillment-malawi