An unmanned NASA spacecraft named Lucy is making the first space mission to the Jupiter Trojan asteroids, small bodies that share an orbit with the fifth planet from the sun. Lucy's payload includes a plaque imprinted with words of wisdom for future explorers to find – including poetry from University of Virginia professor Rita Dove.
The spacecraft – more than 52 feet tip to tip, with its two circular solar arrays unfurled, each close to 24 feet in diameter – is scheduled to launch between Saturday and Nov. 7. It will embark on a 12-year journey to study some of the asteroids in "the swarms of Trojan asteroids associated with [but not actually near] Jupiter," according to NASA's Lucy website. "These primitive bodies hold vital clues to deciphering the history of the solar system."
After 2033, when the mission of sending back a variety of data and images concludes, the Lucy spacecraft will continue on a stable orbit, travelling between the Earth and the Trojan asteroids – for hundreds of thousands, if not millions, of years.
The mission takes its name from the fossilized human ancestor, nicknamed "Lucy," whose bones, discovered in Ethiopia in 1974, provided unique insight into humanity's evolution, the website says. (Those paleontologists, in turn, named the skeleton after the Beatles' song, "Lucy in the Sky with Diamonds.")
The plaque Lucy-the-spacecraft will carry was created as a time capsule – not for unknown aliens, but for our descendants, should they become successful space travelers.
It includes messages from prominent thinkers of the 20th century, including Albert Einstein, Carl Sagan and the Rev. Martin Luther King Jr. A few lines from each of the Beatles and Yoko Ono, too, join the other comments.
A diagram showing the positions of the planets on the date of Lucy's launch also adorns the plaque, which was installed on the spacecraft July 9 in a ceremony at Lockheed Martin in Littleton, Colorado.
Most of the quotes, however, come from contemporary writers and poets, many of whom have served as U.S. poet laureate, a post Dove held from 1993 to '95. Other poets include Joy Harjo, the current poet laureate, and Amanda Gorman, the first National Youth Poet Laureate, who read an original poem at U.S. President Joe Biden's inauguration in January.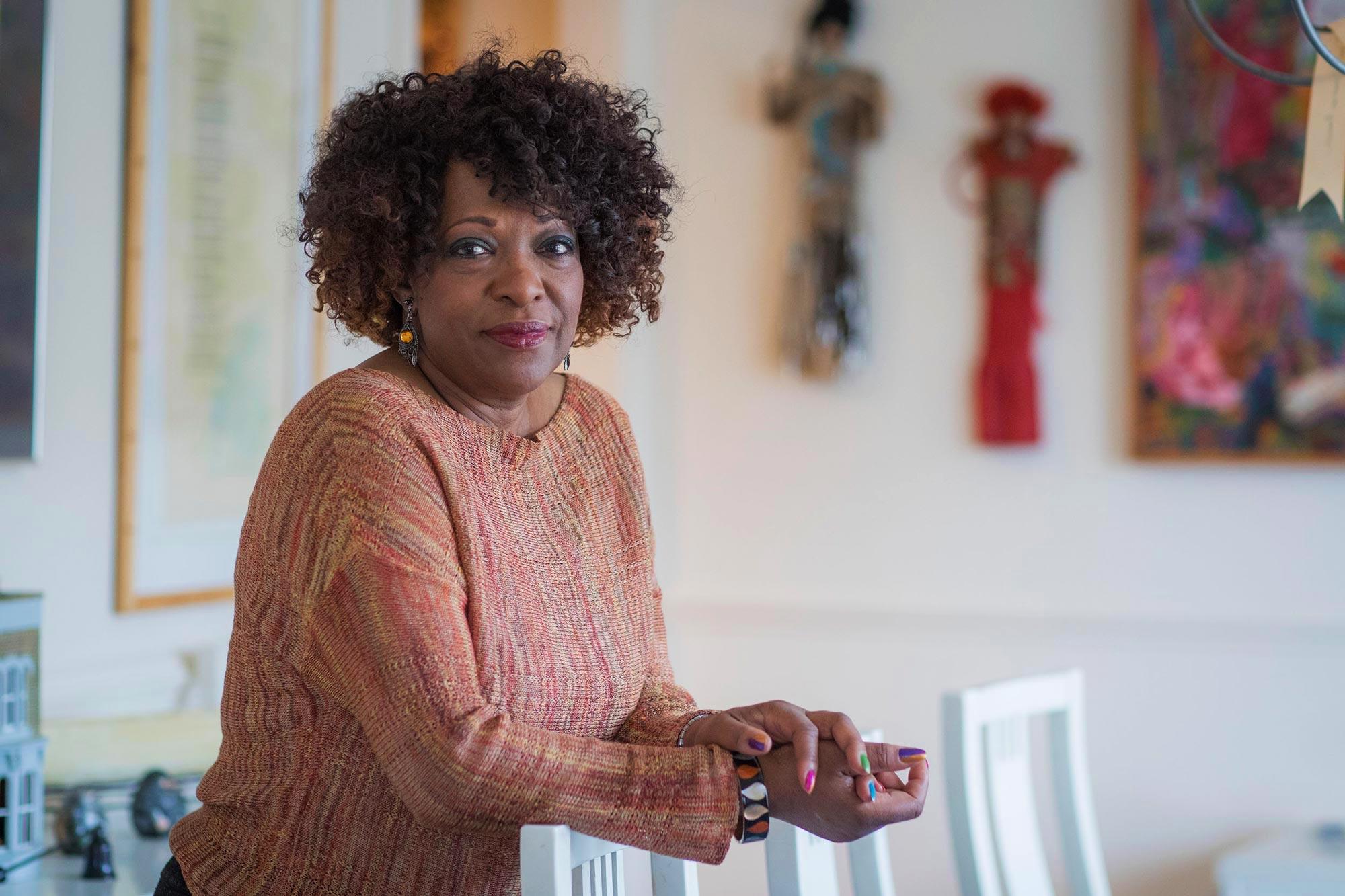 "Knowing that one of my poems ['Demeter's Prayer to Hades'] is on that plaque, heading to the stars, is a lifelong dream come true," Dove said. (Photo by Sanjay Suchak, University Communications)
Dove, Henry Hoyns Professor of Creative Writing, has just published a new collection of poems, "Playlist for the Apocalypse," and has seen her poetry translated into several languages over the years. But this is the first time her poetry will travel out of this world.
Here she answers a few questions about how she got involved in a project that's distinct among the many honors she has received, including a Pulitzer Prize and the national medals of the Humanities and of the Arts from two U.S. presidents.
Q. What were the circumstances of NASA asking you to do this?
A. In August 2020, I got an email from Hal Levison, the leader of the Lucy Project at Southwest Research Institute. He described the mission – an exploration of the Trojan asteroid system as far away as Jupiter – but also expressed the desire to extend the mission's reach beyond the scientific by sending, as he put it, "a message to humanity's descendants." Once Lucy's exploratory mission is completed, the spacecraft will continue to orbit the sun for 2 million years; for the message – and I love the way he phrased his request – they were turning to "those who have asked us to contemplate our place in the universe." 
Q. What led you to choose the poetry you did?
A. I actually sent them a selection of poems, but I was hoping they'd choose "Demeter's Prayer to Hades" – the thought of a Greek goddess traveling to the Trojan asteroids makes me smile!
[Hades, the god of the Underworld, fell in love with and abducted the goddess Demeter's daughter, Persephone, who was later allowed to leave Hades for part of the year, returning to the Earth in spring, symbolizing the changing of the seasons.]
I tried to imagine what it would be like to happen upon a time-and-space capsule like this – who knows how many millennia might have passed, what will have happened to the universe and the creatures that inhabit it in that distant future? And I thought that it wasn't all too important to describe what so-and-so looked like or had accomplished or ate for breakfast. What mattered was to convey our 21st-century condition of being human – our fears and joys, how we feel when contemplating existence, what constitutes identity … what it means for us simply to be.
Poetry is constantly grappling with these questions; and it's that persistent tussle, in essence, that informs what it is to be human.
Q. Did you talk to any of the other participants about what they were submitting?
A. No – I had no idea who else was participating.
Q. Have you ever participated in anything like this before?
A. Never. It's quite overwhelming.
Q. How do you feel about being part of this?
A. When I try to wrap my head around the thought that I've been asked to speak on behalf of our planet, I get a shiver – rapidly followed by exhilaration, dread, joy, an all-around abashedness. It's feeling infinitesimal, containing Whitman's multitudes, and everything in between – micro- to macrocosm, genome to galaxy.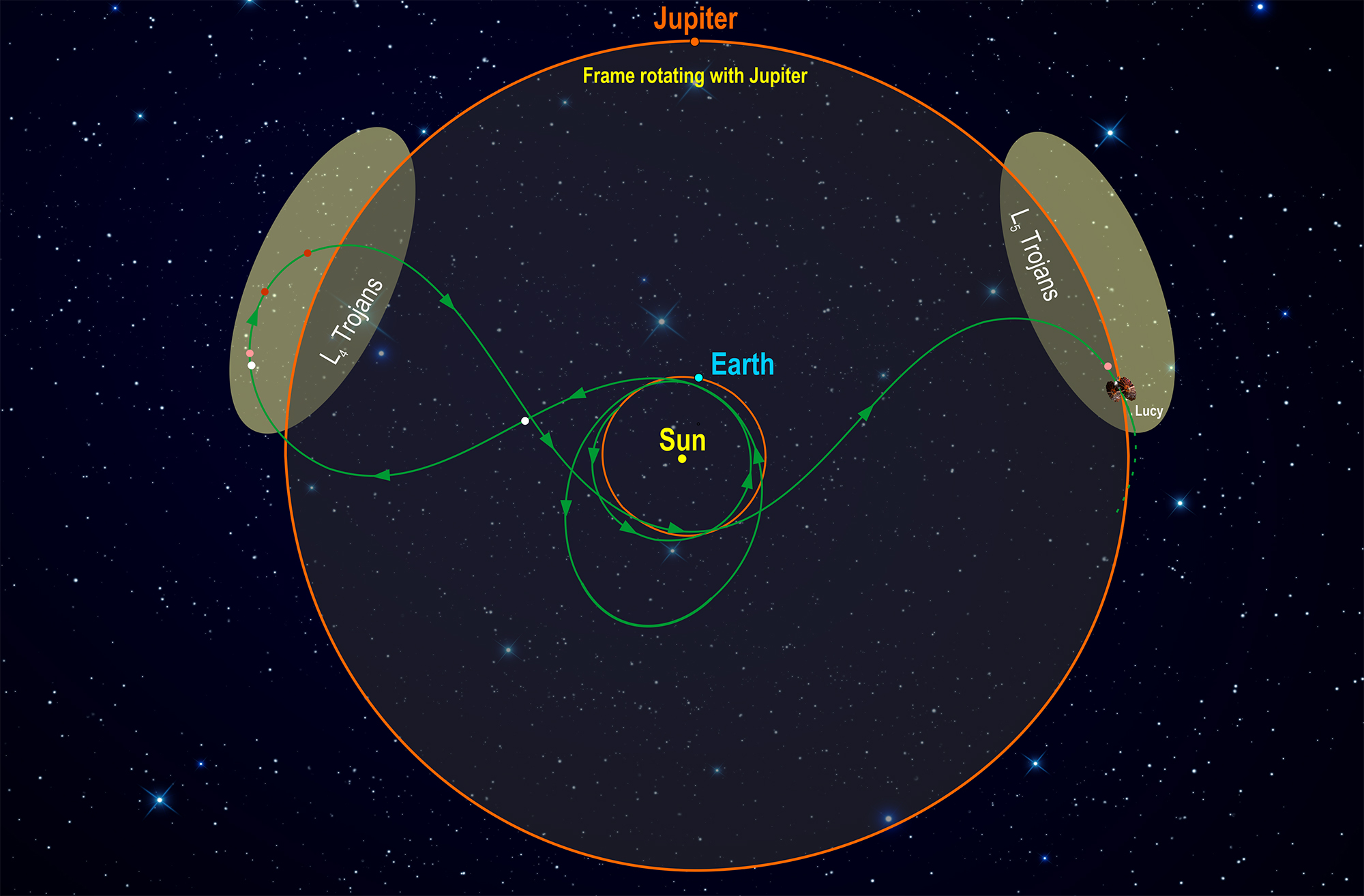 The Lucy spacecraft will travel to Jupiter's orbit, gather data on the Trojan asteroids there for 12 years and then continue travelling between Earth and the Trojan asteroids for hundreds of thousands, if not millions, of years. (Image courtesy of NASA)
Q. Anything else you'd like to add?
A. Ever since I was a kid, I've dreamed of outer space. My older brother used to subscribe to magazines like Analog Science Fiction and Fact and Amazing Stories, and after he was through reading, I'd snatch them up and get lost in stories by Isaac Asimov and Frederik Pohl; then I'd write my own stories, which were always populated with Black girl astronauts. We also built rocket ships out of paper towel tubes; we sent many a poor ant to an early, heroic death!
So in a very real way, knowing that one of my poems is on that plaque, heading to the stars, is a lifelong dream come true.
"This alone is what I wish for you: knowledge.
To understand each desire has an edge,
to know we are responsible for the lives
we change. No faith comes without cost,
no one believes without dying.
There are no curses – only mirrors
held up to the souls of gods and mortals.
Believe in yourself,
go ahead – see where it gets you."
– Excerpt of "Demeter's Prayer to Hades" from Dove's 1995 collection, "Mother Love"
Article Information
October 13, 2021
/content/nasa-spacecraft-heads-jupiter-trojan-asteroids-rita-doves-poetry-aboard