John Unsworth has long been an innovative voice in academia, known for his expertise in library leadership and research in cyber infrastructure and the digital humanities. Now, the University of Virginia's new university librarian and dean of libraries plans to take his life's work to a new level.
"I think one of the things I'm most excited about here is access to strong institutional resources like the Data Science Institute and UVA's nationally recognized English Department," he said. "I'm eager to meet and collaborate with the talented students and faculty from all corners of the University."
Unsworth's new position here is a homecoming for him. He earned his Ph.D. in English from UVA in 1988 and was a professor of English and the first director of the University's Institute for Advanced Technology in the Humanities from 1993 to 2003 before leaving for the University of Illinois at Urbana-Champaign, where he became dean of the Graduate School of Library and Information Science.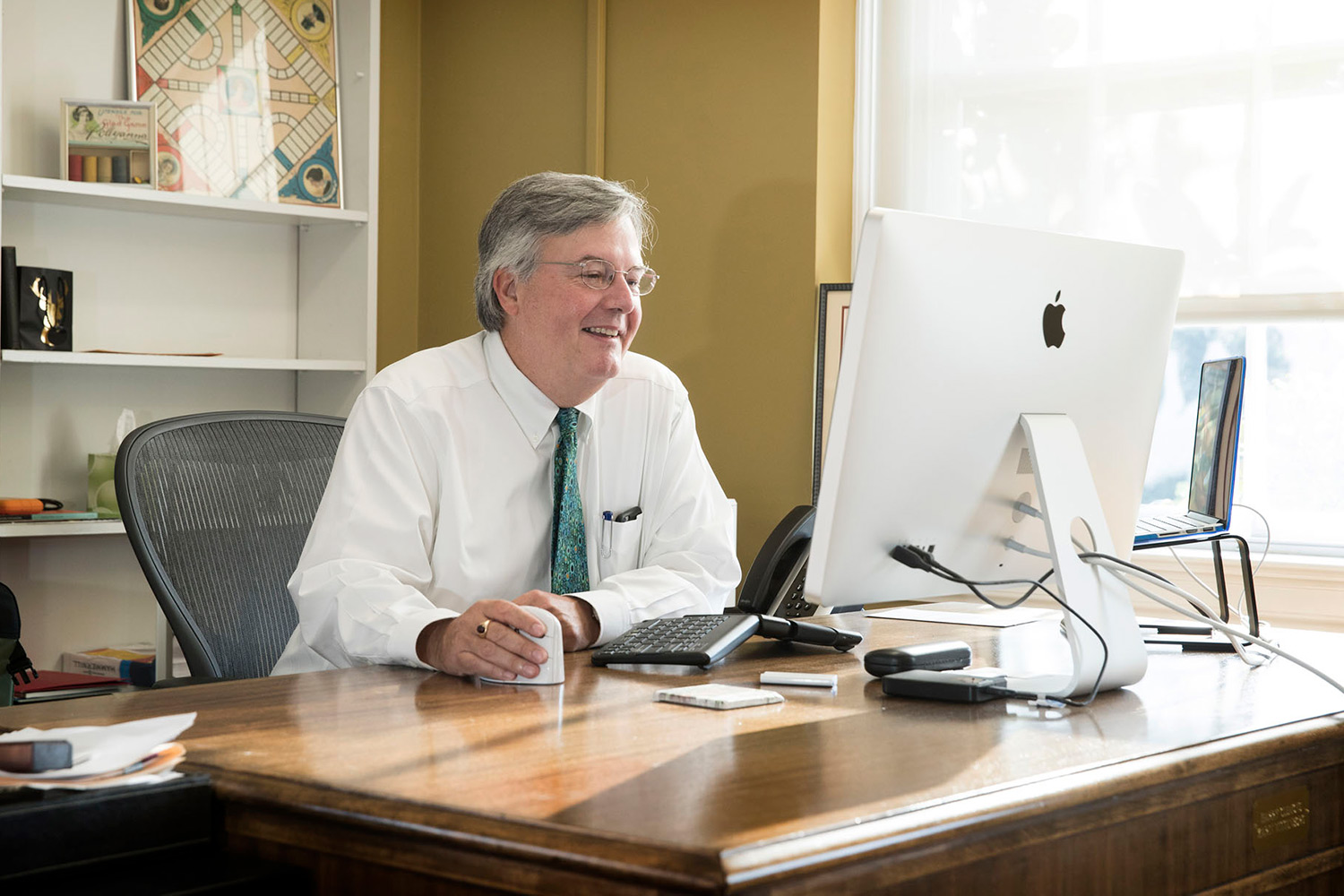 John Unsworth began his tenure as the new university librarian and dean of libraries in June. (Photo by Dan Addison)
After a stop at Brandeis University, where he was vice provost, university librarian, chief information officer and professor of English, he returns to Grounds with an in-depth understanding of the demands of running a 21st-century library.
One of Unsworth's primary goals as the University moves toward its third century is to greatly expand the library's role as a catalyst for collaborative scholarship.
"I am actively looking for opportunities for librarians to collaborate in externally funded research projects, across the disciplines," he said. "There's a history of that happening at UVA around digital humanities projects, which is great and should continue, but I'd also like to see more of this kind of collaboration in the sciences."
As an example, Unsworth pointed to grant programs at the National Institutes of Health that support the inclusion of a library information specialist on biomedical research teams in order to improve the official record, storage and dissemination of data. He hopes to help more UVA librarians and STEM researchers take advantage of such opportunities.
Unsworth would also like to expand the library's role in the classroom and work directly with faculty to help prepare their students to become skilled researchers.
"I plan to launch a new information literacy grant program, around mid-year, that will provide summer funds for faculty to work with librarians to build discipline-specific and level-appropriate information literacy tasks into the syllabus and assignments of a specific course," he said.
These librarian-faculty teams will introduce students to the best resources in their fields and teach them how to dig deeper into the academic canon.
While planning for new expanded services and research partnerships in the library system, Unsworth is also preparing for a major physical renovation of Alderman Library. Funding for the planning phase of this project will begin in the summer of 2017. Prior to that, one of Unsworth's top priorities is to ensure that students and faculty play a guiding role in the future of the University's flagship library.
"I'll be holding regular open meetings during the fall semester to discuss the building, its uses by various constituencies and their priorities for renovation," he said.  "I'll also have regular input from the University Library Committee, which has both faculty and student representatives on it, as well as from the Library Student Council."
Unsworth will balance his expertise in digital resources with a firm commitment to the library's vast archive of print materials as he works with these groups to determine the future of Alderman. For him, the library is not merely digital or analog – it's both, and more.
"As a cultural heritage institution, the University of Virginia Library collects and preserves the cultural record – not only for our own faculty and students, but also for posterity and for the many scholars from other universities around the world who regularly use our collections in person and online," he said. "My job, as I see it, is to ensure that we provide access to yesterday's information tomorrow, as well as today." 
Article Information
September 6, 2016
/content/new-leader-ever-expanding-university-library-looks-future