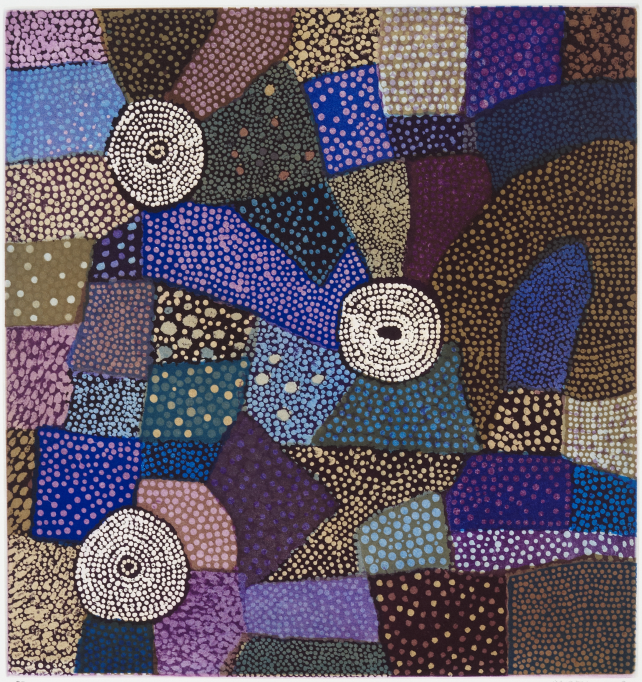 On Jan. 20, the Kluge-Ruhe Aboriginal Art Collection and Study Center of U.Va. will open a new exhibition, "New Narratives: Papunya Tjupi Prints with Cicada Press." This selection of 14 prints is the result of an eight-year partnership between Papunya Tjupi, an art center in a remote desert community in Australia, and Cicada Press, a print workshop at the University of New South Wales Art & Design in Sydney.
Papunya is best known as the birthplace of the contemporary Western Desert art movement, which launched Aboriginal art into the international art world in the 1970s and '80s. For the first time, desert artists were able to preserve and share their culture in the portable and permanent art form of acrylic on canvas, drawing from the designs and iconography found in customary art forms like ground design, sand drawing and body painting.
The artists featured in "New Narratives" are the descendants of the founders of this movement. The partnership between Papunya Tjupi and Cicada Press marks the addition of the new medium of printmaking into Papunya's art history. Many of the prints are aquatints, an intaglio printmaking technique similar to an etching that allows for a tonal effect when the plate is being engraved.
The medium may have changed, but the reasons for making art have not. One of the artists, Tilau Nangala, said she paints "so the children can watch me paint and learn, so I can pass on my Dreaming and stories to my grandchildren."
Papunya Tjupi's art center continues to be a conduit for the expertise and experience of internationally renowned senior artists to be passed onto the next generation, who make up the current group of more than 100 artists, many of whom have never painted before.
Kluge-Ruhe will host an opening reception Jan. 23, from 5:30 to 7:30 p.m.
Michael Kempson, the master printer at Cicada Press, will give a talk March 26 about the prints and his partnership with Papunya Tjupi. The exhibition will run through May 17.