Arriving back on Grounds following spring break, University of Virginia students have discovered a grand surprise waiting for them at 1515 University Ave. The three-story building, which has served in numerous capacities in its 120-year history – including housing UVA students at one point and most recently operating as a bookstore and gift shop – will officially be unveiled as a new student center on St. Patrick's Day.
Located in the heart of the UVA Corner district, the building bears the simple name "1515."
Transforming the building into a student center has unfolded over the past two years, with students involved in every step of the process. From structural changes to paint colors to furniture styles, student voices have been central to discussions and decision-making.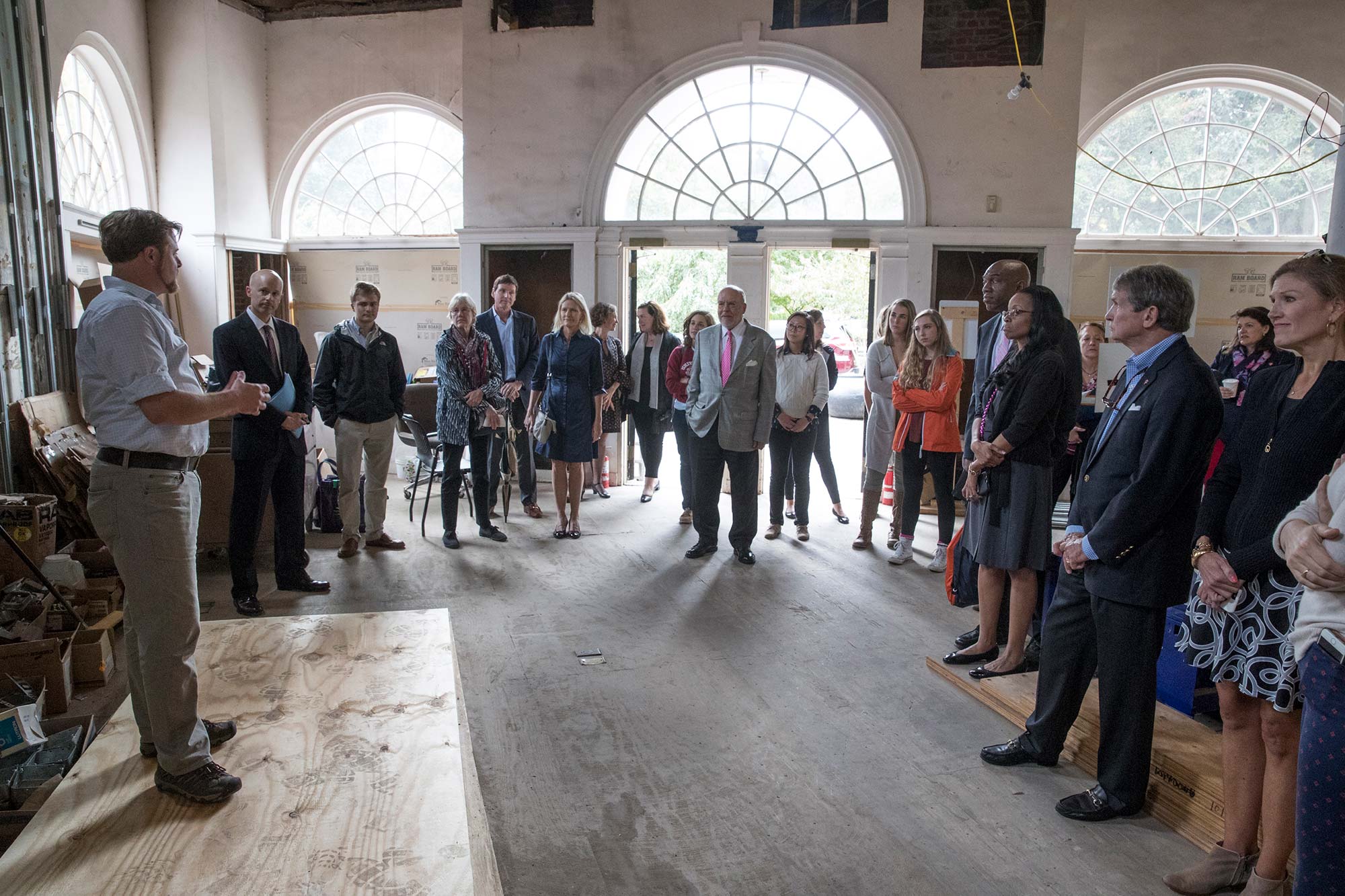 James Zehmer, UVA's historic preservation project manager, speaks with members of the UVA Parents Fund Committee during a tour of 1515 last October. (Photo by Dan Addison, University Communications)
"One of the great things about 1515 is that it offers such a variety of spaces and opportunities depending on what you are looking for," says fourth-year student John Bond, who has devoted hundreds of hours to the project. "Whether you're looking for a place to watch the big game with your friends, or you need a venue for your a capella group to practice or perform, or you want a convenient place to meet for your group project, or you want career advice, or you just want to grab a snack on your way home from the library, 1515 has you covered."
[Read the 1515 fact sheet.]
Each of the building's three floors exhibits a distinctive personality, a feature that was evident from the beginning of the project. Allowing the building itself to speak to those personalities, say those involved in the planning, helped to shape the use and design of each floor.
"Personally, I've developed a deeper appreciation for great design," says fourth-year student Yae Ji Cha, who has served on the 1515 planning committee with Bond and several other students. "Every decision we've made for physical aesthetics came out of a mindful discussion over the purpose and emotion those details should reflect about the space."
Student priorities for the building revolved around meeting and rehearsal space, areas to relax and unwind, and a venue for weekend and late-night events. The space is also alcohol-free, answering the need for a large space easily accessible to students for socializing into the early morning hours without the presence of alcohol. 1515 will be open most days from 9 a.m. to 1:30 a.m. (Students already in the building when the doors lock at 1:30 may stay until 2 a.m.) Several security measures are in place, including cameras and the requirement to swipe in with a UVA ID after 7 p.m.
The ground floor, opening onto University Avenue, includes a corner stage for performances and a large open area where tables and open seating are available for meetings, studying or simply taking a break. A display of student artwork lines one wall. Overhead, tin-embossed ceilings preserved from an earlier time add additional character to the space, along with ceiling fans running from front to back. Dark hardwood flooring adds a touch of hominess and suggests a mid-20th-century commercial space. Crumbs on the Corner, a café featuring gourmet desserts and snacks, is located in a far back corner and will be open in the evenings. The café, operated by ARAMARK, will offer products with ties to alumni and the local area, such as Lumi Juice and Commonwealth Joe coffee.
Quickly drawing attention on the main floor is a spiral staircase – a feature that initially posed a design challenge, especially in terms of placement. Alumnus Robert Nalls, project architect and a key individual in the transformation of 1515, led the committee in solving this challenge along with numerous others. The staircase is now a focal point, creating a sense of movement among the three floors and pulling in a stream of natural light from a third-floor skylight. Nalls and members of his architectural firm provided design expertise throughout the project, sparking and then implementing many of the ideas generated by students.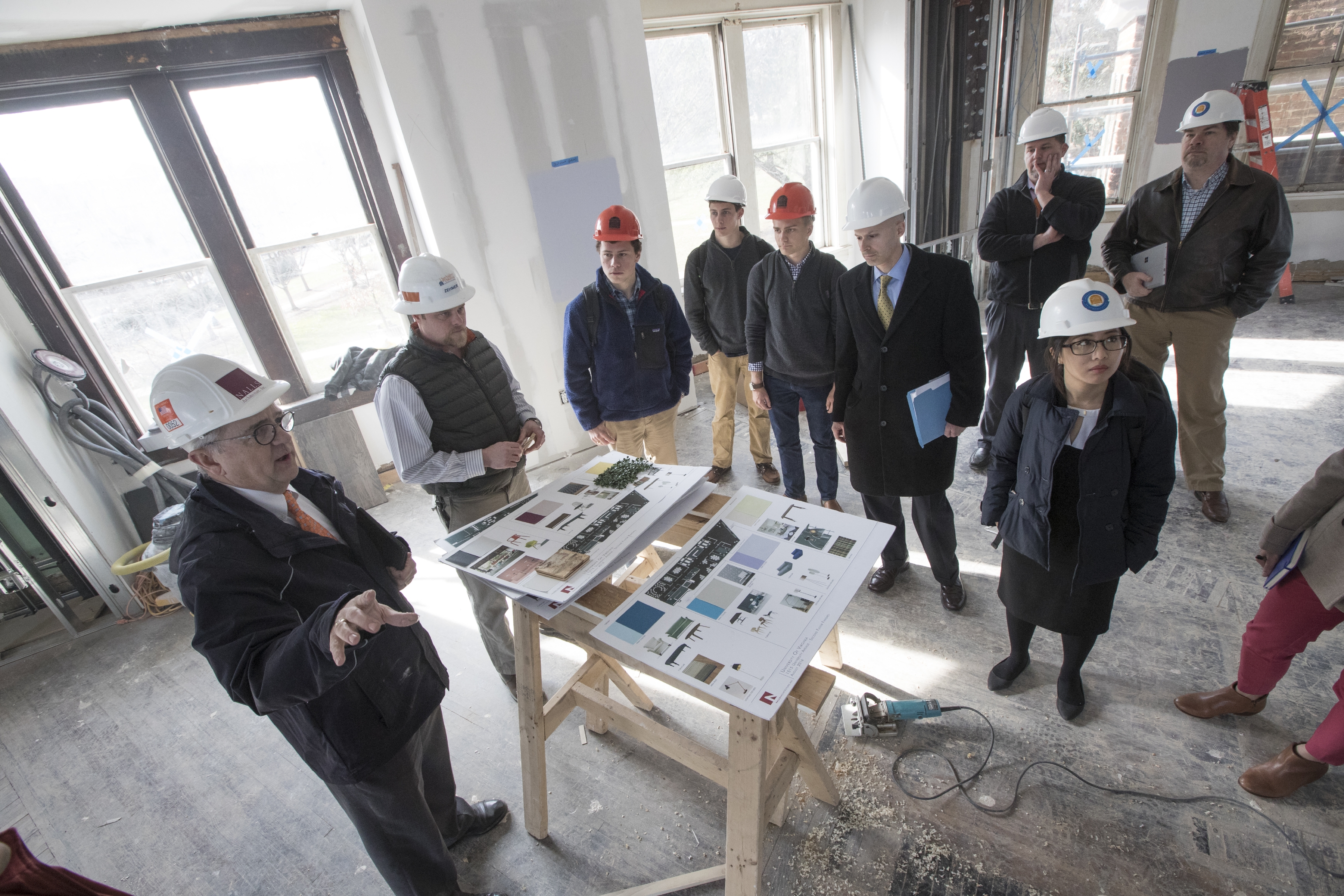 Project Architect Bob Nalls, a 1977 graduate of UVA's School of Architecture, reviews color swatch selections with members of the 1515 planning committee.
High energy characterizes the Basement, where games ranging from foosball and air hockey to "Dance Dance Revolution" and pinball are available free to students. A glass-walled space, accented by a wall painted "heartthrob" red, is where a cappella or other performing groups can rehearse. Four high-mounted televisions can be tuned to UVA sports or other crowd-drawing events. Red and black accents, interspersed with silver corrugated metal wall panels, add to the high-energy, clubby feel of the space. Like the other floors, elements of the past have been incorporated into the design, including rough-sawn floor joists from the first floor, repurposed as wall paneling.
The second floor bears a homelike atmosphere. Student apartments lined the hallway at one time, and this layout remained in place even when usage of the building became commercially oriented. Although some walls were removed in the 1515 renovation, the long corridor with rooms flowing off it remains.
Thanks to student ingenuity, each room carries a theme and name that suggests its use or personality. "The Garage" is an open space with a chalkboard wall opposite a wall painted a vivid shade of violet. In "The Sunroom," three walls are painted bright yellow while every inch of the fourth wall is filled with faux boxwood. "The Reflection Room," painted a soothing blue-gray shade, offers a space for mindfulness practices. The largest room on this floor, "The Studio," sits at the front of the building and, with its tall windows, offers a bright spot for rehearsals, dance, yoga, meetings or student receptions. Also located on this floor is space for the UVA Career Center to conduct advising sessions during the day with students. In the evening, the space is available for studying or small-group meetings.
In addition to students' imprint throughout the space, the building also reflects the craftsmanship of UVA employees. The Project Services team, a unit within Facilities Management, served as contractor for the renovation and completed the bulk of the work.
Long before the naming of rooms or the selection of paint colors, students enrolled in the inaugural class of the UVA Meriwether Lewis Institute for Citizen Leadership took on the study of 1515 as a group project in the summer of 2015, seeking to help the University determine how the space could be used for the maximum benefit of students.
Bond was among the inaugural class members. In addition to being a Lewis Fellow, he is vice chair of programming for the University Programs Council, which is now responsible for evening programming within the building.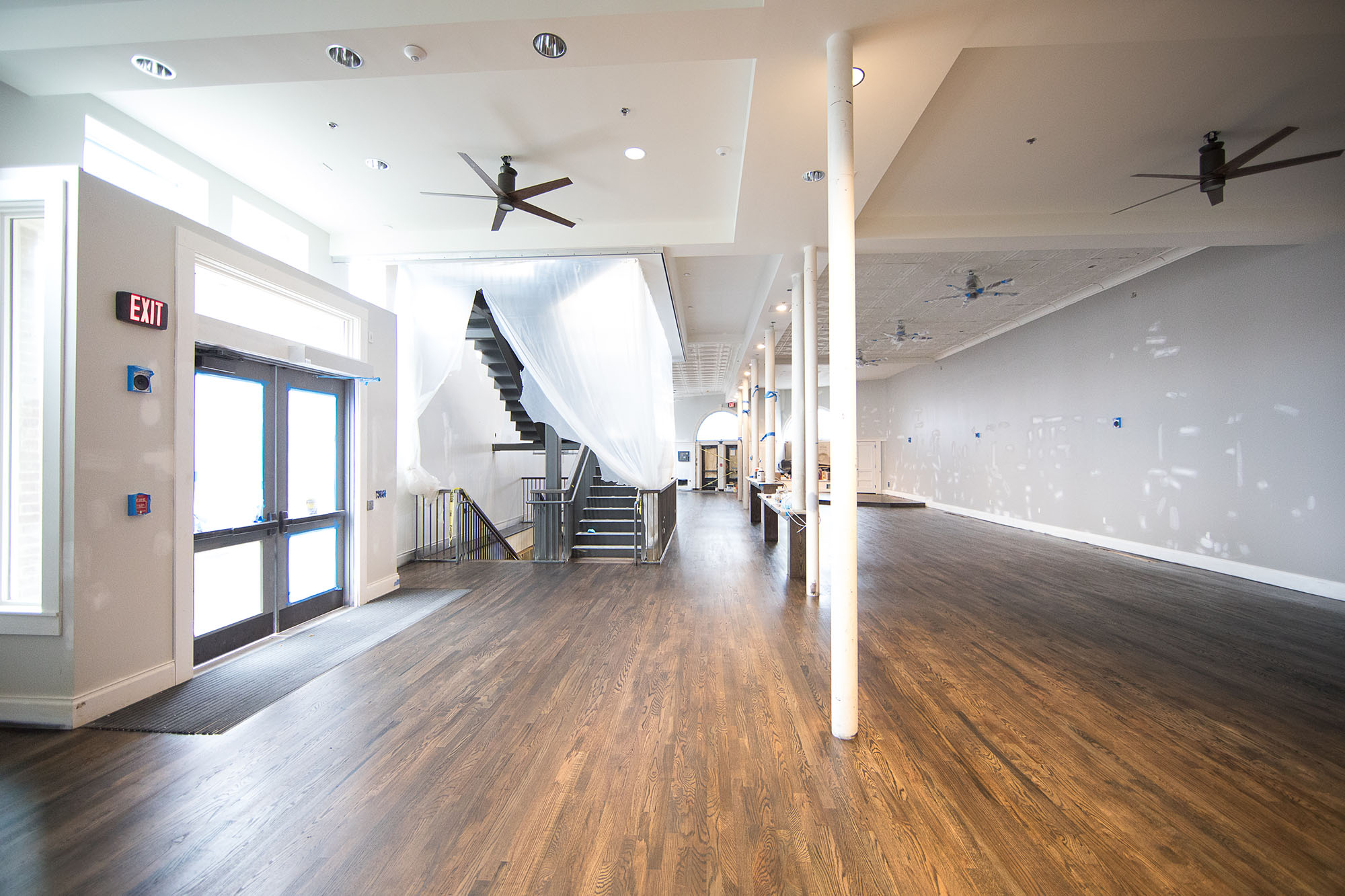 An early March view of the first floor, looking toward University Avenue, shows features such as the spiral staircase and preserved tin ceiling. (Photo by Jack Looney)
"Working on 1515 has given me real insight into the biggest needs and wants of students around Grounds," Bond said. "Every aspect of the building was designed in order to address a specific desire we identified from the student body, like the need for more convenient meeting spaces, or more rehearsal space for performance groups, or a place for people who don't feel like drinking on any given night to go and just hang out. I loved being able to help address those concerns."
Fourth-years Sam Baughan and Dakota Lipscombe, also Lewis Fellows and planning committee members, cited similar benefits of 1515 in solving space and programming issues for students. Lipscombe said he gained a greater understanding of University operations and expressed appreciation for "the opportunity to work alongside a group of dedicated administrators who are eager for student input."
Other students involved with the planning agreed. "We've been given a rare opportunity to work with administrators and contractors and architects to create a new student center," fourth-year student and planning committee member Brittany Hsieh said. "It's been quite the learning experience working with such a variety of people and understanding what is needed to make this project successful."
Hsieh said she is especially excited about highlighting student art at 1515, as well as incorporating sustainable practices into the space by using repurposed materials.
Cha, who works closely with the Career Center as chair of the Career Peer Educators, believes 1515 will be special because of a focus on student culture. "I see 1515 as a signal of commitment to not only student self-governance, but to the well-being of all students," she said. "I believe 1515 can and should be an integral piece of student culture, and one that is versatile to change with each new student body. 1515 is conceptually a space open to interpretation and I'm excited to see how current and future 'Hoos make meaning of it."
Student groups are being introduced to 1515 with tours and receptions this week. To officially usher in the new space, the grand opening will take place on Friday evening. The night will include performances by student groups, games, crafts, March Madness-watching, and a variety of activities throughout the 15,000-square-foot space.
Once into a normal routine, University Programs Council members will collaborate with student groups across the University to schedule after-hours programming. Student employees will staff the building, with administrative oversight provided by the Newcomb Centers & Services unit within the Office of the Dean of Students.
Faculty and staff are invited to visit 1515 for a community-wide Open House on March 23 from 11 a.m. to 2 p.m. Light refreshments will be served.
Reflecting on his own use of 1515, Bond said, "Personally I'm most excited about hanging out on a couch by the front window and listening to up-and-coming student artists perform on the stage, but I hope that people will quickly find their own favorite spot in the building.
"More than anything I want 1515 to be a comfortable space and a welcoming space, one that truly feels like a second home for students."
Article Information
March 13, 2017
/content/new-student-space-corner-1515-set-open-friday