A week before Independence Day this year, a group of high school students came to the University of Virginia for a new adventure: the first-ever Cornerstone Summer Institute, a residential camp where they delved into American history, focusing on historical research, archaeological excavation and community engagement related to slavery and its aftermath.
From June 26 through July 1, they explored Founding Father Thomas Jefferson's legacies – not just the University, but also the paradoxical coexistence of slavery on Grounds. Walking about 10 miles around UVA, including for a modified scavenger hunt, they looked for places on Grounds that recently have been recognized as sites of slavery. They also considered ways to memorialize the enslaved laborers and academic pioneers who have made such an impact on the University.
Visiting both Monticello, Jefferson's residence, and Montpelier, the Orange County plantation where James Madison lived, the students compared the two estates. Going to the Jefferson School African-American Heritage School, the Daughters of Zion cemetery and hearing from local residents, they learned about how African-American neighborhoods were treated over time in the 19th and 20th centuries.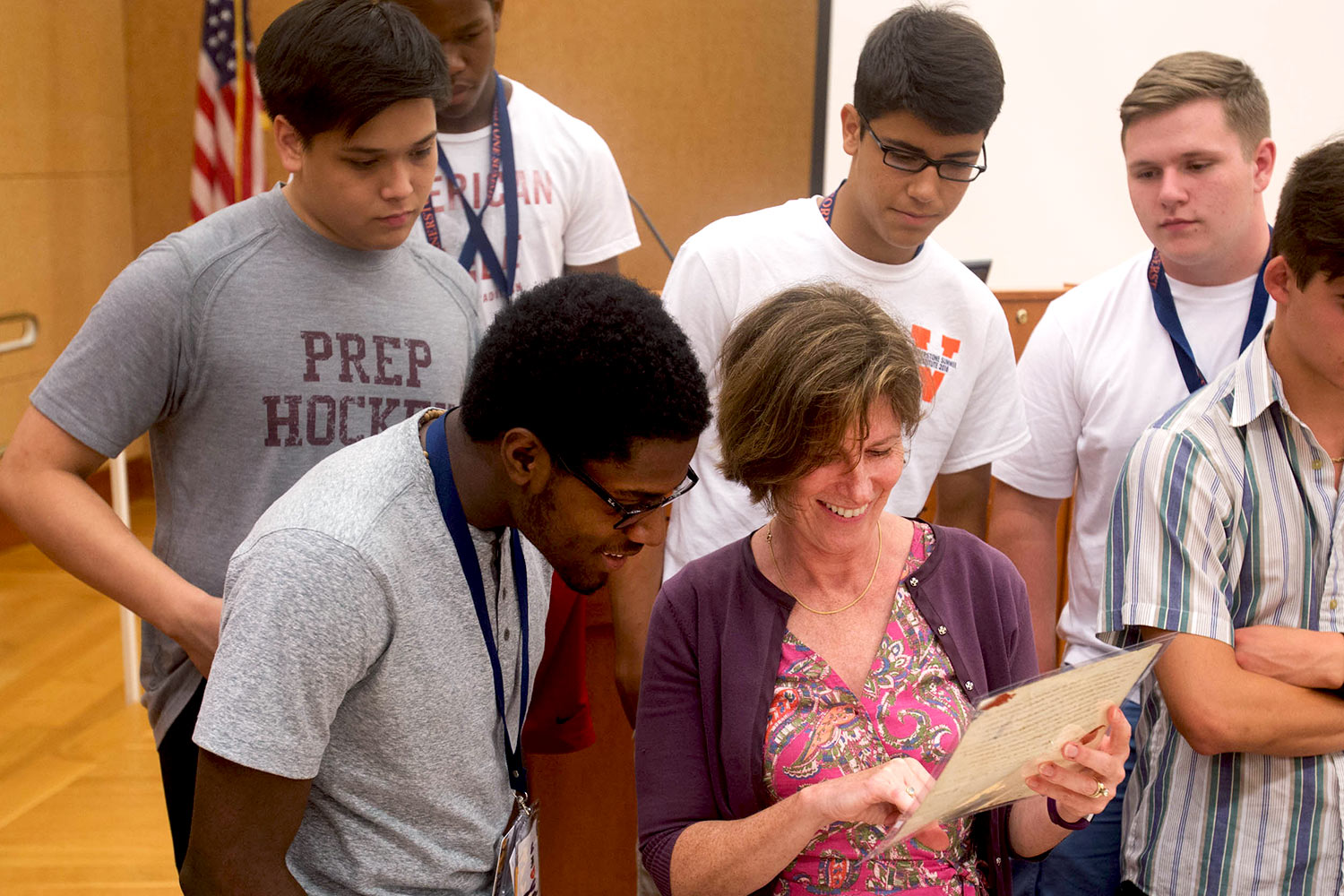 Riser, center, shows another Jefferson letter to Shawn Thomas of Woodbridge, left, and other students at the Cornerstone Summer Institute. (Photo by Sanjay Suchak/University Communications)

Along the way, the 21 students, who came from Virginia, the Mid-Atlantic region and even California, learned and practiced critical thinking and other skills that will prepare them for success in college, perhaps at the University one day.
Kirt von Daacke, associate professor of history and an assistant dean in the College of Arts & Sciences, co-chairs the President's Commission on Slavery and the University, which sponsored the Cornerstone Summer Institute, and served as one of the faculty. He praised the students, saying what "an amazing bunch" they were.
"We pushed them hard all week, and they responded with positive energy and tough questions," he said.
"For high school kids to be not only exposed to this kind of material, but also critically engaged in a way that is rare at their age, is unprecedented," said Millicent Usoro, a 2015 UVA alumna and supervisor of the UVA student-counselors who worked with campers.
Twin brothers Jamal and Bilal Madagu from Bowie, Maryland said they learned more about slavery in these few days than they've had the opportunity to learn from textbooks and in their first two years of high school.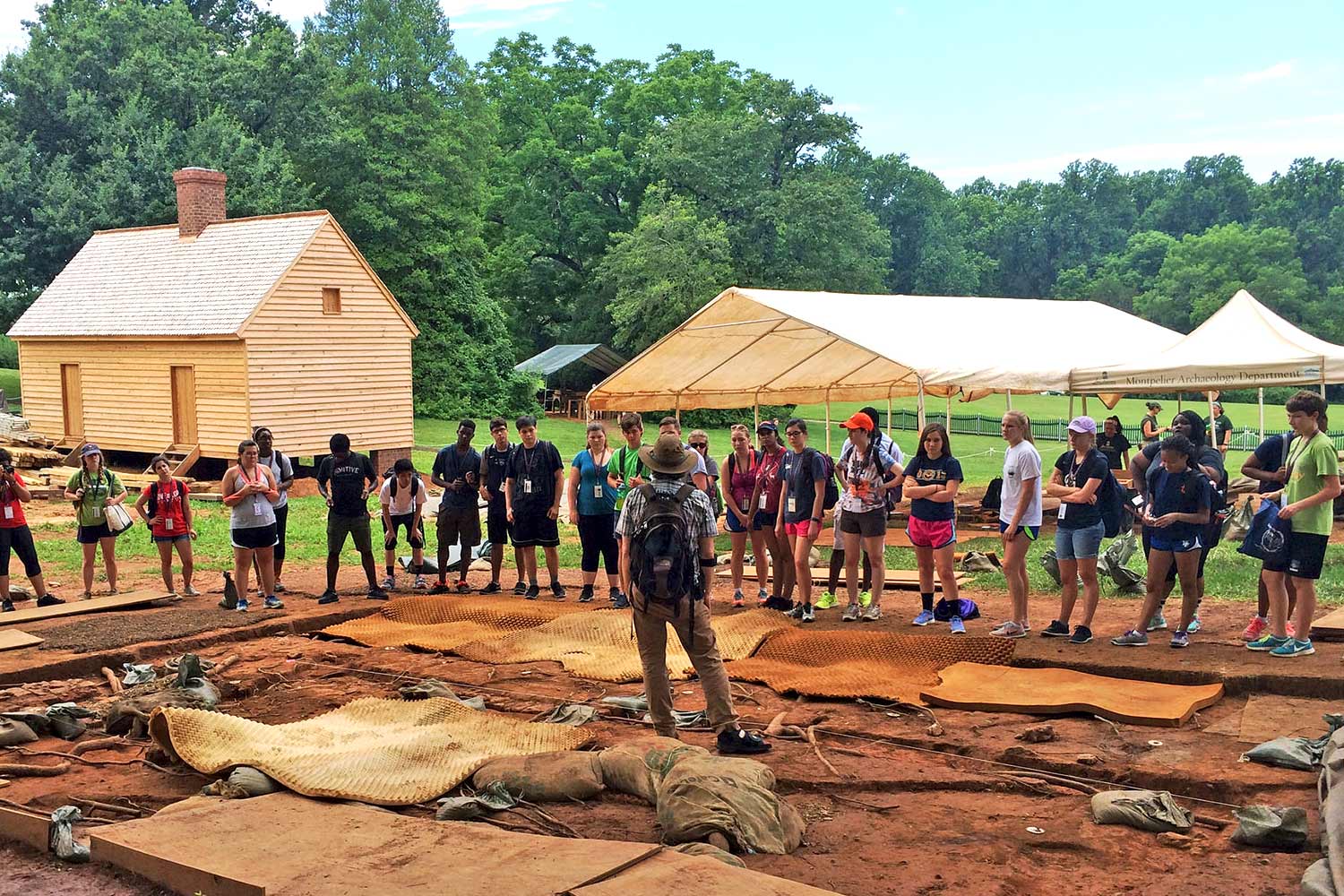 High school students attending UVA's Cornerstone Summer Institute visited Montpelier, James Madison's home, to learn about and take part in the archaeological work on sites where slaves and freed black families lived. (Submitted photo)

Among the activities, the students examined original Jefferson documents and material related to slavery in Virginia. Heather Riser and John Witherell of UVA's Albert and Shirley Small Special Collections Library showed them a selection of Jefferson's drawings and letters on designing UVA, including his will.
"We're seeing it with our own eyes, more in-depth," Jamal said.
"I feel like I have a clearer understanding of what happened," Bilal added.
Aarshi Kibria of Haymarket said she hopes to encourage more discussion in her high school. "We don't get opportunities to engage with tough issues like slavery," she said.  
She and Madison Alvis, who lives near Appomattox, were members of one of the teams that gave final presentations on Friday, the program's last day, when many of the parents attended. Their project covered a range of black people who were "firsts" at UVA.
"I'm from a small town that's been relatively homogeneous," Alvis said. "We're getting more diverse – people have different opinions and ideas – but I'd like to bring more topics like this to the table."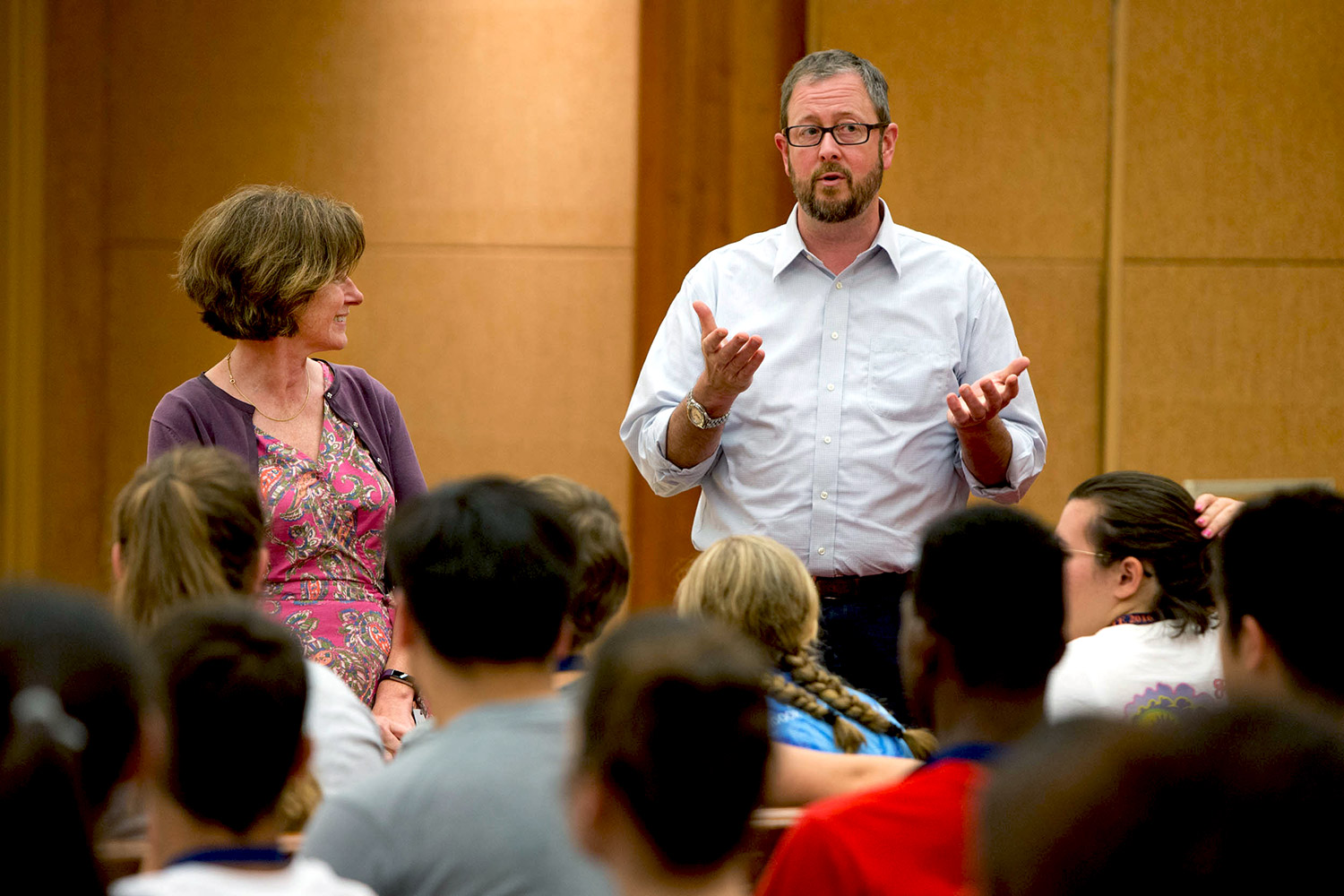 Kirt von Daacke, right, associate professor of history, co-chairs the President's Commission on Slavery and the University and conceived of the Cornerstone Summer Institute. (Photo by Sanjay Suchak/University Communications)

Von Daacke had been thinking about the idea for a program like the institute, but it took Alison Jawetz, a 2015 American studies graduate who is currently completing a master's degree in UVA's Batten School of Leadership and Public Policy, to run with it. She interviewed von Daacke more than a year ago when taking a course, "University of Virginia History: Race and Repair," taught by Frank Dukes in the School of Architecture's Department of Urban and Environmental Planning, history professor Phyllis Leffler (now emeritus) and community member Charlene Green of Charlottesville's Office of Human Rights.
Jawetz spent the past six months helping von Daacke in planning and organizing the schedule.
"The purpose of the field trips to Montpelier, Monticello and the Jefferson School were to help the participants make connections between the history of slavery and other systematic historical examples of disenfranchisement," she said.
Student presentations on the final day brought it all together, she said, "engaging the students with the content and allowing them to demonstrate their understanding that the legacies of slavery are not ancient history – they are very relevant to contemporary society."
"Their presentations, created on their own [in groups of three or four] … were fantastic!" von Daacke exclaimed. "There was a museum pitch, poetry, a short play, photo essays, a group Twitter feed composed as a social media history lecture."
"There's nothing like this," said Reagan Alsop, a sophomore from Chesapeake. "I hope they continue doing it."
Article Information
July 6, 2016
/content/new-summer-program-helps-high-school-students-grasp-legacies-slavery