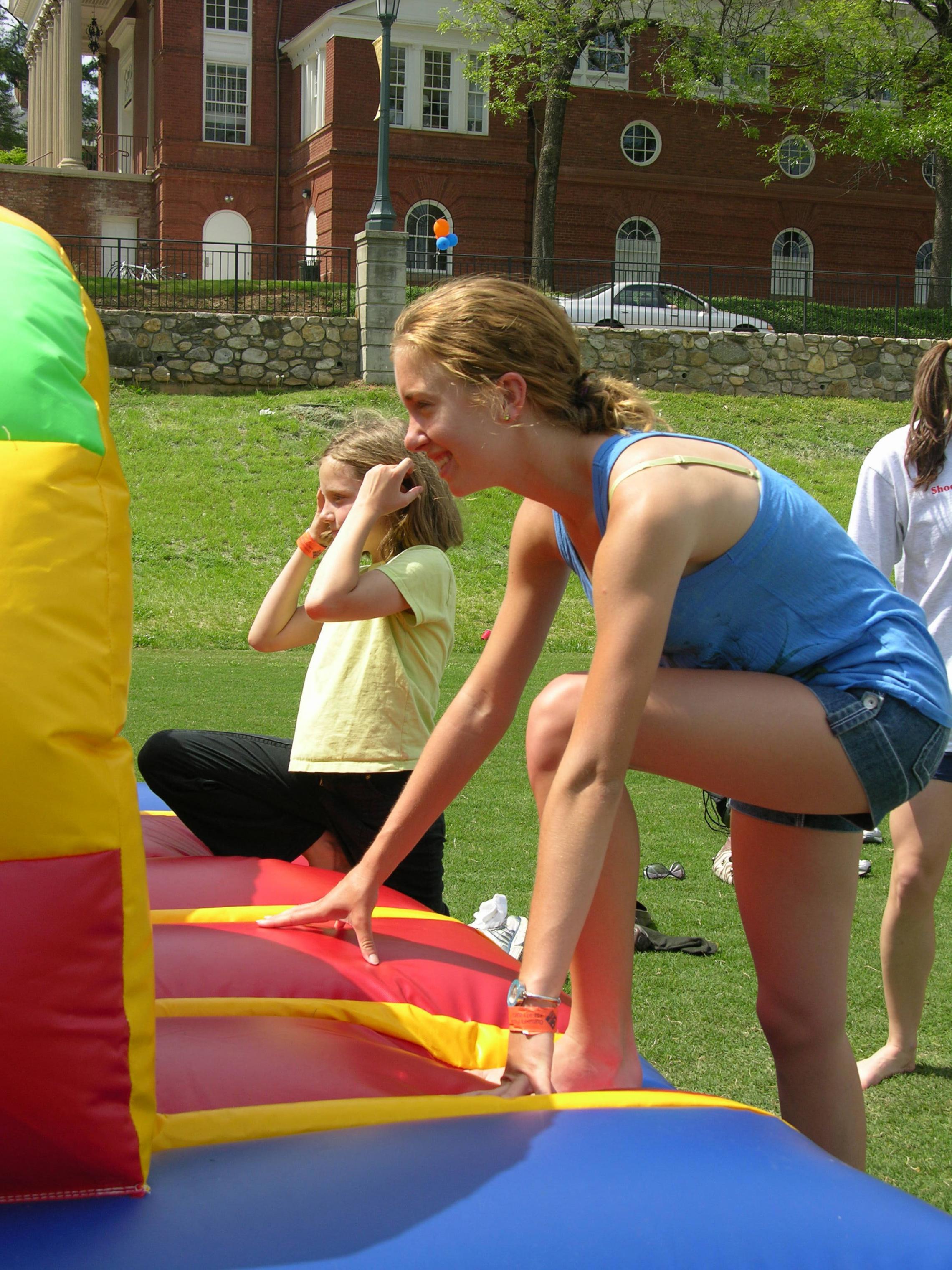 April 15, 2008 — Though University of Virginia student-athletes have organized "Shoot Out for Cancer," an annual spring festival and fundraiser for cancer research, for 15 years, new financial backers and a new charitable beneficiary have raised the event's profile this spring.
U.Va.'s Student-Athlete Mentors reach out to youth in Charlottesville and Albemarle County, volunteering their time and giving presentations at elementary schools and hospitals and acting as positive role models off the field. Their efforts this year will culminate on Sunday, April 20, in "Shoot Out for Cancer," an afternoon carnival and picnic that enables children to interact with and "compete" against U.Va. student-athletes, providing a day of fun for a great cause.
This year's event has received additional financial support from the University's Student Council, which voted to donate its unused funds to "Shootout," providing for bigger games and greater exposure.
During the event, children and student-athletes play games, jump on moon bounces, run through a real obstacle course and get autographs. Both children and adults are invited to fill up on lunch catered by some of Charlottesville's most popular restaurants. For the adults, there will also be a silent auction of U.Va. sports memorabilia from current Cavalier student-athletes and professional athletes.
The Student-Athlete Mentors have also chosen a new recipient of this year's funds: the Patients and Friends Research Fund at the U.Va. Cancer Center, which will receive 100 percent of the proceeds. Started in 2000 to support innovative cancer research, the fund has raised more than $2 million to sponsor promising research on the prevention, diagnosis and treatment of cancer.  
Admission is $5. The event will be held Sunday, April 20 from 11 a.m. to 2 p.m. in Madison Bowl at the corner of Rugby Road and University Avenue.
For information on the Student-Athlete Mentors, visit
www.athletic.virginia.edu/lifeskills/sam/
. For information on the Patients and Friends Research Fund at the U.Va. Cancer Center, visit
www.healthsystem.virginia.edu/internet/cancer/
.