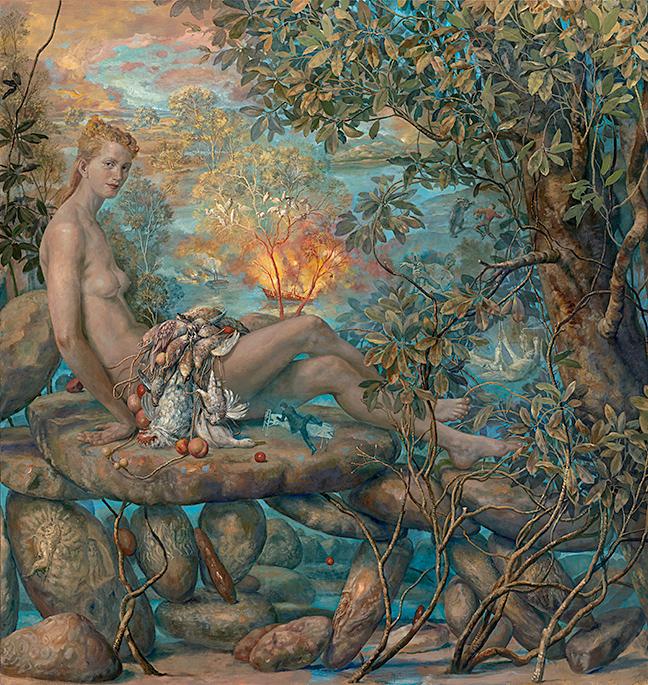 Julie Heffernan, a versatile artist and art professor, will be the second annual painter-in-residence in the Studio Art Program in the University of Virginia College of Arts & Sciences McIntire Department of Art.
Heffernan, a New York artist and associate professor of art at Montclair State (N.J.) College, will be in residence and creating her own work from Oct. 2 through 26 in Ruffin Hall, studio 323. She will present a public lecture on her work Oct. 3 at 5:30 in Campbell Hall, room 153.
"The painter-in-residence program is an opportunity for our students to interact with painters of the highest level in their profession and to observe them in their own creative process," U.Va. painting professor Megan Marlatt said.
David Cohen, art critic of The New York Sun, describes Heffernan's art: "These paintings are a hybrid of genres and styles, mixing allegory, portraiture, history painting and still life, while in title they are all presented as self-portraits."
During her residency, Heffernan will give critiques in painting classes and work with Aunspaugh Fifth-Year Fellows whose work focuses on painting.
Heffernan has been the recipient of many awards, including a National Endowment for the Arts grant (1995) and the Lila Acheson Wallace Reader's Digest Artist at Giverny, France. Her work is included in many national and international collections, including the Columbia (S.C.) Museum of Art, the Virginia Museum of Fine Art and the Zabludowicz Art Trust in London.
Her paintings have been featured in solo exhibitions, including the Lux Art Institute in Encinitas, Calif., the John Michael Kohler Art Center in Sheboygan, Wis., and the Mint Museum of Art in Charlotte, N.C., as well as prestigious galleries like POWW in New York City and Catherine Clark Gallery in San Francisco. Her work has been written about and published in Artforum, Art in America, Artnews and The New York Times.
At the end of her U.Va. residency, Heffernan will have an open studio on Final Friday, Oct. 26 from 5:30 to 7:30 p.m. in Ruffin Hall, studio 323. The public is invited to both her lecture and open studio.