Whenever Joe Bell couldn't quite figure something out in the German course he had just started taking – such as the proper gender of a noun or how to conjugate a verb – he would turn to University of Virginia soccer teammate Robin Afamefuna.
After a recent practice, Afamefuna – who is German – smiled at the memory.
"He's studied and has gotten a lot better," Afamefuna said.
The same holds true for most everything the New Zealand native sinks his teeth into.
From German courses to ones in psychology (his major) and drama – not to mention the workmanlike approach he has to playing the sport he loves – UVA head coach George Gelnovatch said Bell is a one of a kind.
"He's a 30-year-old inside a 20-year-old's body, maturity-wise," Gelnovatch said. "How he takes care of his body, what he's eating – you don't see too many 20-year-old guys with the regimen that he has for himself. You really don't. You don't usually see mid-20-year-old pros who do what he does. He's really focused on things that can make him successful."
Last week, Bell – who has been on the ACC Academic Honor Roll each year he's been on Grounds – was called up to play for New Zealand's national team in overseas matches against Ireland and Lithuania, forcing him to miss the Atlantic Coast Conference Tournament semifinal and championship games (which the Hoos won despite the absence of their co-captain).
"I was obviously stoked to get my first national team call-up," Bell said Thursday, "but at the same time, I did feel bad leaving the guys during the tournament.
"But I think it tells you a little bit about the team – their ability to still go on and win the thing shows the depth that we have here. … We had some great performances. I think it shows the culture of the team and the ability to adapt to tough situations."
Instead, Bell played the entire game against Ireland and the second half the Lithuania game, both losses.
"It was a very proud moment for me and my family," said Bell, a junior who will be back in action when No. 1-seeded UVA takes the field Sunday in its NCAA Tournament second-round game at Klöckner Stadium. "It was a great learning experience. The 90 minutes I played against Ireland is probably the most valuable video clip that I could possibly have."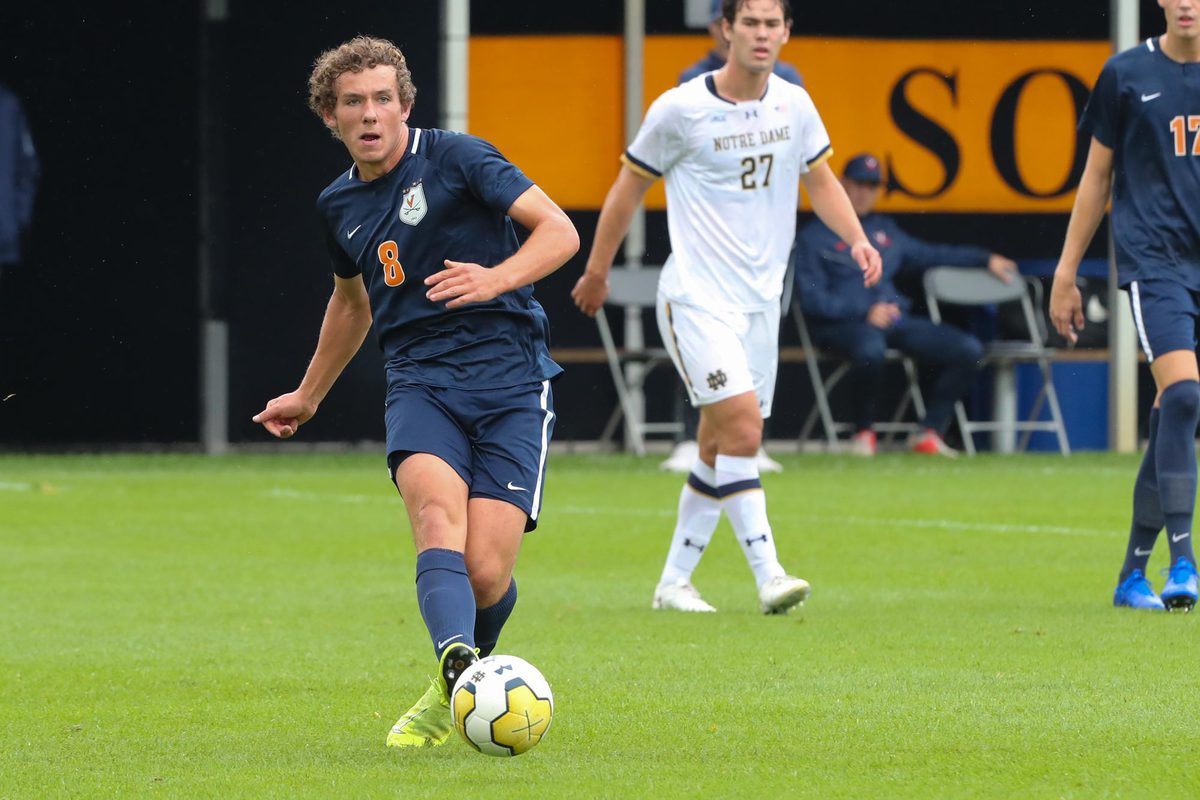 Bell is a player everybody on the team admires, according to players and coaches. (Photo by Matt Riley, UVA Athletics)
Video study, nutrition, mediation and yoga are just a few of the things Bell has done on a consistent basis to give himself a leg up.
Throughout the season, he edits clips of his favorite players, Barcelona's Frenkie de Jong and Sergio Busquets, and watches them over and over.
"I make a comparison of them doing a move and then me doing the same move and trying to repeat it," Bell said, "so that when the situation appears in the game, I know how to react."
Then there is Bell's diet – something Bell's roommates, Henry Kessler and brothers Chris and Colin Shutler, have come to admire.
You won't find Bell ordering out for pizza very often, if at all. When Bell's teammates head to the dining hall or a nearby eating establishment, Bell stays home and cooks. Salmon and couscous are two regular items on his menu.
"He's very specific with his diet," Kessler said. "His one cheat food is a pumpkin muffin from Continental Divide."
When Kessler and the Shutler brothers return home, they often hear soothing music and humming coming from Bell's room. Immediately, they know what is happening.
Bell is meditating – something he has done regularly over the last few years, both at home and in the locker room before games.
"He just likes getting in his groove," Kessler said.
In his head, Bell repeats words like "Focus" and "Up."
"I think it's just important to be completely calm so I can be focused on situations that will present themselves during games," Bell said. "When I say, 'Up,' it kind of like just brings me up, wakes me up, makes me alert and focused on the game, because it does get tiring out there and there are times when you need to be refocus."
"I saw the relationship between psychology and sport. I started pursuing it and really enjoyed it."

- Joe Bell
Afamefuna said Bell's work ethic sets the standard for the rest of the team.
"He shows other people that if one of the best guys on the team puts in so much work and extra effort, they should probably do it, too," he said. "It's definitely something other people can look up to."
"Everyone knows Joe will be very consistent in what he brings to the table and they look up to him in that sense," Kessler added. "And we have a lot of international students, so seeing an international leading by example is important."
Bell, who became friends with fellow Kiwi Jack Salt, a member of last year's national championship men's basketball team, after he got to UVA, is more "boisterous" on the field than off of it, Gelnovatch said, choosing, like many good leaders do, to pick his moments.
"When something comes out of his mouth," Gelnovatch said, "it's important."
Bell was born in England before moving with his family to New Zealand when he was 4 years old. His father, Richard, works in advertising, while his mother, Caroline, is a psychiatrist.
Bell's mother sparked his interest in psychology.
"She was always talking about it," Bell, who hails from Wanaka, said, "but then I saw the relationship between psychology and sport. I started pursuing it and really enjoyed it."
Bell, who has professional soccer aspirations, said he has "grown not just a player, but as a person" while at UVA.
This semester, he has tried to further broaden his interests by taking an acting course. On Thursday, he performed a scene with a female classmate in which they get into a heated argument as the result of his character having shot a seagull.
"I thought it would be something fun to take and something different from psychology, in that you're not sitting there taking notes," he said. "You're just getting up and acting, which is a little outside my comfort zone."
As for the German?
Bell thought, among many things, that the language might come in handy when he's playing professionally in Europe someday. "I'm getting better," said Bell, smiling, "but I still have a lot of work to do. Robin still makes sure to critique me."
Article Information
November 21, 2019
/content/no-average-joe-uva-captain-strikes-sweet-balance-between-soccer-academics