The boos were growing louder and louder at John Paul Jones Arena – and they weren't directed at either of the teams, the coaches or the officials.
The animosity was aimed at a middle-aged man in khakis and Topsiders who had just been announced to the crowd during a timeout, and who was now making his way from his seat along press row to the free-throw line closest to the University of Virginia men's basketball team's bench.
It was more than a decade ago when the UVA Athletics media relations staff was looking for a participant for an in-game promotional contest, and somehow longtime Roanoke Times sports writer Doug Doughty fit the bill.
So there was Doughty – a competitive swimmer who liked to bowl and golf, but never was much of a basketball player – abandoning his laptop, legal pad and tape recorder to shoot a couple free throws.
"I wasn't nervous. I just could not believe that this was occurring," Doughty recalled. "I think they were just trying to have some fun with me."
In order to win a year's supply of Hardee's gift cards, Doughty needed to sink one of two free throws.
With the boos raining down, and even one of his fellow sports writers heckling him, Doughty – to the crowd's delight – missed his first attempt.
Then came his second. Doughty locked his eyes on the rim, took two quick dribbles and – with no bend in his torso or legs – fired a low-trajectory shot that hit the front rim, took three bounces around the cylinder and rolled in.
Like an Olympian who had just won his first gold medal, Doughty raised both arms high into the air in triumph for several seconds, then exchanged a high-five with the Cav Man mascot, who had raced over to congratulate him.
Doughty had silenced the crowd.
But why were they booing the 1974 UVA alumnus in the first place?
The short answer: Doughty's articles about UVA sports could sometimes touch a nerve.
Over the years, Doughty – who will retire Sunday after 47 years of covering UVA athletics – had written in a matter-of-fact – some might say gruff – style that didn't always make readers, especially those who were Cavalier fans, happy.
But Doughty, a UVA alumnus who met his wife at the University, lived on the Lawn in his fourth year and who saw three of his four children graduate from UVA, wasn't going to let his affinity for his alma mater interfere with his journalistic obligation to be objective.
In Doughty's mind, there was nothing worse than being called a "homer."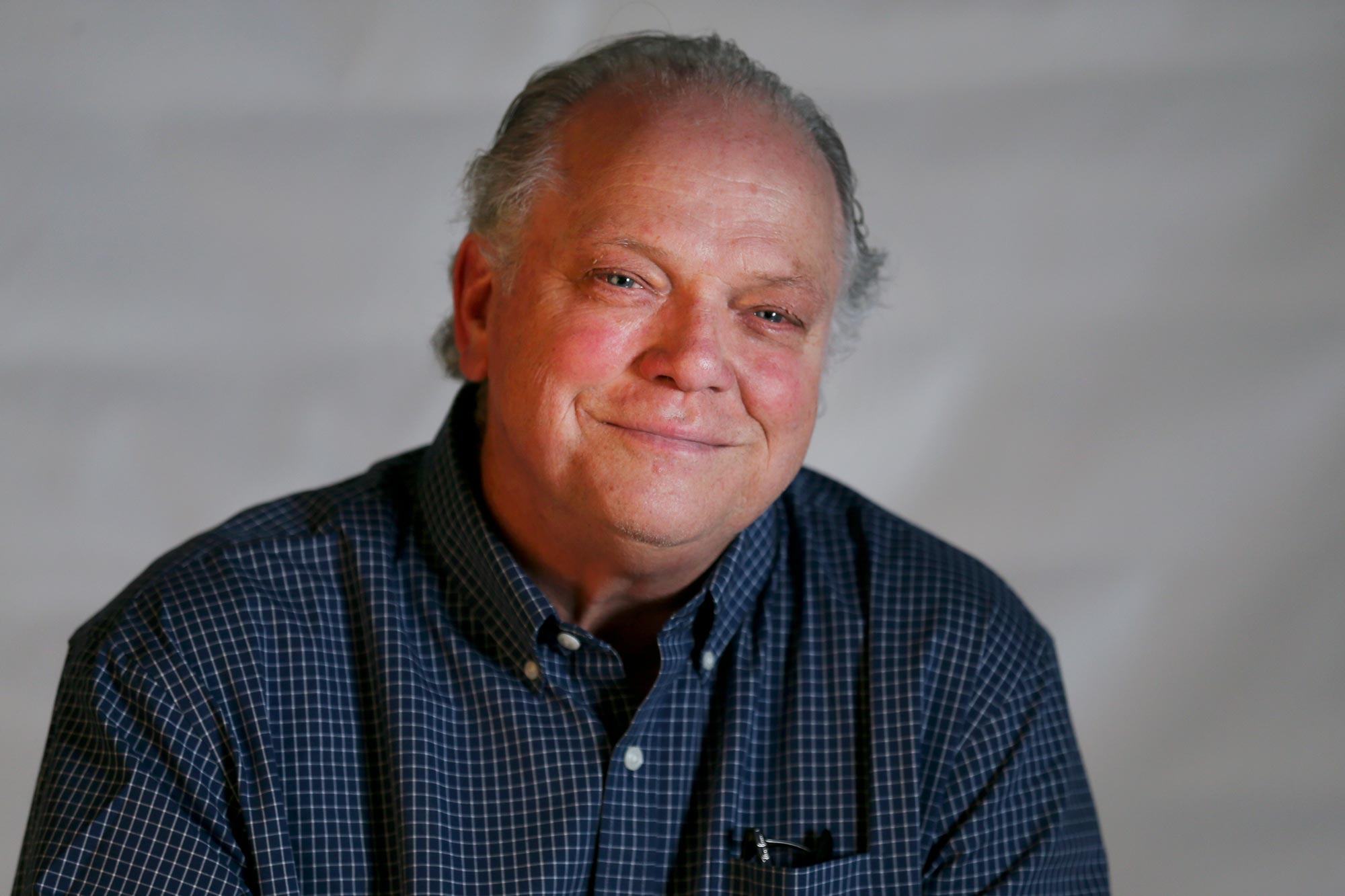 As a UVA student, Doughty served as the sports editor of the Cavalier Daily. (Photo by Heather Rousseau, Roanoke Times)
As a student reporter at the Cavalier Daily, a free-lancer at the Daily Progress, Richmond Times-Dispatch and Washington Post, and then later as a full-time employee at the Roanoke Times, Doughty had made it a habit to never sugarcoat things.
You could call him the anti-spin doctor, which, given his vast knowledge of rock and roll bands such as the popular 1990's group Spin Doctors, he might appreciate.
"I would just try and write about what happened and what I knew," said Doughty, when asked about his straightforward writing style. "It wasn't like I was pulling against Virginia, certainly, but I thought from the beginning you just write what happens, you write what you hear. I'd use a lot of quotes. I'm not cheering there at press row, but I don't think a lot of people are. Obviously more people are interested in reading my stuff if Virginia is winning, and so I'm not pulling against Virginia, but I tried to write about what happened."
Richmond Times Dispatch sports columnist David Teel remembers Doughty showing up to former UVA football coach George Welsh's weekly press conference several hours early so that he could talk with administrators and coaches in other sports. That face time, Teel said, helped Doughty build relationships and churn out stories that nobody else had.
Teel said Doughty set the standard for sports writers in the state.
"I watched and learned from Doug," Teel said. "I watched how he did it. In a lot of ways, I copied what he did."
"Back when I covered UVA for the Times-Dispatch, there were few things more gratifying professionally than scooping Doug," Jeff White of Virginiasports.com said. "Alas, I rarely did."
My good friend Doug Doughty is retiring this week after 43 year stellar years at the Roanoke Times. Yesterday, Mike Krzyzewski interrupted his own weekly media session to congratulate and compliment Doug on his career. "What a class move that was," Doug said to me later...

— John Feinstein (@JFeinsteinBooks) January 26, 2021
One of Doughty's hallmarks was his football recruiting coverage.
Long before the internet and even cell phones existed, and long before recruiting websites like 247Sports and Rivals.com came to be, Doughty had his own player rankings, which he developed after speaking with hundreds of high school and college coaches.
Teel said Doughty was relentless in his reporting.
"When it came to recruiting, Doug was truly a pioneer," Teel said. "His annual rankings of the top football prospects in Virginia were biblical to many.
"Readers really embraced it and I think it lent a unique aspect to Doug's coverage of UVA athletics."
The son of a loan officer and a housewife, Doughty grew up in Bethesda, Maryland, and graduated from Saint Albans School in Washington, D.C., in 1970.
At UVA, Doughty majored in history, was a member of the Sigma Nu fraternity and served as the sports editor at the Cavalier Daily before graduating, with Phi Beta Kappa honors, in 1974.
As a student, Doughty was friends with basketball legend Barry Parkhill. He said watching Parkhill score a school-record 51 points at University Hall was one of his great thrills.
"My fondest memories were of the people I met and the people at my fraternity house," Doughty said. "I have five or six of my former fraternity brothers on a text chain who still send me stuff during games. It's kind of interesting after all these years still talking sports with these guys."
Doughty met his wife, Beth, at a Sigma Nu party. Shortly after walking into the house, she saw him dancing on the fireplace mantle.
"I said, 'Oh, that's Doug Doughty,'" said Beth Doughty, a 1976 alumna whose maiden name was Stolpe. "What I've always said I liked about him was that he knew how to have a good time."
We couldn't be there to celebrate the occasion. So on the night of @DoughtySports final game at JPJ, @amyuf, @ARamspacher and I wanted to pay tribute: pic.twitter.com/uweMJPNdxF

— Damon Dillman (@DamonDillman) January 25, 2021
After graduating from UVA, Doughty joined the Roanoke Times as a minor league hockey beat reporter before taking the lead on coverage of UVA athletics soon after.
Doughty had front-row seats for some of the greatest athletic moments in UVA history.
He was on hand for the football team's first-ever bowl appearance in 1984, the men's basketball team's run to the 1981 and 1984 Final Fours, numerous lacrosse, soccer, baseball, swimming and tennis championships and, of course, the 2018-19 men's basketball team's NCAA championship in Minneapolis.
In all, Doughty covered 564 football games and 1,502 basketball games.
For games taking place in Charlottesville alone, Doughty – who has always preferred car travel to air travel – calculated that he drove 383,760 miles in round trips from his home in Roanoke.
Doughty said the football team's win over Clemson in 1990 was one of his most memorable games.
"I don't think Virginia football was ever as big as it was then – when they were ranked No. 1 in the country," Doughty said. "What was fortunate back then was that the stars of the team – Shawn Moore and the Barber twins – were from our circulation area."
In 2015, Doughty's youngest son, Matt, was a walk-on pitcher for the UVA baseball team that won the College World Series. Matt, who had tagged along with his dad to so many UVA sporting events as a kid – he often played one-on-one at JPJ with a sports writer following press conferences – pitched in five games that season, including three in the ACC Tournament. Doug Doughty, in order to maintain his objectivity, recused himself from covering the 2015 team.
"I grew up going to UVA games with my dad and I never saw my dad, a Virginia alum, cheer for Virginia – which I respected because that was his professional obligation," Matt Doughty told UVA Today in 2020.
"Getting to see some pride from him in his alma mater and some pride in me across that [postseason] run – that was probably the coolest part. He still talks about it to this day. Every time it comes on TV, he'll watch it. My mom summed it up one time when she said, 'I've been married to your father for 35 years and this is the first time I've ever seen him clap for Virginia.'"
Over the last decade, when the lines between sports journalism and sports fandom became more and more blurred, Doughty stayed true to his roots.
Beth Doughty said the phrase "old school" doesn't even begin to describe her husband.
"When we first got married, I had a UVA sweatshirt and he told me, 'You can't wear that,'" she said. "He didn't want people to think that he was a 'UVA guy.' And our kids were never allowed to wear any UVA stuff until [oldest daughter] Allison started going there. Then he loosened up.
"But I think it was a reflection of how serious he took old-fashioned journalism ethics. That was just the way he decided he was going to be, because he thought that was the way he was supposed to be, and he really held to that."
Maintaining objectivity was just one of many things that made Doughty so successful, according to Teel.
"As counterintuitive as it sounds, I think the people who Doug covered – coaches, administrators, athletes – appreciated his objectivity," Teel said. "From Terry Holland to George Welsh to Dick Schultz to Jim Copeland to Tony Bennett to Bronco Mendenhall – they appreciated the professional approach."
That's not to say Doughty didn't have a lighter side.
"Sports writing was his job, but sports writing was also kind of his entryway to 'all kinds of yucks,' as he would put it," former Daily Progress beat writer Andrew Ramspacher told the Roanoke Times. "That always made games and events so much more fun for people on the UVA beat."
"Road trips with him were something," said Damon Dillman, the former sports director of CBS19 News. "I've always described it to people, you're traveling with Doug, and he'd need to get gas, he'd need to get coffee and he'd need to get something to eat. And somehow that would turn into four stops at four consecutive exits instead of doing it all at once."
Traveling with Doughty often seemed like something out of the movie, "Planes, Trains & Automobiles," sans the planes and trains.
There was the time Doughty, while looking for a pancake place in the New York area and simultaneously discussing the potential of former UVA basketball guard Billy Baron, missed an exit and drove halfway to Canada.
Another time, while on a road trip to Boston College, Doughty accidentally slept with the door to a roadside motel wide open.
Then there were his glasses. Doughty, it seemed, was always searching for them – in a press box, in a car, in a motel, in an alley next to a gas station.
Press conferences were unique.
In the moments before they started, Doughty often had colleagues riled up about a topic – favorite rock bands, dogs, his "double-wide" golf putting stance, what someone ate for dinner the night before. The debates would often spill into the press conference, with coaches and players eventually having no choice but to weigh in on the subject.
Doughty loved every second of it.
"He got a dish towel for Christmas that says, 'Stir the Pot,'" Beth Doughty said, "and it wasn't because he cooks."
First-class gesture by #UVA recognizing @DoughtySports as he works his final game at JPJ. And of course a standing O from the few of us lucky to be here in attendance. pic.twitter.com/5sLCopdqQe

— Mike Barber (@RTD_MikeBarber) January 26, 2021
UVA basketball coach Tony Bennett said he has always respected Doughty.
"His colleagues like him," Bennett told the Roanoke Times. "They poke fun at each other, but yet there's a good-natured relationship. And I watch that. To me, that's a really cool quality."
"What I always appreciated about Doug is that he took the job, but not himself, seriously," Teel said. "I always found that endearing because he was very meticulous and precise and demanding of himself, but so willing to poke fun of himself and joke with all of us along press row or in the press box. I always enjoyed that and admired that about him."
Former UVA basketball player Cory Alexander – who starred for the Hoos in the 1990s, went on to play in the NBA and is now an ESPN broadcaster – first met Doughty when he was in high school.
"He was the Howard Cosell to my Muhammed Ali ... not that I ever got into the same stratosphere as Ali, but it wasn't for a lack of effort on Doughty's part," Alexander said. "Our behind-the-scenes conversations, discussions and arguments were classic. If ever I had an agenda, I could depend on Doug to help me push it. I trusted him as a journalist, which is rare from an athlete, and I trusted him even more as a fellow member of the media once I crossed over into his world." 
In recent weeks, as word of his retirement has spread, Doughty has received numerous emails from former players, coaches and readers wanting to congratulate him and to express their gratitude.
Doughty has been invited on several radio and television programs to talk about his nearly half-century covering UVA sports. On the ACC Network's "Packer and Durham" show, Doughty appeared with his puppy, Henley – named after Don Henley of the Eagles (his favorite band) – sitting on his lap.
On Monday, Doughty covered his final UVA game at JPJ – an 81-58 Cavalier win over Syracuse University.
With no fans in attendance due to the pandemic, it was an unusual conclusion to a career spent in noisy venues. Still, during the game's first timeout, the UVA Athletics Media Relations staff played a video tribute to Doughty on the scoreboard.
Doughty said he was in shock.
"I figured I had ticked off enough people over the years that something like that would never happen to me," Doughty said, "but I really appreciated it."
Looking back on all the good times, Doughty, who was inducted into the Virginia Sports Hall of Fame in 2018, still gets a chuckle out of the Hardee's promotion.
After making the free throw, Doughty, as promised, received a year's worth of coupons for chicken tenders and biscuits – 52 of them in all.
However, a short time later Doughty discovered that all the coupons were set to expire within a month.
Doughty ended up giving them all away.
"I may have looked like I ate all those sausage biscuits," said Doughty, with a hearty laugh, "but I didn't."
Article Information
January 29, 2021
/content/no-cheering-press-box-pioneering-sports-writer-clung-his-principles