Even the most ardent University of Virginia baseball fan will probably struggle with this bit of trivia: Who is the only player in UVA history to win a College World Series ring and then a Major League Baseball world championship ring?
One person who definitely knows the answer is UVA head baseball coach Brian O'Connor, who, when asked last week, didn't hesitate.
"Matt Doughty," O'Connor said.
In case the name doesn't ring a bell: Doughty was a walk-on pitcher during the Cavaliers' amazing run to an NCAA championship in 2015. In his only season with the team, the right-handed sidearm specialist appeared in five games, including three in the ACC Tournament, and posted a more-than-respectable 2.70 earned-run average.
After graduating from UVA with a degree from the Batten School of Leadership and Public Policy, Doughty then won a World Series ring as a scout for the Washington Nationals last season.
"In a five-year span, this guy's got a ring for a national championship from a program that a lot of people didn't ever think could sniff Omaha, [Nebraska, the perennial site of the College World Series], and then now he's got a world championship ring," O'Connor said. "That's freaking amazing!"
Doughty is modest about the accomplishment; he declined to pose for a photo with his rings. He said he's just been in the right place at the right time more than anything else.
Currently, Doughty is getting set to start a new season as an advanced scout for the Philadelphia Phillies, who open their regular season at home against the Florida Marlins on Friday.
That's something Doughty loves to talk about. The 2018 alumnus said working in baseball is everything he thought it would be.
"There's something about the competitive aspect of it and being able to compete against another team, day in and day out – it's pretty self-motivating to me in that you either win or you lose and you try to improve your results each day," he said.
"I think my generation coming into the game has a unique skill set, in that our education is more analytically driven. So while I'm not a computer software engineer or a mathematician by nature, I think my baseline understanding of numbers and how to manipulate numbers is useful."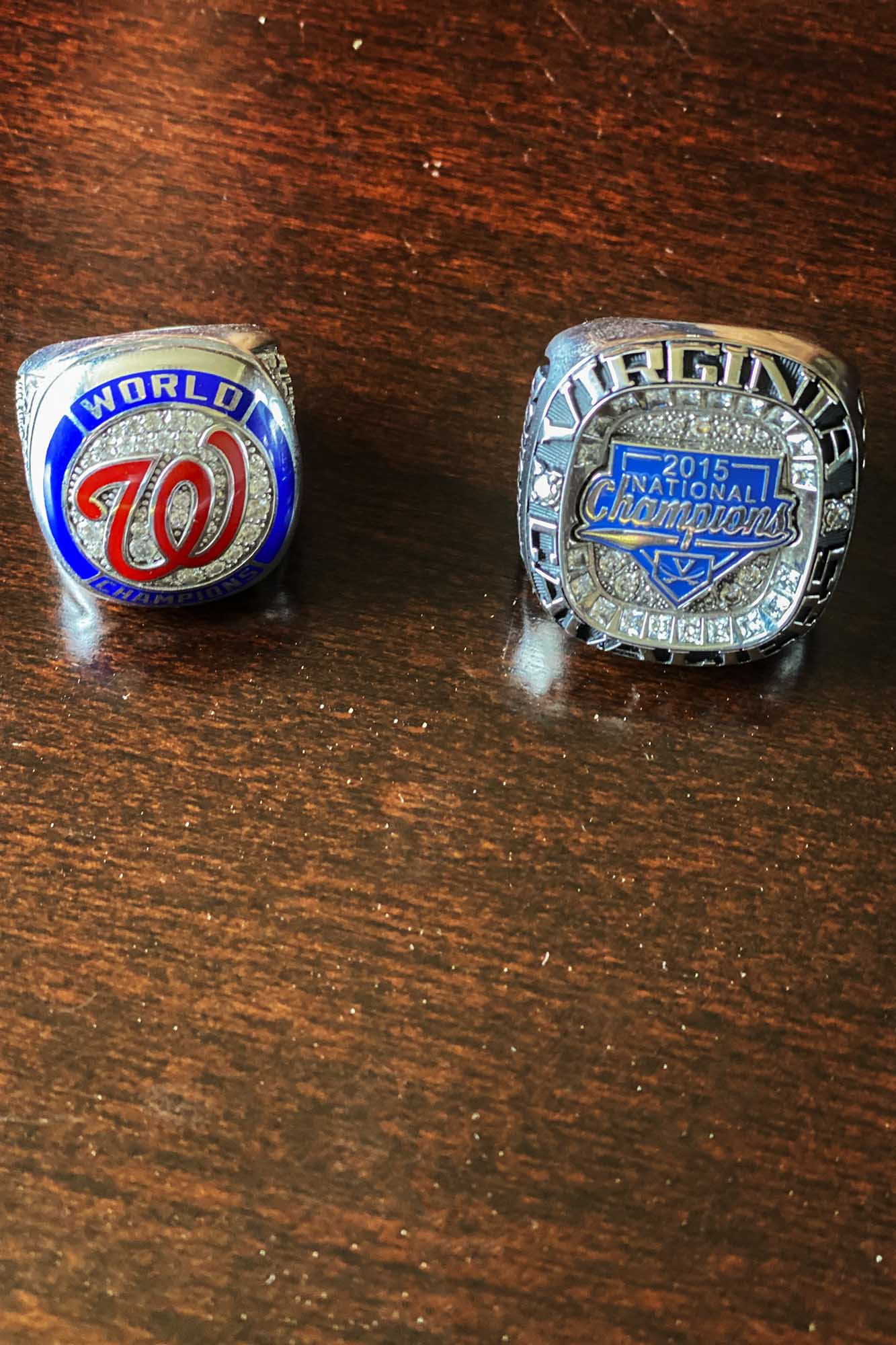 After winning a College World Series championship ring with UVA, Doughty earned a Major League Baseball championship ring with the Nationals last season. (Contributed photo)
The son of Virginia Sports Hall of Fame Hall sportswriter Doug Doughty, Matt Doughty grew up swimming competitively in Roanoke, winning an age-group state championship when he was 10 years old.
However, baseball and basketball were the sports he was most passionate about.
At North Cross High School, the 6-foot-1 Doughty played basketball under Bill Hodges, the former Indiana State University head coach who coached hoops legend Larry Bird. In Doughty's junior season, North Cross upset the Carlisle School – which featured current NBA player Thon Maker – in the semifinals of the state tournament.
On the diamond, Doughty batted .408 and was the state independent school strikeouts leader in his division en route to being named a finalist for Roanoke Player of the Year. He had recruiting interest from a handful of colleges, but ultimately chose to walk on at UVA, which both his parents and sisters had attended.
Doughty was hardly expecting that, in just his first year on Grounds, the Hoos would go all the way.
Looking back on that season, Doughty said the team's chemistry stood out.
"It was a team that really played for each other," said Doughty, who still communicates almost daily with former teammates Connor Jones, Jack Roberts, Alec Bettinger and Tommy Doyle. "There were injuries, there was disappointment scattered throughout the season, but at the end of the day, we knew all we really had was each other. It didn't matter what people said or thought about us. We were going to control what we could control and that made me incredibly close with the teammates I played with."
Doughty said watching his father, who has written for the Roanoke Times since 1974, experience the program's success made the whole experience extra special. The elder Doughty had recused himself from covering his son's games.
"I grew up going to UVA games with my dad and I never saw my dad, a Virginia alum, cheer for Virginia – which I respected because that was his professional obligation," Doughty said.
"Getting to see some pride from him in his alma mater and some pride in me across that run – that was probably the coolest part. He still talks about it to this day. Every time it comes on TV, he'll watch it. My mom summed it up one time when she said, 'I've been married to your father for 35 years and this is the first time I've ever seen him clap for Virginia.'"
The next season, with a large class of scholarship players coming in, Doughty was unable to make the team. Subsequently, he chose to focus solely on his studies for the rest of his time at UVA.
Doughty said all the things he learned in his one season under O'Connor and assistant coaches Karl Kuhn (now the head coach at Radford University) and Kevin McMullan have been invaluable as he attempts to move up the ranks in his career.
"Guys like me, who weren't pitching in every game – or many games at all – they had us contribute in other ways," Doughty said. "I was keeping the charts or helping guys in the bullpen or even giving balls to umpires. Everybody had a role and there was no role that was too small.
"They promoted an attitude of, 'You're working for the person next to you, not yourself.'"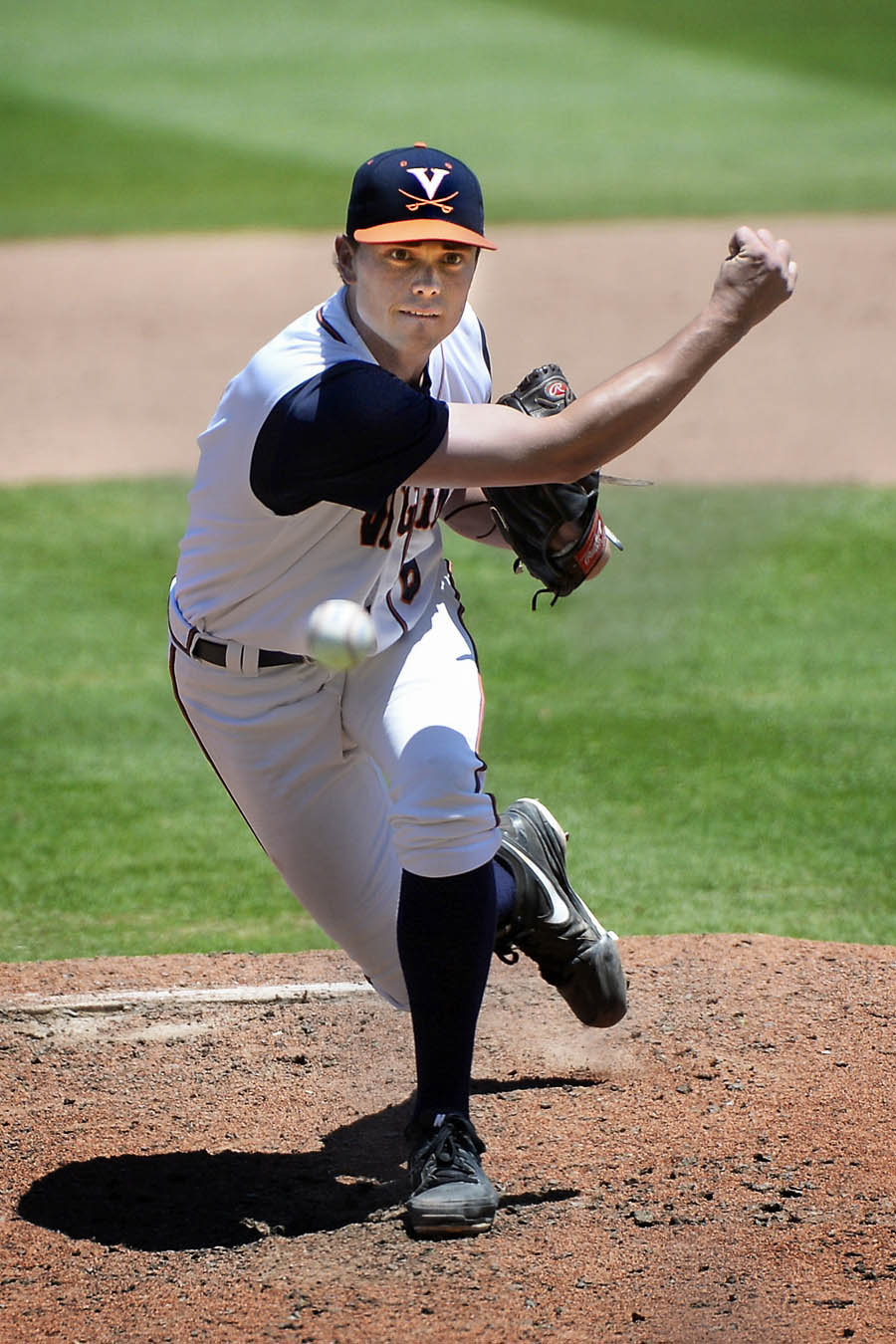 Doughty appeared in three games out of the bullpen during the 2015 ACC Tournament. (Photo courtesy UVA Athletics)
Doughty's first job out of UVA was an internship position at Major League Baseball headquarters in New York City. From there, he was able to land a job with the Nationals' Double-A minor league team in Harrisburg, Pennsylvania, doing advanced scouting. Duties included analyzing pitchers' spin rates and batters' exit velocity and studying video of upcoming opponents.
"It was a really cool hands-on experience," Doughty said. "We were shuttling guys back and forth all the time – so it was fun to see a lot of the guys I worked with get shots at the Major League level."
Harrisburg's season ended in early September, at which point Doughty, like many people in Virginia, cheered the Nationals on from afar. After the Nats defeated the Houston Astros to win it all, Doughty said he never expected to receive a ring.
"I think it was more of a gesture from the ownership group for everyone who was part of the first championship," Doughty said. "I think everyone who worked in some capacity within baseball operations got one. I don't think it was a token of my contributions necessarily. They thought it was just a nice thing to do – and it really was, because I know a lot of other organizations don't do that."
Doughty's contract with the Nationals was only for a year, so after the season he attended MLB's winter meetings in San Diego and interviewed with several teams, eventually landing his current job with the Phillies.
In his new role in advanced scouting and player information, Doughty supports the Major League club's coaching staff, supplying them with whatever analytics they need before the team starts a new series.
During the pandemic, Doughty has been working remotely from his family's home in Roanoke. Sitting in the bedroom he grew up in, Doughty communicates regularly with new Phillies manager Joe Girardi, preparing reports on a wide array of subjects pertaining to in-game situations.
Doughty admits the whole thing can be surreal.
"If I tell my parents I have a call with Joe, they're like, 'We need to make this place as quiet as possible!'" Doughty said, smiling.
Long-term, Doughty hopes to stay in baseball.
"I don't think it's the right thing for me to say, 'I want to be a GM one day' or what have you," he said. "I think the beauty of it is in the process of trying to win year in and year out. I would much rather have five World Series championships by the end of my career than to say I was GM of X team and never won anything significant."
When all is said and done, O'Connor believes Doughty will certainly be known for much more than the answer to a trivia question, with the potential to go far in a new baseball world that is seeking a different kind of expertise than in the past.
"Everything now is so statistical-driven, and Matt is a very bright guy," O'Connor said. "He has a very rare combination of having played the game at a high level, but also has the aptitude and intellect to process everything that's going on in the game and then apply it.
"I think that's why he's going to be very successful."
Article Information
July 21, 2020
/content/ring-master-former-uva-pitcher-has-jewelry-collection-none-other