For the sixth straight time – and for what will be 36 years running – the University of Virginia's Long-Term Ecological Research Project on Virginia's Eastern Shore has received significant funding from its primary sponsor, the National Science Foundation.
The six-year renewal grant, approved earlier this month, is for $6.72 million.
UVA's Long-Term Ecological Research Project is part of a nationwide network of NSF-funded sites that study long-term environmental change across a broad range of ecosystem types. UVA's project, centered on the Nature Conservancy's Virginia Coast Reserve, focuses on shallow coasts – the connected system of barrier islands, marshes and bays, and the diverse life forms that inhabit those areas. These ecosystems are the first line of defense against sea-level rise and storms and protect coastal communities.
The Virginia Coast Reserve is a 133,000-acre area that spans the Delmarva Peninsula. Largely undeveloped, it is considered one of the best places in the nation for understanding the changes – natural and human-caused – that are occurring along coastlines as a result of a warming climate and rising seas.
"The reserve is a living lab that gives us the rare opportunity to study natural coastal processes under minimal human influence," said environmental sciences professor Karen McGlathery, who directs the Virginia Coast Reserve Long-Term Ecological Research Project and serves as director of UVA's Environmental Resilience Institute. "This long-term research allows us to develop the basic knowledge to understand coastal change throughout the world."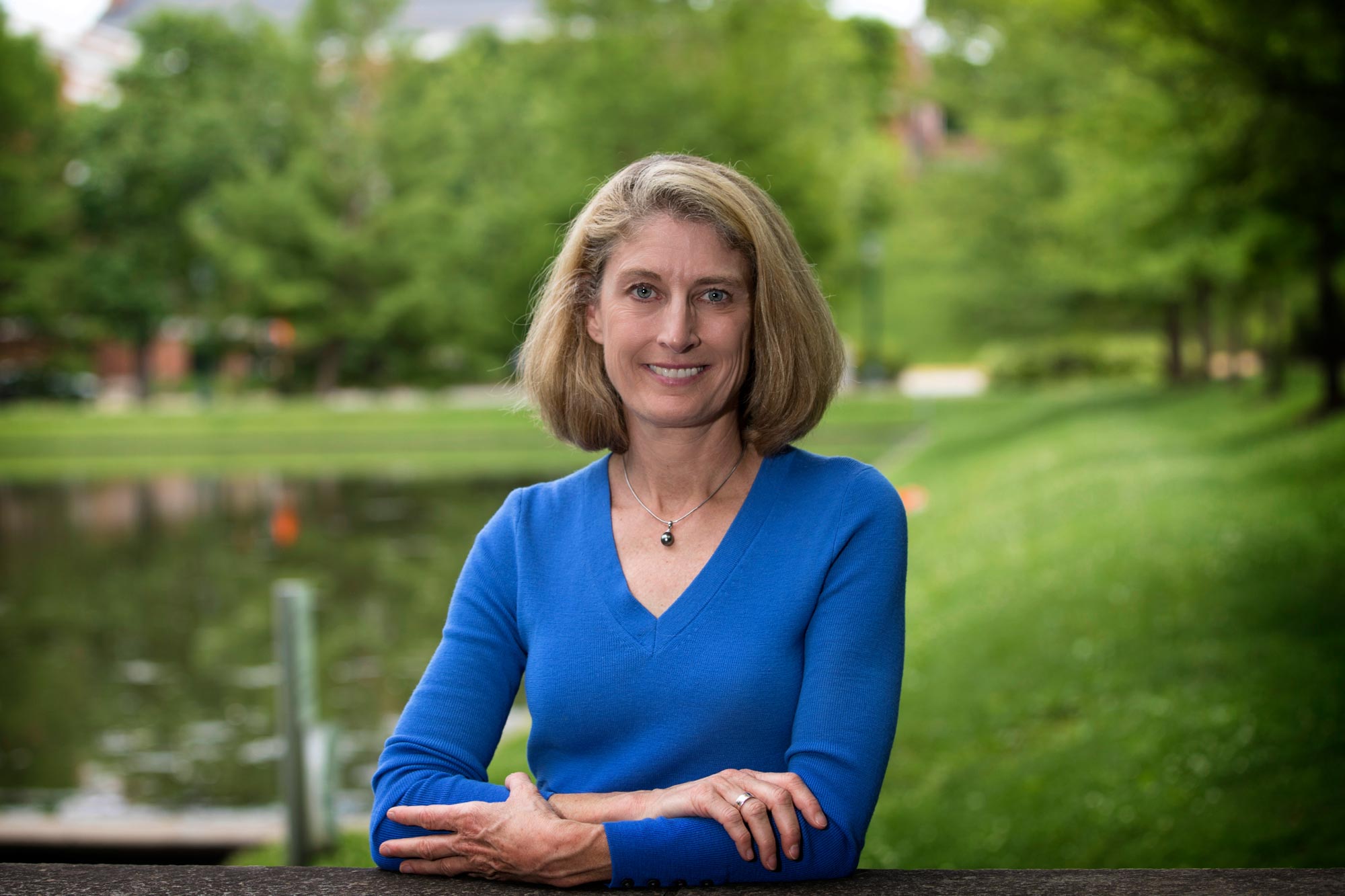 Karen McGlathery is director of the Virginia Coast Reserve Long-Term Ecological Research project on the Eastern Shore. (Photo by Dan Addison, University Communications)
A major goal of the NSF program is to produce sound science to inform the decision-making of policymakers and society for best conserving, protecting and managing the nation's ecosystems for greater resilience. What researchers learn from past and present changes to the environment from long-term data, experiments and models can help them predict future changes to coastal environments.
Scientists at the Virginia Coast Reserve Long-Term Ecological Research Project routinely monitor changes in the physical environment, including sea level rise, storm frequencies and island erosion, and study how these changes affect organisms ranging from marine seagrass and island plants to fish, shellfish, shorebirds and mammals. They are working to improve predictive understanding of how climate and land use influence the dynamics and resilience of coastal barrier ecosystems.
"One of our biggest discoveries is that there are ecosystem tipping points – a point of no return where, for example, a marsh could no longer keep up with rising seas and drown," McGlathery said. "It's important that we try to manage the environment, to forecast changes, so we don't cross those kinds of thresholds."
Researchers also have come to understand, through studying extensive seagrass and oyster restoration projects, that submerged seagrass meadows and emergent oyster bars play an important role in protecting salt marshes by buffering wave action. Likewise, marsh grasses help protect the barrier islands and prevent mainland coasts from eroding. But when sea levels rise too quickly, and water temperatures rise as well, the natural balance of growth and rebuilding can be stymied.
"Our challenge now is to understand how changes in one ecosystem propagate through the landscape," McGlathery said.
Over the last three decades, researchers with the Virginia Coast Reserve Long-Term Ecological Research Project have documented that about 30 percent of the area of the barrier islands has been lost to rising seas and storms. Likewise, mainland areas where forest once stood are converting to wet marshlands. They also have recorded higher sea temperatures in the winter and increasing frequencies of "marine heat waves."
UVA has been conducting research at the Virginia Coast Reserve since the mid-1980s. In addition to the NSF grants, the project earns support from a range of organizations and private donations. The project involves about 20 faculty members from eight partner institutions and their graduate students, and provides summer internships to undergraduate and high school students who develop specific research projects that fit into and build on decades-long investigations.
"This entire project has been a perfect collaboration between UVA, the Nature Conservancy and researchers from partner institutions, all working together through research to help us become better stewards of the coastal landscape in the face of climate change," McGlathery said.
UVA's research operation is based at its Anheuser-Busch Coastal Research Center, a state-of-the-art facility located on 42 acres in the town of Oyster, about 15 miles north of the Chesapeake Bay Bridge-Tunnel. It includes more than 9,400 square feet of dry and wet lab space, a 5,800-square-foot residence building and a dock for its fleet of shallow-draft research vessels.
Article Information
November 29, 2018
/content/nsf-renews-three-decade-coastal-research-program-67-million-grant