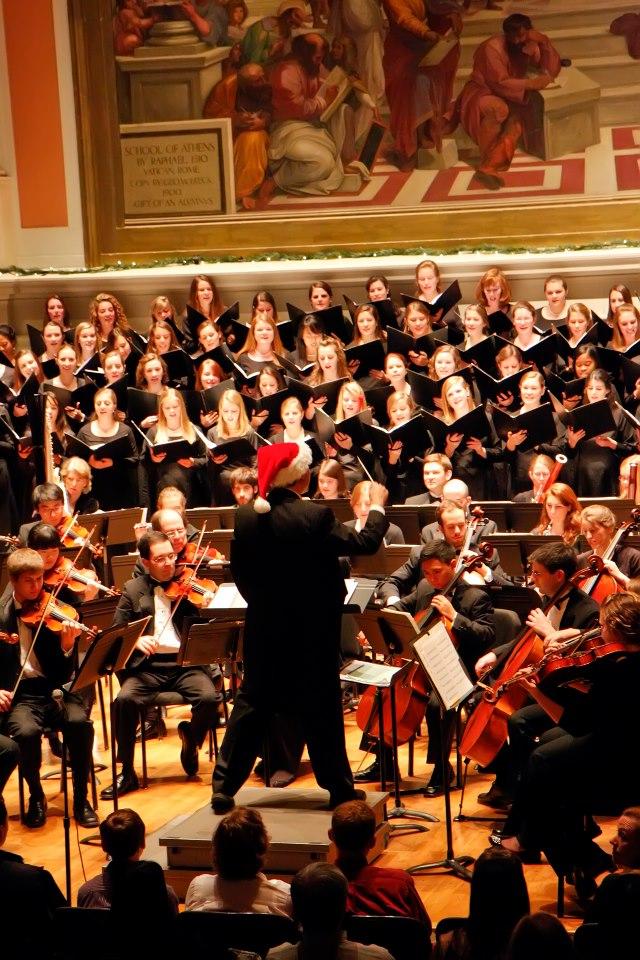 The Charlottesville & University Symphony Orchestra and the University of Virginia's University Singers will present their ninth annual Family Holiday Concerts on Dec. 7 at 8 p.m. and Dec. 8 at 3:30 p.m. Michael Slon, director of U.Va.'s premiere vocal ensemble and music director of the Oratorio Society of Virginia, will conduct the performances at Old Cabell Hall.
Through the years, these popular concerts have launched the holiday season with an array of music ranging from the peaceful to the joyous. Among the favorites on the program: "Silent Night," Handel's "Hallelujah Chorus" and the "The Twelve Days of Christmas" with audience participation.
This year's guest artist is Richard Will, who chairs U.Va.'s McIntire Department of Music and plays bluegrass fiddle throughout Central Virginia with a variety of bands. An associate professor of music, he teaches courses on classical and folk music.
During the Dec. 8 matinee performance, former Virginia Gov. Gerald L. Baliles – director and CEO of U.Va.'s Miller Center – will conduct the orchestra in Leroy Anderson's "Sleigh Ride." He won this special opportunity at the symphony's "Denim & Diamonds" auction benefit earlier this year; the prize included private conducting lessons with Slon and the orchestra's music director, Kate Tamarkin.
The Dec. 7 concert is sponsored by Hantzmon Wiebel LLP.
Tickets are priced at $10 to $40 ($10 for students, who may request one complimentary ticket in advance). They may be purchased at the U.Va. Arts Box Office, via phone at 434-924-3376; in person on weekdays from noon until 5 p.m. in the lobby of the Drama Building at 109 Culbreth Road; or online at www.artsboxoffice.virginia.edu.
Free parking is available in the U.Va. Central Grounds Parking Garage, located on Emmet Street. Old Cabell Hall is wheelchair accessible.