In an effort to create a demo tape for their new American history-based radio show, University of Virginia history professors Brian Balogh, Ed Ayers and Peter Onuf found themselves taking live phone calls at a Norfolk radio station in 2005.
Answering people's questions about history had sounded like a great idea – until they actually started doing it.
At some point during the program, a caller asked the hosts whether the College of William & Mary's endowment had been established with booty from pirates.
"We're sitting in the studio all pointing at each other to answer the question," recalled Balogh, laughing. "Ed is Googling away furiously to look up the answer. … It couldn't have been more amateurish."
Balogh said they never did get a definitive answer to the caller's question, and that was probably a good thing for "BackStory With the American History Guys" – later shortened to just "BackStory" – a weekly program produced by Virginia Humanities and launched in 2008. It would go on to air on more than 200 public radio stations around the country before switching to podcast format in 2017.
"One of the things I've loved about the show is that we've never tried to present ourselves as the ultimate authority," Balogh said. "We like very much to model it the way we go about history. … It's much more a conversation about 'How do we understand history? How do we approach history? What do we make of these historical facts?'"
After more than 300 episodes, "BackStory" is bidding farewell.
On Friday, a final episode – featuring a Balogh interview with UVA men's basketball head coach Tony Bennett (more on that further below) – will be posted.
Balogh said the "BackStory" team, which added UVA alumna and Yale University professor Joanne Freeman and Johns Hopkins University professor Nathan Connolly in 2017 after Onuf retired, felt it was the right time to end the show.
"We've been fortunate to have such a good run," Balogh said. "In a rapidly changing media environment, to do a weekly show for that long … It just seemed like it had been a good run and it was time to call it quits."
Matthew Gibson, executive director of Virginia Humanities, said the show has filled a vital role over the last 12 years, and will continue to do so in the future.
"Without an understanding of what came before us in human experience, we run the risk of plodding through the present and into the future with amnesia," Gibson said. "'BackStory' has been a great antidote to that possibility and has helped listeners understand the importance of the past in shaping our future."
UVA history professor Brian Balogh hopes "BackStory" can be a resource for generations to come. (Photo by Sanjay Suchak, University Communications)
The idea for "BackStory" came from former Virginia Humanities media program director Andrew Wyndham, who had heard Ayers and Onuf talking history in a relaxed and engaging way and thought something similar to the popular national public radio show "Car Talk" could be produced.
Onuf's specialty was Jefferson-era history; Ayers' expertise was 19th-century U.S. history; and, in an effort to round out the team, they approached Balogh, a 20th-century expert.
"I laughed, and said, 'That's ridiculous. Who's going to listen to that?'" Balogh said.
Originally, the show was called "History Happens" and planned to, a la "Car Talk," take listeners' phone calls.
But the team, with the help of producer Jamal Millner – a UVA alumnus who now serves as the show's technical director – created its own unique style.
"I think the audience really enjoyed their interactions, and the way that they would approach the universe with all their different perspectives," Millner said. "It was kind of like how musicians get together and jam. … They would call it riffing.
"You could really learn so much from them."
The show quickly moved on from the live calls.
"You had no clue what people were going to ask you," said Millner, with a laugh, "so that led to more pointed shows.
"It evolved into finding out answers or pointing you toward experts."
Millner was a huge part of the operation.
Speaking to people around the world seems easy today, thanks to videoconferencing platforms like Zoom, but back then it was no easy feat. Millner mastered the art of recording shows in which the guests – oftentimes four or five – were scattered around the world.
"To piece together that audio and make it sound like we were sitting at a kitchen table … Jamal was the genius with that since Day One," Balogh said.
Millner said a large number of people who worked on the show were UVA alumni who went on to do more great things in the media world, including working on the popular podcast "Slow Burn" and the ESPN documentary series "30 For 30." "We've been really fortunate to have some talented people," he said.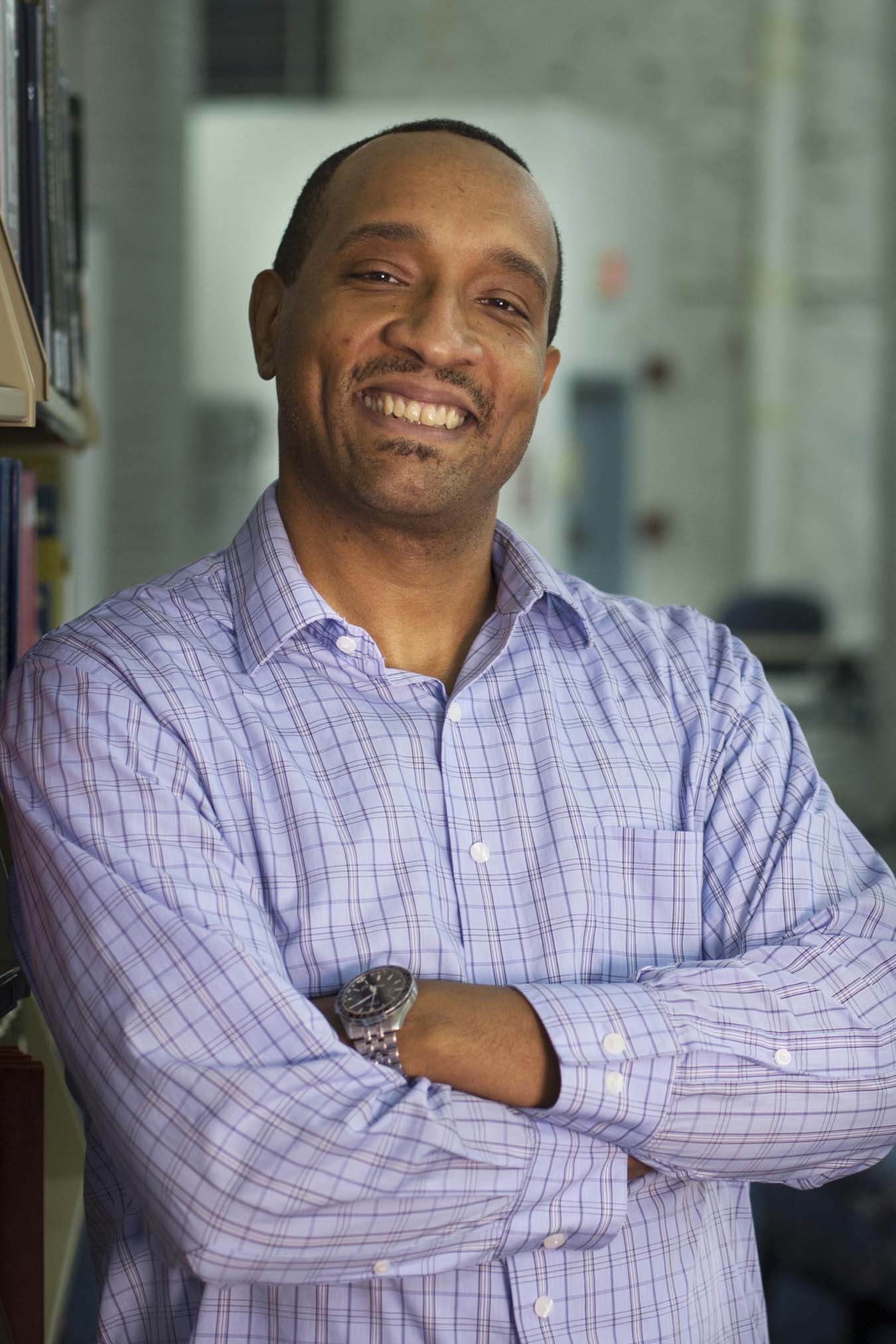 UVA alumnus Jamal Millner has worked on "BackStory" since its inception. (Photo by Rich Tarbell)
Over the years, "BackStory" episodes have run the gamut.
Interestingly, Balogh said his favorites have always wound up being the ones where he, initially, thought the subject matter was most "boring."
Therein lies the beauty of the program, according to Millner.
"We showed that it's possible to talk about supposedly mundane things and make them interesting, as well as informative," he said.
Among Balogh's favorites is an episode on federalism featuring former Pennsylvania Gov. Edward Rendell and a female truck driver.
"She described what a pain in the [butt] federalism is because she drove a truck, and, to her, federalism meant that when she crossed the border, she would literally have to unload the truck because different states had different regulations," Balogh recalled. "So we came at a very dull and dry topic from a pretty interesting perspective."
Balogh said there were many episodes that he voted against doing, but ended up being his favorites. At the top of that list was one on the history of hair.
During the show, the team discussed imagery associated with hair, interviewing a woman who had developed hair products for African Americans, as well as a memorabilia collector who owned a lock of Elvis Pressley's hair that had been obtained during the haircut Elvis had before going into the U.S. Army.
"I thought it came out as one of our best shows," Balogh said.
Another favorite of Balogh's was the "History of Thanksgiving" episode in which he interviewed former Dallas Cowboys quarterback Roger Staubach. (The Dallas Cowboys are one of two NFL teams to play games on Thanksgiving Day every year.)
"I like sports, and I've always thought they could provide larger windows into larger issues," Balogh said.
That's what made Balogh want to interview Bennett for the show's final episode, one dubbed, , "The End of the Road: BackStory and the History of Finales in America."
In 2018, the UVA men's basketball team – coached by Bennett – became the first team in history to lose to a No. 16 seed when it lost to University Maryland Baltimore County.
In 2019, the Hoos won the NCAA championship.
In 2020, UVA's season came to an abrupt halt right before the ACC Tournament.
"It seemed like Tony had experienced three successive, very different kinds of endings to a season," said Balogh, explaining his thought process.
In Friday's episode, Bennett shares poignant details of the program's plight.
Balogh first met Bennett after Bennett had nominated one of his players for an academic award.
"He had been very smart, very caring and not one sports cliché after another," Balogh said. "I thought if he had time, it would be a good interview – and I think it was."
Friday's episode will also feature a segment with Freeman discussing George Washington's finales, as well as one with Ayers interviewing a television historian about television finales such as "Seinfeld."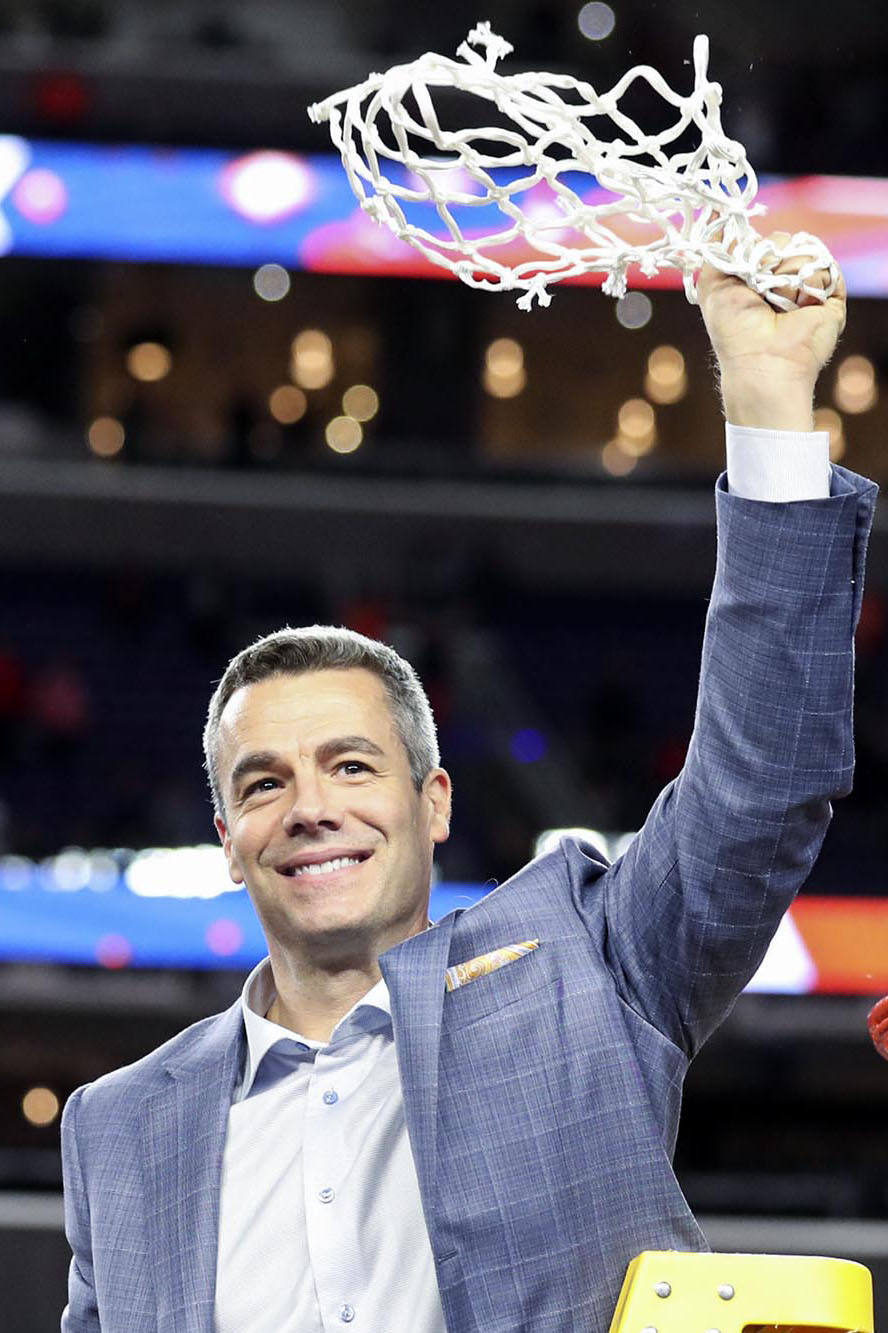 Tony Bennett is a guest on the final "BackStory" podcast, set to post Friday. (Photo by Matt Riley, UVA Athletics)
Balogh believes the chemistry among the hosts is what has made the show special.
"If you listen to those old shows, you can tell we liked each other, but that didn't mean we didn't argue with each other," he said.
Millner said one of his favorite episodes was one that took a deep dive into the practice of redlining that took place in Chicago in the 1930s, the aftershocks of which are still being felt today.
At its peak, "BackStory" aired on more than 200 public radio stations.
In 2017, the program's producers made decision to switch to a podcast format so the show could reach a more diverse and younger audience and not be limited by length.
Balogh said he has been "blown away" by the number of teachers and professors, from middle school through graduate classes at universities, who tell him they have assigned "BackStory" to their students.
"I hope we have demonstrated that history can be interesting, even to people who think they don't care about history, even to people who are not 'history buffs,'" Balogh said.
"The Radio Years" of "BackStory," from 2008 to 2016, are available on the American Archive of Public Broadcasting, a collaboration between the Library of Congress and WGBH Media Library & Archives.
"BackStory" is also free on Apple Podcasts, Google, Spotify, Stitcher and elsewhere.
"We hope that people will continue to listen to a lot of the topics we've covered," Balogh said. "For example, the history of fake news is just as timely today as when we did it originally.
"We're really hoping people will go back and listen to these episodes again and again."
Article Information
June 30, 2020
/content/out-bang-backstory-finale-feature-basketball-coach-tony-bennett