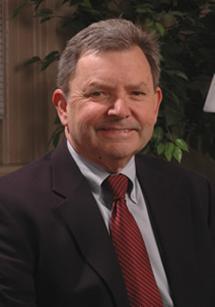 Phillip A. Parrish, associate vice president for research at the University of Virginia, has been appointed interim vice president for research, U.Va. President Teresa A. Sullivan announced today.
Parrish, who has served in his current role at the University since 2002, will succeed Thomas Skalak, who recently accepted a position as the inaugural executive director for science and technology programs at the Paul G. Allen Family Foundation in Seattle. Parrish's appointment is effective Feb. 1.
"We are pleased that Phil has agreed to accept this important leadership role at the University," Sullivan said. "His extensive knowledge of our research portfolio and his relationships with industry partners will serve the institution well as we continue to develop our research and economic development efforts at the University."
Sullivan said planning is under way for a national search for a permanent vice president for research.
During his tenure at the University, Parrish has played an integral role in advancing research activity and collaborations across schools, including the development of U.Va.'s new Center for Automata Processing, the new joint Energy Systems collaboration with the Max Planck Society's Institute for Chemical Energy Conversion and the Vice President for Research Latin America initiative.
Parrish, who also holds a departmental appointment as principal scientist in the Department of Materials Science and Engineering in the School of Engineering and Applied Science, said he looks forward to his new role.
"The Office of the Vice President for Research, in partnership with the schools, deans and faculty from across Grounds, will support pan-University interdisciplinary research and innovation initiatives that distinguish U.Va. and contribute to the health, economic vitality and security of Virginia and the nation," Parrish said. "We also plan to support opportunities for our faculty and students to engage in collaborative research with global thought leaders, in collaboration with the Office of the Executive Vice President and Provost."
Previously, Parrish served as program manager for materials science at the Defense Advanced Research Projects Agency, and as the associate director for materials science at ONR Global-London, with overall responsibility for ONR's international program in nanotechnology and advanced materials. At DARPA, he was the program manager for the initiative in intelligent processing of materials. Prior to joining the University, Parrish was vice president for Advanced Manufacturing Systems at BDM Inc. and president of MATSYS Inc., a small business start-up in manufacturing controls, sensing and simulation software.
As interim vice president for research, Parrish will be responsible for the integration and enhancement of research activities across the University's 11 schools and multiple research centers. The office leads University-wide strategic growth activities, including multidisciplinary groups in environmental sustainability, innovation, energy systems and biosciences. The office also coordinates the various University units that make up the research infrastructure, including the acquisition of research funding, research commercialization, proof-of-concept funding for translating new knowledge to new companies, federal compliance, health and safety, and public outreach.
Parrish earned bachelor's and master's degrees in metallurgical engineering and a doctoral degree in material science and engineering from the University of Florida.