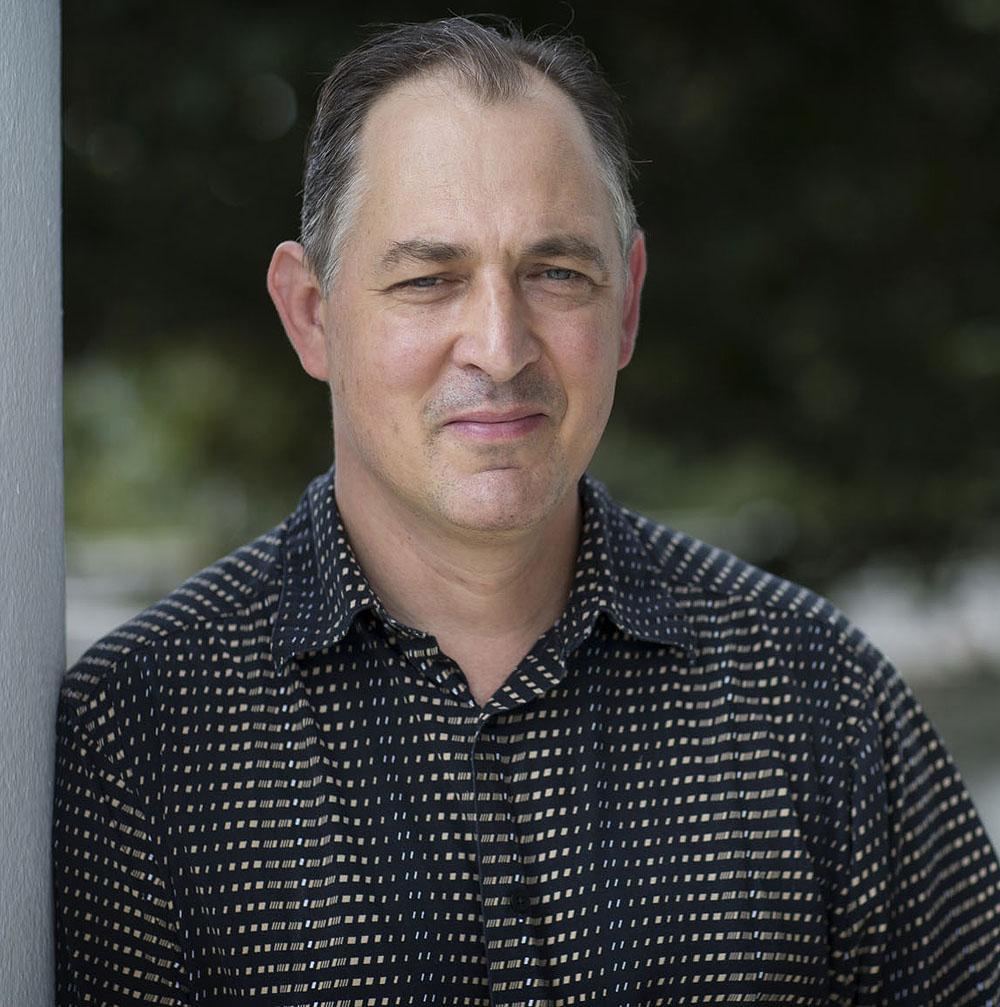 UPDATED, Sept. 19, 10 a.m., to correct typographical errors in photo captions.
UPDATED, Sept. 18, 10:20 a.m., with edits throughout the Willis Jenkins section.
UPDATED, Sept. 17, 4:30 p.m., with edits throughout the James Igoe section.
With academic experience spanning the humanities and sciences, James Igoe and Willis Jenkins have joined the faculty of the University of Virginia's College of Arts & Sciences this semester. Affiliated with the Institute of the Humanities and Global Cultures, both were hired to expand the University's strengths in interdisciplinary areas of scholarship and teaching.
Igoe studies how different cultures think humans fit into nature. Jenkins studies how different religions think humans fit into nature. They both explore the complexities and conflicts that have arisen from problems in, and responses to, global sustainability.
An environmental anthropologist and associate professor in the anthropology department, Igoe learned firsthand that conservation can be a suspect activity when he conducted fieldwork with the Maasai people in Tanzania in the 1990s and then researched national parks in the U.S., particularly the Badlands in South Dakota. More recently, he has been examining "the explosion of green consumerism and how it relates to the ways we imagine nature," he said.
Jenkins, a 2006 alumnus who earned his Ph.D. from U.Va.'s religious studies program, has returned to the department as an associate professor. He looks within ethical and moral traditions of worldwide religions to understand how they define human relationships with the environment over time, especially with the increase in scientific knowledge about issues such as biodiversity and climate change.
The College is enhancing its interdisciplinary emphasis in the humanities, with plans to add as many as 10 new faculty positions and graduate student fellowships thanks to a $2.9 million, five-year grant from the Andrew W. Mellon Foundation received in 2011.
"The Mellon grant is bolstering and expanding U.Va.'s strengths in the humanities," Arts & Sciences Dean Meredith Jung-En Woo said, "by funding an innovative model of hiring, teaching and evaluation that encourages collaboration across multiple fields, based on the recognition that the study of cultures in a global context must traverse traditional disciplines and geographic boundaries."
The faculty positions seeded by the Mellon grant focus on emerging areas of cross-disciplinary research identified by a U.Va. faculty committee, beginning with "Environmental Humanities" and including soon "Comparative Cultures of the Pre-Modern World." 
James Igoe: Cultural Contradictions at Play
Most Americans are familiar with images of African savannas teeming with wildebeests and zebras. Similarly, the canyons and mountains crossing the wide expanses of the western United States are a familiar sight, thanks to TV and tourism.
We have been led to believe these places need the protection of national parks to keep out human interference and environmental degradation, but the reality is, most of the places that have been called "pristine wilderness" were previously inhabited. Humans who lived there were acclimated to the land and had developed ecologically sound ways of life.
Igoe, who said his new position was "tailor-made" for his academic interests, described his research as looking for "connections between the environmental side of human experience and the human side of interactions with the environment."
Now even big corporations, who want to be perceived as eco-friendly or "green," have ramped up their advertising and connected consumer purchases with protecting the environment by offering to donate money to support conservation, he pointed out. That makes people imagine that they're helping protect the environment when they buy certain products, he said, and they don't have to change their consumption habits. People see humanity aligning with nature by consuming, connecting and conserving, he said.
Thus consumers might imagine that by buying a particular brand of chocolate, coffee, cell phone service or even car insurance that they are helping to protect the future of our planet. In reality, the multifaceted problems they are hoping to help alleviate are unlikely to be diminished by simple consumer choices. In any case, there is practically no way for consumers to verify that their consumptive choices are actually making a positive difference.
This contributes to a "more encompassing idea that capitalist expansion and economic growth are essential to nature conservation," he said. "The growth of ecotourism, carbon offsetting, hydropower and mining are now all imagined to contribute to healthier ecosystems. Such claims depend, however, on the idea that environmental harm in one context can be offset or mitigated in the other. While this idea is problematic, it is contributing to a new vision of nature that can be manipulated and rearranged to accommodate extractive enterprises that will help pay for its future protection."
Popular notions about protecting the wilderness, on the other hand, have all too often concealed the problems that indigenous peoples around the world have faced as a result of being removed from the land to be preserved. Ironically, that process in Tanzania and other places has contributed to environmental damage that the creation of the parks was meant to prevent, said Igoe, who is teaching a course, "Imagining Africa," this semester.
After Tarangire National Park was created in northern Tanzania in the 1970s, the Maasai were prohibited from using some of their previous pasturelands. They haven't been able to maintain their herds and have struggled financially and culturally, said Igoe,
In the United States when national parks were first created, Native Americans were evicted, though they argued the lands were spiritually significant and provided their livelihoods. In some cases, tribal groups successfully negotiated with the National Park Service to return to sacred lands and to continue hunting and gathering practices – as the Oglala Sioux have done in Badlands National Park near the Pine Ridge Reservation in South Dakota – but the arrangements remain contentious, Igoe said.
"It varies how local people and conservationists work together and cooperate. ... I don't want to generalize it's all negative," he said, mentioning some cooperative ventures in Latin America, Nepal, New Zealand and elsewhere.
He describes these different situations in his 2004 book, "Conservation and Globalization: A Study of National Parks and Indigenous Communities from East Africa to South Dakota."
Willis Jenkins: Humanity and Nature According to Religious Ethics
"We all share global problems – they force people to make sense of problems across borders of countries and borders of religions," said Jenkins, who, as a faculty member at Yale University, directed a joint degree program between Yale University's Divinity School and Forestry Department. "Religious traditions have ways of narrating humanity and nature," he said.
In his interdisciplinary area of "religion, ethics and the environment," he analyzes how religious communities respond to complex sustainability issues that challenge religious ethics and require a range of moral and practical reasoning.
"It wasn't until the modern era that Biblical images of human dominion were interpreted to justify systematic exploitation of the Earth," said Jenkins, whose first book, "Ecologies of Grace: Environmental Ethics and Christian Theology," won the 2009 Templeton Prize for Theological Promise.
"There is increasing interest in finding sources of ecological wisdom, both from ancient traditions and from new cultural movements. For example, there is renewed engagement of science with religious thought as academies try to interpret the implications of global environmental change," he said.
"For another example, indigenous peoples' movements have attracted new attention by explaining to a global audience how climate change threatens ancient ways of life and how their cosmo-visions offer alternative wisdom."
The questions of environmental ethics appear in our everyday lives. Jenkins is teaching a class this semester on "The Moral Ecology of Food," which is considering controversies and questions about food practices, including obligations to the hungry, responses to obesity, labor fairness and treatment of animals.
When it comes to everyday choices and what's at stake, how and what we eat says a lot about what our communities think about nature, he said.
He also looks for overlapping ideas across different traditions that might present possibilities for cooperation – ideas such as humans' obligations to successive generations and to other species, as well as the planet.
In his forthcoming book, "The Future of Ethics: Sustainability, Social Justice and Religious Creativity," due in December, Jenkins integrates environmental sciences and theological ethics into problem-based discussions with philosophy, economics and other disciplines.
He said he is excited to be part of "envisioning and encouraging interdisciplinary study across Arts & Sciences." It's a dream job for him in another way, too, he said – teaching undergraduate students at his alma mater in "the best religious studies department in the country."
"We're grateful to the Mellon Foundation for its generous support," Dean Woo said. "The infusion of faculty and graduate student support has already begun to serve as an engine of scholarly, pedagogical and public production in the humanities, seeding new courses and major collaborative research."
The Mellon initiative "enables us to continue to offer our students the kind of profound intellectual experience they need to be productive citizens of a world that is transforming around them," she said.
Media Contact
University News Associate Office of University Communications
anneb@virginia.edu (434) 924-6861