On Friday, former Speaker of the House Paul Ryan and University of Virginia Center for Politics Director Larry Sabato had a wide-ranging conversation in the Rotunda, discussing everything from the 2020 presidential election to Ryan's childhood and family life.
The event, held in the Rotunda's Dome Room, was part of an ongoing National Symposium Series, "Democracy in Perilous Times: Unprecedented Challenges and Controversies," organized by the Center for Politics and UVA's Frank Batten School of Leadership and Public Policy. Previous speakers in the series include Democratic U.S. Rep. Adam Schiff, Martin Luther King III, Republican strategist Karl Rove, Democratic National Committee chair Donna Brazile and political commentators like Ana Navarro, CNN's Jim Acosta and Brit Hume.
[A livestream of Ryan and Sabato's conversation is available here.]
Ryan, a Wisconsin native, was first elected to Congress in 1998 and served as the 54th Speaker of the U.S. House of Representatives from October 2015 until his retirement in January 2019. A longtime Republican, he also served as Sen. Mitt Romney's running mate in the 2012 presidential election. Currently, he teaches classes at the University of Notre Dame, serves as a distinguished visiting fellow at the American Enterprise Institute for Public Policy Research and is a board member of the Fox Corporation.
Sabato, drawing from a list of questions submitted by students, began the discussion by asking Ryan about the 2020 election and the Democratic presidential candidates featured in Wednesday's debate.
Calling President Donald Trump "clearly the favorite," so far, Ryan said he was especially confident the president could defeat the more progressive wing of the Democratic Party, led by candidates like U.S. Sen. Bernie Sanders.
"As an American, it is kind of scary that Bernie Sanders could be the nominee, a socialist. … But as a Republican, I love the idea," he said, saying that Sanders' more extreme views could push voters toward Trump and help down-ballot Republicans trying to regain the majority in the House of Representatives.
A strong economy, he said, would be Trump's best calling card in the general election.
"I think President Trump is the likely winner, no matter who he is running against," Ryan said. "The economy is good; the numbers are good. [The Democrats] will be forced to run a personality contest against him."
Sabato and Ryan also discussed recent impeachment proceedings against Trump, who was impeached by the Democratic-led House of Representatives and acquitted by the Republican-led Senate.
Sabato particularly asked Ryan about his former running mate, Mitt Romney, who was the sole Republican to vote to convict Trump in the Senate.
"Mitt is a good friend of mine, and I think it was purely a conscience vote," Ryan said. "I don't agree with the vote; I don't think it was an impeachable offense. … But Mitt saw it a different way and it was a conscience vote. As speaker, I never held that against someone."
Both Sabato and Ryan expressed worry that impeachment could become a more regular feature of American politics. Ryan witnessed two impeachment proceedings during his time in Congress, against former President Bill Clinton and Trump. The Clinton impeachment, he noted, almost backfired on Republicans at the time.
"There are some similarities between this election and the Clinton election in 1998. Voters liked the economy at the time and we [Republicans] were seen as overreaching for enacting impeachment against a president who, even if you did not like him personally, had a good economy," Ryan said. In the 1998 midterm elections, Ryan noted, Democrats picked up seats in the House, nearly costing the Republicans their majority.
He believes that Democrats could experience a similar backlash.
"I think it actually helped the president," Ryan said, by agitating and galvanizing the Republican base for the 2020 election.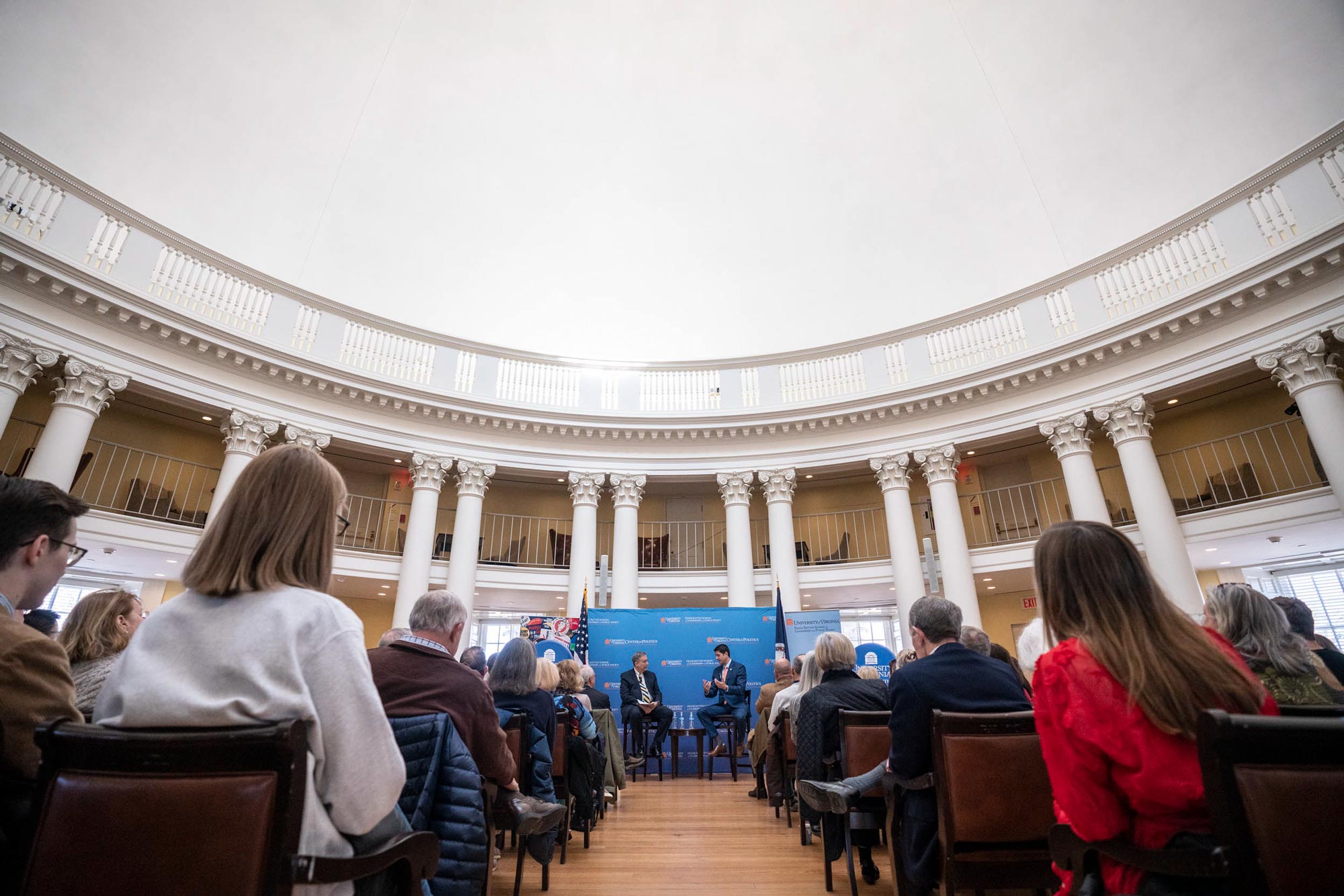 Students and community members filed into the Rotunda Dome Room Friday afternoon to hear from Paul Ryan.
Contentious elections aside, Ryan and Sabato also talked about possibilities for bipartisan progress. Democrats and Republicans can and do come together, Ryan said, calling his last congressional session "the most productive session in a generation."
According to Pew Research, the 115th Congress enacted 442 public laws, the most since the 110th Congress. Of those laws, 69% were substantive, as opposed to ceremonial, according to Pew.
The problem, Ryan said, is that the current media environment does not reward bipartisan cooperation.
"None of that stuff is good for MSNBC or Fox, because it does not have us at each other's throats," he said. "We know about the name-calling, the tweets, and the personality stuff, but not about the actual production.
"My biggest fear is that we will continue to digitize, weaponize and incentivize identity politics on the right and the left," he said. "That is going to tear us apart."
More personally, Ryan and Sabato talked about Ryan's father – who struggled with alcoholism and died when Ryan was in high school – and how that loss forced a young Ryan to grow up quickly. Asked to give advice to students in the room, Ryan emphasized mentorship, noting that his own mentor – politician Jack Kemp, a former Congressman and federal housing secretary – changed the trajectory of his career and life.
"I grew up with mentors," he said. "When you have a void in your life, you have to fill it, and having mentors is really helpful." Kemp's "infectious enthusiasm," he said, "breathed life into public policy."
"I realized that you can make a huge difference in this country at a young age," said Ryan, who was first elected to the House at age 28. "You can work in government, help get things into law and see it make a difference in people's lives. That's really gratifying."
Ryan was also honest about the toll the job could take. He left Congress to be a more present father to his three children, who are now high school age. He had been in Congress for their entire lives, spending only a day or two each week at home with them in Wisconsin. Most often, he slept on a cot in his Washington, D.C., office – something he did for 15 years.
"My kids knew nothing other than me being in Congress," he said. "I just didn't want them to grow up not really knowing me. I am so glad I [retired]. … I finally have the kind of family life I always wished I had."
Asked if he would run for office again once his children left home, Ryan deferred.
"I honestly don't know the answer to that," he said. "Right now, I am so focused on this phase of our family's life, making up for lost time."
As they left, Sabato thanked Ryan for what he called "so many relaxed, relevant and revealing answers."
"I have learned from listening to you," Sabato said. "and I know others have too, especially our students."
Media Contact
Article Information
February 21, 2020
/content/paul-ryan-recounts-his-days-capitol-hill-talks-current-events-dome-room