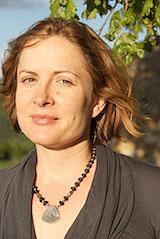 Writer Tess Taylor will give a reading of her work Sept. 11, sponsored by the Virginia Quarterly Review. The event, free and open to the public, will be held at 5:30 p.m. at the New Dominion Bookshop on Charlottesville's Downtown Mall.
Taylor, whose writing was published in VQR's summer issue, just released her first collection, "The Forage House," from Red Hen Press.
A native of El Cerrito, Calif., Taylor counts Thomas Jefferson among her ancestors, along with his mother's family, the Randolphs, one of Virginia's most prominent slaveholding families. She writes about their legacy, as well as other ancestors, some of whom were New England missionaries and dirt-poor Appalachians.
Taylor's nonfiction addresses the arts, books, food, architecture and the urban environment for publications such as the New York Times, Atlantic Monthly, the Boston Review, the Times Literary Supplement and the New Yorker. About Taylor's book of poems, U.S. Poet Laureate Natasha Trethewey wrote, "Tess Taylor's 'The Forage House' is a brave and compelling collection that bears witness to the journey of historical discovery. Sifting through archives, artifact and souvenir, Taylor presents a dialectic of what's recorded and what's not, unearthing the traces that give way to her own history – and a vital link to our shared American past."
She holds degrees in writing from New York University and Boston University. Eavan Boland selected Taylor's manuscript, "The Misremembered World," for the Poetry Society of America's 2003 chapbook fellowship, which included publication.  
Media Contact
University News Associate Office of University Communications
anneb@virginia.edu (434) 924-6861