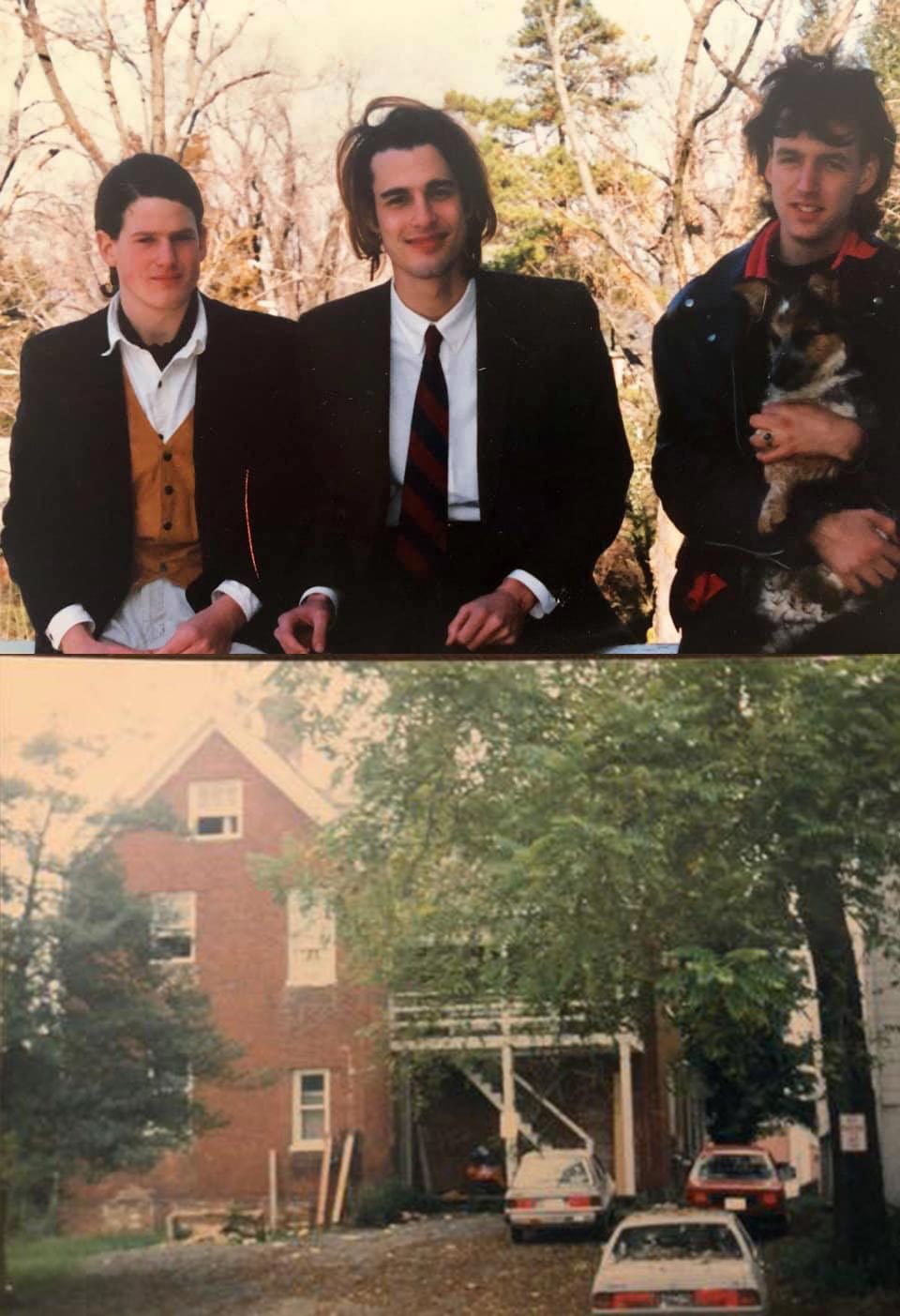 UVA students, from left, Rod Beaver, David Berman and Gate Pratt lived in the Red House, below, together from 1987 to 1989. (Photos courtesy Laura Anderson and Bryant Mason)
Ectoslavia was an inclusive band. Its members were "more or less whoever was in the house at any given time," Pratt said. "We would just go down to the basement and make a racket."
The members of Ectoslavia – all UVA students – were DJs at WTJU, bus drivers for the University Transit System, and employees of Plan 9 Records on the Corner. They were invested in the indie-rock scene, going to shows at local clubs like Trax and the Mineshaft and carpooling together to larger venues in Richmond, Washington, D.C., and New York.
The music coming from the basement of the Red House may have been, as Pratt says, "primitive," but Ectoslavia's alumni include Bob Nastanovich and Stephen Malkmus, who went on to form the indie-rock band Pavement after graduating from UVA, as well as James McNew, now the bassist for the band Yo La Tengo.
David Berman, considered by his friends to be the creative "leader" of the Red House, started the band Silver Jews, which produced six albums from the early '90s to the late aughts. Nastanovich and Malkmus played on some of the early albums. Berman's songs gained a cult following for their lyrical brilliance.
Berman, who remained a creative collaborator with Malkmus, Nastanovich, Pratt and others for decades, died in August by suicide. He had just released a new album, "Purple Mountains," with a band of the same name.
Fans and music journalists, including UVA alumnus and Rolling Stone columnist Rob Sheffield, wrote tributes and remembrances in the days after the news broke, recalling Berman's songwriting gifts, as well as his deep kindness. Pratt and other UVA friends organized a memorial celebration to be held this Saturday from 2 to 10 p.m. at WTJU's studios on Ivy Road.
The event, which is open to the public, will include on-air programming and live performances of Berman's music, a reading from his book of poetry, and a pop-up display of Berman's letters to his UVA poetry professor, Charles Wright, from Wright's papers in the UVA Special Collections Library.
Many former inhabitants of the Red House and members of Ectoslavia will travel back to Charlottesville for the memorial. Here, they remember their friendship with Berman, as well as Charlottesville's college-rock music scene during the '80s and '90s.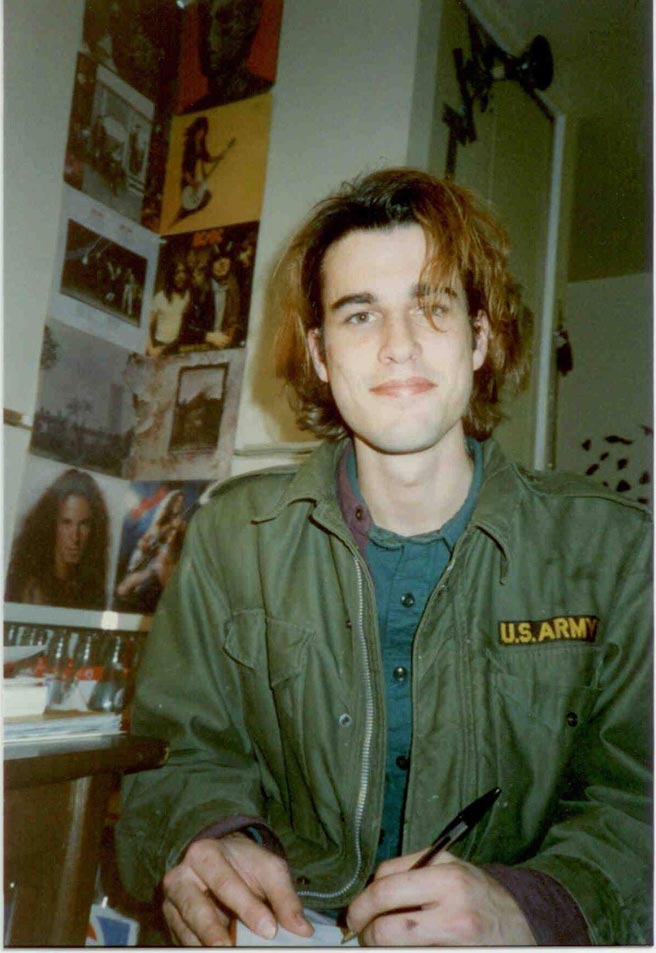 David Berman hosted a radio show called "The Big Hair Show" in the late '80s at WTJU. (Photo by Aaron Margosis)
Bob Nastanovich (Class of 1989, member of Pavement, early member of the Silver Jews): I met David in the dorms. I lived in the old dorms in Hancock, and he lived in Watson with the Echols Scholars.
As soon as I got to UVA, I met this guy Maynard Sipe – he would book at the cool shows in town, whether they be Trax or C&O or the Mineshaft. So, I introduced myself to him right off the bat. He was looking for somebody to put up flyers of the upcoming shows in all the dorms. In exchange I got in free to all the shows. You know, you're very self-conscious when you're 18. You think, "Well everybody will think I'm cool because I'm the guy putting up the flyers."
So, David noticed – Who's the guy who keeps going around putting up the flyers for all the good shows in town? This was in the first couple months that I was at UVA. And then of course, he was one of about maybe a half-dozen first-year students that would go see the bands, so we basically kept seeing each other at the same shows.
Laura Anderson (Class of 1989): I met David on the first day of my first year. Rob Chamberlin [a friend of Berman's] and I grew up together, and he and David came to Bonnycastle to say hello. I'll never forget seeing them walk down the hall; they were both so tall and strikingly handsome and really stood out from the people I had met so far in the Old Dorms.
Kylie Wright (Class of 1988, member of Ectoslavia, WTJU DJ): I met David in 1985. I was a second-year student and he was a first-year, and we were born two days apart. I always liked that [first-year] class because I was kind of young for my class and they were all my age. I remember going to a Cure Show with David and Bob Nastanovich. We all drove up to D.C. to the Warner Theater, and we had tickets way, way in the back; it was assigned seats. And David made the charge to drag us all forward and we somehow managed to talk our way into almost the front of the stage, which was all David's doing.
Darius Van Arman (founder of record label Jagjaguwar, co-owner of Secretly Group record label, attended UVA in the 1990s): I met David in the mid-'90s through Gate Pratt. I got to know Gate through WTJU and just being in the community. Gate had built a slight extension to his home and I lived in that extension. David was coming back to Charlottesville and lived with us briefly while looking for a home. … Part of what I will always remember about David Berman was that his first instinct was to lift people up around him, and to be supportive and to be inclusive.
Nearly everyone who spoke to UVA Today lived in the Red House in some capacity.