On Wednesday and Thursday, University of Virginia students donned their professional best and headed to Newcomb Hall for the annual Fall Job and Internship Fair, where they met with recruiters from more than 100 corporations, non-profit organizations and government agencies. 
There were tech and finance companies, laboratories and research centers, arts and media institutions and much more, ranging from up-and-coming startups to massive multinational employers. All were eager to talk with fourth-year students about full-time opportunities or connect with younger students seeking internships.
"There was a huge amount of interest from companies and students, especially second- and third-year students looking for internships," said Everette Fortner, UVA's associate vice president of career and professional development and head of the UVA Career Center. "That was exciting to see."
UVA Today spoke with recruiters at the fair – many of them also UVA alumni – to learn more about what brought them to UVA during their search for new talent.  
Amrie Grammer: AMPEL BioSolutions
The Charlottesville-based biotech startup, which Grammer co-founded, studies diseases affecting the immune system. The team pinpoints the abnormal genes that could cause such diseases and works with pharmaceutical companies to identify drugs that could help. They are currently studying lupus, a chronic autoimmune disease affecting an estimated 1.5 million Americans.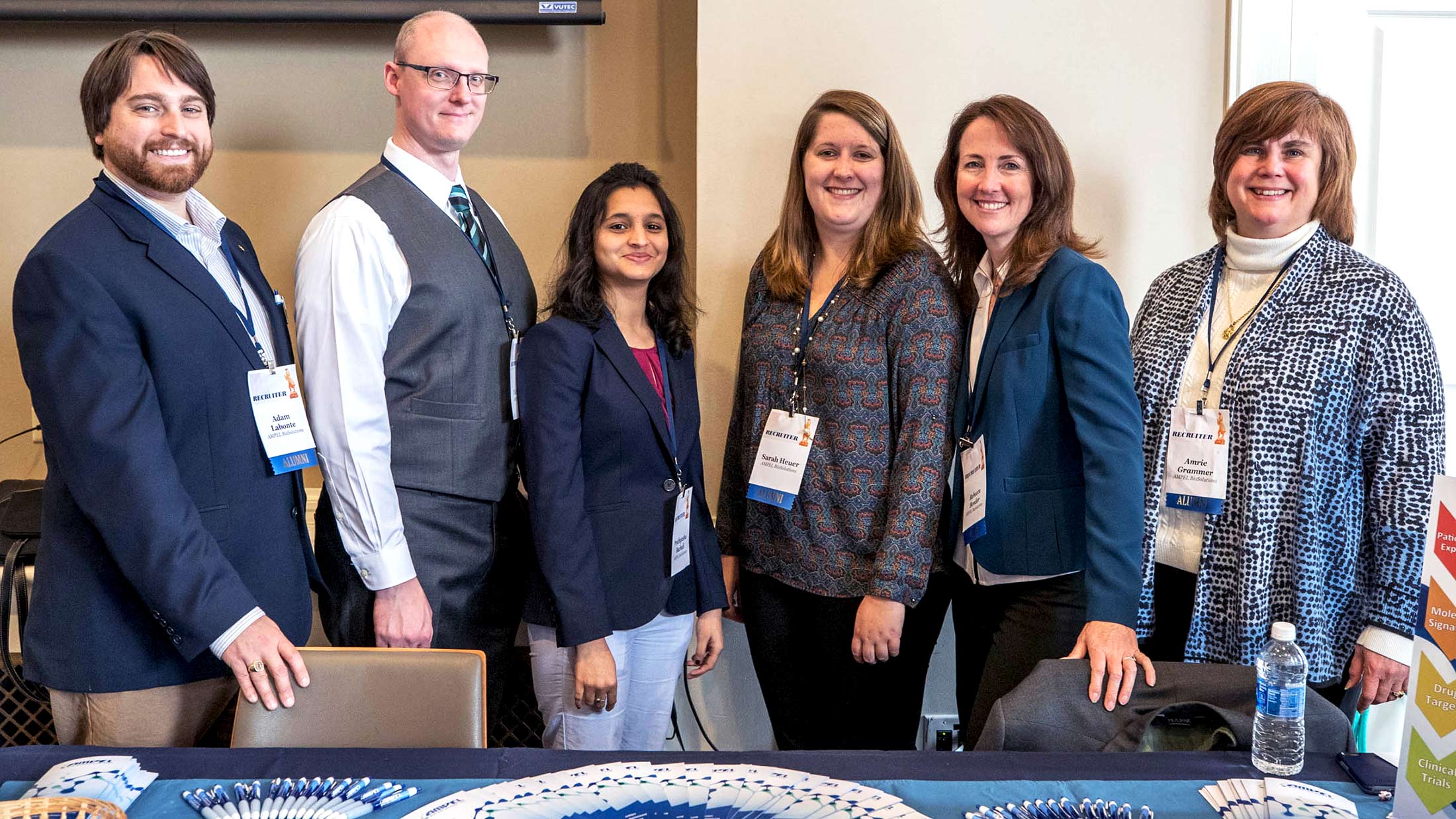 Grammer, far right, with her team from AMPEL BioSolutions, including from left to right, UVA alumnus Adam Labonte, Nick Geraci, Prathyusha Bachali, alumna Sarah Heuer and Rebecca Bender.
Q. Why UVA?
A. "I love Charlottesville and I love UVA students," said Grammer, who also serves on The Fralin Museum of Art's board of directors and chairs the advisory board for UVA's Alpha Chi Sigma professional chemistry fraternity. "It is a great place to recruit very smart, creative people that are willing to work hard."
Darius Epps: Wolf Trap Foundation for the Performing Arts
The Vienna-based Wolf Trap Foundation puts on a wide range of arts programs, including concerts from chart-topping musicians, classical and jazz performances and opera. It offers a summer internship program for college students to get hands-on experience and complete a project tailored to their interests, whether in social media marketing, analytics and strategy or another aspect of the business.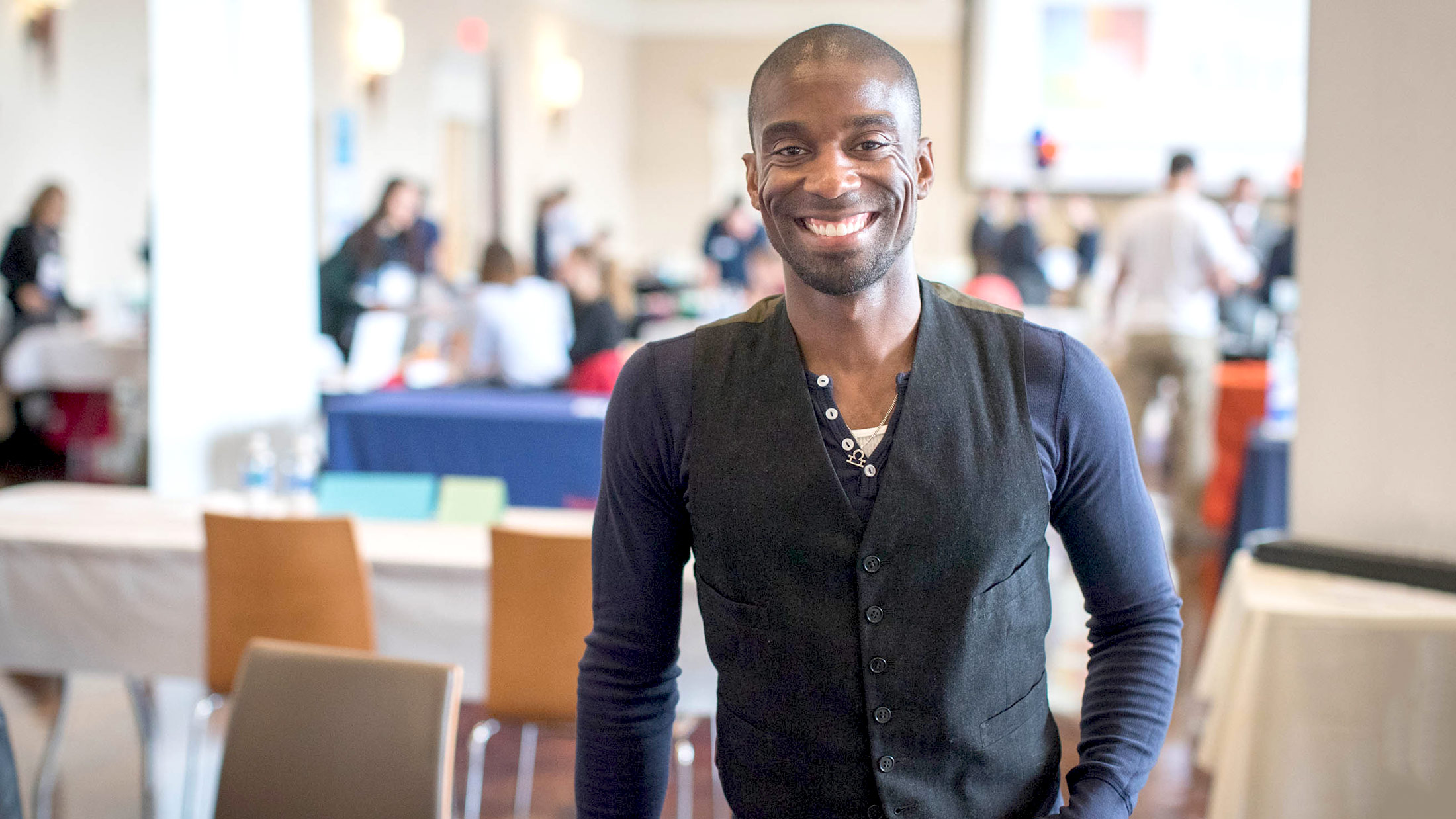 Epps traveled from Northern Virginia to attend the fair on Thursday.
Q. Why UVA?
A. "We have had UVA interns in the past and have a very good history of hiring UVA students," Epps said. "We appreciate the diversity of majors offered here, the diversity of the student body and the caliber of students. Typically, UVA students have researched the organization very well, whether talking to us here, drafting their cover letters or calling us to talk."
Colin Morse and Kevin O'Riordan: Walmart Technology
Morse, a 1994 alumnus who studied chemical engineering, and O'Riordan, 1993 graduate with degrees in Russian studies and mathematics, returned to UVA to talk with students about Walmart Technology, which focuses on improving the retail giant's vast technological infrastructure.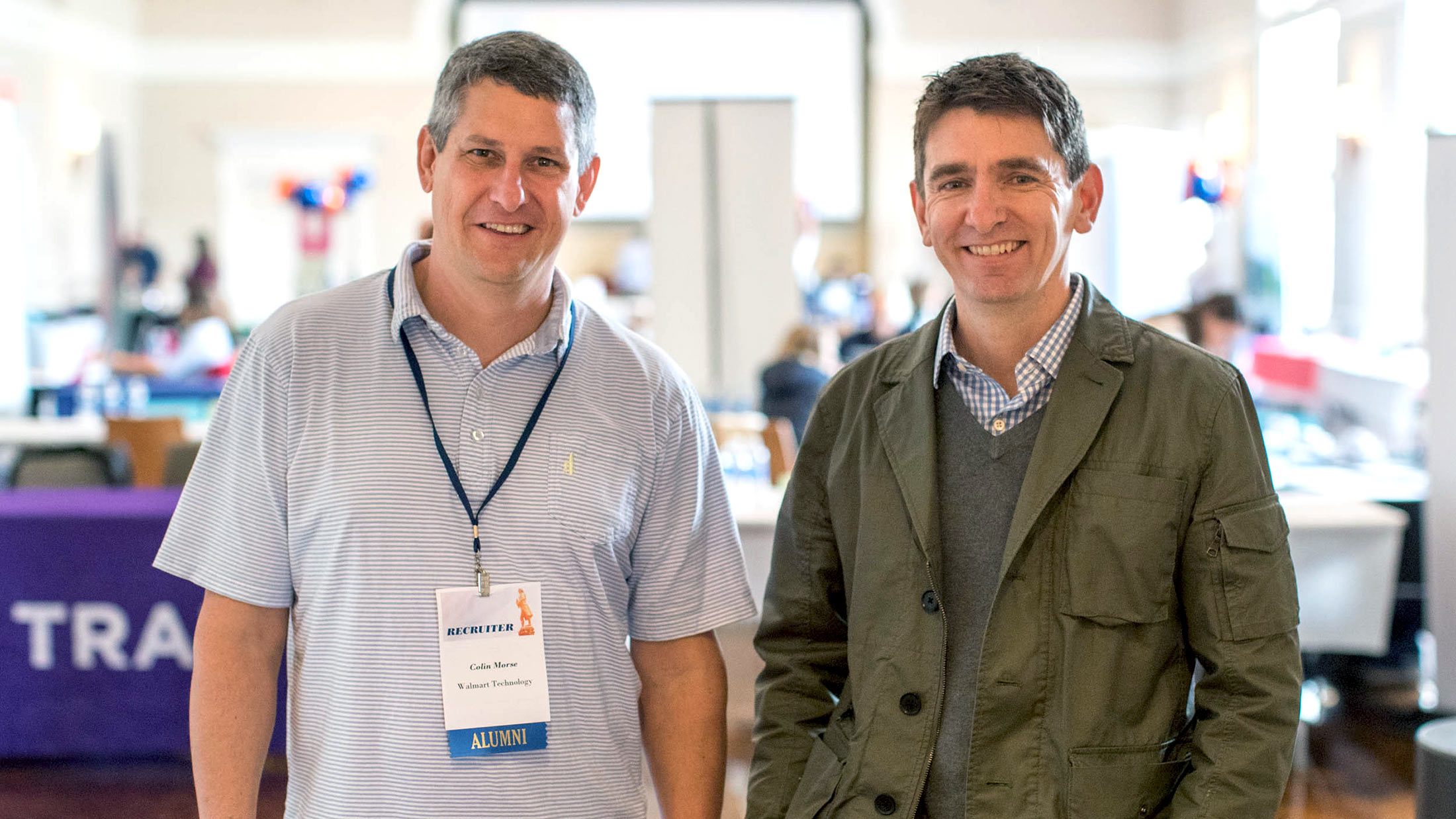 Morse, left, and O'Riordan are both UVA alumni and now work for Walmart Technology in Reston.
Q. Why UVA?
A. "We are both UVA graduates and we know that there are high-quality students here," O'Riordan said. "It is only two hours away from our engineering center outside D.C., so it is a great place to recruit."
Zach Mayo: Relish
Mayo, a "double 'Hoo" with undergraduate and master's degrees from UVA, co-founded Relish with Sarah Rumbaugh, his classmate at UVA's Darden School of Business, to improve MBA recruiting software. After finding success in the MBA market, the tech startup is building software for several different recruiting markets and looking to hire software developers and marketing and sales representatives.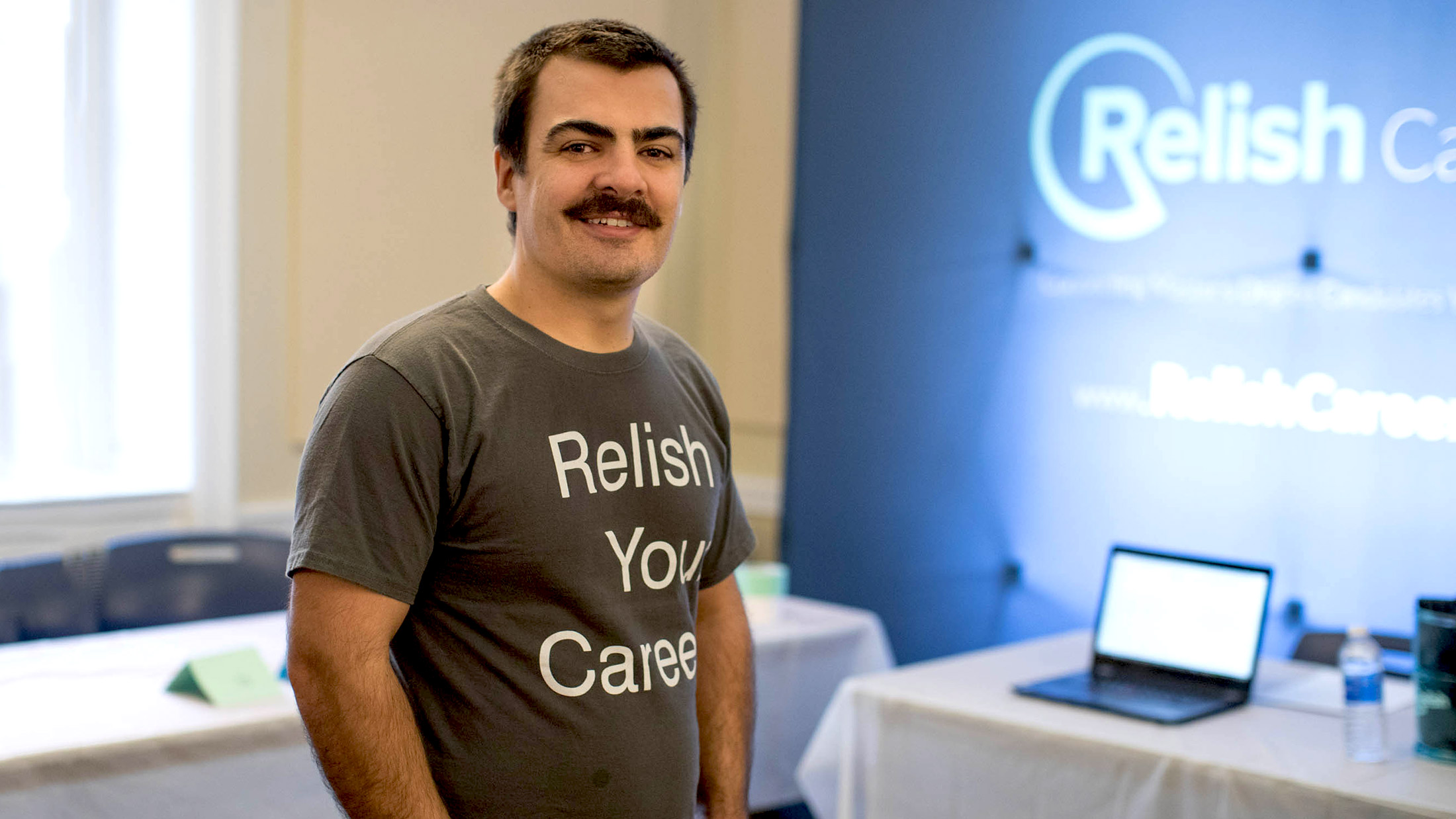 Mayo hopes that more UVA grads will join his startup, which is based in Charlottesville.
Q. Why UVA?  
A. "We are looking for people who are a good cultural fit, who are hard workers and who are generalists who will be able to go out and figure out what needs to be done," Mayo said. "We are based in Charlottesville and plan on being here for a while, so we want to build bridges with the University and build a pipeline of talent from UVA."
Media Contact
Article Information
October 27, 2016
/content/potential-employers-descend-grounds-during-annual-career-fair