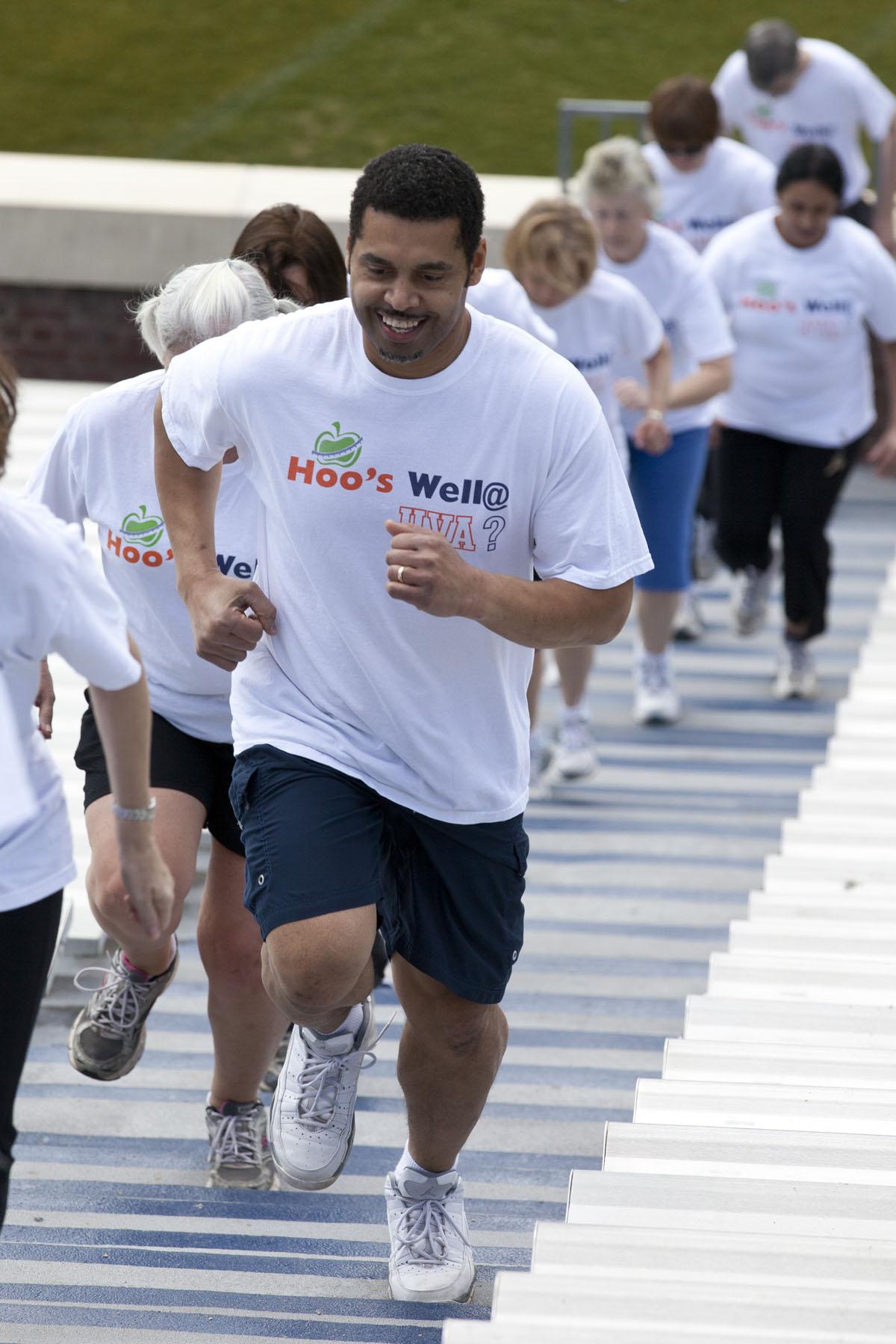 August 22, 2012 — Now in its second year, Hoo's Well@, the University of Virginia's comprehensive employee wellness program, has some new features, including cash rewards. In addition, those who participated last year can complete a biometric screening and assessment again to be eligible for more rewards.
Created in partnership with Human Resources, Aetna, Intramural-Recreational Sports, WorkMed and other entities across Grounds, Hoo's Well@ is designed to help faculty and staff and their spouses on the U.Va. Health Plan get healthy and stay healthy – and it gives cash rewards to help them get there. 
Employees can complete the first step, the screening, at the upcoming Wellness Fair, set for Sept. 13, from 7 to 11 a.m., at the John Paul Jones Arena. Individuals must schedule the screening online and bring their U.Va. identification and Aetna insurance card with them. 
The fair will feature games, activities and prizes, as well as vendor exhibits, free parking and refreshments, plus free flu shots for employees. Participating vendors are expected to number more than 20, including Aetna, Faculty and Employee Assistance Program, IM-Rec, Whole Foods, Club Red, U.Va. Diabetes Education, the American Cancer Society, Weight Watchers, ChinaMed and more.
Employees can alternatively schedule a screening through WorkMed from Sept. 10 to Oct. 19. New this year: Staff and faculty can submit lab results signed by their physician to WorkMed prior to Oct. 31, instead of making a screening appointment.
Cash rewards are being handled differently this year. Employees and their spouses who enroll and then achieve their goals will receive the money in the employees' paychecks, rather than on a Visa Rewards card.
To earn the first $75, participants must have the biometric screening done and take an online health assessment by Dec. 1. Additional rewards, up to $100 a year, are available for accomplishing wellness goals.
As of Sept. 1, individuals will be able to use a Hoo's Well@ portal, which will provide one location for links to frequently accessed wellness sites.
A welcome packet is being sent to employees' home addresses with instructions, website addresses, informational brochures and more.